with 🎙️ Ravid Levy – Founder & Consultant at RLV Consulting
💧 RLV Consulting helps Water Innovators to translate their technical R&D into Business Chances, Go-To-Market Plans, and Investment Opportunities
---
What we covered:
🍏 How to build a sustainable frame to overcome water scarcity?
🍏 How agricultural water uses – often a blindspot of the water industry – triggered innovation in a good example of constrained creativity
🍏 How scarcity can be an overall driver for innovation
🍏 How national water law and central planning are the two pillars of Israel's water miracle
🍏 How those pillars lead to new water applications such as distributed treatments
🍏 How we're in an evolution process, that turned Homo Pollutius into Homo Ecologicus, hopefully, Homo Reusis and ultimately Homo Circularis
🍏 Drip Irrigation, Solar Heating, Aquaponics, World Leadership… and more!
🔥 … and of course, we concluded with the 𝙧𝙖𝙥𝙞𝙙 𝙛𝙞𝙧𝙚 𝙦𝙪𝙚𝙨𝙩𝙞𝙤𝙣𝙨 🔥
---
Teaser:
---
Resources:
➡️ Send your warm regards to Ravid on LinkedIn
---
Infographic: Israel Water Miracle
LinkedIn-Infographic-Ravid-Levy

---
Full Transcript:
These are computer generated, so expect some typos 🙂
Antoine Walter:
Hi, Ravid. Welcome back to the show. Oh,
Ravid Levy:
Hi. It's great to be back. And actually even very flattering to be invited to for the third time for this great series of podcasts!
Antoine Walter:
Well, let's start maybe by catching it, our auditors that missed your two first appearances. What would be your very short version of your elevator pitch for yourself? Basically,
Ravid Levy:
I regard myself as someone who's linking between the technological side and the business side for a water and wastewater innovation, I've spent the first 15 years of my career in, in, in different companies, Israeli companies that were developing and producing and applying different water technologies around the world spent a few years in Australia and many years in Israel doing international and technological work. And now for the last few years, I've been doing that as a, as a consultant to different organizations in the water market to basically bridge the language gaps between research technology and business to try to to move forward. Some of those obstacles in the way
Translating technical innovation into Business Opportunities
Antoine Walter:
If I remember, in our discussion around innovation, you mentioned that there is almost this "lost in translation" element between business and technical activities. And there's one aspect of your path that we didn't cover so far, which is what you're doing with the Migal Gallia Institute. So what is it, what are you doing there? Well, this
Ravid Levy:
Is what really triggered the, the addition of research to the third language beyond engineering and business because behind everything or in the basis of, of many things in our business or in our area of work, there's the basic research that he's done around the world and also here in Israel, in the, in the academy. So a Mikhail is actually an academic Institute, which is positioned in the very final for Israel. And the works is a regional research Institute, but obviously works on many things that are have global or international implications. But the specialty is mainly food tech, biotechnology, agriculture, and different Cleantech aspects, including water and wastewater. So I've been asked to help Miguel in translating some of the water waste, water and environment researchers into practical and market readiness. It's been called business development, but in fact, it's kind of a matchmaking and translating if, if we use your your term for that, which is correct, I work with the researchers themselves, with the scientists and with the IP people and with the market with companies and also help everybody to come together and take some of those very interesting innovations towards more, a product and more practical and eventually commercial application.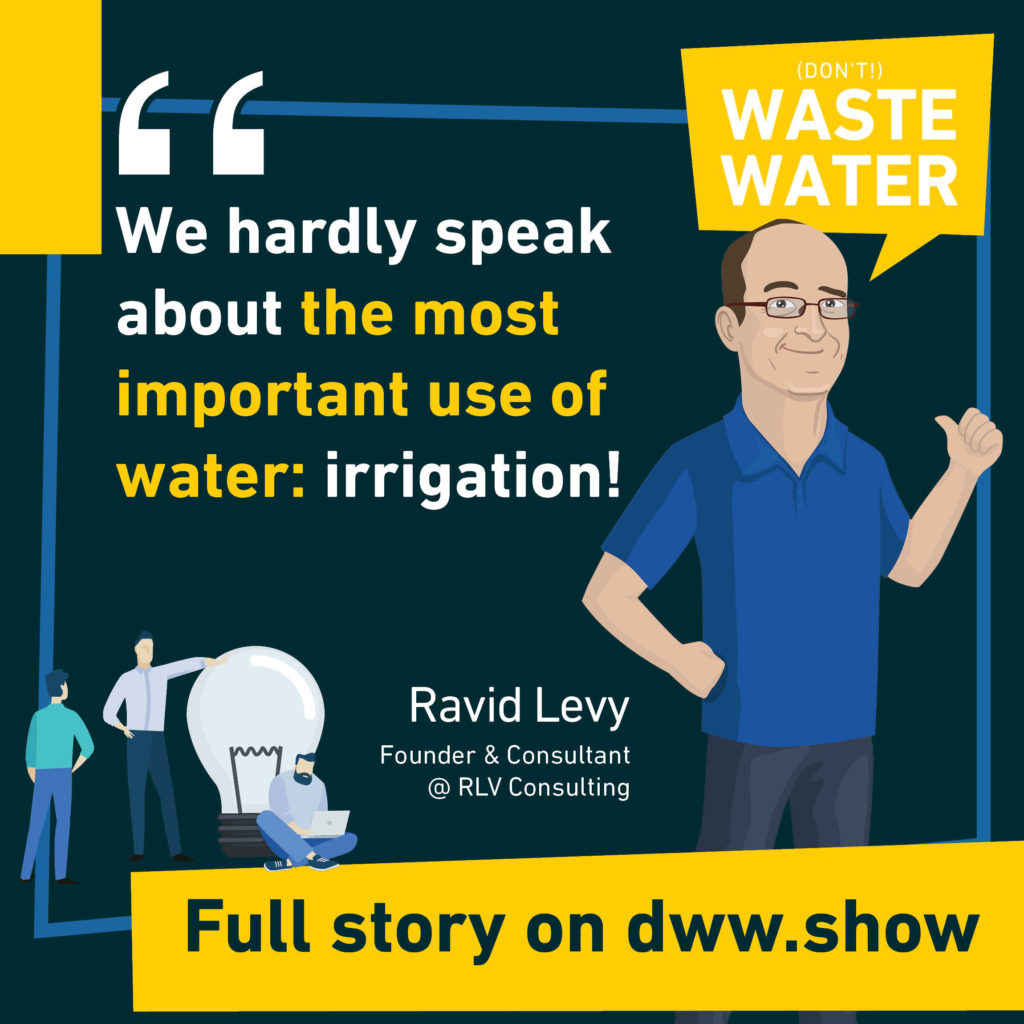 Antoine Walter:
I was reading a study on that. It's very interesting that you mentioned who was showing that out of the wide array of of research available. And most of the time this researcher brings something to the field of water into the way, which with water, but from this wide array of possible technologies, there's really a low percentage that ever gets to application. And I'm not even talking here of commercialization, but really to application. So if I get your rights, you're, you're here to avoid that
Ravid Levy:
To avoid or may actually yes, to narrow that gap and try to take more good scientific ideas beyond the papers and the PhD, theses and everything into more practical aspects and eventually commercial aspects. Now, most universities and research institutes today have a commercial arm or a commercialization company, even that is in charge of doing exactly that to bridge those gaps and locate good ideas in the research and take them to the market in different ways. However, I find that in many universities or institutes that water wastewater and even some other environmental aspects are being kind of left behind or fall between the cracks, because the dedicated people in some of those commercial arms of the research institutes are not water and waste water experts, and they don't know the water and wastewater market specifically, it's a niche. And so this is exactly where I try to help to come as someone who knows the market and knows the needs and knows sometimes the competing technologies or, or the different applications. And that specifically pick those water innovation and try to advance them towards that specific market. And I'm doing this for Migal, and I'm also happy to do that for other institutes in other places. I think it's a niche that is being a little bit neglected, and that's why maybe partially the percentage of turning scientific invention into innovation. Practical innovation is a little bit low.
Fostering Innovation at Country Level: the example of the Israel Water Miracle
Antoine Walter:
I was reading the thesis of Paul O'Callaghan, and he has these two elements of the, the value-driven innovation and the need or crisis-driven innovation. And I would say despite all the odds we are in an industry where value-driven is a very difficult path. If you come with added value and there's no active thing to force it to be enforced, it's probably not happening very slowly. Whereas if it's need driven and most of the time need driven has to be understood as there was a big crisis like Flint, Michigan, which you, I think you brought up last time we discussed or really something terrible happens, or simply there's a new regulation who enforces everybody to do something. Then it's a green field for innovation. And the link to our discussion today is that I'd like to see how a country like Israel is dealing with this kind of different ways to do innovation in the sense that if there's one place in the world where it's probably difficult to have access to water it's probably Israel.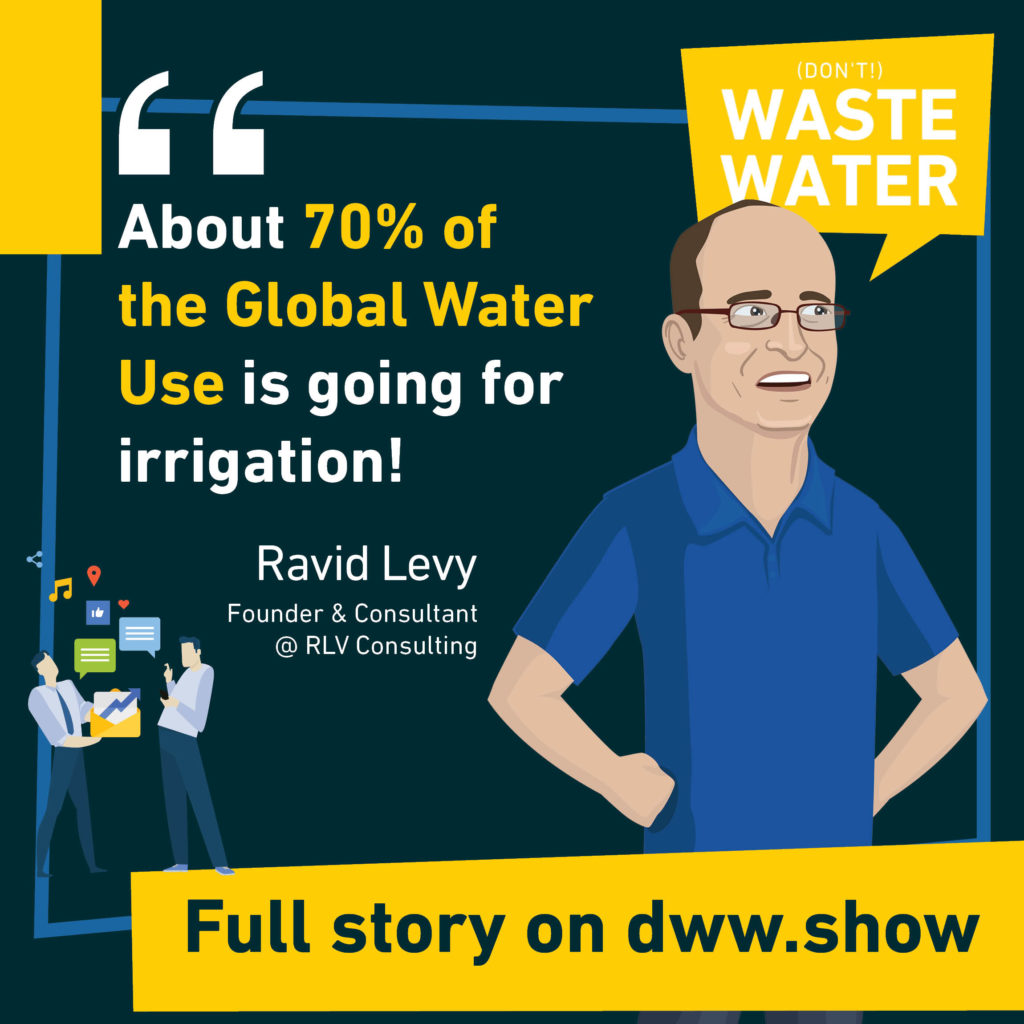 Antoine Walter:
And I would see that, you know, from hundreds and thousands of kilometers away as probably a driver yet, it's something that I'd like to, to pressure test with you today. And just let's take that as a teaser for something we will be discussing later on. Let's put that idea in the fridge and let's start from the beginning, which is, you know, at the time we record this episode, there's the Giro of Italia that just started. And there's the cycling team called Israel startup nation. I bet they're not going to win the Giro, but still they, they bring this awareness of Israel being a startup nation. And the last time, actually, the first time we discussed, we were discussing about Israel as a water startup nation. We were adding the water element. And yet if I get you right, yeah, there is something happening in the water sphere in Israel, but not to the same level than it would be happening in other spheres. Is that true? And if it's true, why so?
Ravid Levy:
Think it's, it's true. I, I, first of all love the branding of Israel as the startup nation. I think it has a lot of reality in that. And if you just look at the numbers and whichever way you want to take it from patents per capita, to how many unicorns I've been you know, made out of Israeli startups in the last couple of years, it's amazing, but when it comes to water, I think there needs to be a little bit of perspective that separates between Israel is a hub of water management and water innovation and the startup part of it, which is just relatively small, although important and growing part of that, there's a lot of things in which Israel, I guess, can be an example for innovative and also successful water effluent, whatever management however, not all of that really translates into what can be called as the water startup nation. There's A lot to be proud of and, and still a lot to aim for in that regard.
Israel: a Water Start-Up Nation?
Antoine Walter:
So what's a good indicator of what makes someone innovative in a field like water.
Ravid Levy:
First off all, the way that I don't know if someone, but let's take a nation or a country. Yes, of course. So first of all, the world deals with its own water scarcity and water challenges, and then the next phase, how well it manages to export that success or that or the not know how and all the innovations again, we'll be seeing that we're the law, I guess, today, to other places that suffer from similar problems. One thing that we rarely talk about in this water market environment that I guess your podcast is trying to cover many aspects of, of the water market, but there's one very, very important. Maybe the most important by the quantity of water that we hardly speak about, which is irrigation or agriculture. Agriculture is the biggest user of water by far globally. I think about 70% latest or you read of the global water use is going for irrigation.
Ravid Levy:
Now, the quote or the definition I said before about innovation is actually taken from the head of innovation for Netafim, which is an Israeli company that in the sixties invented the drip irrigation in the south of Israel in the desert in order to make water use by, by plants, more efficient. And today it's the, it's the world leader in, in drape or precision irrigation and a billion dollar company. But that invention initiated, as you said, is all said in his disease out of need. I wouldn't say a crisis, but definitely a continuous need of not enough water to grow crops and food in the desert from that point. And today in Israel, a lot of the agriculture is being irrigated by drip irrigation and that invention, which like the definition before solve the need, address the need in a new way, and then made a lot of money, way more than it costs to develop. And now all around the world solve similar or the same needs in other places. So that's an example of an Israeli need that led to a local invention that turned into global innovation that these days solve a lot of water problems around
Invented in Israel: Drip Irrigation
Antoine Walter:
The world. It's interesting what you say first, it's funny when you look at the map of the words used in terms of irrigation, because you fully, right. It's the elephant in the room yet? The one that we don't address that much, and I think there are two countries in the world where irrigation is not the first use of water. And it's a UK in Ireland. The reason being that it rains so much there, that they don't need that much irrigation. So, but it strikes in all the other places Switzerland, France included where we have so much water steel irrigation is the first user. And the second thing makes me think that you know, of this constraint, creativity, I think it was encapsulated in the Apollo 13 movie, but it's a true story. It's the story of how you get creative when you have just 24 hours to save people which are somewhere out there in the capsule in outer space, and you can just be creative with what you have. You cannot send them a space ship with additional tools. So you have to do with what you have. And that is to me a bit, your story of this drip irrigation in Israel, if you don't have more water, when, how can you optimize your use of water up to the point where you are making something awesome with what you have
Ravid Levy:
Exactly. And that way, if you want another example from again, a different angle that connects to water, but we rarely think about or deal with enough is the connection between energy and water. And then this goes to another Israeli innovation that started back in the sixties, but made mandatory in the seventies. And this is solar water heating. Now you rarely think about how much energy is being put into heating our water at home and multiply that by the number of homes. So Israel in the seventies suffered from both water scarcity as always, but also again, almost until recently also energy scarcity. And it was invented here and made mandatory in the seventies. And today, from what I know about 85% of all homes in Israel have solar water heaters. And that saves about six to 8% of the national power use. Now think about how many countries have so much sunshine and now invest in.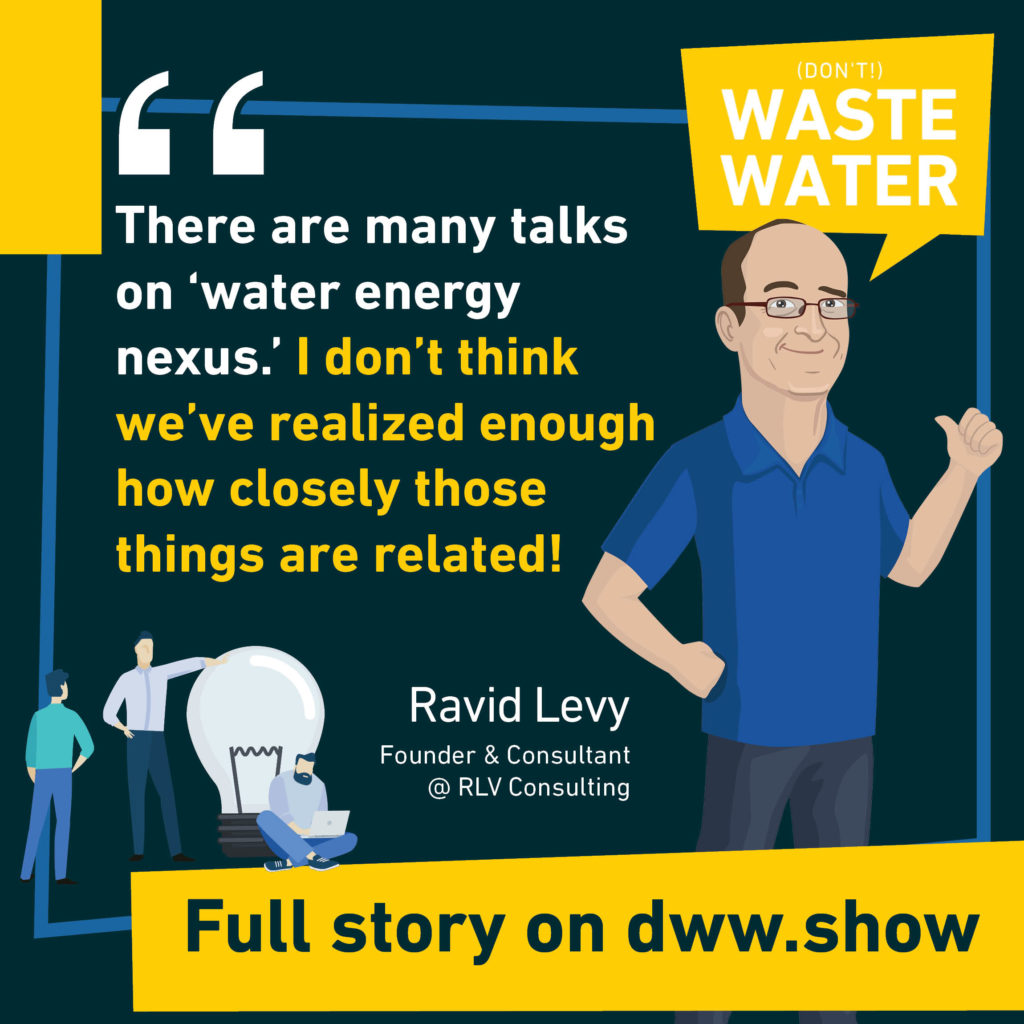 Ravid Levy:
So a lot of solar power, but still people turn on their water heaters every day at home using power. Just to take a shower, I'll give you the example from my home in summer here, we practically never turn on the electric heater from around the may all the way to September and in winter, when there's a sunny day, you're mostly covered. And that's again, well at the end, it's it's water. This is not maybe saving water, but saving a lot of energy. And that we keep on saying that water energy nexus. I don't think we've realized enough how closely those things are related. And and we can speak later and more about this connection of water, food, and energy and all, and how all that must be now combined in the new age of, of innovation. You cannot anymore just improve water and forget about the energy use or other things, or improve agriculture without counting for water use and energy use, et caetera.
Water-Energy Nexus, Common Sense or Central Planning?
Antoine Walter:
But if you recall the examples you shared those. So these drip irrigation, the solar heating, it sounds like common sense, examples and common sense has this beauty that it can be used everywhere. So that's the second element of that. You mentioned that how you can do something locally and then use it somewhere else. But usually common sense is also quite difficult to enable. So is that something which is different in the way you look at those water challenges in Israel compared to maybe other places in the world? W what is the key? What is the almost a special source that enables that common sense to be taken on scene? And to be simply enforced?
Ravid Levy:
I'll surprise You because it's not very, maybe common, but not very popular these days. The answer is central planning because yes, we're on the democratic world and then the capitalistic world and the market should decide, but common sense sometimes when it comes to mutual resources. And we see that now more and more with climate and with emissions and all that, sometimes it should a little bit, at least to some extent come from above. And the Israeli experience is actually exactly that before all those innovations and before all those of big successes and everything that other countries may be looking at Israel for, there were two basic pillars that the entire Israeli water miracle, if you like, we're built on one was back from the fifties and that's national water law. That was one of the first laws that were put by the founders of the state, which defines all water resources around the country, both above and below ground, both dirty and clean everything from rainwater to sea water, even to be public domain, to belong to the public. There is no private water in Israel. There are some waters that is being allocated by them by the government to private entities, of course, but the ownership of water resources by law belongs to the public and therefore, and that's the second pillar. It allowed to establish very efficient central planning and central management systems for the, this national resource.
First Pillar of Israel's Water Miracle: Central Planning
Antoine Walter:
It's really surprising because when you say central planning, you know, people think of a communist countries and Israel is seen as a very liberal country.
Ravid Levy:
It did start as a semi socialistic country, but these days, those foundations that were set back in those days are really helpful to manage this very limited resource in a modern democratic. And as you said, startup nation underneath there is central planning of that specific very limited resource.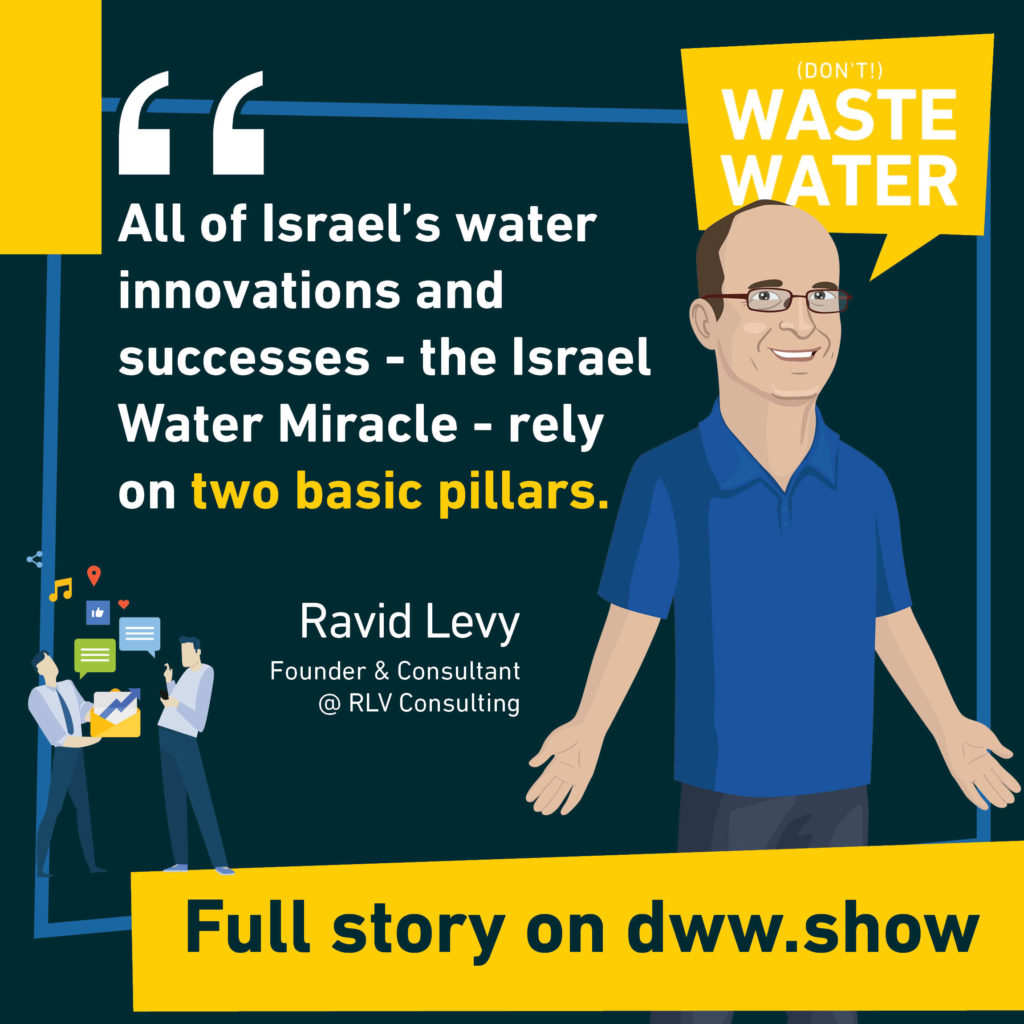 Antoine Walter:
How does that look like? How does the central planning look like? Is it like a document that comes on the 2nd of January every year? Is it on five-year plans? There's a
Ravid Levy:
Long-Term planning and there's obviously an annual a plan that takes into account the rainfall and the available resources. So when there's a, a for example, a good winter, if you, as we call it here, right, or relatively a higher rainfall, then the central planning can downsize a little bit of pumping from underground to replenish groundwater levels, or sometimes also to reduce a little bit purchase from the desalination plants to, to balance between the different sources and the cost. Of course, that is involved in all that. You cannot look at the Israeli success in managing its war is limited water resources without understanding that underneath all that lies central planning of that resources and that not everyone can just do whatever they like with the water underneath their feet.
Second Pillar of Israel's Water Miracle: The National Water Law
Antoine Walter:
You mentioned the, the Israeli success and the water management. And thanks a lot for placing the context to that. But you know, when you're looking at, at Google, I think the second most asked question on Google when it comes to to water and wastewater is how does Israel treat and reuse it's industrial wastewater first? I'm not sure why they targets industrial and not just water in general, maybe it's to overcome still something, which people are really, really keen to understand that we reuse waste water in the industry, but don't tell them that they might be drinking the pee of the neighbors. They are not ready for that. Aside from the psychological aspect, is there any difference between the way industrial and municipal waste water is dealt with in Israel's it's all that part of the central planning?
Ravid Levy:
There is a difference to a certain extent, but everything is still going under the overall water law. And the part that the central planning plays in that, however, there's important definition or differentiation to be done here, municipal wastewater in general is being treated and mostly reused in Israel. This is maybe a famous fact, but it's still worth repeating and emphasizing about 85, maybe more these days already percent of all domestic wastewater in Israel is being treated and reused for agriculture and only for agriculture, right? So all these discussions about drinking, your neighbor's pee, or, or toilet to tap and all that is practically irrelevant in Israel, because none of the waste water is being reused for drinking. There is a very strict and clear separation you may say, and you probably will be correct that we eventually eat much of that in our fruits and vegetables, because yes, a lot of the irrigation agriculture in Israel is based on reused effluents.
Israel's Water Miracle involves a lot of Agricultural Water Reuse
Antoine Walter:
That element of reusing for agriculture, you know, in Europe, it's not that long that it's allowed. And even now that it's allowed. And really we are speaking of a couple of years, it's not like decades still. I was reading this morning, an article in a French newspaper, which was explaining that it is difficult to get past all the regulation barriers. You have to treat it to such an extent that economically it just doesn't make sense at all. You may be green minded, but still, if it doesn't make sense, you're just not going to do it. That's one of the elements of sustainable development. It has to be economical if it's not well, it's just not happening.
Ravid Levy:
The approach in Israel is that we don't have a choice. So it doesn't make sense economically if you have other sources of water, but if you're in a negative water balance and you still want to grow food and to advance your economy and to export fruits and vegetables, like Israel is very good at, you need to get the water somewhere. Apparently it does make sense. Eventually it is correct that the stricter, the regulation, the more expensive it will be to treat. And therefore you need to account for that also in the, in the different users of that water. So it will eventually make sense. And here, well, maybe I should have said that before. I'm not speaking for the Israeli government or for anyone. I'm just speaking out my mind and my opinions and my experience here. And therefore I'm also free to maybe to critisize or also to say what, what is still what still needs to be done. And so it is correct that Israel leads the world. And by the way, by huge margin in the percentage of effluent that is being reused, I think Israeli is almost 90%. The closest one behind that as far as I read is maybe 30, 25 or 30%. However, when it comes to regulation and to quality we still have a way to go. And also of course, with the technology that needs to be used in order to reach that quality,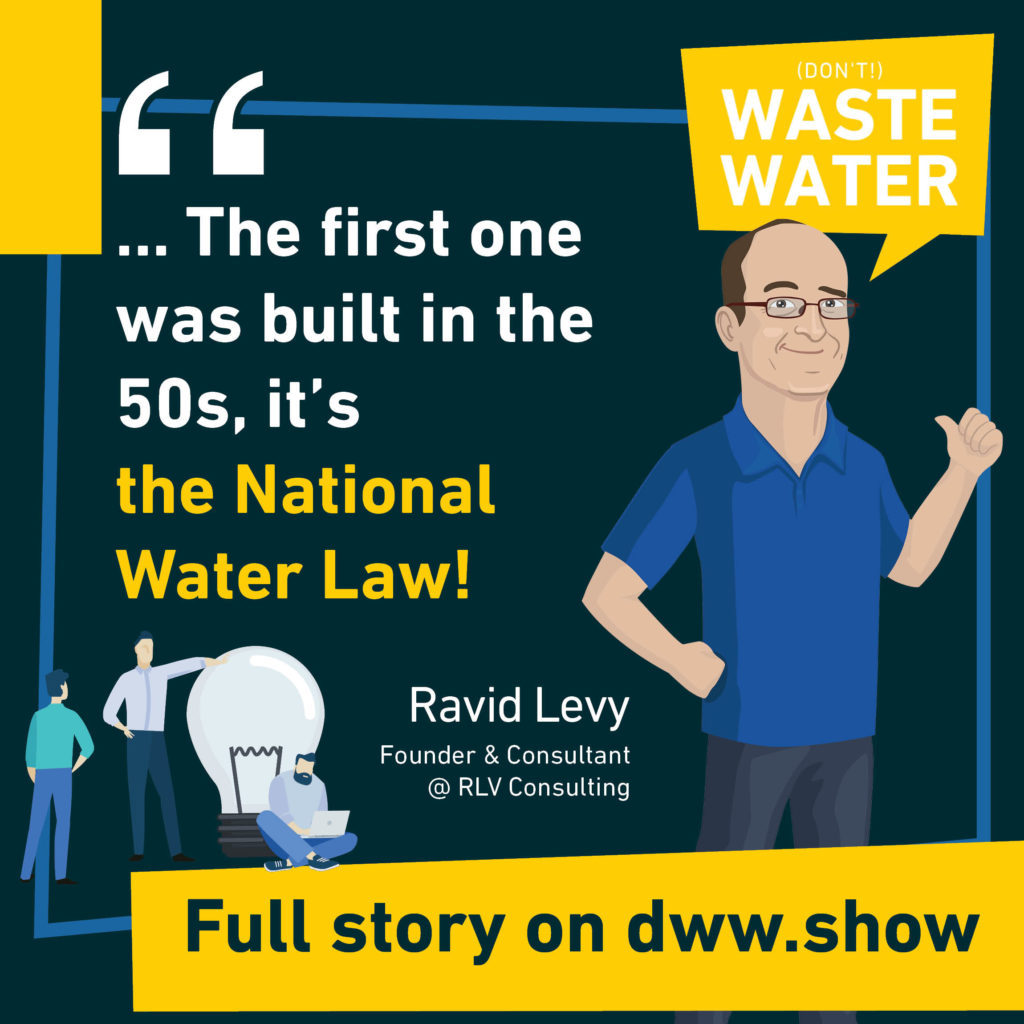 Antoine Walter:
Two elements here, if you treat almost 90%, that is reused, how do you treat it actually, what is the treatment scheme? What is the policy you add? And a second question, and then you can take both of them. How does it look in the industrial world? Is it like the same amount? Is it more, and are the treatments similar or do you see major differences?
Ravid Levy:
So first of all regarding the domestic waste water, so the majority is treated by the conventional primary activity, that's large or similar biological treatment more and more. And I think we're close to the majority or almost there is treated tertiary. So with advanced filtration of beyond the secondary and with chlorination with disinfection, this is the basic treatment, which if done properly meets the Israeli regulation for irrigation, of course, that it's not as simple because irrigation of different crops requires slightly different qualities. Therefore tertiary will only be used for for irrigation of crops that require that while non-edible crops, for example, can be irrigated with a slightly lower quality. The regulation gradually gets more strict. So more membranes are being used lately to get to, you know, high tertiary quality in terms of solids bacteria and others, AOP and other advanced treatment are still in discussions. Let's say this way, it's still not regulated to that extent in when water goes to irrigation. But again, it's almost unfair. It should like the science fair, but it's almost irrelevant to compare this reuse to what happens in orange county or in Singapore where the water from the beginning is intended to go to potable or maybe to advanced industrial applications. Therefore the treatment technologies must be different.
What is the next frontier for Wastewater Reuse in Israel?
Antoine Walter:
We are back to this topic of common sense. Sometimes it's just good enough. Why would you treat the water up to drinking water levels? If it's to irrigate some crops that would, by the way, benefit probably from a bit of organic matter and where you would have less additional chemicals to put on it to make the crop growth. So, yeah, we are back to common sense.
Ravid Levy:
I agree, when it comes to nutrients and fertilizers, you're absolutely correct, but we, we should not forget all those emerging chemicals and hormones and other things that are now starting to be in the center of attention, definitely when it goes to potable. But I think personally that they should be more also accounted for when it goes to irrigation of edible crops, because at the end we will eat those again. And so those materials probably should be also taken care of.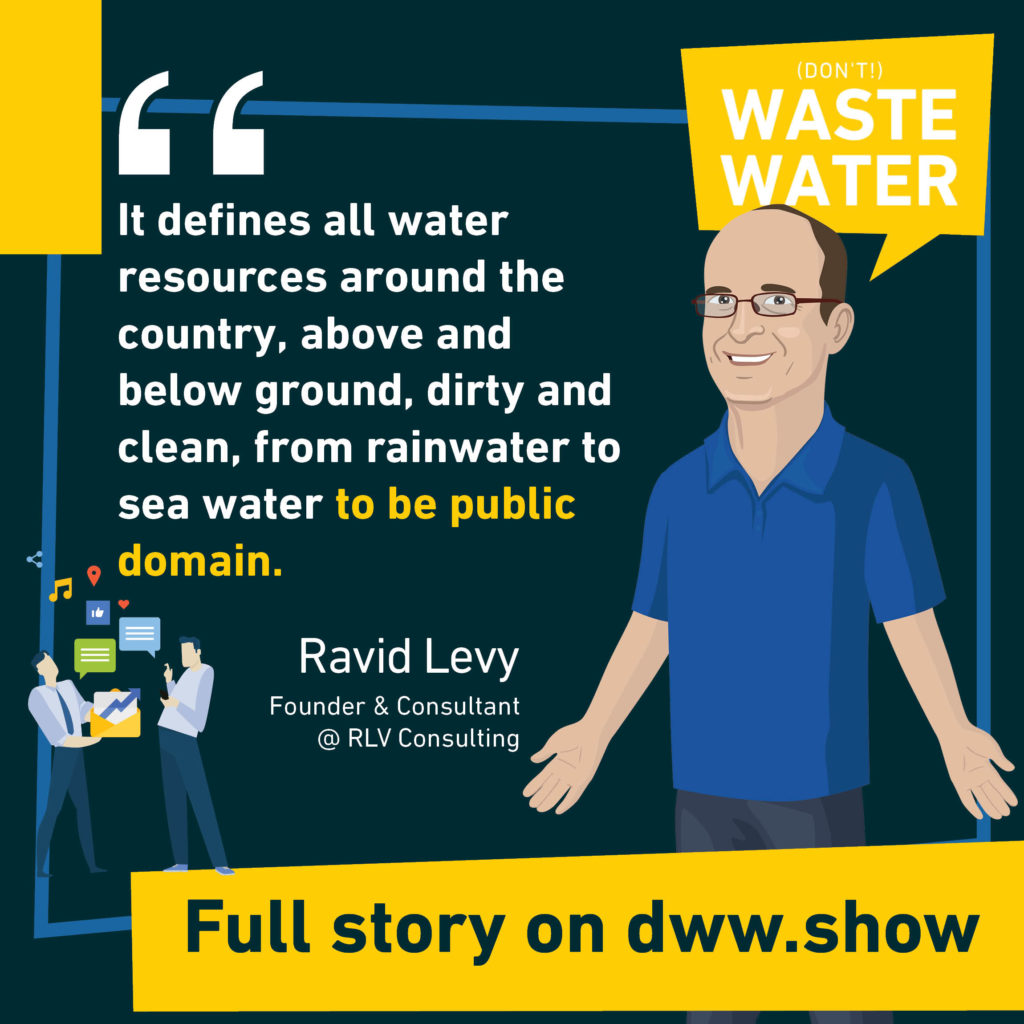 Antoine Walter:
It's another fascinating field if you ask me, because when you look at these treatment of emerging contaminants, one of the way to treat them, which is of course almost impossible on full-scale, but, but which works quite nicely is, is the Reed beds and to take basically nature to break them down. So you could imagine it doesn't work for all of them, but it works for some of them. If you have really those, some of them then probably you don't need to remove them because the crops are going to do their job and be part of the solution.
Ravid Levy:
You're right. I just must comment that in some cases, in some places, some solutions are more relevant than others. Israel, for example suffers also some parts of Israel suffer from land or from footprint limitation. So for example, much of, of the wastewater today in, in central Israel is being treated by aquifer filtration. But those lands are limited. It's huge ponds where they trickle into the aquifer and then being pumped back in center irrigation, extremely high quality. But these days we need to start thinking about alternatives that are more compact because the population grows and the land is limited. So the Reed beds and all the natural solutions are extremely efficient and very, very good, but they may take quite a lot of area that we need to make sure that we have
How is industrial water managed in Israel?
Antoine Walter:
Talking of these spaces where there's a bit less place. Usually that's the industrial world as well. And what about using the industry?
Ravid Levy:
So industrial wastewater is is always around the world. I think a very delicate issue when it comes to wastewater. Every industry has its own wastewater and very different from each other. A lot of the Israeli industries eventually discharge into the domestic sewer, which eventually goes to treatment and reuse by the domestic wastewater plants. And it is very, very important to, to monitor and to regulate those in order to make sure that the eventual treatment plants are not being disrupted, but even more important that the eventual effluents that are being reused are free of contaminants that originally came from the industry like heavy metals, like other things that are usually absent from domestic waste water, but can be added by the, in the industrial industrial waste is always, and will always be probably one of the biggest challenges. And also there's a, one of the first adopters of water innovation and technology, both because they're easier maybe for adopting new technologies, but also because the needs there are higher. And the regulation is sometimes stricter,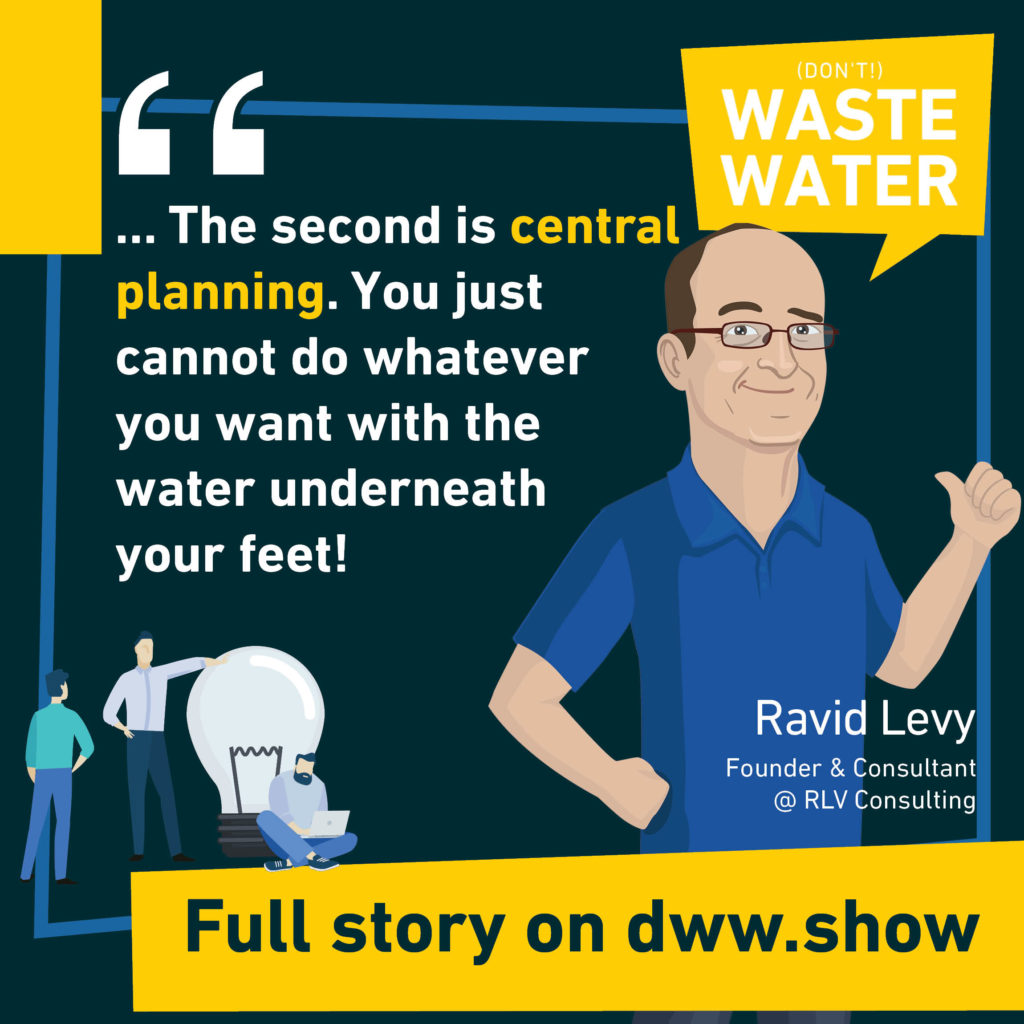 Antoine Walter:
Which gives me the opportunity to send two little "Hi"s to other Israel startups I had on that same microphone regarding what you said on the emerging contaminants and how we could be really targeted at taking really the most problematic ones out of water. We had that discussion with Gabi Wolkinson and Ofir Menashe on the microphone from bio castle, because they are encapsulating some, some bacteria that might be then exactly that that was compounds. And I'm talking of the distributed side, even if Gilad Yogev from Fluence explained that they have solutions that go also on the central end of the market, there is for sure a special interest for their autonomous solutions.
How Israel's National Water Law encouraged Distributed Water Management
Ravid Levy:
One thing that Gilad Yogev, by the way, from Fluence, where I spent quite a lot of my own career, one of the things that also came out of the Israeli experience in a way, and also from the national water law that does not differentiate basically between big cities and isolated settlements and villages all are under the same law. Everybody should get the same quality of water and also should answer to the same or almost the same regulation. And from there started a lot of this, what is now a very you know, common buzzword, which is decentralized or distributed water treatment and wastewater treatment because each and every village settlement, army camp, whatever you want should have an has practically its water supply. And if it comes from a well in, in the far desert, then it needs a containerized desalination unit. And then the waste water also needs to be treated, preferably reused in the fields of, of that village or kibbutz or whatever. And so the, the heritage of decentralized water and wastewater treatment also has roots in the Israeli water management heritage, I guess. And now that approach is also taken to the world.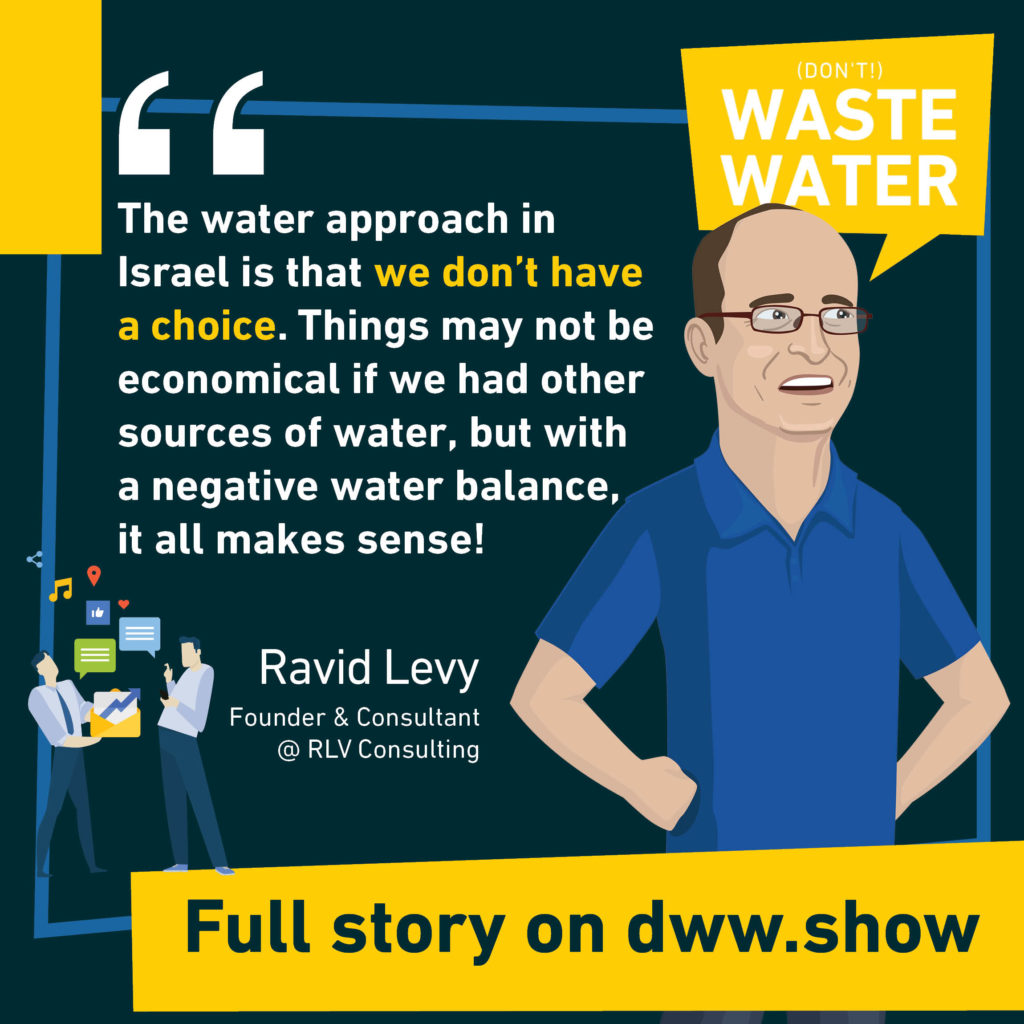 Antoine Walter:
What about taking to the word? And and thanks for that smooth transition. We have this reuse aspect where you, you, you explained us how Israel is leading the pack somehow, but it's probably a solution to much more places than just Israel and probably the same for distributed or decentralized treatments
Ravid Levy:
More arid places I would start with. So asking France or Switzerland or the UK to copy, or even take too many ideas from the Israeli water management scheme is a little bit ambitious, but there are so many arid countries in the middle east and beyond. It is impossible to copy solutions, but the ideas and the principles and some of the technologies can, and it should be adapted from one place to the other. And we should do the same here when we upgrade our reuse to higher standard or to more you know, emerging contaminants we should. And we must go to places that already deal with that for maybe portable or other applications and adapt them to our irrigation needs. For example,
Replicating Israel's Water Miracle
Antoine Walter:
We have to be careful when we say it's only for our replaces, because, you know, I had the discussion with Jacob Bossaer from BOSAQ on, that same microphone, and it was sharing that there was a place in Flanders in Belgium, which is really comparable to Sub-Saharan areas when it comes to a, to this aridity. So sometimes it's really in the middle of places, which are water rich, that you still have these water scarcity element. So that's
Ravid Levy:
Why I said, or what I wanted to say is not arid countries looking at this on, or only on the country level is a little bit misleading. And even in Israel solutions in the, in the north where it's wetter relative to the south might be a little bit different.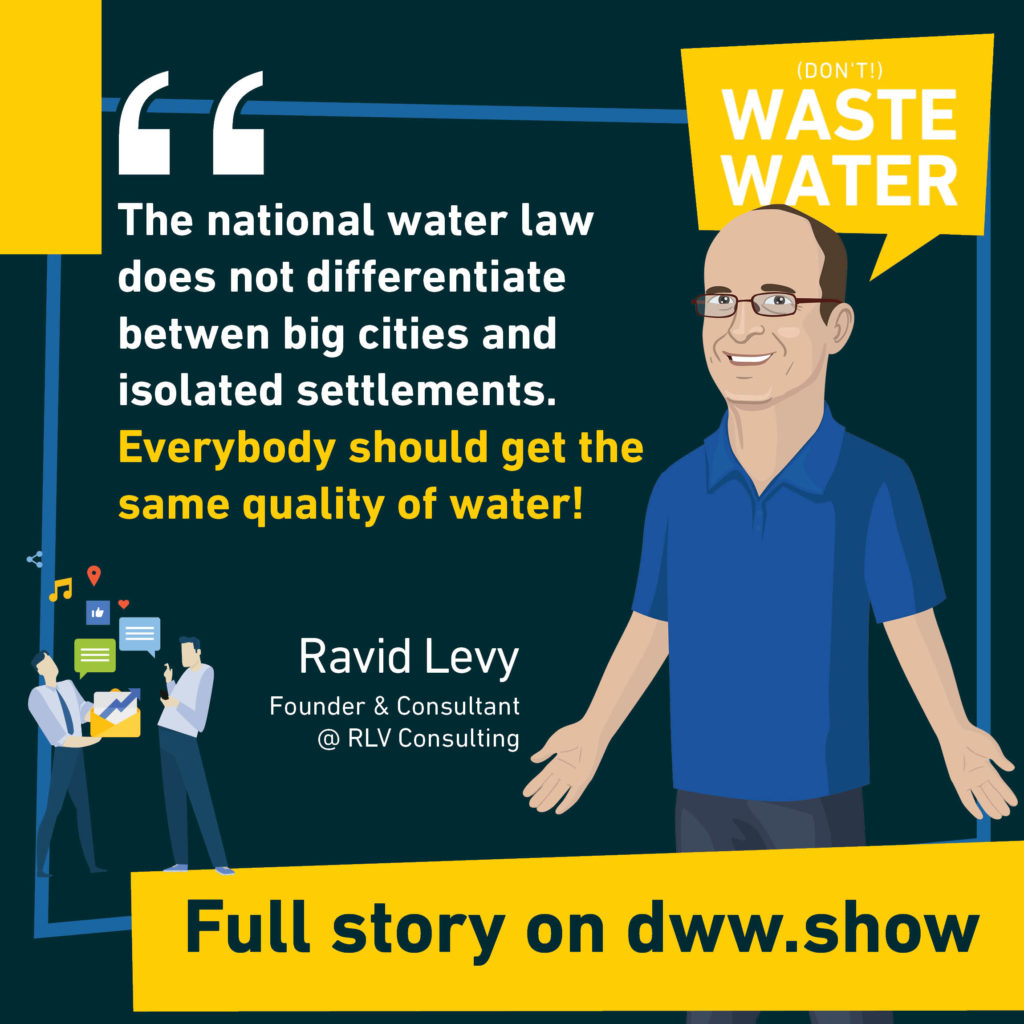 Antoine Walter:
So somehow we are back to this topic of decentralized because you have the central planning, which has to give you a frame, but then it has to be local solutions. If you see that you are in an arid area, then reuse makes sense. And if you see like, like me, I mean, from my window, I see the Rhine river reusing my water would probably make little sense. Whereas protecting the Rhine from nasty effluence makes a lot of sense. So, well, men,
Ravid Levy:
Many people might claim that you are reusing, but other people's water from upstream.
Antoine Walter:
Yeah. Very true. A bit less. Since that, since we were built, finally, wastewater treatment plants have been everywhere in Europe, but but very true. I mean,
Ravid Levy:
But if they, if they discharge into a river, it will go somewhere. If those treatment plants distribute separately, their effluents to irrigation or to industry directly then correct, it will never go into the river and will never be reused by people drinking downstream. So this is, again, a bit of a, of a decision. Of course, I understand that in some countries reusing for agriculture, doesn't make much sense, but we're using it for industry. For example, makes a lot of sense, rather than using your limited freshwater resources to feed the same industry. By the way, this is one thing that I think Israel can still go beyond where it is today. Diversify the destinations of reuse from only agriculture, also into industry. I don't want to claim that maybe one day potable will also be included, but before that there's so much fresh water that is being used by industries. And that can be relatively easy. And I think not with too much investment, be replaced with with domestic effluence, that can be reused.
Human evolution of wastewater handling: towards Homo Circularis
Antoine Walter:
Yeah. If I look at the infographic you produced last year about this evolution of men or more reuses, which is the last step, the one which is reusing its water is, is the final evolution. No,
Ravid Levy:
It's not actually, I think this is the almost evolution, the final evolution. Well, so since this is a podcast, we can go through just remind the stages. I, it starts with just discharging the wastewater to the environment. It goes through treating it before discharge again, the next stage, and this is more environmental stage before we get to using the water is to treat it. So it won't be such a horrible pollutant to oceans and rivers and everything. Only after we treated, we can start reusing it depending as we said, level of treatment to be matched with with reuse destination and, and requirements and and other limitations. Once we've done all that, we are only using one part of the resource that is there in the wastewater, which is the water. It is 99 or 90 something percent of wastewater is water. But if we just reuse the water, we are still losing a lot of those resources that we may benefit from in the waste water.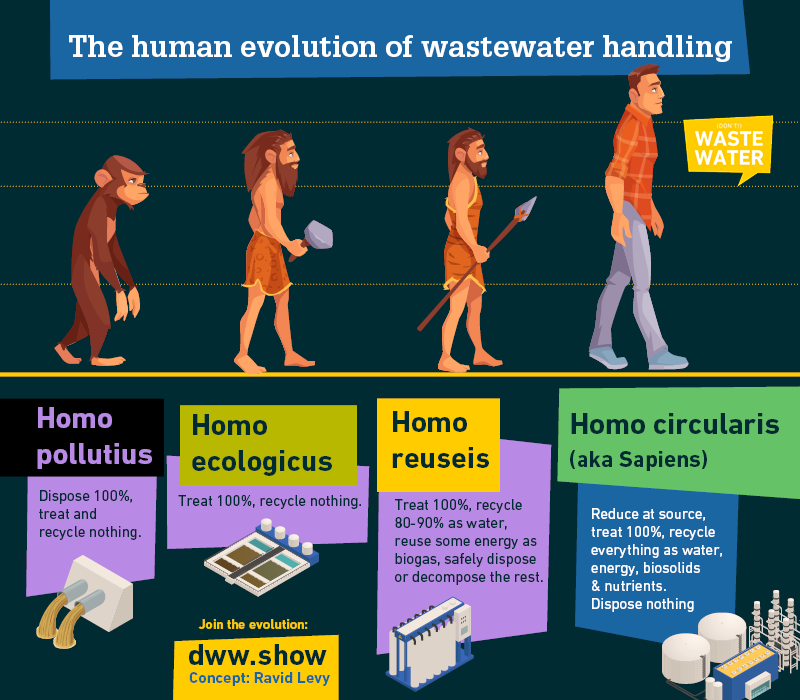 Ravid Levy:
And this is, that's why I call the final level of volition step holistic, your lack circularity, which means that we were used everything. Of course, not everything, but everything that makes sense and that we have the technology and the use for in the wastewater. And that's obviously starts with energy and then also nutrients precious metals, if it makes any sense or whatever we already have there rather than the oil or the traditional concept of the water industry is that wastewater includes pollution and pollution must be eliminated. So clean water can be taken from the other side to whatever we do. But if we change that paradigm and start looking at whatever in the wastewater, not just as a pollution, that should be eliminated, but as resources that can be recovered, then the entire concept of treatment also can or should be changed.
Are "good enough" and "always better" two competing paths?
Antoine Walter:
Now, let me take my devil's advocate hat for a second. I'm fully with you as a, as a water professional to see that there's this, this water, which was before and treated, let's stop calling wastewater. Let's say it's a, it's a resource. We take out everything that's could harm the environment. We reuse that water. We take all the particles out that can be reused somewhere else. Phosphorus there, cellulose. They're a heavy metals there. I mean, lots of things like that, that really sounds like, you know, a water engineer's dream. So that's awesome. But if you consider that there are places in the world where, I mean, and not so many places in the world, it's just, it's the vast majority of the places in the world where the wastewater is, is not treated at all today. Basically, you know, it feels a bit like if I go to my daughter and I tell her, you know, do these, these, these, these, these, and I gave her like a list of 20 things she should do. She's just not going to do anything just because she knows that she, she cannot do the 20. And if she does 18, I'm still going to tell her, you know, you didn't do the two other ones, so why bother and start at all? So don't you think that at some points, if we optimize it too much, we are sending the wrong message and the good message might be we'll do something and whatever you do, it's better than nothing. Yes.
Ravid Levy:
So I, I actually think the opposite and I think there are a few examples for that. And I'll try to convince you my basic approach is that there's no need for everyone everywhere to go through each and every step of this evolutionary development like we did, or like you did in Europe over the last two centuries, this is exactly where this so-called flat world can have a benefit. The fact that in Switzerland, it took 200 years to switch from railways watering in the river to complete. So reuse for portable or somewhere else to me means that where now water is being dumped wrong, or wastewater is being dumped with the river, can at least technologically implement tomorrow. If the resources are there, other things are met, there's no need for them to go step by step through basic treatment. And then later upgrade to secondary and tertiary, blah, blah, blah, and you know, and maybe expedite and everything 150 years now, the technology is there, the economics already known, and there's no needs to go through everything.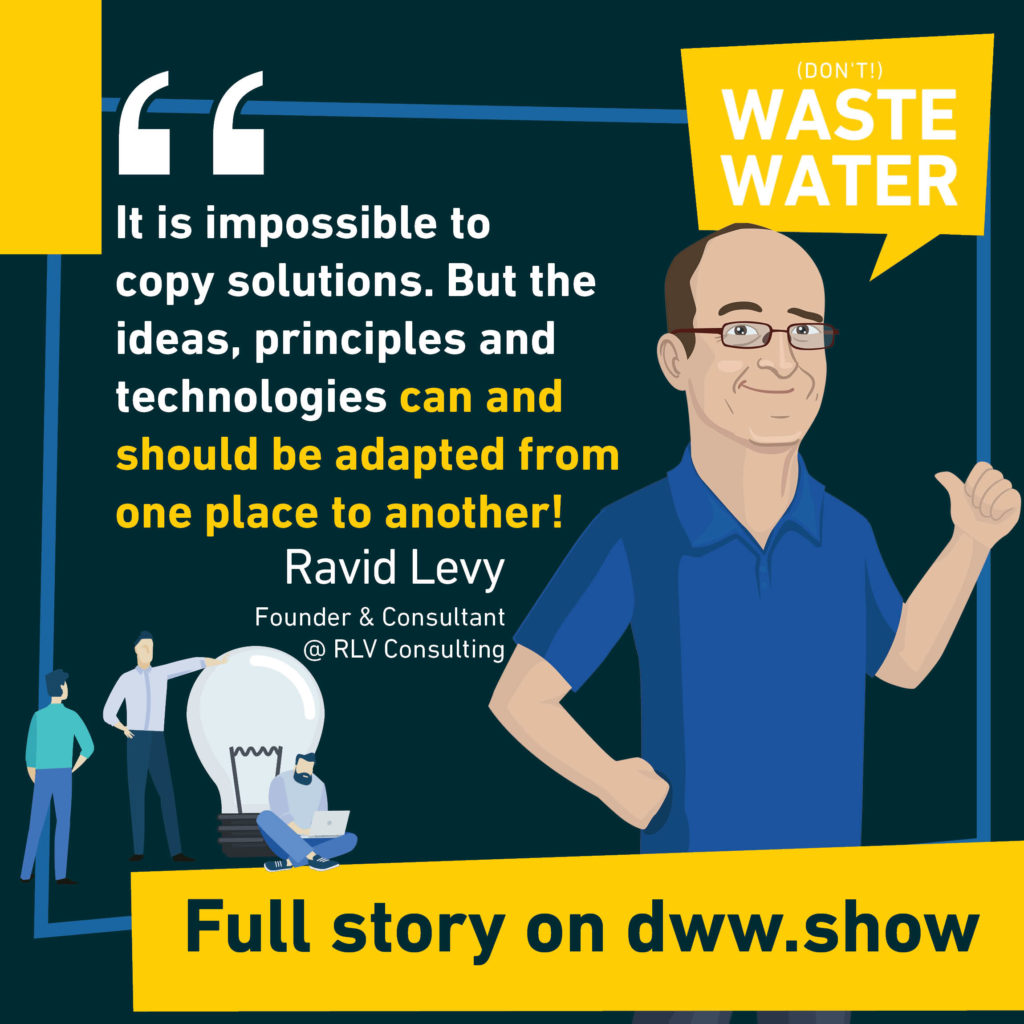 Ravid Levy:
And a good example for that is some countries that lacked almost every communication infrastructure and then cellular communication came in and sold so many problems. And now cellular no 3g, maybe even 5G soon, we'll be there without going through the Telegraph and the telephone and the fax and, and, and everything, because it was there ready to be deployed and answered many questions by the way, maybe just maybe if we have a valid economic basis for recovering resources out of wastewater, it might actually give the incentive for those places that today see no value in that water. They don't lack water because maybe they are tropical countries and the, and the reusing, unlike arid countries where the water is actually the resource that is limiting. And it gives the incentive for using right from Israel to California, to Australia. But what happens in central Africa, they don't need the water, they have excess water, but what about the other resources maybe having valid or solid economic basis for extracting metals, for example, for the battery industry or nutrients for the fertilizing industry, or just energy, clean energy out of the wastewater, they will keep dumping the water back to the, to the river and the ocean because they don't need it, but they will have the incentive for treating it from the other resources.
Ravid Levy:
Now, this sounds a little bit like too good to be true and like a dream. But I think that once the technologies will be there, be proven and scaled up to economically get those resources out of the wastewater, it will create completely new markets.
Central Planning as a way to overcome early financial hurdles
Antoine Walter:
Somehow that brings us back to the central planning, because, you know, in this French article that I alluded to earlier, there was a very revealing example. They were saying that all the reuse project in France are on the west coast. Not because they need the water at all, but just because when they're discharging to the, the Austrian, then they have alga bloom, and they have a problem with the fishes, which does appear. They have a problem with balance with the ocean. So it's not about the water. It's about the macro picture around. It's exactly what you're sharing. Last question. Do you think we are far from having the full array of technologies we need? What is the, the primary field we shall be looking at? I was under the impression that, you know, technologies like phosphorus recovery are already pretty advanced. Is that true?
Ravid Levy:
I, I don't feel that yet. I think that when it comes to treating the water, cleaning the water, a lot of the technology's already there. It's already proven. There are already full-scale examples that devolution in terms of the technology is still not everywhere, but there are very good examples, even for potable reuse, right? You go to orange county, California, it's a, full-scale enormous. And what an amazing as, as a water technologist's perspective, example of how large scale potable reuse scheme can work over many years and, and economically and efficient. So that site cleaning the water is quite advanced as always a lot of improvements and always new inventions and new innovation that can be applied by the way. One part that is still at its very early stage is all those emit. Some of those emerging contaminants like PFS, how come we haven't mentioned PFS yet in, in the last 30 minutes is the hottest thing out there.
Way forward: From the Israel Water Miracle to the World!
Ravid Levy:
The technologies to deal with that are just starting to imagine scale up and obviously goes hand in hand with the regulation in the U S and in the Europe, in other places that mandate treating that to very, very low levels, both in audible water, but also in effluence and leeches and other sources. But they feel that this part is quite advanced. The resources recovery part of things is still much earlier in its development, maybe except for one aspect, which is biogas from sludge, but still the sludge just represents a fraction of the chemical energy that came in as bod or Sylvie into the plant, because we oxidize, we invest a lot of, of energy in order to supply oxygen in most cases, to break down that energy that that organic load. So energy production, nutrient recovery, obviously everything we mentioned before, like heavy metals and other things that today is, seems like the problem, a very big environmental and health problem. The battery industry sees that as gold practical, literally sometimes now is it cost-effective to extract those from different streams, not necessarily wastewater take all the brine that comes out of the salination plants. This is another type of wastewater that at the moment is just being discharged as is as long as it meets the environmental regulation. It's perfect. But in fact, it also can, or may include some of precious resources that we might want to recover if there is an economic basis for that.
Antoine Walter:
Yeah. We're back to this bigger scene and you have to look at the biggest scene rabid and propose you to switch to the rapid fire questions.
---
Rapid fire questions.
Antoine Walter:
The problem is that usually the rapid growth questions are the questions which everybody gets, but you got them and you got the second set as well. So I had to create a third set for you.
Ravid Levy:
You never fail to amaze me!
Antoine Walter:
You see that? The first question is actually very, very linked to what we were just discussing. What is the top synergy we predict for waste water treatment in the next decade, AKA with wet can, can it be coupled to increase the overall yield and why two buzzwords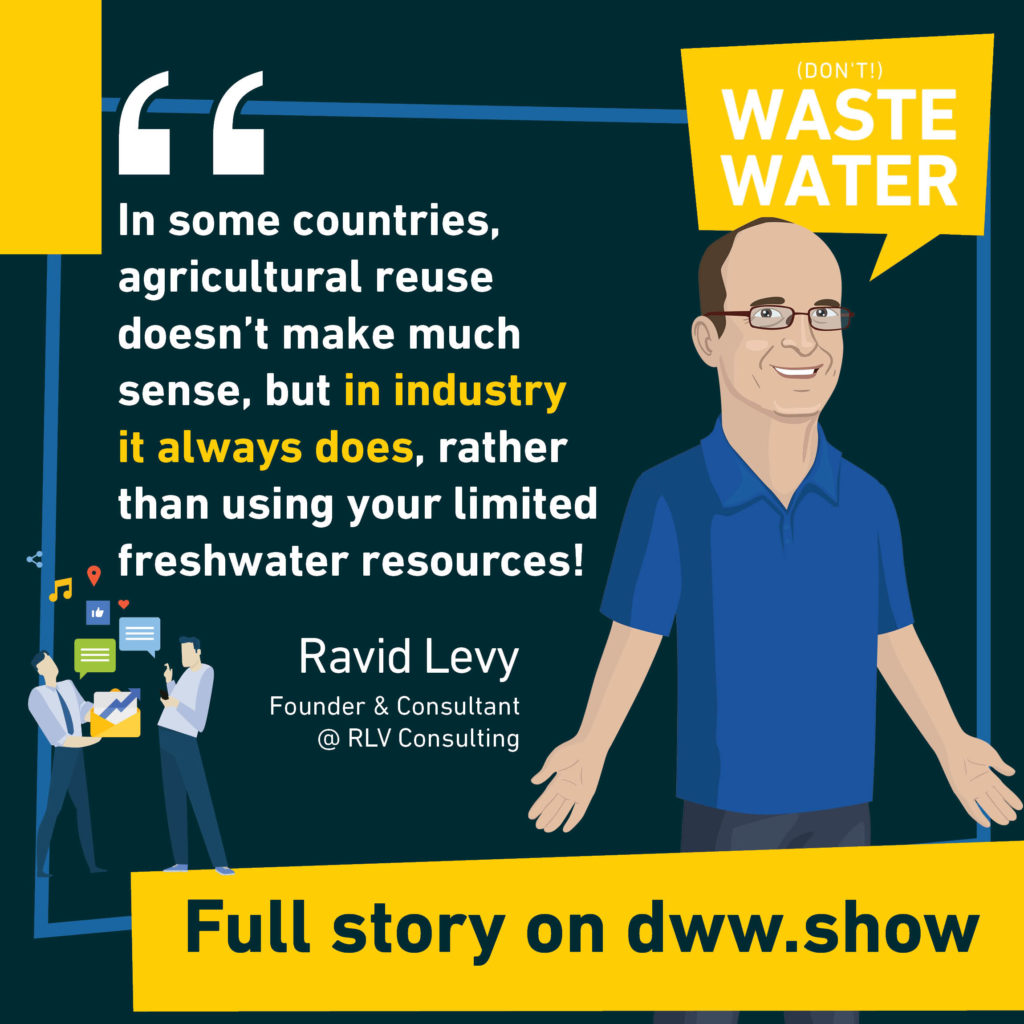 Ravid Levy:
Knew, but the energy at the moment, this is not a consideration in most water management schemes or production anywhere. I think the other thing which we already discussed is circular looking at water and wastewater as of a broader circular economy that involves not only water, but also other materials. And again, energy, I think that's where everything must go.
Antoine Walter:
What is the one thing we do today in the water industry that we will be looked at as totally nuts in 20 years bottles?
Ravid Levy:
I hope they would be, it would be true that in 20 years, we'll look at that as, as ridiculous. I'm not that optimistic, but still one is bottled water. The other thing which we already covered is the discharge of untreated Westworld to the
Antoine Walter:
Environment. If you were a word political leader, what would be your top three actions to influence the fate of the words, water challenges. We'll just take
Ravid Levy:
One more three, but this one, but this one is, is huge. That's global reuse targets take the carbon emission reduction targets and the global treaties and agreements that they are with all the commitments of different companies. And most of all, states and countries for reduction in emission, if it would be up to me, there would be a similar global agreement and a quantifiable targets for each country, of course, based on its current situation, very similar to the, to the common situation. Not everyone can and should commit to the same level at the same rate, but everyone should have, should have a target.
Passing the Sustainability Torch
Antoine Walter:
How do you share sustainability caring with the next generation?
Ravid Levy:
As much as I can. I have a solar power system on my roof and my kids are responsible for cleaning it from dust once a month during summer. So they share the, the effort for producing clean energy. We have a hydroponic system where we grow up vegetables and some things, and we watched a rave blue world on Netflix together for what it's worth.
Antoine Walter:
It's always dangerous. You know, you watch that. And then you're, you're concerned that a bit more, but still it's important to have this global vision. I mean, that's true for brewer. That's true for CSP resi. That's true for all the, but it's good sometimes to get a kick in the like Michael Moore did for the Flint, Michigan story. So yeah, it's been a renewed pleasure to spend that time with you. Can we remind everyone of where they can follow you? Maybe then
Ravid Levy:
I skipped the evolution of websites and and those kinds of things, and I'm trying to be active and present on LinkedIn. So I think that's the best way of reaching and communicating. And I'm always happy to do that with everyone in the water market.
Antoine Walter:
Thanks. Thank you.
Other Episodes: