with 🎙️ Gilad Yogev – Product Manager MABR Products @ Fluence
💧 Fluence is a global leader in decentralized water and wastewater treatment solutions.
---
What we covered:
🍏 How actually MABR is not a typo for MBR or MBBR but maybe simply THE wastewater treatment technology of the 2020s
🍏 How membranes are used in this technology and how it revolutionizes the way air is introduced into wastewater
🍏 The roots of MABRs actually fit very well a John Lennon quote
🍏 The 2 main applications of MABRs (and the one Fluence believes might reshape the water sector as we know it
🔥 … and of course, we concluded with the 𝙧𝙖𝙥𝙞𝙙 𝙛𝙞𝙧𝙚 𝙦𝙪𝙚𝙨𝙩𝙞𝙤𝙣𝙨 🔥
Resources:
➡️ Send your warm regards to Gilad on LinkedIn
➡️ Visit Fluence's website
---
Full Transcript:
These are computer generated, so expect some typos 🙂
Antoine Walter:
So, hi Gilad, welcome to the show. Hi. Hi Antoine. I heard you're based in a very nice place right now. I'm pretty far from called Europe. Can we start with the postcard? Just describe me. What's surrounding you and where you're sitting right now.
Gilad Yogev:
Okay, great. So I am speaking from Israel and my home office. I live in a small village on a mountain in the Western Galilee. The weather is pretty nice outside some 20 something Celsius. So what mild winter, right? Compared to what you are experiencing in Europe now. And we're a little off the Mediterranean coast and actually a nice part to have, eh, of my view. I'm looking at a local wastewater treatment plant that I can see from my window. So I was warned when I bought the house that we're near a wastewater treatment plant. And I basically said, well, I'm an environmental engineer that, that doesn't scare me.
Antoine Walter:
So basically you have a reminder of your duty every day. You look through the window. That's a nice point. Yeah. You just mentioned you were an environmental engineer. That's a good start actually. You know, I am an environmental engineer myself and surprisingly, I would say we are not a majority in this industry. And sometimes I have some students or people which are in the process of becoming a nematode engineer who asked me what actually these industry looks like. And what is a typical path inside this industry? And I was thinking maybe you would have something to tell us here and probably your path can be a good example. So let's start by that. What's your path in this water industry?
Gilad Yogev:
Great. So I'm indeed an environmental engineer. I graduated from the Technion, the Israeli Institute of technology. And as a matter of fact, environmental engineering is a relatively new department and profession in Israel. It's nearly 20 years old as environmental engineering of, you know, of course it did exist before then, but it wasn't called environmental engineering specifically. So it's a relatively new profession and study in Israel at least. And it's always in a consistently growing. Those are growing need for environmental engineers. And the profession is already well-known of course, in the industry here, but that wasn't the case when I started out my studies. So what the graduates basically said is that if you're an environmental engineer, you have to search for other titles, such as process engineer or biotechnology or other professions in order to find a job. And by the time I graduated, the situation was, was different.
And the profession of environmental engineering actually got more recognition out there in the market. So it's constantly, as I said, growing and well, why I chose to be environmental engineer is just do the reason that I was always an environmental enthusiast. I grew up in the eighties and nineties where environmental awareness was just starting to go mainstream. I was in a youth organization and climbing mountains all over Israel and advocating for these green issues and environmental initiatives. So I always had environment in the back of my mind and in my heart. And that really led me to choose a profession that focuses on doing good to our environment. And
Antoine Walter:
How do you define yourself today still environmental engineer? Or did you switch to process engineer or a system engineer?
Gilad Yogev:
Right. So the profession is environmental engineer. That's my education, that's my profession, but my role is a product manager and you sort of deviate right after, right after you graduate, the title becomes somewhat insignificant. So it's, it's your job description that defines you. And actually I started out after graduating as a process engineer in a small startup company doing algae-based wastewater treatment, lots of field work, lots of connecting pipes, installing pumps, designing pilot systems, analyzing results, lab tests. It was hands-on from the beginning. Yes, very versatile. And hands-on as you said, it was like we in Israel like to use army terms. So it was like base training for, for engineering. And actually that's, if there are any students listening to us, this is something that I definitely recommend any student or new graduate to do, get out there, get your hands dirty, install, some pumps, do some lab tests and that's crucial experience for your future engineering career.
Antoine Walter:
Very good insight, actually. And then from your startup, you moved to Fluence which is actually your company today, which is a company which has a wonderful marketing. If you look at the websites, the content, the case studies so much, but I'd like to hear you describe it from inside. How would you pitch us Fluence?
Gilad Yogev:
Okay. So, well first I moved to fluence some, two years after starting out with that startup company and started as a sales engineer. So if the field is the base training for a process engineer, then definitely the sales department is a base trading for a product manager. That's what I am today. So I started out as a sales engineer, preparing proposals and having to pick up quickly, pick up the technology and pitch it to clients, put together a price offerings, work with our global teams. So fluence is a global company and had to deliver and assist our teams from China to the U S throughout the globe with their proposals on MABR. So it was sort of being a global and MABR expert from the start
Antoine Walter:
Field of expertise started with the MABR just straight away. Yes.
Gilad Yogev:
So MABR is fluences primary wastewater treatment technology. It was described and planned to be that way. It's an innovative technology that has a big potential in the market. And every sales engineer here at fluence on the wastewater side of planning starts out with MABR. So in short about fluence fluence is a global water and wastewater treatment company and was founded in 2017. It was a merger between MFC, which was an Israeli startup company founded by Ronan Schefter and eight and levy. And the second side of the merger was RWL water, which was Ron Lauders water company. That merger brought in many local offices, which previously Blount to RWL at each one, actually specialized in a certain aspect of water and wastewater treatment MFC, which was based in Israel, brought a commercialized MABR product. And that was a complimentary or an, and actually turned out to be the main wastewater treatment solution that fluence provides. And altogether the merger gave us really a wide portfolio of water and wastewater treatment technologies from surface aerators, to waste to energy, industrial wastewater treatment, desalination, surface water brackish, water treatment, and wastewater treatment, of course, with MABRs,
Antoine Walter:
We're going to dive a bit deeper in the MABR or just, just in a minute, but just before I have a last question, you mentioned that you were preparing some proposal, and I think that's a job which is kind of misunderstood sometimes in this water industry, because making a proposal isn't actually taking what MBR maybe are off the shelf and showing that the price tag and writing that price, they're going to paper and sending out that paper, there's a bit of engineering involved. So really in one minutes, can you describe how you prepare a proposal?
Gilad Yogev:
Right? So as you said, wastewater treatment, what I like about it is that it's versatile, it's interesting, it's different. You know, each opportunity is different from the previous one. There are no two identical solutions and there are also sometimes several solutions for the same problem. So it's a world of design and imagination in the engineering process. And that's what I really like about wastewater treatment and what brings my passion to the profession. So when we prepare a proposal, we gather initial information about the opportunity, the water characteristics, they require a treatment degree. And then we get into using our internal design tools. We have several internal design tools in order to evaluate the amount or the area of MABR needed for that treatment. And then it's basically a game or a process in balancing commercial needs and technical needs. So you have to provide the most cost-effective solution that will work, right.
That will provide the required a degree of treatment and bring you a happy customer. So that's the art of proposal preparing. And actually what we like to say to all new sales engineers is that when you prepare a budget or a proposal in 95% of the cases, that proposal is going to serve as a base for the contract. So it's absolutely important to be accurate and to provide the best solution you can. And to really treat that initial budgeter proposal as something that will be a contract on a project at the end of the road,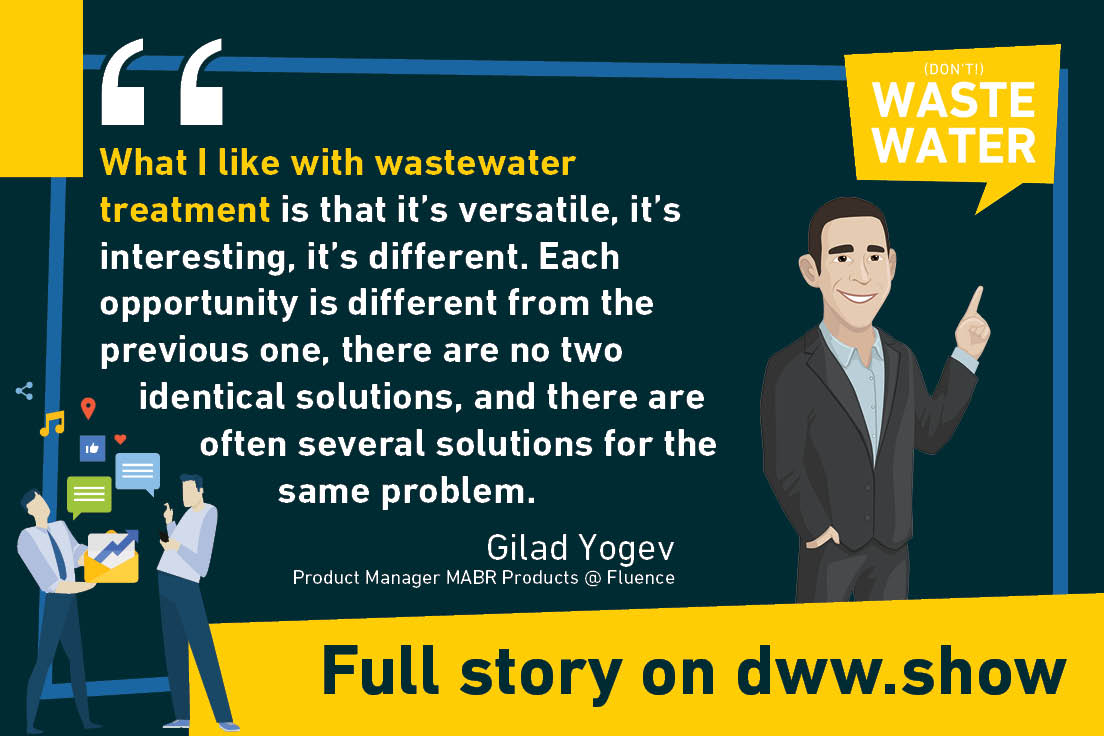 Antoine Walter:
You said it in the beginning, but this sales engineering role is really at the border between pure sales and pure technical aspects. So you're really in between your, your, your, that link between those two worlds. And it can be really challenging because you really have to build something which makes sense technically, but who also answers the problematics of the customer to an economical point of view, where he can also imagine building it one day. So it's fascinating thing, which I would like to deep dive one day, but not today, actually, because we have another topic for today. But really again, I think we have to make that deep dive one day. I mean, I've been through this steps, myself and sales engineering is really, I guess, the parts of my career, where I learned the most, but let me stop sidetracking you here are I have, today is on the MABRs, which you addressed already a couple of times, and to be fully transparent and honest with you the first time ever in my life, where I read the word MABR. I thought these guys just made a typo, whether they were trying to talk about MBR cell membrane bioreactor, or they were trying to talk about M BBR. So moving bed bioreactors, but MABR isn't a thing. I mean, it cannot be anything else than a typo. And then I found out that no, it's not a typo. It actually exists. But to make really that very long introduction short, can you explain us what an MABR actually is
Gilad Yogev:
We get that a lot MBBR, MBR, MABR we get a lot of people confused on the letters and, you know, we, we have such a small portfolio of letters in ways where the treatment, right, but what we have a whole pitch on what a membrane aeration process is compared to a membrane filtration process. And that's maybe the most confusing part when you hear it maybe, or the first time. But basically MABR in short is a wastewater treatment technology that revolutionizes the way air is introduced to wastewater, okay, it's an attached growth it's based on biofilm, but unlike other biofilm based processes, the biofilm gets its oxygen through a membrane and not directly from the wastewater. You can think of it as a lung that you breathe air into your lungs, your lungs serving as a membrane, right? They diffuse the air out to your bloodstream and your bloodstream carries the oxygen to the cells wherever it's needed to be used. So it's a revolutionary way and a different concept of introducing air in a molecular level into the wastewater itself.
---
Antoine Walter:
So MABR is Membrane Aerated Biofilm Reactor?
Gilad Yogev:
Membrane, read it, biofilm reactor. Exactly
Antoine Walter:
Biofilm reactor. You mentioned the lung analogy is it's the inspiration for the MapR or how did they first start? What was the first iteration of an MABR?
Gilad Yogev:
So a bit of history here, one of the first researchers to work on MABR was professor Bruce Ritteman from Arizona state university, and he actually didn't call it MABR, but he called it MBFR, a membrane biofilm reactor, and an interesting paper from 2007 showed an MBFR using got oxygen, but hydrogen actually, which was used to reduce nitrate to nitrogen gas, it's called hydrogen, the traffic Dean of certification and his PhD student Rob Nierenberg, which is today very well known in the MABR world was the first one to propose the IFAS configuration and actually the term a membrane aerated biofilm reactor was first suggested by Owen Kesey from UCD. There were other researchers like Mike Simmons and Keith Brindle that wrote about bubbleless duration. Nitrification in the mid nineties, and both of them used pure oxygen for the process, which we know today that is pretty costly for wastewater treatment plants, but that was sort of a bent scale research using pure oxygen and testing the molecularly fusion into the wastewater.
But actually how we started out with MABR at fluence is an interesting story. So before becoming fluence MABR was a technology provided by MFC and Israeli startup company and the letters M F C the Stanford microbial fuel cell. Well, you're going to ask yourself what, what is microbial fuel cell have to do with MABR? So MFC was developing those MFC is those microbial fuel cells as the main business of the company until around 2016. And those MFCs, they had oxygen permeable, cathodes, and MFC was actually searching for a cost reduction and lower cost street and the systems. And they started stripping off the electrodes and circuitry, and they got left with a membrane inside a cell. And after finding concept actually treated the wastewater pretty efficiently. They developed the first generation of MVR called SUBRE. And then the focus sort of shifted from MFCs to MABRs. So after some piloting and testing, they sold the first commercial plant in the us Virgin islands. And later down the road, MFC reversed the direction air was introduced to the wastewater and developed containerized and concrete solutions. So basically MABR if to rely here on, on, on John Lennon, like we sometimes joke about the MSC times and spin off that famous quote, MABRs is what happened while we were busy making microbial fuel cells.
Antoine Walter:
So basically the actual portfolio of MABRs you have is a pivot from that microbial fuel cells, which is interesting, but there's a lot to unpack in what you just said. So let me just go a bit, a couple of steps back. You mentioned that in the first bench scale tests, oxygen was used instead of air, which is not very effective in terms of costs, but if you compare it to the traditional aerated bioreactors that you find in wastewater, some of them are also aerated with, with oxygen, sometimes oxygen powered and produced onsite. And the reason for that is that if you have less space, or if you have really difficult compounds to treat, sometimes you need a bit more oxygen power. Is that also a thing in MABRs or is it really always with air?
Gilad Yogev:
Okay. So in most municipal waste water treatment systems, the, MABR is going to have air flowing through it, but there are industrial applications and special cases where oxygen pure oxygen can make sense. And as a matter of fact, you can, you know, oxygen, isn't the only gas that can pass through a void, right? So you can use other gases. As I noted before hydrogen was used to do a DNA verification. So a lot of potential applications exist with MABR and that research, that area of research is sort of developing in terms of MABR research. So there's a huge potential.
Antoine Walter:
You mentioned the, the hydrogen, which was the original idea, which is a very interesting idea because of this denitrification aspect. Is it still in use today or was it kind of killed like, like a good idea? Sounds good. Doesn't work
Gilad Yogev:
Well, well, not to my I don't think it has a commercial use today. Most of the applications, as I said for MABR today, our municipal wastewater treatment, there are other applications just starting out, such as a side stream ammonia treatment for high ammonia containing streams, sort of oxidizing the ammonia to nitrite and nitrate, but that's sort of a I guess a side stream in most MABR process is the majority of applications today. The commercial applications, as I said, are a municipal waste water treatment plant upgrades.
Antoine Walter:
So actually in this municipal wastewater treatment, where does the MABR integrates within the treatment train? What do you put before what'd you put after? And then we can have a look at what the MABR is exactly treating, but let's start with the treatment train itself. What's the pre-treatment to an MABR.
Gilad Yogev:
Okay. So MABR, just because of the structure and I haven't really gotten into the structure deeply. So maybe it's time to, to speak a bit, a bit about the structure. Of course it MABR, is basically a membrane with a hollow fiber membrane in case of other suppliers of MABR or fluences flat sheet membrane. The membrane is
Antoine Walter:
Basically just for the stupid. I told you I'm the stupid here, flat sheet hollow fiber. Can you just explain the difference in a couple of words? Yeah.
Gilad Yogev:
You are not stupid. You're asking great questions. A flat sheet is as the term implies a flat sheet membrane, a sort of a piece of paper, right? A sheet of membrane. We Fluence, we designed it to be spirally wound and it's actually a double layer. So it's like an envelope and hollow fiber. They resemble some MBR setups. It's basically a long cord of a hollow fiber filament. You can call it a filament. So you bundle some of those together and scale up until you get a module, a treatment module. So that's the, basically the difference between the hollow fiber and the flat sheet. Yeah. So the membrane envelope, as I said, is what fluence provides the flat sheet. And MapR, we wound that membrane envelope around a core. And you have basically what you get is two distinct areas you have inside the membrane.
You have air flowing from one side to the other side, going in from an air blower and venting out to the environment. So you don't have to overcome any water pressure. What you have is air flowing freely through a void inside the membrane envelope. And on the outer side of the membrane itself, you have wastewater, right? This whole module is of course the Birch inside the wastewater. So there's wastewater flowing through the coils of the membrane of the MapR module. And basically what you get is a dry side and a wet side. The wet side has biofilm growing on it and the dry side hay, it has air flowing through it and oxygen diffuses from the dry side to the wet side. And that's the drive of the whole process. And the great thing about MABR.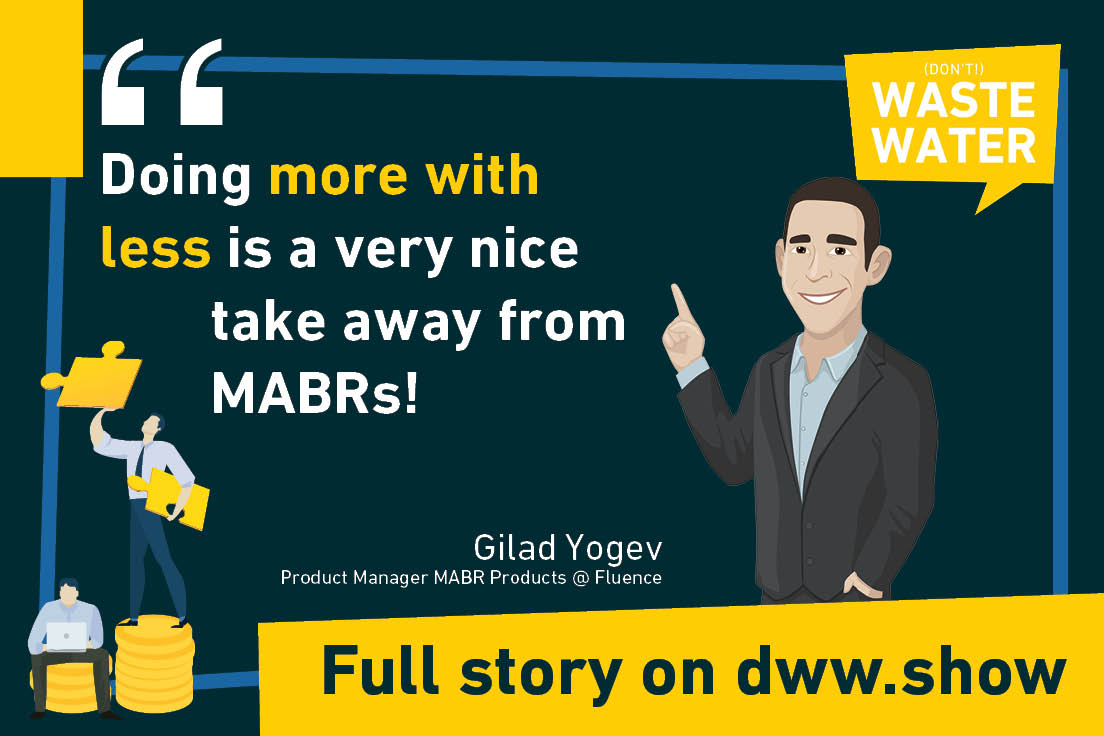 Antoine Walter:
So basically the biofilm is fed on one end by this air, flowing from the membrane and on the other end by the nutrients in the wastewater. And there the magic happens to nutrients, get removed from the wastewater and your biofilm is doing the job, thanks to the membrane.
Gilad Yogev:
It's doing the job. And more than that, it's doing a great job because in most biofilm and most biofilm systems MBBR, for instance, or attach growth systems, you have a biofilm that is getting its substrate, right, ammonia or bod or whatever the site straight is, add it's oxygen. It's electron acceptor from the same direction that's called Codiffusion right. They both diffuse together. And when you look at the inner part of the biofilm, the very bottom, the very base of the biofilm, it's essentially very inactive or dead, as you say, in biofilm terminology sometimes. So it may be are what it does is provide the oxygen and the substrate from separate sides and that's called counter diffusion. And what that does is first, it provides very high reaction rates because the concentration is high on both sides of the process and it forces the biofilm to be very thin and, and fine.
And it's almost entirely active. So it's a very fine and very active biofilm getting, getting the good stuff from each side, right. Oxygen is, is provided where it is needed, where you have ammonia diffusing into the inner layer of the biofilm and oxygen coming from the membrane and nitrate diffuses out to the bulk waste water, where oxygen is an absence because the basin is in an oxygen conditions. And there you have a high bod level, which allows denitrification to happen. So you're getting those two processes both sides of the biofilm at very high rates. And each process has the ideal conditions for it to happen.
---
Antoine Walter:
It's very clear on the way it works on the structure itself. So coming back to my question, in terms of treatment train, where would you put an Emmy Emmet or sorry, an MABR,
Gilad Yogev:
Yes, you have to practice it. So, MABR comes at the very beginning of the process where the concentrations of nitrogen are the highest and you have a high bod and Cod level as well. And that allows you to have denitrification and all in all, what you essentially do is add, and maybe our modules, or it may be our membrane area to an oxic basin. And what you get in that process is you get nitrification and Dina certification happening in one basin and then added total nitrogen removal capacity where you didn't have it before. So traditionally MABR is placed in the very beginning of the process, right after the pre-treatment, where you have the highest concentrations available.
Antoine Walter:
You mentioned high concentrations, but you also say it's suited for municipal wastewater treatment. What about industrial wastewater treatments? Do you have some limits in terms of loads that are possible to handle with MABR?
Gilad Yogev:
Okay, so MABR is a champion in nutrient removal in nitrogen removal, total nitrogen or ammonia removal. And I guess the limitation or the challenge is where BOD is more significant than nitrogen or nitrogen isn't required at all. There is theoretically a upper limit on the nitrogen concentration that the bacteria can tolerate, but high nitrogen containing streams that have a high bod load, but not high enough to, you know, to size the system according to it. So those streams can be really efficiently treated by a MABR for instance, fertilizer, plant effluents, some anaerobic digestion, effluent from a food and beverage plants, for instance, where you have, Oh, you know, most of the COD and BOD is removed in the anaerobic digester, but what remains is the nitrogen. And you're going to have to treat that nitrogen before you discharge to the environment or to any other reuse source. So those are some applications, industrial applications. So MABR can come in handy.
Antoine Walter:
I'm looking at the limits, you know, because I'm always suspicious when, when I see things, which seems to be too good to be true. So it's always good to see that there's an area where it's really, really awesome and other areas where, of course it's still water and there's no one size fits all. So thanks for this precision, I get a bit better where, where the MABR is at home and where there's a limitation, which is again, a good sign of transparency. And which is interesting to see that there's a limit, if not, we're just washing water then whites, and it doesn't make any sense.
Gilad Yogev:
Yeah. You know, if it was the best technology in the world, right. It would have been discovered centuries ago and would dominate the industry. You can't be the best in every turf. Always. You have to know your limits.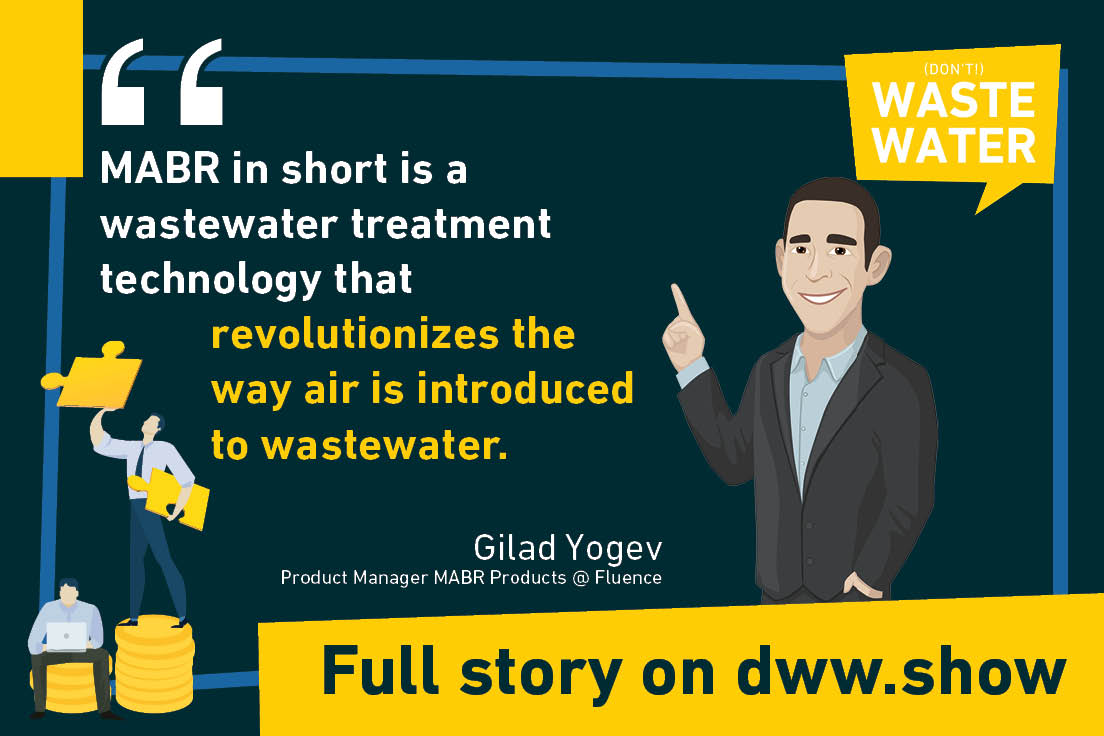 Antoine Walter:
Absolutely. You mentioned Subaru, which was first introduced by MFC. If I got it right. Which is one way to use your MABRs. And in that case, you just revamp, you have the ability of revamp existing, but I've just got plants and increase their, their treatment rates. How does that work? Or first, did I get it roughly, right?
Gilad Yogev:
Yes. Yes. You got it. You got it. Right. SUBRE is the submerged MABR configuration submerged inside a concrete basins. And ASPIRAL is the brand for containerized MABR. So Subra, if we're speaking about submerged, concrete solutions is a solution for both new or existing plants, upgrades. And basically it's an MABR module that's installed. As I said, in the very beginning of the plant in the, in an anoxic basin where you typically don't have any nitrification happening, I'll give an example of one of our revamps, one of our retrofits that happened in Israel in a 6.5 MLD plant, we were able to upgrade the capacity to 10.5. We're actually executing the second phase nowadays. So what we essentially did, it's an eight to old plant having an anaerobic anoxic, larger ROIC basin and internal research isolation. So what we did with super is retrofitted the existing anoxic basins with maybe our modules.
And we were able to add around 20 to 25% of total nitrogen removal capacity to the plant itself and what that does. First of all, it allows you to operate your aerobic basin, in a lower airflow and save on energy. It gives you process resilience because you are treating a larger load of nitrogen than you would have treated if not installing a MABR. And another nice adder on, on energy savings is that you cancel the internal restrict culation that you typically have in a 12 plants, because you have to re circulate those nitrates back to the anoxic basin. Whereas when you install MEPR, you have nitrification and Dino verification happening in the same basin.
Antoine Walter:
You have a capacity increase overall of roughly 40%. And with 20 to 25% increase on the denitrification capacity, you have less energy, less recirculation. So you do more with less. How is that possible?
Gilad Yogev:
Well, the 40% is a target capacity for the second phase. So that's going to be a proven after we upgrade the second line. Well, doing more with less is a very nice, um, take away from MABR because you're adding nitrification and denitrification to areas where they just didn't happen before in an anoxic basin. And the nice thing about actually about the Dean of verification side is that you are using carbon in a much more efficient way, right? In a typical plant, you're going to have to add carbon to the anoxic basin because most of it is being consumed in the aerobic base and for heterotrophic growth. And when you have simultaneous nitrification and denitrification happening in an anoxic basin, your carbon is being used in a much more efficient way. So all in all, all those advantages combined together really give a great value for MABR retrofits in H2O plants or other processes.
Antoine Walter:
So when you mentioned value, that brings me to the question of return on investment. What is usually when you upgrade such a plant, the expected return on investment. If you take together the fact that you have, of course, to invest some, some CapEx to revamp it, but you then save an OPEX because you reduce the energy consumption and there's no need for recirculation anymore.
Gilad Yogev:
Right? So we typically look at an ROI of three, four years compared to other nutrient removal upgrades when we're looking at a biological nutrient removal upgrade other technologies such as the MBR MBRs and, and the real, I guess the real advantage here is on the energy side, you get a significant reduction in energy because you are using bubble deceration. You are introducing oxygen in a molecular phase to the wastewater, rather than blowing it into the wastewater through find bubble diffusers or cursor bubble diffusers, or surface Raiders or whatever else, and sort of wasting a lot on the inefficiencies of blowers of, of mass transfer, right? Bubbles sort of venting out the wastewater and not depending on the diffusion from the bubble to the wastewater itself, but introducing oxygen in a molecular phase to a biofilm that's treating the wastewater. Another very big added value that it didn't mention is that MABRs ad process resilience to the whole process. You basically have extra nitrify bacteria, that's fixed on a membrane. And we all know that municipal plants have a very high load fluctuation and also flow fluctuation. And this is especially a true for a small to medium sized plants. And you get a very big advantage when using MABR because you have a good, healthy population of nitrifiers inside the membrane or attached to the membrane that really provide you a sort of bank of bugs of notifying bacteria and Dino defying bacteria. When you have a, a shock load or a high flow instance,
---
Antoine Walter:
You mentioned an ROI, of three to four years, and you mentioned that maybe ours are used to make revamping things not only, but that's one of the use. And you touched the comparison to MBRs and MBBRs, which I was addressing at the very beginning of that deep dive, actually, MBRs are a typical way to revamp a plant. You have your old plan from the eighties. And to me so far to my understanding and to my, that was the King of the revamps. You just take your, your sixties concrete, Bessons you add an MBR inside and you're good to go for another 30 years. And now I discovered that there might be a better solution, I guess, to some cases, and maybe also not in all cases, but what would be your view on the comparison between MABRs MBRs and MBRS does that comparison even make sense? And if yes, what would be the top advantages of an MBRs over an MB, an MBR ABR over an MBR, I'm going to get lost with that, sorry
Gilad Yogev:
To do many M and B's and ours. Well first of all, you're right, there are different technologies that fit in different cases, and you really have to look case by case, but of course, I'm going to emphasize the advantages of MABR upon MBRs and MBBR. So I think the most Netsphere yeah, I th I think the most the best comparison to do is MABR versus MBR. So although the letters are very similar, the essence of the process is completely different. You don't filter anything out with MABR, you don't have any active mass transfer, any active liquid transfer through the membrane itself. The membrane is there in MABR only to provide oxygen. So when you look at MBRs, you're going to, for retrofit, you're going to typically need a premiate pump, a backwash pump, chemical cleaning, scouring recovery, cleaning with chemicals.
And of course, a regular membrane replacement once every, some, three to five, maybe seven years or so, but the average is five. So MABRs doesn't have any of those needs. There is no active filtering of liquid through the membrane membrane is just there again, to breathe in oxygen. You don't have to rapidly clean or scour or chemically clean the membranes. We like to say that we like them as dirty as possible. The biofilm growing on the membrane is actually required and wanted, right? It's an important factor in it. Isn't associated with biofouling or transmembrane pressure reduction, like an MBRs, and also important that the maybe our modules, their lifetime is around 20 years. So there are no moving parts inside and no pressure applied, no chemicals involved. And that's what leads to a very long lifetime of the [inaudible] modules. And that really gives some great advantages and an operational savings over MBRs.
And of course those advantages don't come without some disadvantages or challenges, as I would say, MBRs don't require a clarifier, of course, and that's the most I guess th the biggest challenge we, we deal with, but to our luck and to most of the world's luck, most of the plants out there have clarifiers because they started out as A2O plants. So upgrading with them, ABR upgrading an existing eight, two old plant with existing clarifiers is actually very easy and beneficial, and maybe ourselves have been observed to improve the sludge settling, sellability, the settling characteristics. So all in all, it makes a lot more sense to use MapR in an upgrade. You can also speak about effluent quality. Of course, MBRs have Supreme effluent quality, but there are other solutions for tertiary treatment. Of course, ultrafiltration media filtration. And those all are when we weigh, right. And maybe our versus MBR in our proposals. And then in our retrofit opportunities, we balance all of those into the ROI calculations and, and really adjust our offering according to that, to provide a great return on investment compared to MBRs.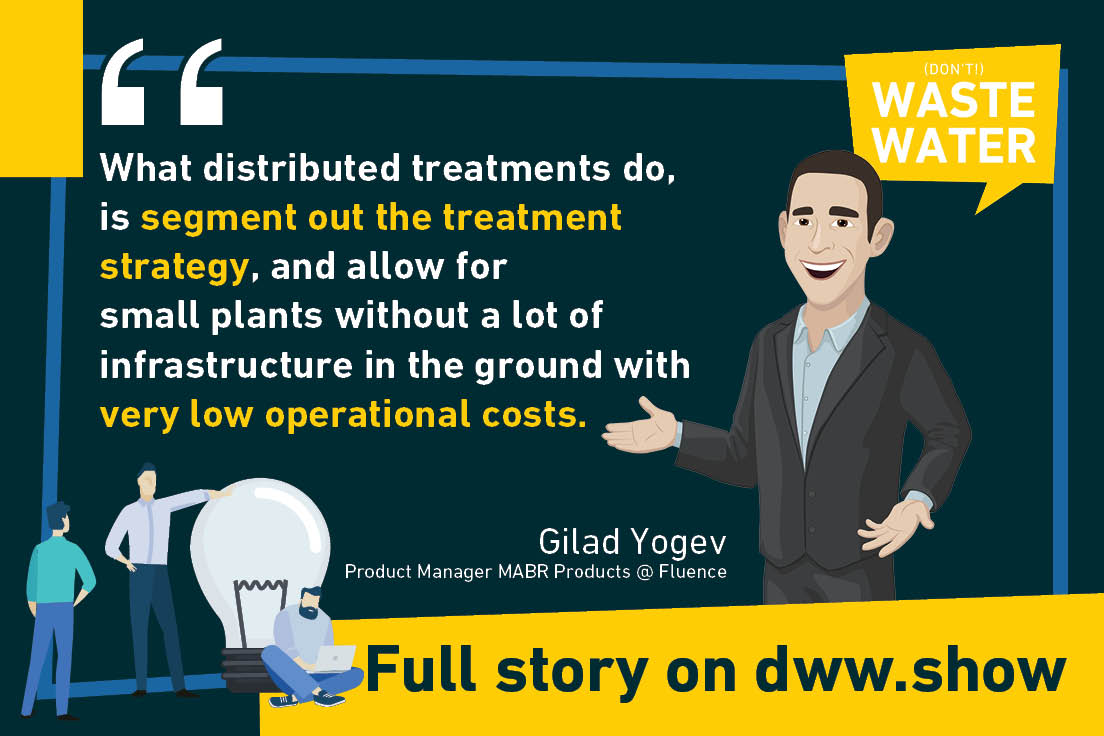 Antoine Walter:
So basically you have a tick box at the very top of your questionnaire, which is a clarifier existing yes or no. And if the clarifier is already there, then most probably the MABR is going to be a better solution than the MBR if I get you right. Yes.
Gilad Yogev:
So you can also look at new plants, right? I guess the biggest challenge is when we look at new plants, not retrofits because Fluence's main focus is small decentralized treatment plants. And when you weigh and ABR versus MBR, it really sort of narrows down into the life cycle cost analysis and the return on investment and the energy considerations. So clarifier is, is something that you have to consider when you're looking at MABRs, but the whole, I guess, package of the offering is something that is eventually taken into consideration.
Antoine Walter:
So what's the ratio today for you between revamps of existing plans and new plans that you build with MABRs
Gilad Yogev:
We strive and we sort of put efforts into every opportunity that comes to our tables. I'd say that we deal with much more I don't know the exact ratio, but we deal with much more opportunities for Greenfield plants, for new plants and for small decentralized plants, rather than dealing with large revamps. It's a company strategy, the decentralized wastewater treatment strategy. And there, the ratio between concrete and containerized solutions is different. It can be a blend of both, but traditionally, and as a strategy, fluence focuses on smart product solutions for decentralized applications, sometimes retrofits too.
Antoine Walter:
When you say decentralized applications, I guess that's more on the small to midsize and of the markets then on the, the, the very big plans, right? Unless that wouldn't make sense to be a decentralized it, to be honest. So it's kind of the, the answer is in the question, but I like to understand here how easy or how difficult it was to come to the market, because we are in a quite conservative industry, right? And you come with an MABR, which as I said from the beginning might be considered a typo. And what is the kind of proof you have to bring to the table to convince people that MAB is the right treatment, brings loads of benefits before daring coming with that new technology.
Gilad Yogev:
So you know, you're the new guy on the block, basically when you're, uh, introducing a new technology to a very conservative world. Having said that we've put a lot of effort into certifying MABR, I'll give our Stanford system. As an example, we in back in 2018, we installed a system in Stanford university together with the [inaudible] resource recovery research center. It was a demo system, actually I'm a generation back in, in the MapR technology, but we, it was a demo system that was research by a students in Stanford and operated by Stanford. And we also had a process engineer on site. And that research effort actually led the water department of the state to certify MDBR as a certified technology to be used in California. And it gave us a title 22 certification, which really helped us for instance, in Maryland and New Mexico to be certified locally and in other parts of the world too.
So this is really an effort that, and academic collaboration that was very beneficial to the introduction of MDBR to the market. I'll give another example of, for the Philippines, we started out against some year and a half, two years ago in the Philippines, without anyone knowing what MDBR is just the government wanting to strengthen the, a wastewater treatment regulation and a very harsh and very tight discharge limit for ammonia and for phosphorous and introducing MapR frequently through consultants and to private clients and to some other governmental and public institutes, we were able to reach a point where [inaudible] is a sole technology for some public tenders in the Philippines today. So we've gone quite a way in a year and a half.
Antoine Walter:
When you say that you addressed a de-centralized market, that now there's a market acceptance to that, even how does a Fluence solution actually look like? Do you package everything in a container and which is then plug and play, do you integrate into larger solutions that can be provided whether by yourself or by someone else, like another EPC or how does that look like?
Gilad Yogev:
Okay. So first a little bit about decentralized treatment. Okay. This central is concept is of course the opposite of centralized treatment and the, in our belief, in Fluence's belief the right way to provide water and to treat wastewater. There are some 4.2 billion people in the world that lacks safe sanitation. That's an astonishing number, and what's even more astonishing is that 80% of a global wastewater is being discharged without any treatment at all. So you can imagine most of the majority of that wastewater comes from rural communities, decentralized areas, some countries that aren't just developed enough in terms of a wastewater treatment and have booming population. And what decentralized treatment does, is it segments out that treatment concept instead of putting a lot of money into infrastructure, which is usually in lack, right, in those countries, instead of putting tons of money down on infrastructure, laying money, basically in the ground, right, in terms of piping and pumping stations.
And it's sometimes is two thirds of the CapEx. What decentralized treatment does, is it segments out that treatment strategy and allows you to have small plants where they're needed without a lot of infrastructure in the ground with very low operational costs, because you aren't putting tons of money into pumping stations and, and collection systems. And the other side of it is that you can reuse the water on a local scale, much more easily than you would have done with a centralized treatment Pat. So today's everyone everyone's looking at wastewater reuse and non-potable reuse. And you're basically looking at a centralized plant that you have to duplicate the collection system, right? You have to, you have to create a distribution system back to those villages or those communities or those end users, and why not save right on that piping from starters. And it's not only true for decentralized communities, right? Rural villages. It's also true for cities where you build a new neighborhood. And instead of pumping the wastewater over the mountain and to the treatment plant, you can treat it locally and both contribute to the local labor and economy, and really have a more sustainable solution. When you mentioned
---
Antoine Walter:
Wastewater reuse, of course, wastewater is, should be the primary source of water because when you think of it, that's just stupid, the, the other way round or the traditional way round, but there are many types of wastewater reuse. So are you here talking about agriculture reuse, non-potable reuse to flush the toilets to use the grey water or whatever, or even going up to direct potable reuse?
Gilad Yogev:
Well, the first, I guess, goal would be to treat the water to a degree that you could reach any of those purposes that you just met, right? Only around 10% of the total reused water in the world is used for potable reuse. So 90% of the reused water is actually used for irrigation purposes, returning to nature, groundwater, reclamation, other purposes. And basically you have to start out treating the wastewater to a degree that it can be reused. And the way to do it is through spotter systems that don't require a huge amount of energy. And here bringing in MABR into the picture with MABR, which is, it has a total nitrogen removal as part of the technology itself, right? It's built in, you don't need to add any cost or any chemicals or any special operational aspects to the process. You just have it built in. And that's what we really thought about when we packaged our products in 20 and 40 foot containers and other auxiliary equipment and other containers to really provide, you know, a plug and play solution to those decentralized customers.
Antoine Walter:
So what do you put inside your container? And maybe ours, you, you said are our best. If you are, you put them in front, you have, I guess, a screen or something, then you have the, the MMPR and what comes then afterwards in terms of treatment train.
Gilad Yogev:
Okay. So depending on the amount of nitrogen removal, you have a different amount of MABR modules in a container. If there's a high degree of nitrogen moveable, you have more membranes. The membrane, the MABR section is always coupled with a activated sludge compartment, a and aeration compartment where you just have traditional aeration that goes on off a low dissolved oxygen level. And that sort of completes your process in terms of bod removal and a little bit of extra nitrification after that, what we have inside the container as a clarifier that we circulate the sludge and the whole system is ifs configuration, some industrial applications of MDBR. We have a biofilm only process having the liquid flow through, and the only, depending on the biofilm itself to treat the waste water without any suspended sludge. So that is the process we have, of course, everything associated to operate a plant, such as a electricity room, a out the dosing pumps, the pumps, the blowers, everything packed nicely inside a container to really provide a plug and play solution
Antoine Walter:
Plug and play is one thing. The other thing is how to operate it, because actually if it's decentralized, it also means that probably the guys, which are next to that plants aren't necessarily the biggest professional of the water treatments. So how easy is it to operate an MAB or plans? And you're going to say me it's easy, I guess, but to which extent is it easy? And can you do also remote monitoring remote operation, remote control, or how does that work?
Gilad Yogev:
Yeah, so easy, easy, of course, as a relative run at the Ford. No, I'm just kidding. It does, maybe it doesn't add anything to your operation. Of course you have to learn, right. What operating a wastewater treatment plant means in terms of what to pay attention to. And that's all the Pictet of course, in the operation and maintenance manual, but it doesn't add any complicated process or complicated parameters to monitor that together with the ability of our plants to be remotely controlled and to provide alerts if needed to the operator. And would you add that to the decentralized concept? You understand that decentralized wastewater treatment management, right, managing a cluster of plants under one centralized control system makes much more sense because you don't have to recruit and, and maintain a large, highly skilled crew of operators that basically stays in your centralized treatment plant and really sell them deals with some malfunctions.
Gilad Yogev:
But you have a small, smart team of operators that can maintain upon need, right? You don't have to visit the plant every day and actually not every week to maintain it. So that makes much more sense in terms of, of operational savings. And I don't know the thing that it didn't say about decentralized treatment is that it really minimizes your risk in terms of the severity of an incident. When you have a leak or an overflow or an accident in a wastewater treatment plant, you can think about centralized waste management plan. You can think of the outcome, right? It's huge. You pollute the ocean, you pollute the river, whereas in a small decentralized plant, the outcome is much less detrimental. It's, it's much less severe. You sort of are scattering your risks. And it may BR is a great addition or a great thing to have in a decentralized plat because it adds resilience and simultaneous nitrification DNS verification is part of the process to the plant and, and really improves your I guess, or reduces your risk
Antoine Walter:
Actually, Gilad. I have that problem. I have to be a bit cautious of your time, and we really made a strong, deep dive here. I would have so many more questions because I have the feeling that we scratched the surface was really interesting, but we still only scratched the surface and that could be so much more hidden below. So maybe we have to think of a full up where we go a bit deeper into the matter. But for today, I would have a last question which now goes back to your marketing, the marketing of fluence around the, or what I've found is that you call it the waste water technology of the 2020s. And my question here is what's your vision? Do you think you can take the market by storm and really establish MABR as not only the new kid in town, but you know, the new, big, big, big guy that rules the town, or is it's a very strong niche application for this decentralized treatment or for another couple of niche. What's your take there?
Gilad Yogev:
Well, okay. So I think the future of MABR is just starting and MABR is increasingly debated in conferences and in exhibitions in the water community. We're of course not alone in the game. And I guess the acceptance is getting wider and wider as we advance in time. Nutrient removal is actually new to many markets and, and especially those de-centralized markets that we just spoke about. But having said that when we speak about the benefits of M ABR and, and what it really gives to the, a utility or to the client it's rapidly accepted, and that has a good reason that it's rapidly accepted. It's a great technology. And I think, you know, as a new kid on the block, you're going to always have need someone to be the first friend of that new kid on the block. So many, many markets need that first client to accept. And from there on it, booms, I can give China's a great example, right? We started out in China around two and a half, three years ago and have sold over 200 systems in China in the past 36 months. So they understood it's a great technology. They understood the great potential and maybe are in China, is, is booming in general. And from fluence
Antoine Walter:
Is your, your, your application for that, is it this, a rural wastewater treatment in China, which is currently one of the main topics in the, in the country.
Gilad Yogev:
So in China, we have a combination between Greenfield. So replants concrete and maybe our plants, some retrofits and big chunk, or a majority of containerized systems for decentralized clients and small villages. A very interesting process happened in China due to the, a class one a and great for regulations that came out of the last five-year plan that basically forced everyone to have the same or the same set of a wastewater treatment regulations, no matter what the system size or what the community size is. So everyone has to treat nitrogen and phosphorus and the wastewater, and that really drove business for us in China.
Antoine Walter:
Well, I guess if I like to address wastewater treatment in China, that's also, we need to have one full hour for that. So thanks a lot for all this very interesting value you brought about this MABR topic. I think it's much clearer
Gilad Yogev:
Now, at least in my view. So I guess in many of our listeners view, what I can propose you is to switch to the rapid fire questions. Yeah, let's go
---
Rapid fire questions
Antoine Walter
So, you know, in that part, the aim is to keep the answers short and the questions short. So let's try to be the good pupils today and not be too long with that section. First question, what is the most exciting projects you've been working on and why?
Gilad Yogev
So that question throws her back to my jolly sales engineer days. Every sales engineer loves to see a project of his getting sold. And my biggest one was definitely a new decentralized plant in Africa for a university. We started out explaining the difference between MapR and MBR and ended on selling a completely packaged treatment system for a thousand cubic meters per day, which is currently in the middle of installation. So that was my best one. Can you tell in which Bartow Africa it is it's in central Africa,
Antoine Walter
What's your favorite part of your current job?
Gilad Yogev:
So my favorite part is definitely communicating with our global teams. You get to know different people, cultures, market needs different conceptions, different challenges, and we have a great team here influence. I sometimes call it a corporate startup. There's a startup, I guess, culture in the company where everyone sort of gets out of their skin to work hard for each other. And it's a great feeling to have such a great team beside you when you try hard to promote [inaudible] how many people do work for fluence today? We are around 300 people globally give or take, so that's yeah, that's the ballpark. So, yeah, it's let me maybe refine that number later on. So, but he said, I'll just start, it's a scale of, let's see, what is the trends to watch outs in the water industry and you're not allowed to answer MTBR yes. I expected that then I think the next, I think the next big step for the entire industry is digitalization and, you know, the huge amount of data sets that will arrive, right.
And as an outcome of that digitalization, you're going to have to have advanced data analysis, artificial intelligence in place. I think that will also promote decentralized treatment because we're going to see a significant progress in remote monitoring capabilities. And that will really enable utilities to manage a network of plants in a very efficient and cost-effective way remotely. Is it something you embed already today in what you're doing? Yes. Yes. Certainly we can provide as a company, provide very tight engineered products that are managed remotely and sort of give a data analysis and provide process for commendations, right? According to the data that we collect,
Antoine Walter:
What is the thing you care about the most when you're working on a new project and what's the one you care the least.
Gilad Yogev:
Okay. So, so here I am allowed to speak about MDBR. Yeah, what I care about the most, I guess, is customer success, meaning a successful solution that meets the needs of the KPIs and makes the customer come back to fluence again, I guess, I least care about the via Dolorosa the team has to go through and explaining about it. Maybe our each and every time that's part of the game, right? When you're a new technology being introduced to the market,
Antoine Walter:
You know what I feel sometimes like that when I go to a KFC or a burger King in Europe, which is not as developed at the McDonald's, they always have to explain, whereas you go to McDonald's you say, I take a big Mac. If you go to KFC, they have to tell you what's inside every of their possible offerings. And that's sorry, a crazy and stupid analogy, but sometimes when you're not yet the McDonald's, you have to explain what's inside, but then you can also tell everyone why it's better than McDonald's. So, yeah. Yeah.
Gilad Yogev:
I, I think, I think that we can add mic fluence or mic ABR to the name of the company. And in a few years, let's speak in two years and see where we're standing and yeah,
---
Antoine Walter:
If you do. So I take the royalties because I was the first to come with the idea,
Gilad Yogev:
Right. Food and wastewater together is always a great combination.
Antoine Walter:
Do you have sources to recommend, to keep up with the water and wastewater market trends?
Gilad Yogev:
Yeah, certainly. I like the technical forums LinkedIn groups and several websites that give you nice technical insights and collaborations with, with professionals in the industry with and iwi newsletters and their associated groups, they give you a regular overview on the industry and the trends. So they're also great. And on the marketing side GWI and BlueTech research reports, they really complete your knowledge.
Antoine Walter:
Interesting. Sometimes you have people who are team GWI, some others are team BlueTech nice. Clever, I guess. And last question, would you have someone to recommend that we should definitely invite as soon as possible on that same microphone?
Gilad Yogev:
Yeah. So I'd be loyal here. I'd recommend a Ronan check their fluids, the CTO and the MFC co-founder. He has really extensive experience and knowledge in the industry and lots of cool startup stories. So he's a great guest to have.
Antoine Walter:
Thank you. That's a no, some recommendation Gilad. You've been a pleasure to talk with. If people want to follow up with you, where can they contact you or follow up your latest news?
Gilad Yogev:
Oh, LinkedIn is always the best. I'm happy to chat, connect, and receive new connections with anyone interested.
Antoine Walter:
Wonderful. Then thanks for your time. And I hope that we have the opportunity check if the McFluence or McMABR exists in a couple of years.
Other Episodes: