with 🎙️ Björn Otto – Business Unit and Marketing Director @ Hager + Elsässer
💧 H+E is one of the world's leading suppliers of water and wastewater technology with more than 30,000 turnkey plants in over 130 countries around the globe.
---
What we covered:
🍏 How marketing changed – or shall change – to move away from product marketing
🍏 The Special Sauve you need, to be efficient in marketing in the Water Industry
🍏 3 Practices water marketers should stop at any cost, and right away!
🍏 What the shift of paradigm customer-centricity involves actually means for water marketers
🔥 … and of course, we concluded with the 𝙧𝙖𝙥𝙞𝙙 𝙛𝙞𝙧𝙚 𝙦𝙪𝙚𝙨𝙩𝙞𝙤𝙣𝙨 🔥
Resources:
➡️ Send your warm regards to Björn on LinkedIn
➡️ Visit H+E's website
➡️ Get Björn's Book on Employee Advocacy
➡️ Björn Otto's website (warm recommendation, subscribe to his newsletter!)
---
Full Transcript:
These are computer generated, so expect some typos 🙂
Antoine Walter:
Hi Björn, Welcome to the show.
Björn Otto:
Hi Antoine. Thanks for inviting me. It's a pleasure for me to be on board.
Antoine Walter:
Well, I've been reading a lot of what you've been publishing over the past weeks, month beats on LinkedIn or on your excellent newsletter. I have to say. And I feel like I know you, even if that's the three true. So I'm really looking for what this, hopefully not too long, but this probably how we're that we're going to spend together, but I'd like to start with a postcard and I've been doing my homework and I've been reading Wikipedia and I found out that you're living in a former terminal city. And it's just wondering how good is the water where you're living.
Björn Otto:
Okay. Where are you? Good question. I never heard that, but anyway, the water is pretty fine. This is a very small city let's say between, or not say a small village between Franklin and number and the water is great. The good thing is we have a Lake nearby and if you have some kids as I have, then it is always good to have something like this in the Mia to spend your time with.
Antoine Walter:
Well, according to Wikipedia, that Lake is now full of that terminal water. So I guess if you're spending some good time at the Lake, you're probably benefiting of the health vintages.
Björn Otto:
Definitely. I know, honestly, I don't know if can get some, it's funny. I never been into the Lake. I just, you know, running around the Lake because it's a two, you know, medicine and pride and that makes it very, yeah, that's fine.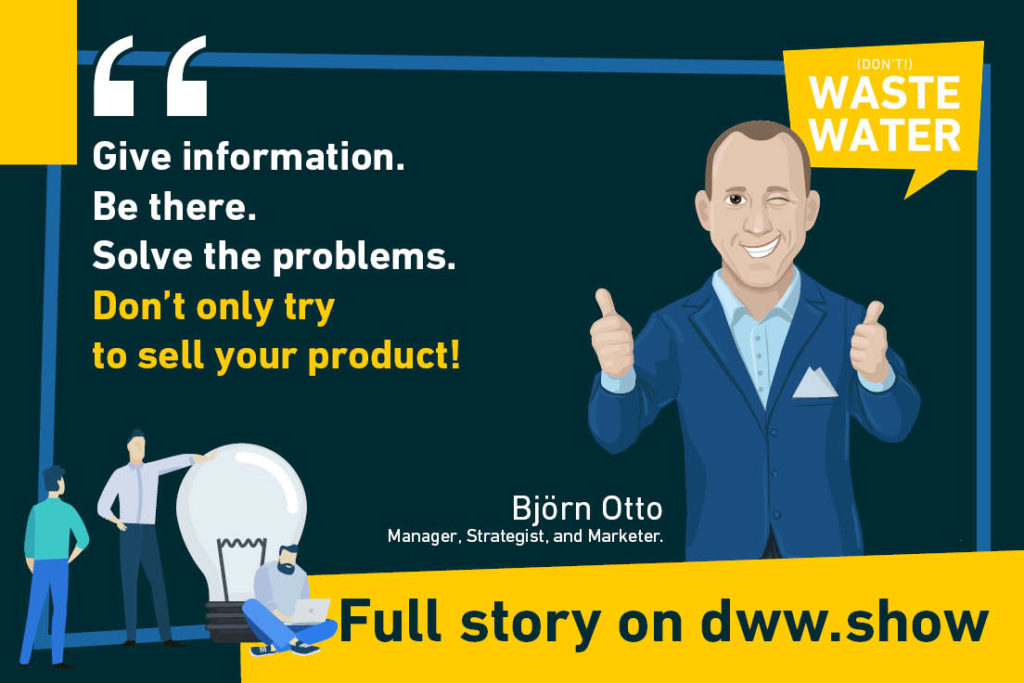 Antoine Walter:
So Buren to define you. I've seen that you're an international manager, a strategist, you're a marketer, you're a water and wastewater treatment expert. You're a market insider. You're a new technology enthusiast. And that makes a lot for one man. And I was just wondering if you had to define yourself, how would you do that?
Björn Otto:
But let's say, plus it's true. It's a lot, it's a lot, but let's say if it would come to my personal pitch, let's say it won't be like this. I am helping companies increasing their revenue brand awareness and making them visible to their clients. I'm a water professional with an engineering background and proven track record of the last 12 years. And I did this for several class on the water market, for instance, for Ken Byron, which is the largest producer of furniture and technology. And at the moment I'm charged for HIV, one of the world's leading manufacturer, how does it sound for you? This won't be the pitch, right? It will be my pitch, but I mean, you know, I laugh all water industry because there's so many different applications we have and that makes it so interesting. We are absolutely technology driven, but in the end, very conservative. And I really want to bring this industry forward. This
Antoine Walter:
That's a very good ambition, ambitious ambition. I have to say, maybe just to precise something, you mentioned H and E for the insiders, we know what's behind those acronym, but maybe you can elaborate a bit.
Björn Otto:
Yeah. H+E is the company which sends more than hundreds hundred years on the market in the swamp, the largest manufacturer for water and wastewater treatment plants is based in store and is really focusing on process and waste water. And for the industry applications really focused in semiconductor, also chemical on the oil and gas industry. And it has a long lasting history with over 30,000 references worldwide. That makes it, you know, only one obviously players in the market.
Antoine Walter:
So that means you're working for a really historical player.
Björn Otto:
Yeah. One more thing, one more thing each. And he means, again, as I said, your original founder, very Haggen founded this company in 1932. We all know not the 32 was not a good time to find a company, but he founded the company and he had a wishing and now almost a hundred years later, we are there we are. It's unbelievable for me. It's always incredible if you have such a history, because one man started to sing and had a wishing and started a company. Unbelievable, isn't it?
Antoine Walter:
Absolutely. But that means that you, you have to live on that heritage and you have to keep building the future of H and D, which I guess is a part of your challenge as the head of marketing. Right?
Björn Otto:
Sure, absolutely. Yeah. It's a challenge especially nowadays. So we have from marketing perspective, I mean, we have a lot of things to talk about and there are a lot of channels you have to use to bring your message forward. Yeah. Nowadays it's, it's really a challenge, but it is also really fun. If you have the right people, you can work with us. I mean, you can, you can do everything right.
Antoine Walter:
Well, before diving into the marketing, I was wondering, you know, we are a technical industry and it's fun to see that in all the places in the companies, it's lots of technical guys, even in marketing like you do and your path, it sounds like, you know, the, the typical success story in our industry, starting from the technical side and then going into sales, into business development management, would you say that that's the typical path as it just described it? Or do you have maybe a specialist source that you want to share with the world?
Björn Otto:
What I have identified is that the major issues to companies in our industry have, they are very technology driven or whole industries, very, very technology driven when it comes to marketing, they mostly rely on agencies and they have no clue. They don't understand the technology or the market mostly. Right. So, and, and I would define myself as the best, how in two different volts, I fully understand the technology and I understand the marketing world and I bring this together. So I identified, this is my sweet spot, right? This is how I differentiate myself. I mean, two examples just for, for a match. Once I met someone who was responsible for marketing for us, or big PPC contractor, and I talked to him and you know, it turned out very, very soon and he had no Q between and USF and then R O element. And I was thinking to myself, how can that be?
How can he be in the marketing position if he has no clue about this? Because, or the other way I had an period, honestly, I had an experience was an agency and I gave him the task, or I gave him some keywords and he had to figure out the rankings and other competitors and things like this. He came back, honestly, you know, he came back with Amazon. I mean, the Emma's from Seattle. And he said, while they are selling water for this, and I was thinking to myself, now I have to change it. That's how it came. Right. That I said, Hey, I'm the rest of the two walls. I understand marketing. I can talk to the guys from the agency on high-low. And on the other hand, I know that because I asked the engineer and I think if you asked me, what is my special souls? Well, most probably this.
Antoine Walter:
So you're kind of a link between those two words, the interesting aspects. And that's what I would like to address with you. And in our deep dive it's that you are actually working in a field, which is almost a swear word in our industry, you know, marketing. It's like, well, you market something when really your product or your solution is not good. It's like, you know, you're like swearing to an engineer saying, Hey, we have to prepare some, some marketing stuff. What, what my solution is so perfect. Doesn't need any marketing. But that brings me down to a very simple question. What is marketing today in the water industry? And I'll add the special touch to that. You know, very usually marketing seems to be brushers and power.
Björn Otto:
Come on, come on. He's still alive. It's really painful for me. Right. I mean, it makes me create a really crazy that people really think that marketing is creating brushes or business cards from my understanding that's Edinburgh, that has nothing to do with marketing, also not in our world. Right. But it's quite often, you're totally right. It's quite often the case in modern ward marketing, make sure it's the project is on your table and you have to chase the equipment that my product is in your head. That's my definition. Right. And how you can do this. I mean, I got recently the list with 41 different ways of marketing, very impressive number, right. And that's our listen and know that this podcast is marketing. Most of them not, sorry, I'm from four or five times secrets, but Comcast is just one tool out of the list to do marketing.
Right? Also marketing has that strategic orientation also, you know, the market observation and as well in terms of communication. But today, most water companies still rely on product marketing. This generates Liza emotions for no relevance, but that's important if you want to be successful in the market. Let me prove on the idea, the godfather of content marketing who created really down, he said, your customers are not interested in you and your company or your product. They care about themselves. That means for all of us to care about the customer problem or problems, and not only to sell your product, that is what marketing is about.
---
Antoine Walter:
So how do you ensure that you understand the problems of the customer? And that's the way that you can be at the very top of that funnel and hopefully be in their heads the day they wants to look for a solution.
Björn Otto:
First of all, first of all, I believe that companies are not using against competition. I believe that companies are losing just against, on unknown this, what does it mean? They have to promote their product. They have to promote their moat. If you want to be in the head of your client and you have to have the understanding, you have to have the understanding what the problem of the client is. And then coming back to the coin, right? How can an agency, if you get every single agency, how can you make sure, how can he understand what the problem is? Right. I mean, as I said, at the beginning, we are very technology driven, right? We have to understand what a Cod is, what in conductivity measurement is. And so on. We have to understand that, right? And then we have done that. We have just a minute down, what is this problem? And then you create the product and then you bring it out. But you don't tell the customer all the time. Pete, I have the best, correct. Tell them how to solve the problem, help them nail it down to the point is you have to give him something. You have to give him something. And in the latest date, you can ask him, okay, do you want combined approach? But mostly what we see is we always want to sell. We always want to sell, but we have to give first
Antoine Walter:
In that first phase, how does that look like? Do you interview customers? Do you go out there in the field trying to watch them in their daily life, in their daily struggles, in order to better understand them? Do you rely on the feedback that you get from your, your sales guy or how do you make sure that you grasp those problems of the customers?
Björn Otto:
It's just, once it goes in and listen, I mean, they have Kronos awesome. Ask them about the problems they have. That's all listen, central sense. Cause if there was a customer them, okay. Ask for the problems. You have to train yourself that they have to miss them more instead of speaking, right? Cause then you get the, you know, then you get the seventh, then you get the paid for, and this, you have to bring home and then you can try to solve the problem. And one of the problem solvers is your product point source. But you have to see it more for, let's say from a global perspective, not only from your product perspective, go there and this very simple way,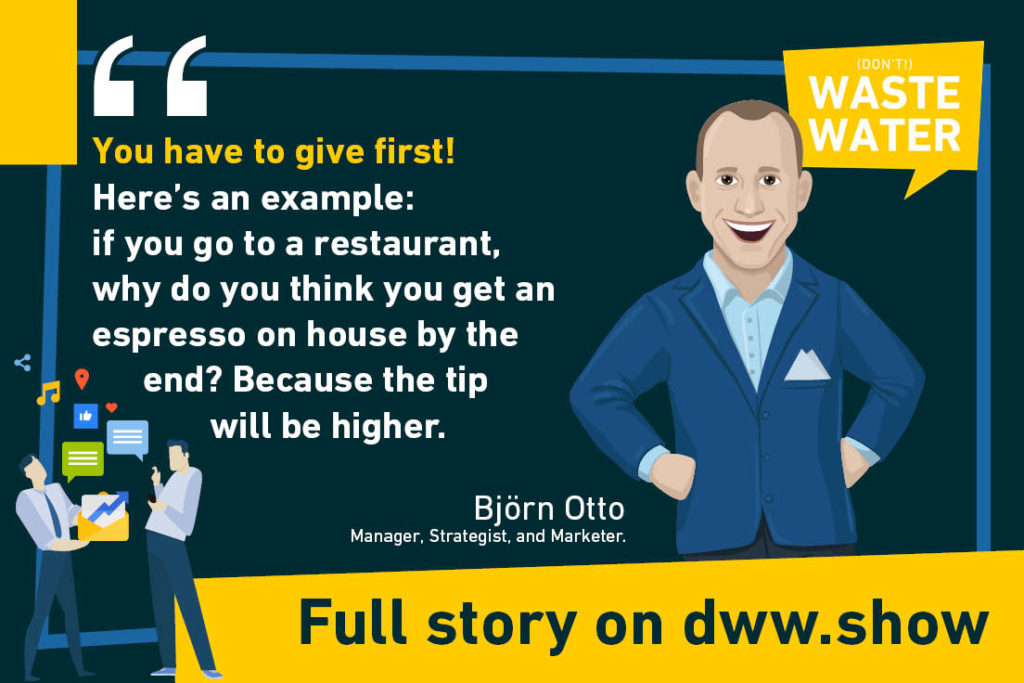 Antoine Walter:
If I get to ride, that means that that makes kind of a circle. Usually, you know, marketing is seen as something which is down the line, you develop your product, you develop your solution. And then at the very end you market it. And hopefully it finds a customer. And what's you're saying is that marketing is actually at the beginning as well because marketing is that link to the customer to make sure that you, you understand him and that you design something, which is really according to what he needs, because it has to be solving his issues today. I'm a rights to, to summarize it that way. Or am I simplifying it's a bit too much?
Björn Otto:
No, you're a hundred percent, right? I mean, thinking about that years ago, it was like this, you developed the fancy product and afterwards you started marketing and to promote what you build is right today, it is no longer the strategy right today is that marketing is also comes into evaluate the market to evaluate the chance to be successful. And here again, I struggled a little bit with the external marketing agency because I had a recent experience with that because he did already this, I mean, only your own people know what the market is, what the technology is and so on. So on and so on. That's why I'm a big fan of having someone responsible who know most. And I mean, don't get me wrong. I'm not against an external marketing agency, right? But you always need to have someone in-house to have in marketing and technology knowledge, right.
To meet this agency. Otherwise you cook your money on them without having a clue. What a more important, why are they doing things that you, I mean, it's the same. This is your technology suppliers, right? Every PC knows how the pumps on the supply works or the memory from the supplier. So marketing also what I want to contemplate a marketing, evaluates a market as well and promotes the product afterwards until it comes into the sales cycle. So I'm almost saying why aren't you marketing is also to help for the observation of your competitors. How do you want to know how your position is? I know some companies who always check the export statistics to identify exactly their market share because they can see how much they export in this product. Right? Cause this export lumber, and then they can see the overlap and then they see, all right, this is how we are. So all I want to say is it is much more in marketing is definitely in the beginning because you don't create a product in the early stage or early years. Right. And then promote today is evaluate the market is really a need for this product. Otherwise you would figure. And that's also, that's also a task for definitely.
Antoine Walter:
So you mentioned they have 41 different channels that you can use for marketing. And we are currently on one of those with podcasts, but if you had to do your personal top three out of the 40 remaining, what would it be?
Björn Otto:
Let's say, let's say fall away. The industry is this. Definitely. You have to be on social media in our case, that is LinkedIn. I always believe in email marketing and I believe the other social media channels. So if you name it down on the, on the three, I would take the three.
Antoine Walter:
How do you leverage email marketing and LinkedIn to nail those customer problems? Do you monitor what they say? Do you engage a discussion with them? What's the trick.
Björn Otto:
I mean, you, you get a lot of feedback from social media, let's say in our case. I mean, if you're talking about social media and court case in the world, two years, B to B, if you're a little bit awesome in the B to C, you have to figure out how, for instance, Instagram or Facebook would work for you also important, but let's, let's go, let's concentrate a little bit on, on LinkedIn only. So yes, you get a lot of feedback. You get another feedback and then you can see how the market reacts on the product. But I wouldn't rely on that more coordinators that you get visible, get visible and give. As I said in the beginning, you have to give more than to ask for. See it. So it's the same on social media, social media don't belong to you, whatever you do on social media tomorrow could be over.
Right? So I learned years ago, don't own a house on rental end, right? Is the same. So that means social media is pretty cool. You get a lot of feedback and you know, a lot of peoples and you see a lot of people, but the trick is to convert this outside the social media world. And this is your CRM where the final information will go in. But before that is that you have to give some kind of, kind of free white paper. You have to give some money, email marketing newsletter, which are not even on a newsletter tech, very informative technical newsletter to attract them, to make sure that they are received. Right? Because then the rest is sales processes. Way more easier. Give you an example. Give me an example. So think about a water or create more of a, which is replacing each and every 10 tons of activity down, right?
Which is solid, right? And then supplier. So if you are that you Mark it as separate from whatever you want. You want to come in into this visits, staying star, we'll go there and we're knocking on the door and the guy saying, Hey, I'm surprised. I don't know you it's just feature tour and things like this. I don't want to change. But if marketing that's the world, right? The conversation could be like this. You knock on the door, same situation. And the guy opens and say, Hey, cool that you're here. I have recently downloaded a white paper. My x-ray to combat that has to be a lot to improve my performance. And by the way, your company, doesn't great user. What'd you give to me that movie. So informative information, which are really helpful for my day. And by the way, your post, your statement, you gave drastic on LinkedIn. I told you to come in and have a coffee. What can I do for you? How does this sound? That's what I mean? Right? You have to be on the couple of channels, nailed down to not too many. You can't play on each round. Right. But you know, give them from which be there, right. Solve the problems. And not only try to sell your product, that is the key.
Antoine Walter:
You know, what about building on someone else? Lens. Tell me about it. You know, 10 years ago I had a musical band and we thought, shall we do a website and said, no. Why do a website? We will make a MySpace. And we have the best MySpace in the world. I mean, really wonderful MySpace. And then some days someone turns off my space and we have nothing left. So yeah, I feel you.
Björn Otto:
And that's exactly the same. I mean, I don't believe that LinkedIn will be down in two years. Right. But let's, they want on their algorithm every day. And maybe your posts are loaded on that fence, in that attractive that they played it out. So you're going down, let's say it was ability that can happen every day. Right? Worst case second venue, right? This has also happened, not from our industry Parsons, but anyway, it is still a rented land. The key is you have to bring them to your own land and your own. That is your contact list. It's your email list, right? Because this, you can use, you can call them, you can email them. You can go there. You can so much to do with that. And that's why I said you have two landing pages. I'm not talking about your web page. I'm talking about landing pages. You landing to put something on, let's say a fancy wide payback. I mentioned, my example was here, he's downloaded this. And the only cost he has to pay is your email address. And then you can call, as you can email them, you can do that, but you're no longer on the social media platform. It's interesting because if you look back,
---
Antoine Walter:
Let's say not even a decade, maybe five years ago, people were considering email would be dead pretty soon. And it would be replaced by social media. And it looks like the more social media we have, the more important email is because at the end of the day, that's something you can not own, but it's a more direct relationship to your customer base. And there's no algorithm in between when you send it, whether they open it or they don't open it, but it ends up in their inbox. So I think it's an interesting shift of paradigm if I might say so, because really social media was seen as something that would replace it and disrupt emails. And it didn't. So I fully agree with you on, on the importance of email, if I get your rights marketing done, right. Means that a sales guy will never again, have to do a cold call because you are warming up the field for him. Right?
Björn Otto:
What are the best cases exactly like this? Yeah, but also, I mean, you can cold calls. I mean, I saw a lot of studies, which are saying cold calls are really dead, right? Because the effectiveness of cold calls is very low, which was more related to commodity, right? I mean, if you're talking that way, industry, we have much more than just a commodity, but it is even more complicated. The cold core, for instance, if you let, let's call it, you have a pump supplier, right? You have offensive pump. So, and you want to make sure that your fencing pump is in the new, next product was this company, but who's responsible. That's this guy has a project on table where he needs a pump. Right. You have to get him in the right moment. And that's very, very tricky. And that's why cold calling is very complicated.
And that's why it's more easier that if you prepare, lock it by marketing, and then you go off, then you launch it, go back to the example with the work. And then there was the activity car, right? You're not on the door. And he has no clue about you, which is nothing else on the cold call is a cold visit or right. Today is all about trust. You have to build up the trust and this, you can only do it if you give something, right. Because if you give something, it's a kind of, that's a very complicated word. This is kind of psychological thing, right? So if you give something, then you own something from the other end. Think about a very simple example. If you go to a restaurant, why do you think you get an espresso on house by the end? Because the tip will be higher than because he gave you something for free. So now I only use something okay. I give you more tid, convert this to our industry. If I give you a white paper, I give you an to newsletter. If I give you that, and then I'm coming to you and saying, Hey, I am fancy Palmer. Right. And I have a cool story about the spot. What are you saying? Is it easier or more complicated? I think definitely the first one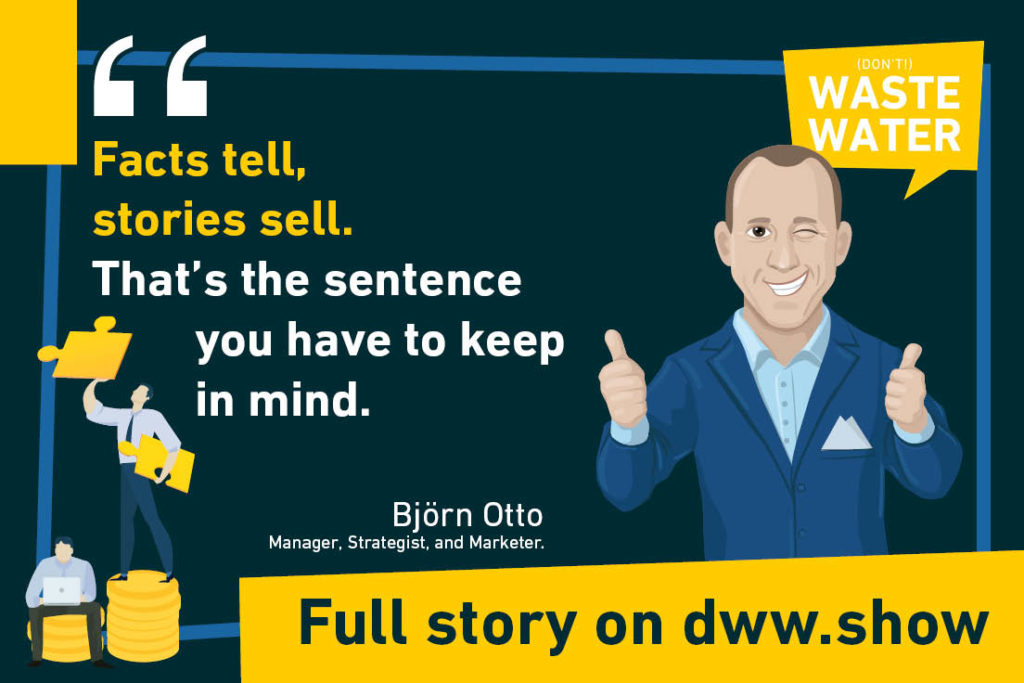 Antoine Walter:
That's reciprocity. Right? I think it's the studies were done by Robert sheldini and he has a very funny example of people who received Goodyear letter totally by mistake. So they received a letter. They don't know the people that send the letter, but they just received the, this letter, which says happy new year. Hope. Everything is fine. What do they do? Well, they just respond and they send back happy new year. And that then lasted for 10 years, 15 years. And these guys never met, but still reciprocity. You are forced by your brain. It sounds like our tribal roots, our monkey roots are still somehow we know we're in our heads.
Björn Otto:
Yeah. You go a hundred percent. Right. Sorry. But there's another example which I really want to give you all the audience. It was a similar thing. It wasn't group, I think was railway station. And it was a group of person who gave everybody who came in the flour for free. Right. And you walked away and let's say 15 minutes from far away, there was another person from this table who was asking for money. The people spend more after they got the flour. As the other group who will have no flour, it's exactly the same energy. Right? You've got something. Okay. Now we feel exactly. It was always with your example. You have to give something back. That's how it works. That's also marketing.
Antoine Walter:
That's a good practice in marketing. Let's look at the dark side. If you had to list three bad practices or things that our industry keeps doing, which is at best inefficient, what would be your, let's say worst three.
Björn Otto:
Yeah. Let's say there's always one big thing. One big scene. I would really recommend to change immediately. Stop talking about taking good features, stop doing this and costing that you build in another new system. It doesn't work right. If you always come with the same, Hey, I'm talking about features. I'm talking about features and then posting the next installation. Nobody's really interested in that. You can find tons, dozens of examples for instance, on LinkedIn, right? And they don't get really the attraction and they don't really treat other people. But you really have to do is you have to differentiate between creatures and benefits. Facts. Tell stories sells. That's the sentences. You have to keep in mind. Right? I mean, we have very technology driven, right? But there's a different than features. And benefits. Features are technical details of a product or your service and the benefits what the customer gets out of the picture.
But future top is what most companies are doing. Tak tak tak tak tak like this right now comes. If you have to differentiate your product with features, that means one thing you are replaceable. Because think about that. Let's say if your USP is that you have a memory with 0.04 microns, it's an expo. Come and say, okay, I have zero, zero three. That is four. But most people do. They talk about features. Nobody is interested in all the membrane features like the core size, you know, the material of flats, read, package, density, all the things the customer wants to know what comes out. He wants to talk about the quality of the water. So that's the difference. And that's, what's so important is if you ask me, you know, what are the three common mistakes? And they all talk about futures and we have to stop that.
Antoine Walter:
So a feature is one. Do you have another one?
Björn Otto:
No, I, yeah. I've post the pictures from the installations, which are saying nothing. You are selling why our emotion, this is important. You have to bring the people in a, in a specific mood and this will not happen if you send the next arrow installation, which you have sent you some years, the next installation was fully as, instead of six to, I dunno, right? It is all about emotion will not sell something. If you don't trigger the emotion. Of course, again, as I said, in the beginning of the, customer's not interested in your, your company or your product, they can't authentic self. So solve. Before you asking me that, what is the third company compass don't be concentrated on your product, concentrate on the problem the client has that said
Antoine Walter:
So yet, if I look around what many players and not saying all the players, but what many players in our industry are posting on social media? Or if you walk down an alley at [inaudible], let's say if that is happening, which wasn't the case, but will be, again, the case in the future, you still see a lots of features about our product is the best. And yeah, sometimes, you know, I feel like it's part of the identity of our industry to say that we are not into marketing, just because we are so good. Technically it feels like, you know, a devil's circle. If you start being good in marketing, people will tell you, yeah, your marketing is cool, but what does that hide? Do you share that this impression or is it just me and my weird friends brain
Björn Otto:
Let's answer this way. I think you have friends. I think we both would agree and saying that mosquitoes is the best kind book. Right? So, and, and seeing this to the point as well, I'll just tell you is my eting spent 640 million in marketing in 2009 to 640 million us dollar on marketing tonight. Why are they doing this? If they have obviously the best product, more or less, right? They do this because they want to make sure that everybody knows that they under number one, they want to stay on the top. Right. And it makes no sense at all to have the best product, if nobody knows it right. More important. If, if nobody knows what you have, that you have the best product, you have to tell the message. That's very, very, very important, right? Again, I cannot come back to the example of the water, right?
You have to give the message first, right? It doesn't matter if you're the total, the people even when I, how you have the best product, you have to prove that. And you have to give the story beyond that. If you then talk again about the future, the next food next to you, that's, that's the same best product, right? I mean, the point is also a little bit, what is the best product? Is that really the best? Correct? I mean, for instance, if you go to the electronic supermarket, the media markets, right. And you see how many, two divisions you see hundreds, you know, the point is everything has to fit in to the customer need. And he's also seeing, all right, what is the space? What is the price performance ratio and all those things, best product is not only, it's not really the best and feature. You don't have to be the best. Sometimes it's also good enough to be good or to be very good. But for instance, for us, suppose we both have kids. So we know Porsche is better than the car we have, but we can't go for a port cause we don't get our kids very true. So, you know, it's not, it's not the matter that you have to have the best product. You have to have a product which fits to the customer needs and which solve the process.
Antoine Walter:
It's about product market fit. It's about fitting the solution to the problem. So we are, we're back to this aspect of, if you understand the problem, then most probably you can provide the right solution. And there will be an encounter between the customer on one end and your solution on the other, you mentioned something about the fact that you have to promote the solution at some points, assuming that's that survives solution. But I think you give that, that statistics. And that was really impressive to me that people believe much more people than they believe brands. I think that was 70% more, right?
Björn Otto:
Yeah. There was a different example of this was involved the employee, but it goes in similar directions.
---
Antoine Walter:
But the employee advocacy actually is my point it's if Noah brands starts pushing around the message, that they are wonderful and actually deliver a solution, which sounds to be resembling my problem. So I might be in sympathy with what they have to say yet. That's not as effective as if someone now not just the brands, but someone working from the brands someone's really specific comes and tells me the same message. So that's also a shift from top-down communication to more like peer to peer.
Björn Otto:
Yeah. There's a dramatic shift. And that, and you mentioned this already was C was just this statistic, you know, would you say, you said it's the same content is published either by an employee or will your organization, people trust the employee more by 70% instead of your organization. For me, it was at this time and I opened it, right? So that means a little bit, every employee can become card of a valuable company advocacy and had to burn the company brand by being visible. I believe that he can become the face of the company. I mean, what is the company? The company is building was a logo and a physical address, or what, what makes a company unique are the people, if you understand that, and then that the information that the information come more trustable by, by the people because they send for personal recommendation at eye level, right?
Björn Otto:
And if you switch back to LinkedIn, what happened next, right? If a person from this company is posting in very interesting optical or comment, right? What happened next is that you look at this person into his bio, into his CV, right? You look at the photo. And the third thing is, what you do is you look at the corn company and that's it, that's it. Then you have the goal achieved, right? Because you want to transfer the person, the potential buyer, the lead, the however you want to call that to your company. You want to link that everybody knows, everybody knows Antoine for which company you're working for. Why is that because of exactly you do the marketing for that, but you don't have to mean that all the time is the same for me and the face of the company. And for many other examples is the same, right? And then you get leads. You have requests, you got questions you're starting, you know, to, to collect the leads. And then you can bring them in a way from social media, into your channel. You want to have that you can express them to the sales process.
Antoine Walter:
How do you put that in place? Because we are quite a conservative industry, which means that inside our conservative industry, you would expect to also have kind of conservative people. And know if you know, I'm, I'm an engineer. Let's say I'm the best process engineer. They're reason in my region. I'm really good at taking a water sample at making a Lebanon lies. Is it making a pilot test at, at finding the right treatment train and bring this right treatment, train to my customer. But I might really be awful at posting stuff on social media, at writing a blog article at making an interview. Is it the same kind of skill sets or are we looking a bit for zebras? Like you were, you mentioned at the beginning, that's where that link between the technical side and the marketing side. And if there were lots of people like you, our industry might be probably different. So how do you put an employee advocacy in place? How'd you convince your employees or your, your collaborators or you, you, your colleagues to kick in this kind of initiative.
Björn Otto:
I mean, you have to convince them that it is a win-win situation for both, right? I mean, from the company perspective, you get also the traffic, as I explained earlier, right? You get the traffic. And from this person, the traffic goes to the company. And the other one, when situation is that this person wins is dangerous as an expert. He used to come in the face and it doesn't mean that he has to be the expert. He also can go around and can collect. You're seeing zebras, right? If you don't have a zebra, take someone who is, let's say who's good with social media, but maybe he doesn't have the technical background and put two person together. And the one guy is posting the relevant and informative stuff. The other one can give him, it's like an interview, right? If you have to know content, take someone who can say something and bring him on board, right?
This is also, if you do the marketing, what is, what are you doing? You are doing an interview. So you are not creating content. You're asking others income. This is the same. It's the same principle. So you don't have to look for the zebras, just look for the persons who are willing to be visible. This is more important. Most people are scared to be visible, but that's not, you know, it's not a bad thing. It's not, it's not dangerous. And it seems like many, many people are scared during this. Then they see my face. And then you become the face of the company. This is also a lot of benefits from you. As I said, you become the expert. This isn't necessarily that people who are more active on LinkedIn are more visible. They earn more money. Think about that, right? You get more money, right? And you are becoming more valuable for the company, right? You are the face. If you change to another company that everybody will lead you to the new company, not to the old. So who's losing more the complainant, right? You don't have to relate to look for the zebras, just look for the people who wants to be miserable and bring the information others have from your organization who bring this together. Then it could also work.
Antoine Walter:
That means also for the company. If you put in place these employee advocacy, you're taking the risk that those guys have their own tone, and that might be different from what you expect. I just give you an example. I saw your interview with with what it Cooley very interesting interview. But to me, it's, it's interesting to see both of you because it's like the exact opposite one to the other in the way you present yourself on LinkedIn on one end, what it is very he asks open questions and he expects people then to answer. And then there he's very knowledgeable and he wasn't on that podcast as well. And lots of fun interviewing him. But it's very different style from you. When you post something, you have a strong opinion, a strong facts, and you might be sometimes a contrarian going against a popular opinion and saying, Hey, here are the facts. And you might think that, but that's not true. And here's why, so you'll see, it's two different styles. I have to say, personally, I enjoy both of them, but if I'm a company and you are now both of you or are my employees, I might be a bit threatened by the fact that I lose a bit, this control on the way my message is communicated. Is it that the cost to pay, to get the benefits? Wow.
Björn Otto:
First, first of all, you, we will win more than you will lose, definitely. Because what is your goal? Your goal is visibility with your company and you want to have a brand wins, right? If someone is really just saying only stupid things or let's say, which is totally against the values of the company, that's for sure. Right? But this one will happen. I haven't seen any example for this never, ever. Right? So if someone really has found something positively that I have it in my corner, but that's normally not the case, but back to the difference between Bali and my approach to it, it's not right or wrong or black or white, it is more, you know, either in both spaces or right, you can either create your own content and can post it. Or if you say, Hey, I don't have any content. Well, I will invite someone and talk to the boss.
This is content about his company or his problem. Doesn't matter. In the end, it is always about brand awareness, getting visibility and bringing people together that sets all right. And as long as you are, let's say really not so stupid and posts really ridiculous things and things which are forbidden to say, you will win more than whoops. Right? You will definitely win. But on the other hand, if let's say, if you are an organization and you want to have this program, if you want to have your own employee advocacy, you have to train them, train them, sit together, right. I mean, don't control them. Don't send all them, but let's say, sit down together, ask them, okay, what are the, what are the goals we want to achieve? Write about what you can post max. He has something new, you know, bring him, bring an expert to the round, whatever.
I mean, there are so many ways you don't need to leave them alone, right? And then if you don't leave them alone, this things for you to cry that you are maybe scared a little bit about this situation will not happen. If you train them, if you always send together, then you know exactly what they are doing, right. If you don't do that, maybe you lose control, but you can always have a look. But other way, I mean, this is what they do on their social media chat. So they would talk about the company in anyway. So try to control that instead of leave them alone. Right. That will be the message from my perspective.
---
Antoine Walter:
I think we more than scratched the surface on employee advocacy, but I know you have lots more to offer. I'll put in the episode notes, the link to your book on the topic, because I think there are, there are additional nuggets there, but I don't want to unveil everything right now. You mentioned visibility and is there a limit to the extent to which you have to look for visibility, and I tell you where I'm going with that today. The big booming social media is tick-tock and I'm pretty sure there might be a few water professionalism on Tik TOK. And I think right now, one of my colleagues who isn't tick-tock and does fun stuff, which is work-related and which is absolutely interesting. I would never have thought of it. You know, dancing with a pipe is, is something special, but is there a limit or shall we really embrace every new wave and try to get as much visibility as possible? What's your religion on that?
Björn Otto:
The easy answer is you have to go away your plans. That's that's one thing. I mean, we all know Chico is new. The audience on Tik TOK. What I have read is between 12 and 24. So I think for B to B marketing or selling the next wastewater treatment plant is not the right platform. That's just my opinion. Right. But I mean, before, let's say going after that, each and every trend we should use, whatever we have, right. The point is, I mean, whatever food you use is it social media, email, SEO paid, whatever. First of all, you have to give the key is getting the fossa, right? And it doesn't matter of support. Don't go for the trend, go towards established. Right. And I gave him some, some hints of that. Right. And we already talked about even marketing or, or I dunno about social media, both SEO paid, or there are so many, there are 41 go, go on YouTube, go on podcast.
But please go where your clients are. If you rely on an agency who would say, Hey, take talk is booming, which is through, yeah, they have more, I, I'm not sure whether they have more, but they're growing fast and way, way, way faster than for instance, Facebook. But really for our industry, we are the water industry. Is that really the platform we should go? No, definitely not. We will not sell anything. And the audience is between 12 and 24, something like this. And this is not the guy who is able to take the next decision to buy a pump, to buy memory and to buy a complete waste water treatment plant.
Antoine Walter:
So probably we have to wait a bit because, you know, platforms are usually aging together with their audience. Facebook used to be with youngsters 15 years ago when probably I joined. And yeah, now I feel like there is no new young guys on, on Facebook anymore. But right. I mean, before tick-tock reaching the demographic we expect from B2B, probably we are in 20, 30 or 40. So there's still a while to go. Let me ask you for your crystal ball bets here. I saw in one of your newsletter that you were mentioning clubhouse and that might be podcasting 2.0 and I'm still on podcasting 1.0. So I'm a bit worried. Should I,
Björn Otto:
First of all, I love your crystal ball, right? So we all should have your crystal ball. I'm not sure what it's in, but let's say if you ask me, what could we, and what is the trend for really the next, the next years in terms of marketing? Definitely the, it is social and social would say, I doesn't mean that it is necessarily LinkedIn, but LinkedIn is for the moment for a moment in 70, the largest platform, really, and the marketing tool for generating customer inquiries and building the brand. This is really the largest platform is probably to be marketing the second. I'm not sure that in five years it is still LinkedIn. Maybe it's some something else, which is not no one so far, but what else is, what I strongly believe is a podcast. Other listening formats will play a bigger role, right?
Yeah. Clubhouse is brand new. I think two weeks, three weeks. I don't know. It is a similar version is right now, really in the better phase, just for, just for, you know, for Apple users and so on. And so I'm really B2B, but the point is the listening format, even podcasts is very highly interesting for, from the marketing perspective podcast in the U S and in Euro is totally different, totally different. They have way, way more podcasts than in Europe, but, you know, podcasts are coming in Europe, more malls, right? It is becoming more popular. And the other big players definitely view content. We have content on YouTube, YouTube, by the way, it's the second largest search engine machine after Google and boasted onto Google. So you shouldn't underestimate. And let's say, if you had really fancy and cool product, you should have a look on augmented reality to promote. It's not really new, but it's, it has not really reached away industry. Right? I haven't seen it, but this is something. If you have a product, for instance, a pump a com could be a very good tool to promote this fraud.
Antoine Walter:
That's interesting. I actually, yeah. I have a colleague in Belgium that got a nice little project to, to make training for welding in augmented reality. And it's fun because you do that video game. And at the end of the day, you really learned how to weld. And that's a cool way to bring some fun in are sometimes a bit sad and gray industry, but yeah, I'm fully with you. It's interesting to see that augmented reality might have something to do in the future. Well, I'm Buren. I think that's going to be a good opportunity for me to invite you back in a couple of years to, to see if if that happened
To close this deep dive, I'd like to give you some credit here. You had a quote in one of your newsletter. That was really impressive to me because that was so accurate. I was like, you, I would have loved to, to be the author of that quote, but I'm not that's you it's you said that making money, going to be the purpose of a company or a business, because the purpose has to be solving a problem. And when you think of that, that's so logical, but still, you know, it's like the wheel when you think of it, it's so logical, but before the invention of the wheel, people were using something else, but that turns revenue for a company as a key performance indicator. If you are making money, then you're solving a problem and not the other way round. So if everybody does that shift, that's going to make your life more difficult, because that means you're no longer alone being a zebra in our industry. But, but for now, I guess that that's the right approach. And I mentioned it at the beginning, but if people didn't subscribe to your newsletter, they definitely should. It's a pleasure to read.
Björn Otto:
Yeah. Thanks. Yeah. I mean, just, just one word, just one word involved in both the purpose, right? I mean, every company needs make money. Otherwise the company has a very short lifetime that doesn't make any sense, right? But it was always the reason why as a company was founded and this needs to stay in force for the time, right? The company was built to solve a customer problem. And many of these companies are losing this reason over the time. And I only focused on making money without thinking what the customer really need. So when I believe in the fact that companies would be way more successful, if they tell you why they do what they do and do not tell what they did, right. Was the clear purpose. You are not responsible anymore because no one else has a similar why. Right. And if you're not able to tell your purpose to the customer, he moved time just based on facts. And do you really want to go to the fight was on us to differentiate. We already talked about that, right? We don't want to get differentiated on features or on facts. So if you have a clear purpose, the key or why, then you are no longer replaceable. And that is also, also was also an eye-opener for me, just to give you a short answer on that.
Antoine Walter:
I was just checking while you were talking, because I would have bet. And your LinkedIn just answered me that you're following Simon Sinek's. So you're starting with why
Björn Otto:
I read this book, I think five years ago. And this book changed totally. My believing. I'm a strong believer of Simon setback as so much truce what he's saying. He's one off, we have a lot of, a lot of really interesting people, right. And really wishing ears. But he was really the first for me who would change my Aleve. And you asked me in the beginning, what is my special souls? And I sing, he was also influencing me by the way, on other right. To find my sweet spot. Definitely.
Antoine Walter:
I think if people listening to that never looked his watched his, his Ted talk. That's definitely something you, you should have a look, I'll put the link as well. In the episode notes, I have to say not to be too enthusiast about him. Neither. I loved the Ted talk. I really loved it. I read the resume of the book and I, and I loved it. And then I read the book and I thought there's nothing more in that book than in the Ted talk. But
Björn Otto:
That's usually the case with business books. So I guess that's a, that's kind of a rule it's not specific to him
During the Ted talk. He had to nail the book down, right. Because he was limited in time. I might talk to Walid. I had to nail my book. I wrote down into two minutes,
Antoine Walter:
Which is challenging. I, it, but nevertheless, you know, I love the long form of the podcast, but I have to be cautious every time as well. So I propose you to switch to, to the rapid fire questions.
Björn Otto:
Oh, pretty cool.
---
Rapid fire questions
Antoine Walter:
The rule is simple. Try to keep the questions short and if you can keep the answers short, that's cool as well, but you you'll notice that I'm always the one that makes it longer than it should. So don't worry. My first question is what is the most exciting project you've been working on?
Björn Otto:
Yeah, I developed the first power com installation for treatment of micro pollutants in Switzerland, I say 12 years ago in Mexico. And that was really exciting, the complete new application. Right. And that was, if you asked me what was my most exciting project? Well, this one definitely.
Antoine Walter:
Okay. So now I break the rule at the first question that I have to make it longer as you were walking on petticoat. It's interesting because actually I was working on the first ever micropolitan treatment plants that was made with other nations. So the one in Dubin doff, and I've been arguing, you know, with the full market to say that ozone is better than activated carbon. So I guess you were the one on the other end saying activated carbon is better than ozone.
Björn Otto:
Exactly. Now due to the fact that I know of that, I don't like it anymore. Right. It wasn't amazing time. Right? At this time I seen 10 years ago, 12 years ago, where really, you know, this new application came out and there was really the fight between ozone and accurately calm at this time. And so it's the first country you want to implement or that the forest or the forest treatment stuff. Right. And I was so excited and I was almost the only one was pushy in my company. I was running against all the ozone guys, especially in Switzerland due to the fact that ozone right. Was based in Dubai. Right. So let's say more the local player and was so much fun. And yeah, it was really an exciting project.
Antoine Walter:
You cannot imagine how much of a traumatized some of that it was for, for the company that I was working for Sonja, you know, and to see that activated carbon was the solution chosen, you know, 10 kilometers from, from the the, the head office was painful, but that's a no, some illustration from you, your points you, you mentioned earlier on from, there's not a perfect product, there's a problem. And every customer has his own perfect product for, to him. So for some of them, the perfect solution is going to be activated carbon from some others. It's going to be ozone for others. It's going to be a combination or advanced oxidation processes or many other steps. And you know, that's, I changed my position working for another company. And I normally have my goggles on that tells me I on this so much better, I have to admit it. It's absolutely true that you can find benefits to every kind of solution. And it's really, it has to be project centered and human centered, and that defines that the right solution. And I've been far too long. So let's, let's go to the next rapid fire question. What's your favorite part of your current job?
Björn Otto:
Most probably always moving people. Unfortunately it is not possible at the moment. Let's say to learn from them to get inspired. And that's why I'm really looking forward to go to 20, 22 to see our people again. And I believe there's going to be a huge come back party. That is, I think the, my favorite part
Antoine Walter:
Fully subscribed. What is the trend to watch out for in the water industry?
Björn Otto:
Well that paints a little bit for me because one, we are always looking for trends. Wouldn't it be better to solve the given crisis? We have the water crisis. Why do we not use all or resources to make sure that no longer children died because of the fact that they have no access to bring me water, show them that this would be the trend for our industry. I mean, let me tell you a very private story, which really was really heartbreaking. I have, I have three boys, right? And the middle one, which is in the age of 10 he's in Birmingham, had a kid and very interested, many different things. And he always wants to dive deep into technology. And he always saying, one day he wants to be an inventor. Recently I talked to him about the fact that it shouldn't in Africa have, you know, access to clean water.
And I ask him, or he how to solve that. His answer totally blows me away. He said a very simple sentences just through the pipe from the auction. And after that, it went away. Right. And then started to start with the PlayStation. But this prevent me totally because the poem that it is not the pipe, it is the point that every scene is a winnable technology. Steel man has said capabilities, but until today, the crisis system there that makes me really, really sad. And if you're asking me for the trend, we should change that we should make this. This should be the trend.
---
Antoine Walter:
Absolutely. Right. I think that's the answer I love the most, since I'm asking those rapid for questions. So thank you for that
Björn Otto:
To Eric, my son.
Antoine Walter:
What is the thing you care about the most when you're working on the new project and what is the one you care the least?
Björn Otto:
Well, mostly it comes to new projects. Also, you, people are involved in all this doesn't matter whether they are in China. Right. Which makes it mostly very interesting. It's the relationship, the inspiration. That's what I care most. Why can't less, I can't tell you, but most, probably all the administration stuff which shows around or they publish, I have to ask for, you know, I'm, I'm one of the persons who, who like to say, I'm sorry, instead of asking for permission, right. I think that describes my personality. Very good. Someone said once or some years ago was my former boss that I am the definition of a hands on process. And I was really proud of him that
Antoine Walter:
I have to say. It's funny because it's kind of the story of that podcast. I think I said that exact sentence. It's better to be sorry, but I feel you, do you have sources to recommend, to keep up with the water in which certain market trends?
Björn Otto:
Well, a clear recommendation is definitely your podcast. There's lots of interesting topics and pressing people. Well, other than that, I would go on LinkedIn, especially you can use the hashtag water or water treatment or waste water treatment, something like that. Or you can find some interesting groups to get something out. Other than that, I'm struggling a little bit with this question and use the fact that from my perspective, there's not really the best sort of skim at the moment. There are a few general publisher has DWI or more online, but I seen it could be, could be in a better way, right. To have a clear source. Maybe our next project is to publish a weekly newsletter for this industry.
Antoine Walter:
That's a good one. Let me check. I have to tell my wife that's again, I'm adding something, but if I get permission, we can have a look at the project. And last question, would you have someone to recommend me that I should definitely invite on that same microphone anytime soon.
Björn Otto:
If you want to have, let's say a leader from our industry over can command a case. My own, here's my most informative vice president of Canberra. Carmen. He seemed well retired, but still very active in the activity at combo ward. And he really had, or let's say he made a very lasting impression on me. Let's say, if you put 200 people in a room and everybody's silent, you would definitely point him as a leader. He has such an hour. Right? And I mentioned, I think, 10 years and I worked 10 years ago and what was done one or two years together. And then we hadn't seen each other since many, many years. And I saw him back. I sent 2018 and he came to me and he was fully aware more. I'm doing, you know, where I'm from and what I did in the past. And that was so impressive for me. So if you ask me, if you want to, either from our industry, was it long lasting history and management experience ask him, I'll give you the content.
Antoine Walter:
Well Buren, it's been a pleasure. I have to close that session at some point. And that's the point. Thanks a lot. I hope you have some time in a couple of years to verify your bets on how we should behave in the future and how our industry move in the meantime. And yeah. If people want to reach out to you, I guess they're the best places LinkedIn, right?
Björn Otto:
Yeah. You can lean and you can use things and just put my name and you will find where you can sign up for my, we can use that averages rather than with some relevant marketing sauce on this, or just texting on my morning.
Antoine Walter:
Perfect. Then thanks a lot.
Björn Otto:
Thank you. Thank you. I'm trying, and I really appreciate what you do with your podcast by industry. It was a pleasure for me to be the best and I wish you most successful.
Other Episodes: