with 🎙️ Jacob Bossaer – CEO and Founder of BOSAQ
💧 BOSAQ is a very ambitious Water Scale-Up aiming to develop innovative and future-proof drinking water solutions.
---
This episode is part of my series on (successful) Water Entrepreneurship – check it out! 😀
What we covered:
🍏 How recycling water and energy in one of the earth's most remote places (Antarctica) led Jacob to found BOSAQ
🍏 How the biggest challenge to overcome the lack of access to drinking water might be political
🍏 How bottled water companies' marketing can and shall be replicated in the water industry
🍏 How building a water treatment unicorn involves taking a lot of risks and regularly passing quite close to bankruptcy
🍏 How BOSAQ started with only a Business Plan and a Flemish Grant to cover the company's first 6 months
🍏 The fascinating experiment the company enabled, where a restaurant's toilet and kitchen wastewaters are 100% recycled to be bottled and served back at the restaurant tables
🍏 How Jacob attempts to beat capitalism from the inside
🍏 How dreaming big is a duty as an entrepreneur
🍏 Water cost, IoT, Technology Transfer and so much more!
🔥 … and of course, we concluded with the 𝙧𝙖𝙥𝙞𝙙 𝙛𝙞𝙧𝙚 𝙦𝙪𝙚𝙨𝙩𝙞𝙤𝙣𝙨 🔥
---
Teaser:
---
Infographic: Jacob Bossaer – BOSAQ
LinkedIn-Infographic

---
Resources:
➡️ Send your warm regards to Jacob on LinkedIn
➡️ Have a look at BOSAQ's website
---
Full Transcript:
These are computer generated, so expect some typos 🙂
Antoine Walter:
Hi, Jacob, welcome to the show.
Jacob Bossaer:
Thank you very much. We're really pleased to be here.
Antoine Walter:
So I have many questions for you. Hopefully you have some answers as well, but I have to start with something. I had Matthew silver on that podcast and Ravid Levy who shared me some stories about Antarctica and that's the very first thing I saw in your path and in your company description. So you also have something to do with Antarctica and if I get it right, it's almost the source of your company. So can you tell me a bit about that?
Jacob Bossaer:
Yeah, absolutely. I graduated as a chemical engineer from university of guns in 2011, but in 2010 they asked me if I wanted to go to Antarctica. No, didn't ask me. There was a, there was an application for water expedition in general, Antarctica. I didn't know anything about water, but I wanted to go to Antarctica. So I just applied for the job and I got in the last rounds. But didn't choose me to choose the other guy there. It was just two left because he was more experienced with water, obviously. Cause I didn't know anything about what they didn't know. I just said I did know about it, but I didn't. So I couldn't go. And in 2011 I signed my contract, my first contract with Dow chemicals, chemical company, obviously chemical engineer to start in September and in July the same year.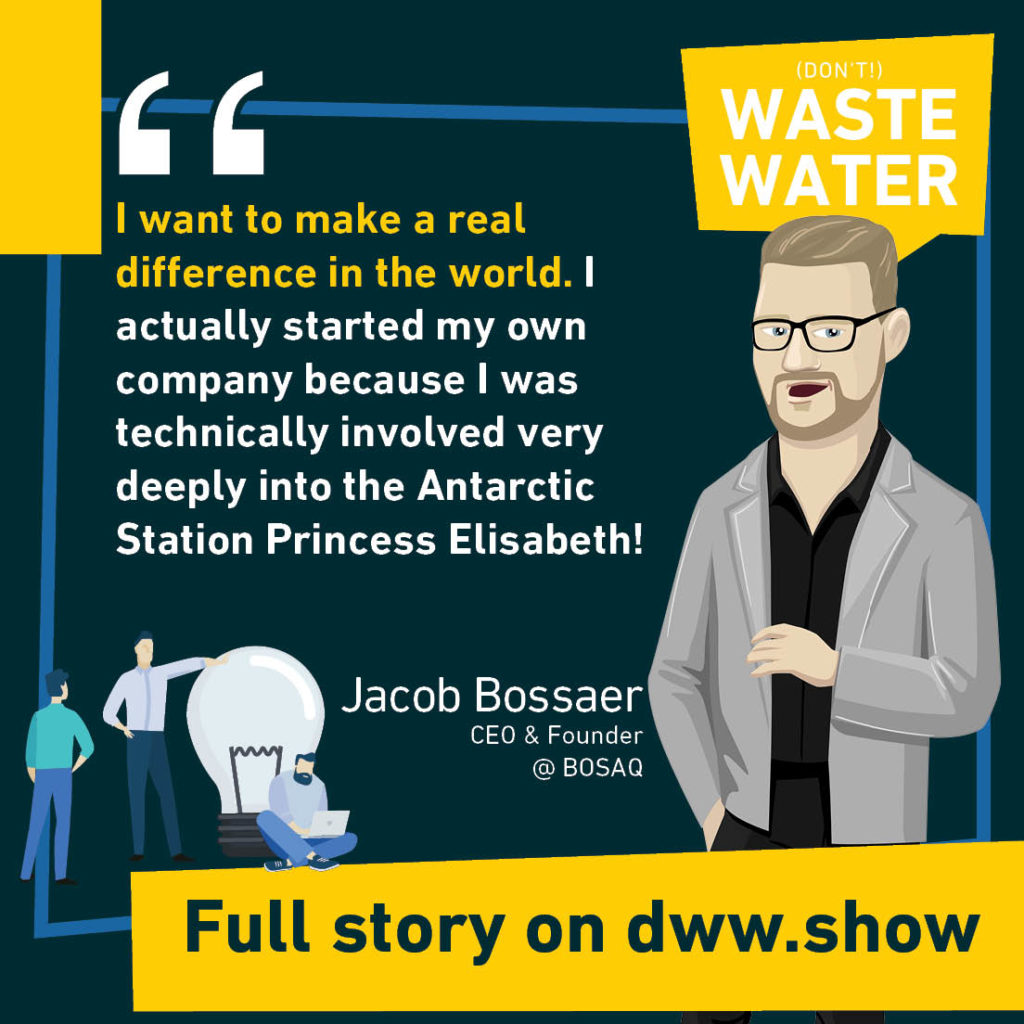 How Jacob Bossaer started his career in Antarctica
Jacob Bossaer:
So I signed that contract in April and in July the same year, they called me back from the Antarctica organization and it asked me if I wanted to go with Antartica anyway, cause like I didn't want to go anymore. I was like, Oh sure. So I called the Dow and it, they allow me to start later four months later because summer season in Antarctica is four months from November till February. And it was my first job. So I went off, went to Antarctica as water expedition engineer I got to the station and it was literally like, this is your installation. Good luck. And I was like, Oh, how I'm going to do this. So I, I read a lot. I work like a full first three weeks of the mission and I managed to start it up still don't know how, but I think, because I didn't know how the system work.
Jacob Bossaer:
It worked because the system that was there had never worked before. It was very bad managed. It was very bad designed. It was never operational. And because I didn't do, I took a lot of risks, but sometimes luck is in your side basically. And the system worked, I went back four times to Antarctica always in the, in the summer and Antarctic summer. So that's from the jump the February. And in the meantime I worked in a chemical industry and I I switched jobs. So when I went on Antarctica, I quit my job. When I came back, I got a new job. So that's for four years. And the last time I went was as expedition leader for the, for the Belgium government, there was a big quarrel about the station with the, with the one who constructed and then the owner Belgian state.
Jacob Bossaer:
And he asked me to resolve the issue. It was very political. So I was actually actually in the middle of a war. I was fighting a wall for the government, which was not my war, a bit naievely. I was very young, was the youngest of the team and still leading the team. I had four cabinets where the defense was with me healthcare science and another cabinet and four experts. It was very, a very big adventure. Cause we flew to South Africa, we stay for a while. We have to negotiate with the company that was a working together with the person that was in Isaiah government, the bad guy. So it was a lot of intrigues, basically politically as well as with the ambassador. And then we flew to Antarctica with a big illusion it's a freight Blaine from the Russians and went to Nova Scotia, which is the Russian state from there flew 350 kilometers East to the Belgian station.
Jacob Bossaer:
And first they didn't allow us to get in the station because of the quarrel. So we had to negotiate, finally goes in and then we would go to an illegal set up air space on Antarctica because I'm that it cannot be used for tourism. And they were setting up a tourism base. So went there and the pilot tried to land twice. And then they told us they couldn't land. But the bias was part of the company that colluded with the opponent of the government. So it's very dodgy. Yeah. Okay. We didn't learn. So we went back and then we flew to the Norwegian station. We stayed there for night and then he flew out with a private jet charted by the government. It was a unique experience. To be honest is a really nice, it's a very different way to travel, but it's something you can get used to, I suppose.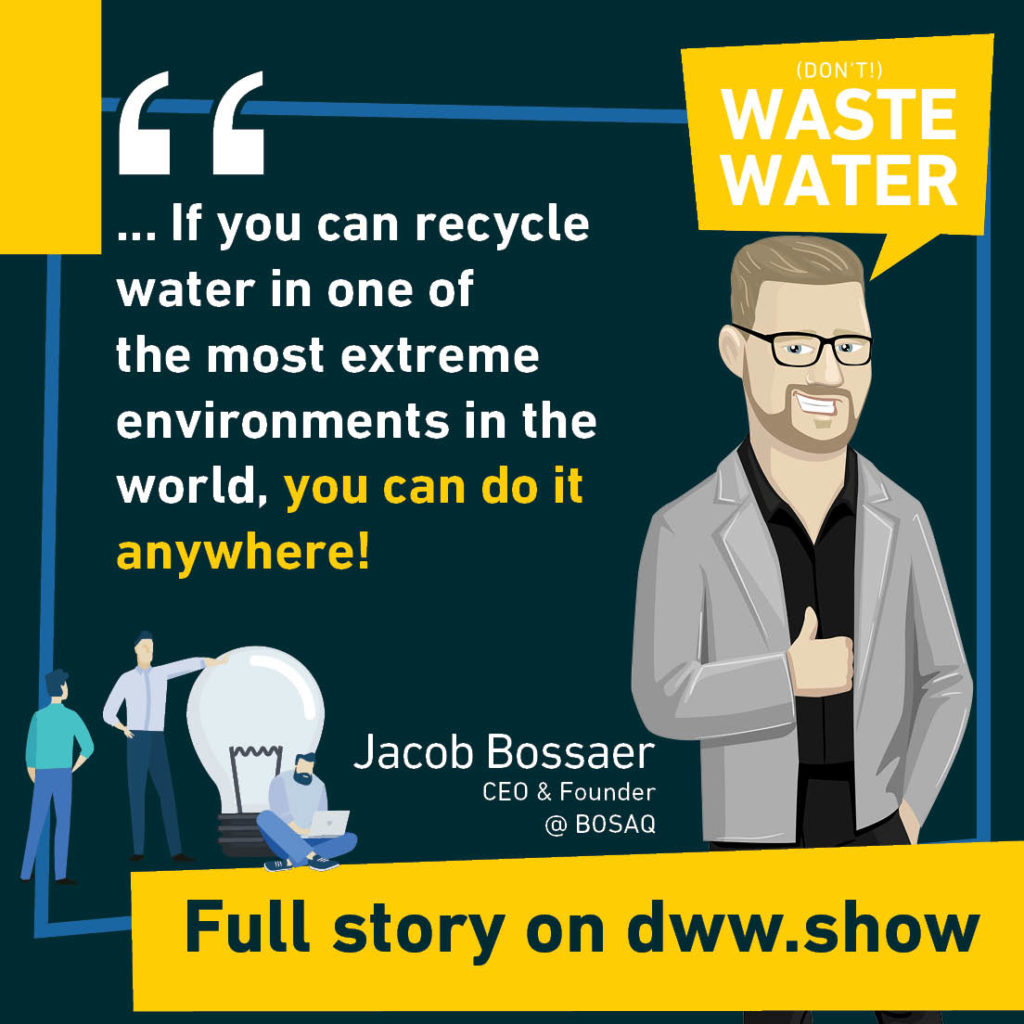 Jacob Bossaer:
And then I got back to South Africa, it was a trip that costs a lot of money, but it's taxpayers' money. And I was not fine with result because the result was actually that the government made a lot of mistakes and they just threw it in the trash because they weren't, they didn't want to publish it. And then I said, okay, this is not my fight. I don't want to be involved. So I, then I stopped working for Antarctica cause I worked for the former guy, worked for the new people. The foreign guy was we installed again. But I thought I said to myself, this is not what I want to do. I want to make a real difference in the world. And because I was technically involved very deep into the Antarctic station, princess Elisabeth as it was called, I started my own company because the particular thing about the station is that it runs a hundred percent on renewable energy. I was thinking if you can recycle water, because that's what I did recycle the water in one of the most extreme environments in the world you can do it anywhere. And that's how the idea evolved to BOSAQ, which is the sustainable water company, where we provide decentralized supply of drinking water with the means of renewable energies. So that's actually the starting point for me,ufor BOSAQ.
How Antarctica was Jacob Bossaer's inspiration to create BOSAQ
Antoine Walter:
So basically you, you learned everything the hard way and you were thinking if I'm able to do it the hard way I can do it in any kind of other environment in the world, it's going to be easier. Probably even if still challenging. What was the temperature in Antarctica?
Jacob Bossaer:
It's actually okay. It's between minus five and minus 35 minus it's summer. So that's but it's actually quite okay because it's dry. It's really dry the climate. It's one of the dryest in the world. So if it's minus five, you can work with your t-shirt outside. No problem at all. If there's no wind, you burn immediately. Cause the hole in the ozone layer is the thinnest over Antarctica and New Zealand. So you get very, very, very careful, but it's actually a very nice environment. We were in the mounts, super beautiful. I went there, I went with the, with the snow scooter. We did hiking albinism 80% of time. It's a without clouds. It's 24 hour sun obviously. Cause in the, in summertime there it's a beautiful, a beautiful environment. There's also for me the first and last time that I experienced silence. It's very strange as driving with it with a motorcycle.
Jacob Bossaer:
Well it would snow scooter over the ice planes. I stopped and I walked for a few hundred meters and then I sat down and the only thing here is your breath and the cracking of your clothes. But as only you don't hear wind cars are not trees that it was true. You don't hear birds because there are no birds. You don't hear noise in the background from things that happened. It's a hundred percent science and the force of nature is so overwhelming and such simplicity. It's almost empowering, but it's also, it makes you feel very, very small. It was a really, really nice experience. So power of nature. Yeah. Very, very clearly present in Antarctica.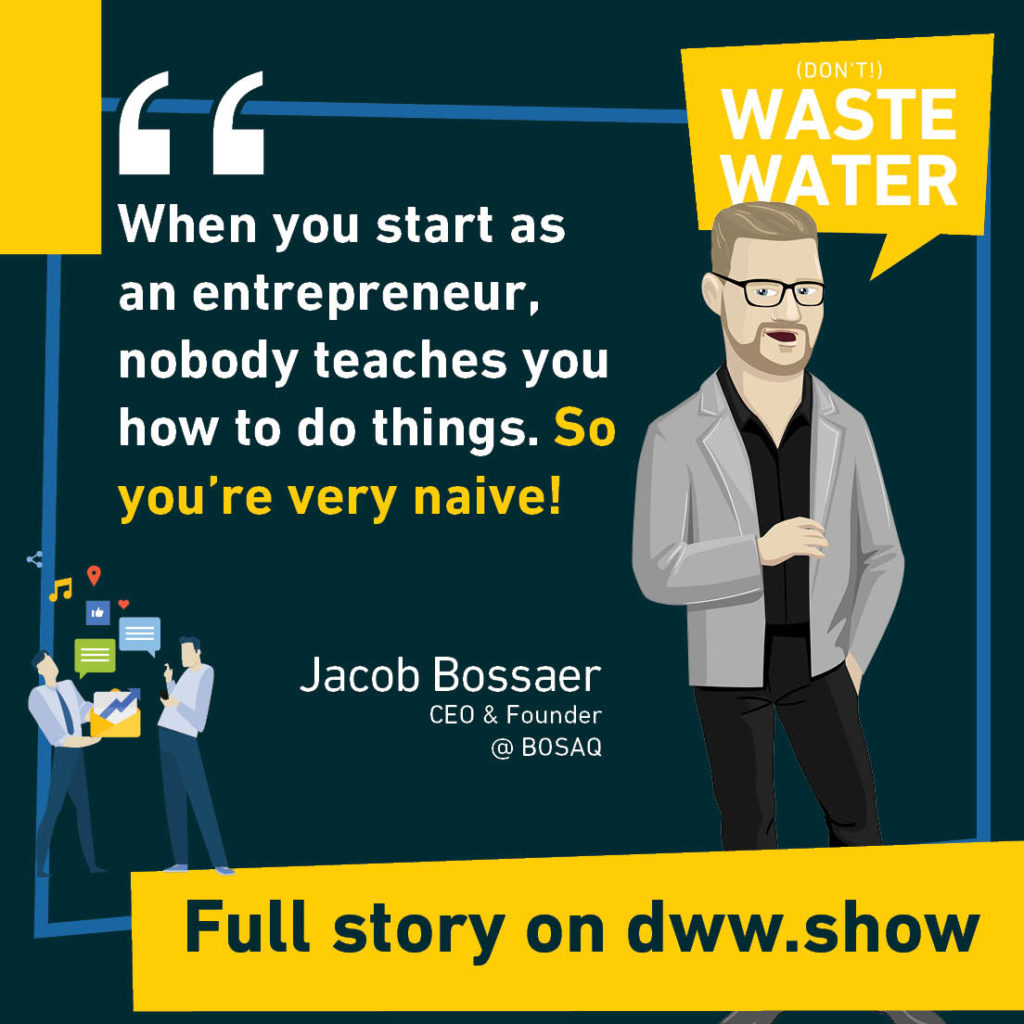 How BOSAQ is a physical treatment company despite Jacob Bossaer's background
Antoine Walter:
You're a chemical engineer, which means if you look at the water treatment world, there is a full part of it, which is made of chemicals and which are almost chemical way to treat water. And if I get it right, your solution has little to do with that. Is that a paradox or did you have an epiphany?
Jacob Bossaer:
I don't think it's a paradox. What I do think is everything is chemistry. Because everything consists out of atoms molecules. So everything is chemistry, but you have the good chemistry in the wrong chemistry because I think chemical industry, although from a public point of view, they may be not sustainable. It's actually the industry that makes most things sustainable because the most of innovation, new products, new, more sustainable biodegradable prize, they come from the chemical industry. But I think it's more a public opinion thing rather than the realistic thing, what chemical industry does. On the other hand, you have the bad chemicals saying that really polluting chemicals and in our solution, should we make sure that we avoid these chemicals? So that's where the bad chemistry basically is being avoided. And our solutions are not chemically based are physically based, which is obviously a lot more sustainable than a physical chemical, a water treatment plant, which we don't do, obviously. Yeah.
How Jacob Bossaer launched BOSAQ
Antoine Walter:
So w what was your start with BOSAQ? Was it like, I have that cool process, which I saw working in Antarctica, let me replicate it. Or what was your first act?
Jacob Bossaer:
When you start as an entrepreneur, nobody teaches you how to do them. So you're very naive. That's the first thing from a technical point of view, it was quite okay. Although I knew very fast. I lack the skills to do what I wanted to do. So the first thing I actually did, it was networking and network a lot, a lot, but a lot of people in Belgium to make sure that I knew the right people to go to. And the second thing I did is writing a business plan. Now, a business, nobody reads that, but it's very good to make it because you overthink things you always never think about. So it was a good exercise for me. And I found out that from writing a business, I said, I'm not going to be able to do this. I'm not smart enough. I'm not the technical Einstein basically.
Jacob Bossaer:
So I need some money who helps me to do this. And then I asked a friend of mine with whom I studied, but he did a, she was always the best in school. So he was also a Laureate. I don't know how to said it in English. He was the best in school. And he also won a prize for his master thesis. So he's a brilliant guy, but he's also a very he has also a very high IQ, so he's very good with people and I call him and he just came back from seven months of world traveling and told him, I need you. Do you want to join the idea that I want to, I want to set up. And he said, if you can make sure I have a certainty of six months I'm in. And we worked together on a subsidy from the Flemish government. We got the grant and we started off at the day. We got the grant, he quit his job. And two days later he was sitting at the desk with me working on the idea that we that we are doing right now being decentralized drinking water supply. That's a nice story.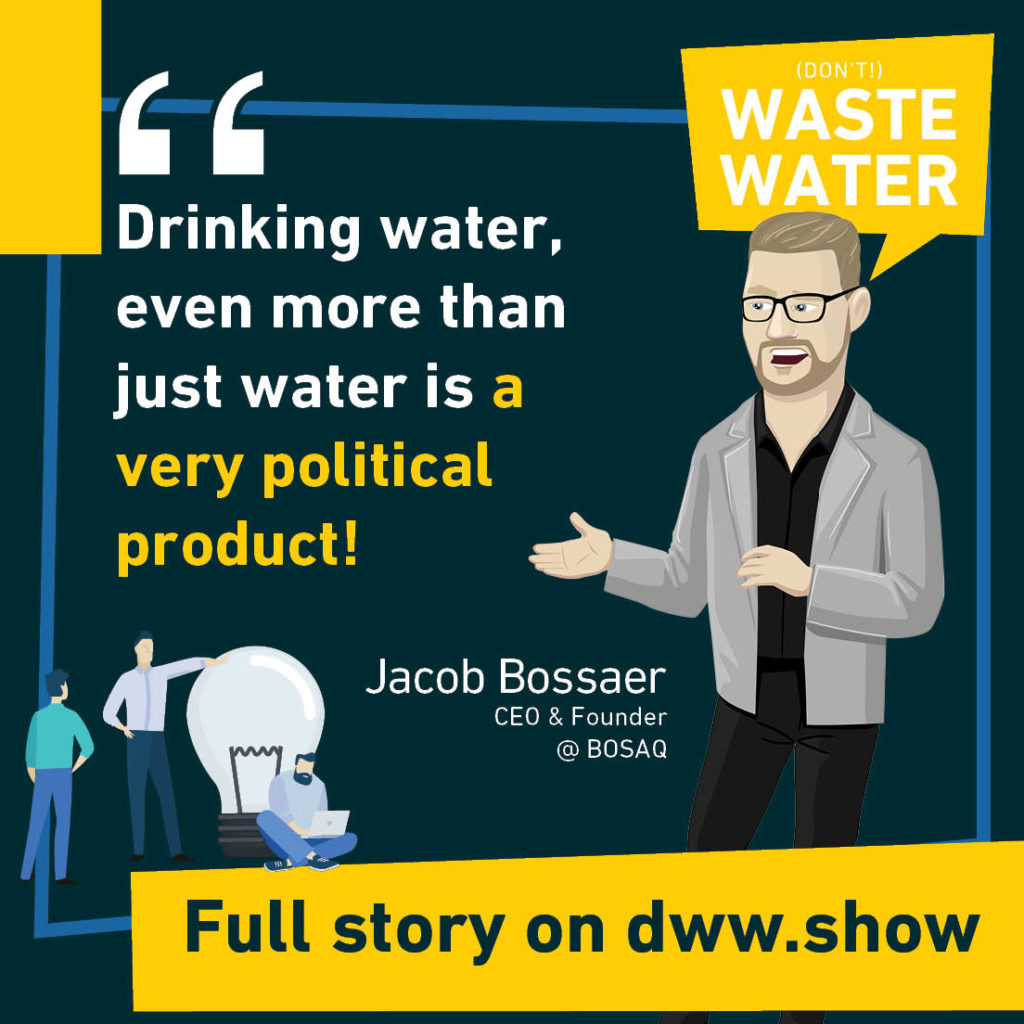 Antoine Walter:
Is the Idea, the technical thing you're delivering or is the Idea your, your vision of the impact that you want to have?
Jacob Bossaer:
Yeah. The idea is obviously the technical part, because that's where it comes from. But like I said, you start very naively now, drinking water, even more than just water is a very political product. And that was my Navy. I thought, yeah, drink when everybody needs it so easy, the market is there. So let's start a company. And then you bump against the boundaries, which are the political ones. And that's where the technological Idea evolve to a visionary idea. I think because I think the vision of BOSAQ is one of our strongest selling points. We do not sell technology. Although we consider ourselves a technology company, not as well as utility company, which is a big difference. So we develop patents, develop new technology. We look at new ways on how treating better, less chemicals, less impact, less energy consumption. So all these things are really important to us, but I sell an Idea, an Idea of having drinking water available for everybody.
Jacob Bossaer:
And that's also what you have to sell when you talk to governments and the political gain from providing drinking water to a community is quite high. So you have a good leverage there, but it's really the vision that you have to remove to the people that want to get elected next term. So if you get that vision over to them, they buy into it and your technology has to be good. It has to be on top. It has to be the best. Why, because you're working with public health and for yourself as a company, if something goes wrong, you're to blame in your company, especially when you're young and your startup. And you're not very known if you do one bad project, you're out of the market immediately. So we are obliged to ourselves to make sure that our products are topnotch. So we see yourself as well as product leaders or product leadership is the main goal of the company set up basically. But it's not that we sell. It's really the ID of providing in a sustainable way, clean drinking water, which is safe for everybody who drinks it for a longer period of time.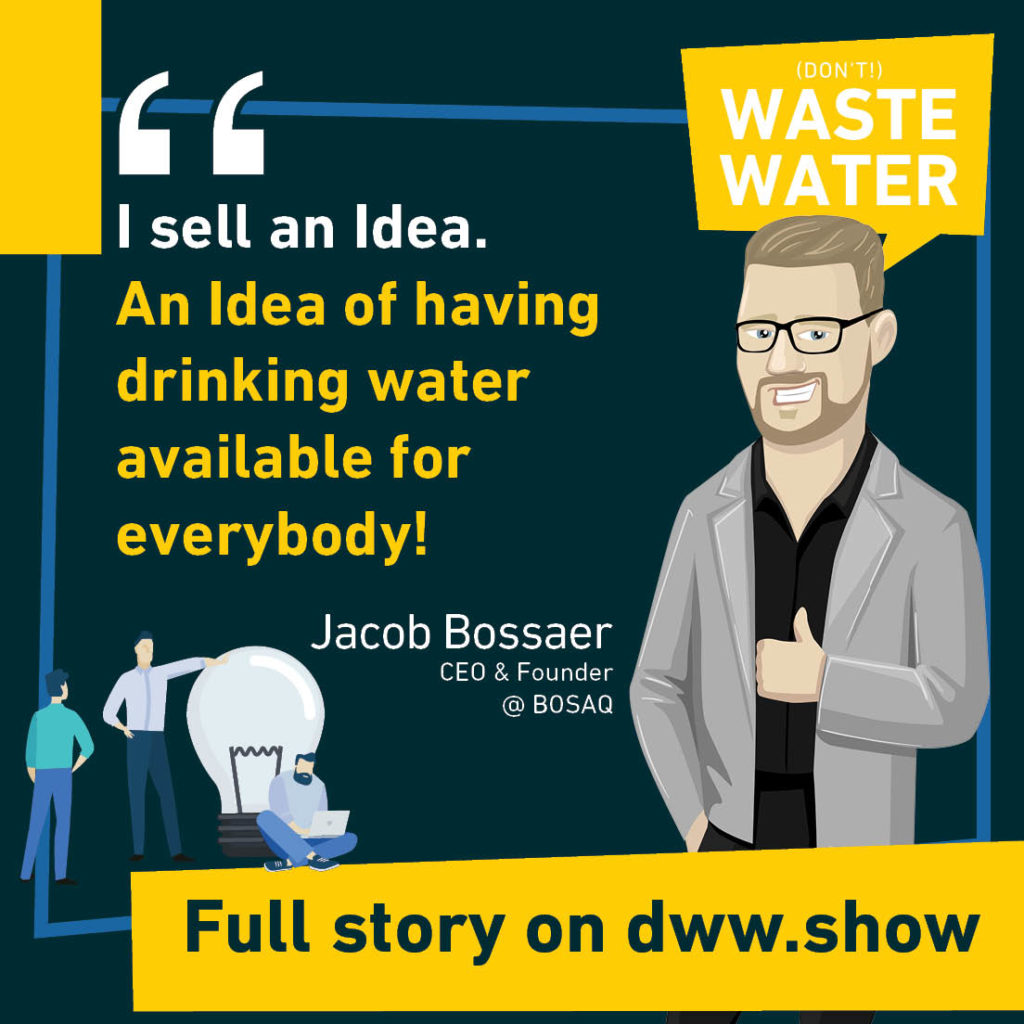 How BOSAQ uses similar marketing strategies than bottling water companies
Antoine Walter:
So this clean drinking water has a name for you. It's this premium drinking water. I mean, that's what you find on your website. And let us start with a definition. What is premium drinking water? Because when you say that to me, you know, it sounds like, an add campaign for bottle of water company and that it's premium because that's what you should give to babies – I'n really extrapolating here. But your take is obviously very different.
Jacob Bossaer:
Yes and No, because we also have a bottling water company, which I'm going to go into a bit later, but the word premium, I think it's necessary to communicate it's marketing obviously. But what we do with our technology provides the best quality of drinking water. The problem is that 80% of Europeans do not trust water from the tap 80%. Yeah. Which is huge. Belgium is one of the worst countries concerning drinking water consumption from tap water, most Belgiums buy bottles. It is the same in how does the complete opposite. So it's really country dependent.
Antoine Walter:
What is their concern with it?
Jacob Bossaer:
Not safe,medicines in it or drugs or whatever, just perception. And that's also, this is due to the fact that the marketing of the bottled water industry is very fierce. Because if you think about it, a bottled water company, that's not a water production company, it's a water transportation company. And if you look at it like that, you get a completely different view on what water is, because what we do with our technology, we make water that's a lot more controlled than the water comes out of the ground. But the perception is obviously different because the marketing machines behind these companies are huge. They, the, the money they throw at it is enormous, but I think there's a shift. There's a shift in, in people understanding that, yeah, it's ridiculous to transport water from one source all over the world. And I'm going back to the bottled water.
Jacob Bossaer:
We do. We provide premium bottled water for now only in the high-end hospitality market. So what we do, we build actually a very small drinking water factories. We put it in a hotel and the water in environment can be sea water can be river. Water can be rain. Water can be ground. What? It doesn't really matter. You need a source of water, but it can be any water. We're going to purify it up to a standard, which is actually a hundred percent H2O. So pure, pure, pure water, which actually not very healthy because you need minerals. What are we going to do? We're going to add minerals again, but we bet on technology that we can choose what Reynolds we add. So we can make San Pelligrino. We can make Perrier. We can make any kind of water we want. We can even make water for sport.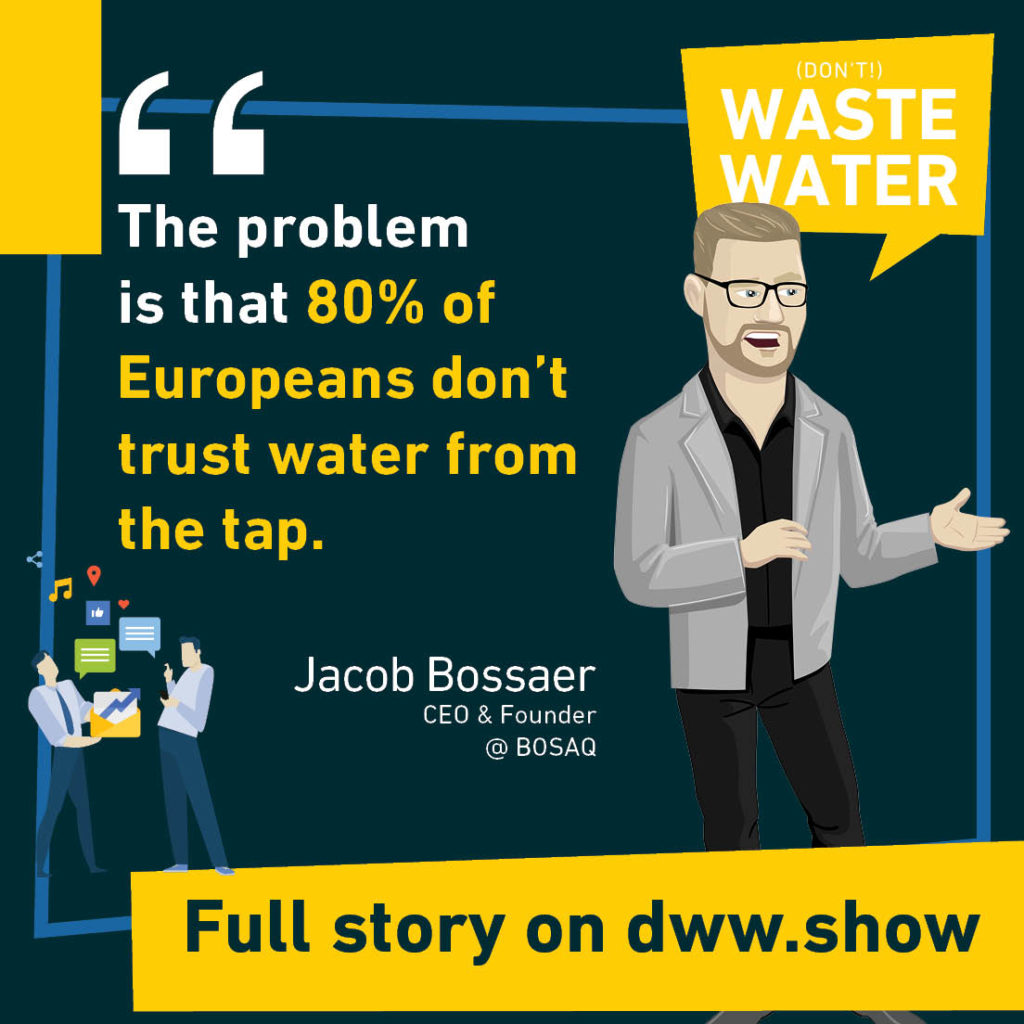 Jacob Bossaer:
With a lot of magnesium or for children with a lot of calcium. So we can do whatever we can alter the taste. We can alter the content of the water. So we can really play with the health benefits of certain minerals in water. Then we're going to bottle it in glass or metal. So no plastic you're going to close it, or we're going to seal it as a premium bottled water. We're going to provide to the customers in the hotel. Customers drink at the bulk, comes back to an installation. It's cleaned onsite, it's refilled, re-sealed, re-capped on site. And what you actually have done is eliminated a hundred percent of your transport of water. And we become therefore our production company instead of world transportation company. So the CO2 footprint is gone, but also 40% of the costs of bottled water is transport also gone. So you have a more sustainable product, which is cheaper than the conventional product.
Jacob Bossaer:
And that's what I'm saying before. Also in the dark here at GF Piping Systems, if you provide a sustainable solution, make sure it's also economical, viable, and that's what we exactly do with this concept. Of course, this is a concept that BOSAQ is not focusing on and it's a concept we tested on Tomorrowland twice. It had a huge positive feedback. Huge. yeah. Then inquiry that 99% of people were very positive about the concept. So we knew, okay, this is something. And now we have one client, South Africa, it's a high-end eco resort where we applied this. And now it's more for technical augmentation to make sure that technology behind it is robust, very robust. Then we can really scale it up, but it's going to be another company part of the BOSAQ group, obviously. And that's also where premium, of course, it's a marketing word, but it's really to make people understand premium is about the water quality, it's not about having a big name like spine Belgium or San Pellegrino in worldwide, or, Perrier worldwide, they call it premium wise. Other one, not premium. It's just a concept of quite, it's just an Idea. And the water we provide is premium. And most what, even that one, it is premium water, but drink water companies don't market it like that.
How BOSAQ delivered an amazing direct reuse demonstration project
Antoine Walter:
What's interesting is that if you look at bottled water, not so long ago, it wasn't a thing. They made a big marketing Fort and they imposed it, that it didn't know the, this, I would say terrifying figure as a water engineer of 80% being afraid of, or having concerns about tap water. But when you think of it too, you're using the same weapons and you're saying, okay, you want to put that on that marketing level, let's do the same. That's a very interesting way. I didn't intend to do it in that sequence of thing, but I've seen one of your references and you're going to tell me if it's the most extreme one, but where you have a very short loop to reuse a water. And that is at a restaurant in Belgium. If I, if I'm right, is that the same kind of bottled water or is it another different concept that you're developing?
Jacob Bossaer:
No, it's exactly the same note. That project was a showcase project. It's not something that we want to commercialize. So it was with with funds of European union and more to showcase technology. But what we do there is actually be going from Blackwater, which is toilet water and waste water from the kitchen. We recycled a hundred percent up to bottle of water again now from a quality point of view, no issue at all. So we also, the Belgian food administration was involved to make sure that everything was stable. There's no issue, but it just obviously the mindset people that, Oh, it's coming from that. I'm not going to drink this, but that's just a psychological thing. And just to show what is possible,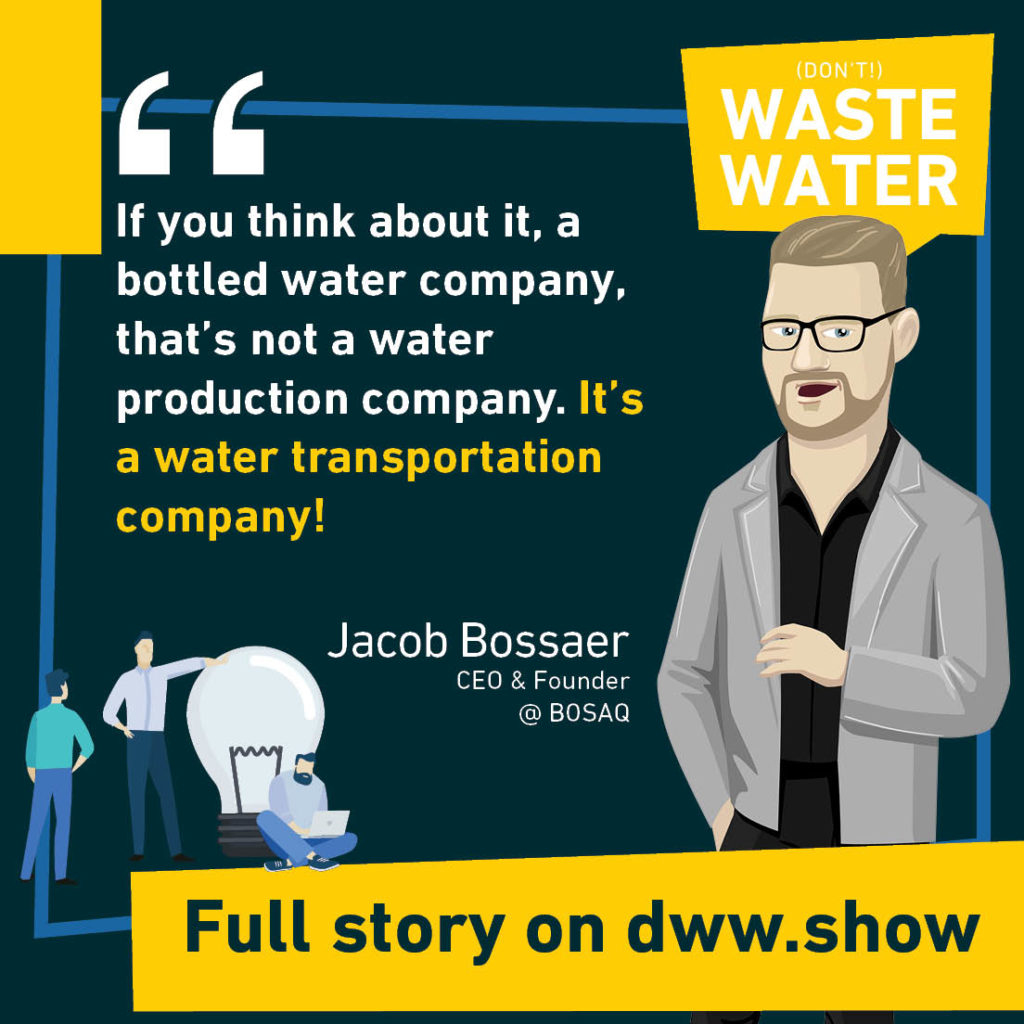 How Jacob Bossaer aims for Impact with BOSAQ
Antoine Walter:
Which brings you back to the marketing element. If you look at Singapore, they market, the NeWater, because it had to have a name and they have this awesome beer, which is brewed from this NeWater. And that's what we say, Hey, look, it's even tasty. So yeah, exactly,
Jacob Bossaer:
Exactly. I think I'm raised as a person that is against capitalism, but to beat capitalism, you get to become a part of it. How strange that sounds. Now my brothers see I'm from big family, six grand sisters. We all have that social incentive in us because my parents, they really make sure that we, that we are people that care about the nature care about the world. We do something back. So my brothers, a lot of my brothers, they set them against the world as a capitalistic system where people make too much money for just small percentage. And I thought I'm going to do differently. I'm going to use that capitalistic system to make a difference, but it's only because when you get big, you can make a real change. Now it's good. One, bruh. I don't say that my brothers are doing something wrong, but they give something to charity.
Jacob Bossaer:
They don't get himself involved in the real consumption industry. And I said, no, I'm going to use capitalism to make a change. And I think the biggest fear I should have is to not follow the same capitalistic route, that a lot of companies that earn a lot of money do and stay true to myself, my own beliefs, but I have I'm very well surrounded first in my family and the people that work within BOSAQ. Everybody that works within BOSAQ has to comply with the 10 commandments of BOSAQ. And the 10 Commandments is a framework of BOSAQ, a value framework where the idealistic view on the world is a necessity to work with BOSAQ. So everybody's a bit naive in a good way that we want to change the world for the good. And if you have that as a company in your DNA, I'm a hundred percent convinced that we can make a change for the good, I never start a company to become rich.
Jacob Bossaer:
I start a company to make impact. And that's what BOSAQ is about. We want to make impact, but we're not scared of earning money. Obviously, if you want to grow, if you want to grow your business, if you want to have more impact, you need to grow. So you need to have money to do that. So we are earning money. I'm also the first to say that people have to pay for drinking water. It's not free. It's a human basic, right? Absolutely. But it's not free because food is also human basic right. And it's also not for free because you have to do effort to make water drinkable. And there we come to the value of water. What value does water have? Because for a farm it's different than for a company that use a lot of water in a schooling system. If the company, if they don't have culinary cat operator company, and the people have to be laid off, but if you take too much water of the river for your cooling station, ships can't run anymore.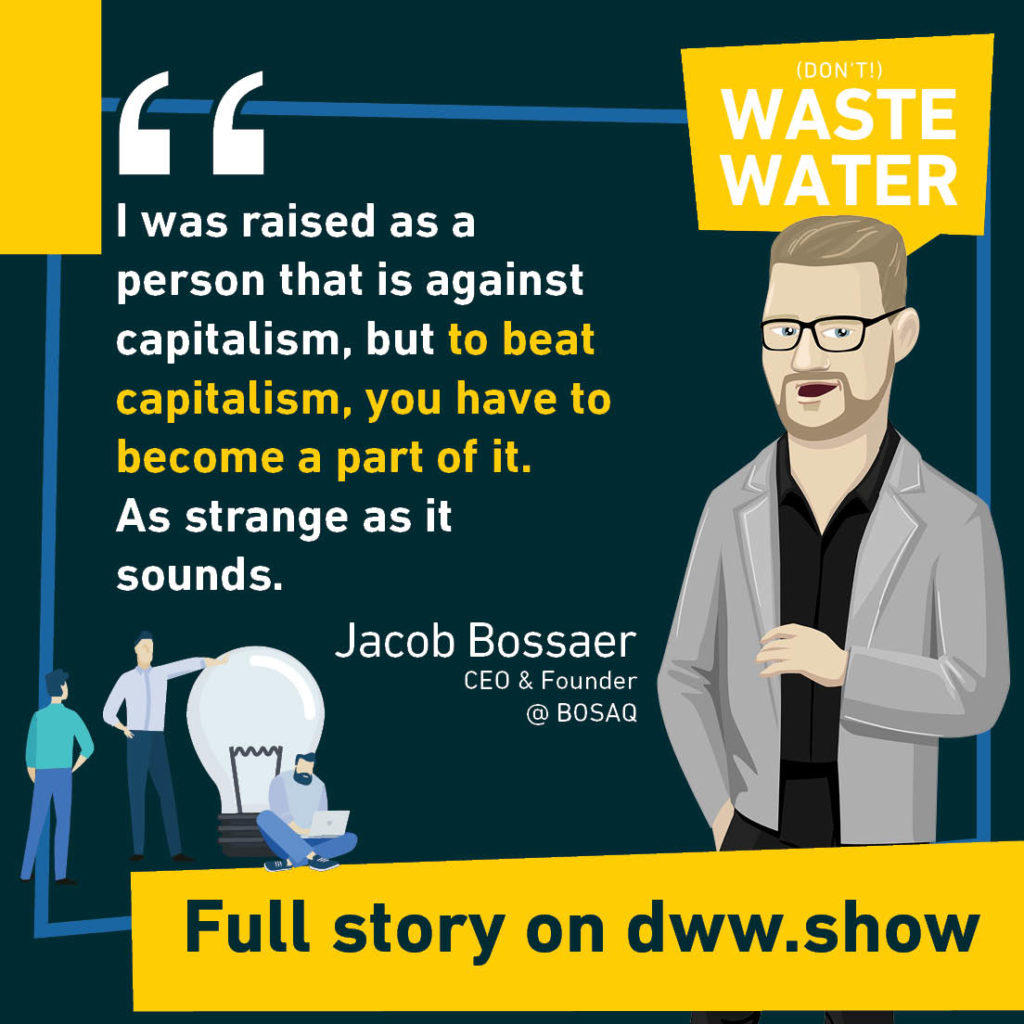 Jacob Bossaer:
So everything is connected. And what is, it is a very good example of how interconnected everything is, because if you don't have water, you don't live. So it starts already there. And every advancement in this world in industry is water based. And you see it from back in the history is big civilizations. Like the pharaohs in Egypt relied on fresh water from the Nile to make sure that they became a big power. They had food that it could, it's always connected with the way of living. The luxury we have in the West is based on water in the end. And it always comes back to water, and I, of course, it's easy to say I'm working in water, but if you think about it, how important water is for everything we do, yeah. Then you cannot underestimate the value of it.
How Jacob Bossaer plays with the rules of capitalism to do good
Antoine Walter:
It's a very interesting take, which reminds me of a conversation I had with Michael Stanley Gallisdorfer on that same microphone where we were saying how important he was explaining that when you bring back the rivers in the cities, basically you bring them to their, their, their ground essence. They, they will build around those rivers. So you have to see those rivers again. And it was also citing a number of which is that every dollar you invest in water actually has a $4 feedback. So return on investment in water is pretty high. And what you just told me about this take at somehow capitalism reminds me of, you know, the monopoly game, the monopoly game has been created by someone who was really against capitalism and basically the game was set so that people understand capitalism so that they can fight against it. Of course that vanished, and now everybody's just playing monopoly. But just to say, it sounds like there's a kind of filiation with what you do, which is very interesting. There's one thing in your business model. And I don't know if that was here from day one, because you say you started with your business model, but a portion of what you're owning goes into a special funds. Can you tell us something about that?
Jacob Bossaer:
So we set up a foundation which is called Water Heroes, and it's a foundation that supports really the communities with people that we don't have anything to provide for themselves. And we provide technology to provide clean drinking water. So it's 10% of the profits that goes there from the company, of course, a young company, so we don't make profit yet, but every time I've got talking about Antartica, I get paid for that, that money goes through to the nonprofit. I wrote a study for the BMW foundation. They pay quite well, goes to the nonprofit. And we also have clients that for CSR reasons donate to water heroes. And Water Heroes is really, it's actually a result of my education from my parents, doing something good back for the world, if you're successful. And it's exactly what we do. But that 10% is not something that is lightly taken that decision because in our shareholder agreements with our investors, it's there.
Jacob Bossaer:
So they can't say if there are dividends, 10% of this will never go to them. It will go to the foundation. And I think if we get investors and they say, Oh, we don't agree with that. We don't want this world. Then they are not the right investors. So we obliged everybody who financially is involved within BOSAQ to give something back to community, because the fact that we can live the way we live is a gift, basically, compared to all these other people who don't have it, 2.2 billion people, not having access to clean drinking water on a regular basis. We have that. So do something back to the community. And it's also sustainable concept in a sense that Water Heroes, is only getting its funds from industry. It doesn't get a funds from government. It's an absolute no-go that we get subsidy of something for projects.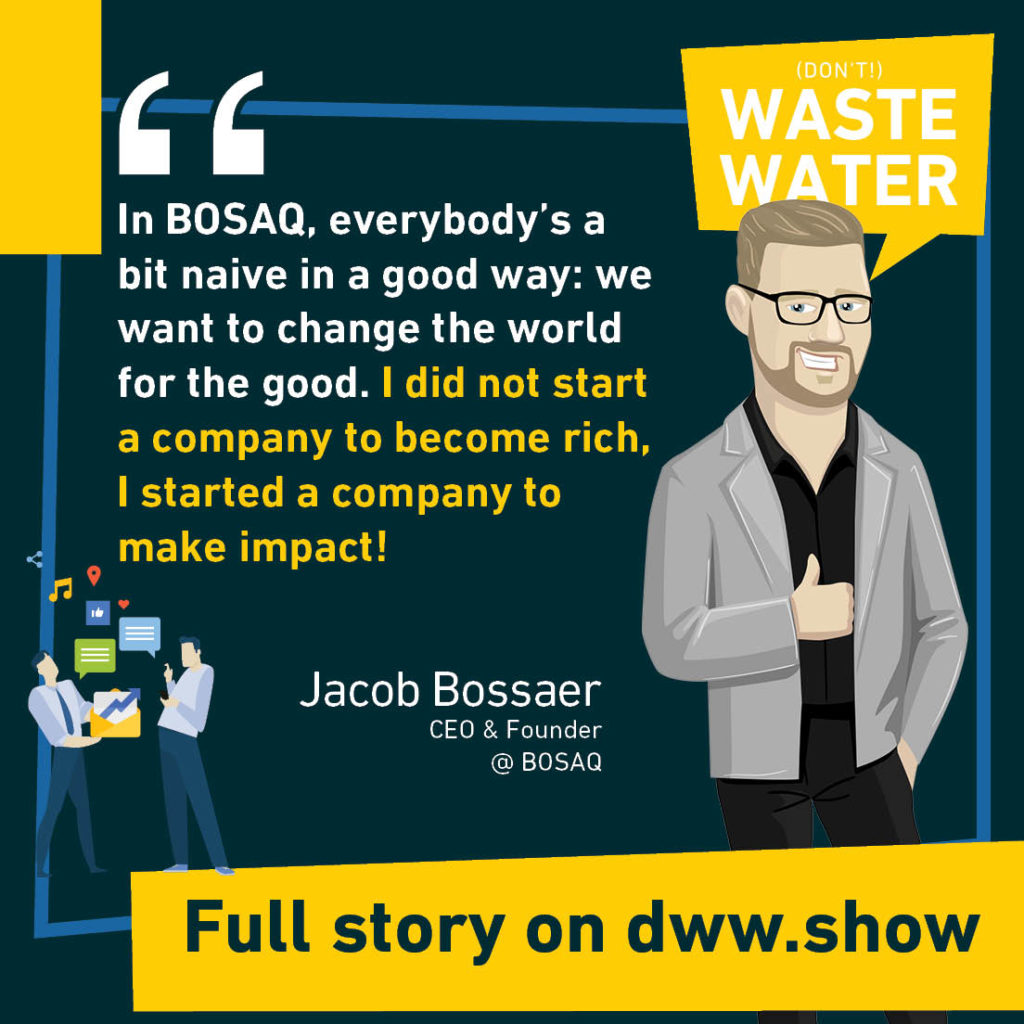 Jacob Bossaer:
So again, it's a sustainable setup. See, because if Water Heroes becomes bigger, it buys its products at BOSAQ. It's geared for Bosak from a commercial point of view. But if a bossa grows, then what he has grows as well, because they get more funds from Basak. So it's communicating vessels. And I think this is the, is an ideal setup of charity because it's sustainable concept. You don't rely on a government that pays you every year, that same amount and if there's a crisis in government, on pay anymore, you can't. So no, we a hundred percent said, no, this has to be single concept that piece itself. And I believe in this because if believe every company worldwide does the same after, as we do, you have different worlds, a hundred percent.
How Jacob Bossaer shaped BOSAQ's company culture
Antoine Walter:
It's interesting because you are applying your company culture to your employees, which I have to leave with this 10 commandments of both sack. And you also have the similar setup with your investors. So we see that you, you said you started from the business model. Still the, this impact element is really, I would say the vertical thing that unites everything you do. It seems to be like that. At least
Jacob Bossaer:
It's real and it's, I want it to be real. You know, what happens a lot, especially with bigger companies is that they buy themselves the green label. We don't want that. We do not brag about being sustainable. It's part of our business. And I believe that any young business that starts now has to be sustainable and not brag about, Oh, how look, how sustainable you are. Now, for example, companies like Coca Cola, they have to do that because they don't have another option. They were founded when sustainability was not even an issue, but it's very difficult for these companies to have that image as sustainability for us, it's a lot easier. And I think it has to be part of our business base.
Antoine Walter:
It will almost be a crime. I mean, if you're in the water industry and you're not sustainable, it's that you do extra things in order not to be sustainable. So it would be strange in that world, but nevertheless, there's such sustainability where you can do a bit of something and say, Hey, what I do is already sustainable. Or you can say, Hey, I actively do my part and you are actively doing your part so
Jacob Bossaer:
Well, I think it's important as well. The first thing we asked GF Piping Systens as a supplier of us, especially when we're going to bigger orders with them is we ask them, can you send me your sustainability charter? And not because I want to, yeah. I want to make a point obviously, but also we, we want that we work with companies that also believe in that transition to more sustainable. Yeah, exactly. And that's, for us, that's a, it's difficult as a startup because you don't have that much weight. What do we order from GF Piping Systems as a startup? And that's not going to be, I hope in a few years, it will be massively more than you have more power to oblige your suppliers to also walk the talk exactly. Like you say, but I think it's a responsibility of process companies. We have to, to share this idea with everybody.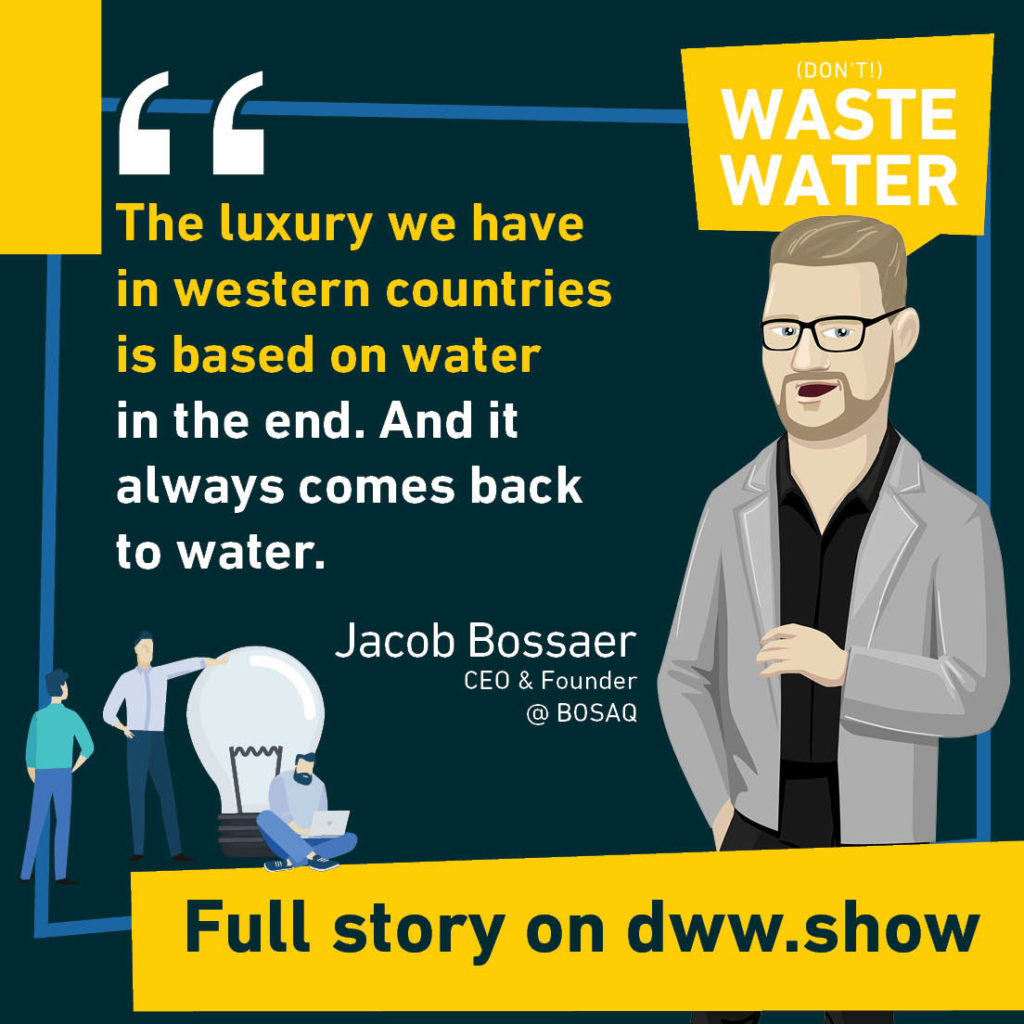 Jacob Bossaer:
And it's also, if you want to go to a sustainable future where everybody has more rights than they have, now that it's the way to go. The pure capitalistic system, like it is been operated for decades. I don't believe in, I don't believe it's done. And also believe that the younger generation, which is the biggest part of population, people don't understand. And it's the biggest part. But I think in Nigeria is the average age is under 20. I think the 200 million people in Nigeria, I'm just saying, so the future is that the young and they have, I think they really understand what they're have to do to make sure that their future is secure for them and their kids. And so I'm very positive about it, but yeah,
How to build a monster in the Water Industry
Antoine Walter:
You mentioned the startup elements and on that same microphone, I had to talk with Gaetane Suzenet there, I would say a couple of weeks ago. And she was mentioning that in the water world, there's a lot of startups, a lot. I mean, understand me. It's not IT but still there's quite a bunch of startups and there are some majors and in between, there's not so much scallops. And she was saying, that's a reason for that is that whether it was not your ambition from day one to build the monster, or if you're really innovative enough, chances are you get bought by a major. When I listen to you, it sounds rather to me like your ambition is to build a monster – monster in a positive way. So let's say build a unicorn. Absolutely.
Jacob Bossaer:
Yeah, absolutely. And I'm, I'm not afraid to say that I started this company not to have a company of 10 millions of turnover. Sit on my couch, relax, earn good money and be happy. That's not what I intended to do. I told my Peter who started with me, the company, other, if you do this, we're going to do this good. So we're going to go for impact. And that's you see that old decision? We think when the company, we always in three years and a half, we've been almost three times bankrupt. Not because we're doing bad, but just when you investing hugely in what coming, this is what you have to do as well. And that's of course, to grow as fast as possible because for us growth is equals impact. Not equals more money on our bank account. Of course it's a part of it, but you need that to invest, to grow again and its impact.
Jacob Bossaer:
And that's what I want. I want to have an impact, I want to have a real impact worldwide, and we want to become number one worldwide in decentralized drinking water supply, because we think we have a very good concept of providing drinking water to all these people around the world at the cheapest, total cost of ownership. And I want to just have that impact. And this is my dream is I'm a dreamer. I think it's also important as an entrepreneur to dream, but my dreams are huge. I want to be the first having a drink, one installation on Mars. It's it's a real dream! It is going to happen? I don't know, but it's a dream. And I think being able to dream and something for my mom always said, dream, dream, dream. And I keep dreaming. And I think the dream is for me, that's what I want. I want to reach you. And I dream big. It's part of me. It's part of the company. It's part of the people that work in BOSAQ. And I think we also have a unique product, basically drink water. It's such a huge market. So you can dream big. It's not like you have a very niche thing that only a few people in the world would need. You have something that everybody needs every day, 7.5 billion people today. And in a few years about 10 billion people. So it's something big, so you can dream big I believe.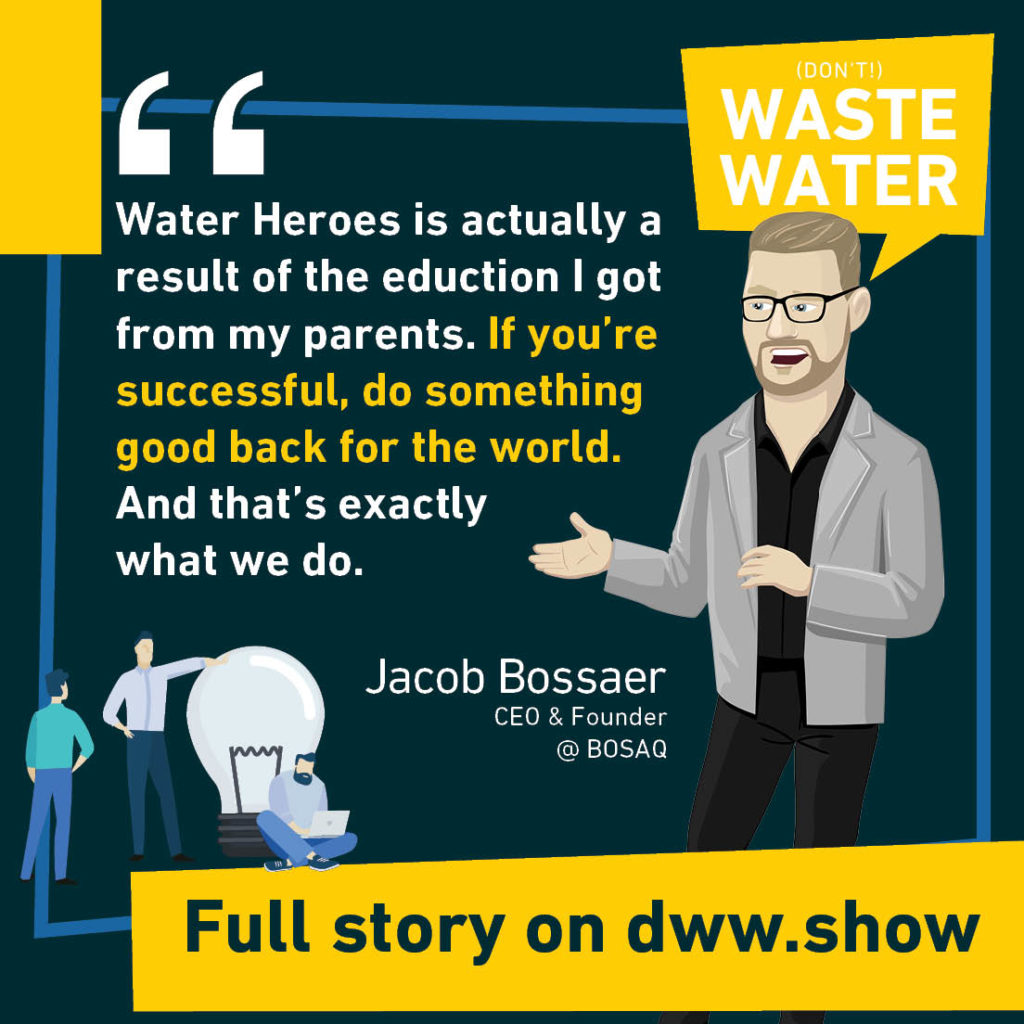 Antoine Walter:
But "big" in that industry is also is quite special because when you think of it, the biggest company in the world, even now, even bigger, if you consider that the number one might be buying the number two, but it's still 5% of the market. So, so big is still, I mean, it's a portion of, of such a huge cake that is still tremendously big, but it's not like you, you were mentioning Coca-Cola Coca-Cola they have Pepsi against them. And if you take the two of them, they are probably 90% of the market. So it's a bit different in the water world.
Jacob Bossaer:
Yeah, that's true. But that's also, if you look at the market value of Coca Cola and you look at the market value of drinking water, that's also a huge, huge difference. The thing is that not everybody drinks, Coca Cola, but everybody drinks, water, everybody. It's not because you like it. It's just, you need it. There's a difference. And for me, I don't want to be the biggest. I want to be the biggest to have impact. And if it's only 40 million people, I provide drinking water. It's 5% of this 850 million people who never have extra drinking water and say, you have a hundred companies who do the same as me. Then we have solved already a challenge that's there. So it's not from the megalomaniac point of view, that I want to be the biggest it's from an impact point of view.
Jacob Bossaer:
I want to be the biggest. I want to have as much impact as possible to have as much reach as much people as possible because I can assure you the biggest joy I feel working on this company is when people come to you almost crying and are so grateful that finally, after all these years, they have good quality drinking water and that it can give them to their kids in a safe way. Don't get sick anymore. And people, they come to the almost crying as the best thing you can have as an entrepreneur, you really feel you have made an impact in the community at the same time you're growing your company.
How Jacob Bossaer wants to contribute to the UN SDGs with BOSAQ
Antoine Walter:
But what did we fail as an industry that in 2021, it's still a blue ocean and the blue fields that there's, I mean, now I'm talking in almost an aggressive way to look at things. I mean, when you, when you say 2.2 billion people not access to drinking water, of course it's a terrible story to them. But in terms of marketing, that's a huge market. It's a blue ocean. So many people you can do so many things. How is it possible when you think that water is, I mean, you cannot live without water. Every civilization has traces of water associated to the civilizations. It's really entrenched in our behaviors and in our lives. And still it is a blue ocean. So why does the water sector need a BOSAQ
Jacob Bossaer:
Mindset? It's like I said, we don't sell products. We sell a mindset. If I can explain to a government that buying at BOSAQ is winning the next elections, then you have an impact for them as well. It sounds a bit wrong, obviously, but it's actually what we do. You gotta be honest with what you're doing. A politician is elected to make sure to provide for the people that elect them. And bringing, especially de-centralized requests, but is very visible. It's a huge impact in society so people can connect the good impact on society to the political level. Now, what happened with water for decades is first of all, it's not liberalized. So private companies were not involved in the industry. And it was also treated from an NGO point of view, which I don't have nothing against any NGO, but a good example, Rwanda stable, a lot of NGOs like to operate there.
Jacob Bossaer:
You have 10 villages, they all need water, what happens in NGOs? They go to this 10 villages. They all have their own drink, water system. One fails. The other doesn't can't follow anymore because he doesn't know the technology. There is no support. There is no, there's a lack of coordination. And it doesn't work. Now I talk for example to the government Liberia as well. They have a huge challenge with regulating the market because they are not powerful financial, powerful enough to provide drinking water themselves, but you have 500 players in the market. The pride week, or with the result is that their quality, lack of quality, lack of supply, lack of, and if you involve, I think the approach that we do is not going bypassing the government, but use the government to create an impact is different. That business model is different and maybe it's not going to work so far.
Jacob Bossaer:
It really worked for us, but he's not going to work, but I believe it's the way to go because you approach the drinking water from a completely different point and it has, and it has been done. What it has been an oil was government only, or it was a NGO, but the combination private government with that clear proposition as we have is quite new. You of course have partnerships, but that's government because government is leading there. They want to have their seats political, but that's something we don't do. We do politics in our sales process. But as soon as we have the contract, we work as a private company providing good quality drinking water to provide the people there. And I think that concept is not new, but it's new for the water market. And I think, yeah, the liberalization of the market as well comes with innovation. That's what you see that the market is changing. Yeah.
Antoine Walter:
So basically, you're reversing the scale effect before you would have a myriad of players and one central government to CT, which is centralizing everything in which saying, Hey, I can leverage my scale to make something efficient. And what you're saying is that they are probably not doing that thing efficient themselves. But if you are a company that does that scale thing, that you are the ones serving all of them, then you have that scale effect. And on top of that, you do that efficiently.
Jacob Bossaer:
Exactly.
BOSAQ's technologies to produce drinking water
Antoine Walter:
Let's go to the technical side of things. We've alluded a bit to it because that's came from your, your Antarctica years. But what is your system? What is it all about?
Jacob Bossaer:
Yep. So our system is membrane based memories. There are around since seventies and since the two thousands are commercially viable, because before it was way too expensive was not robust. Technology is not reliable. Now it is very reliable. It's technology is used. It's almost a maintenance. It's not mean, but it's used a lot more than it's ever been used. And for us, it's at this stage, the best technology to provide a high quality drink or at all at all time, and just kind of membranes ultrafiltration gravitation nanofiltration versus Moses microfiltration as well as pre-treatment. But what we've done is first of all, we made a system that's a hundred percent off-grid, which is quite unique. So we don't need it just from the grid or from a generator to operate our systems. And we made a system that's a hundred percent independent from human interaction, which is of course important because for example, Suriname is a country that is the kind of, we have the biggest contracts running.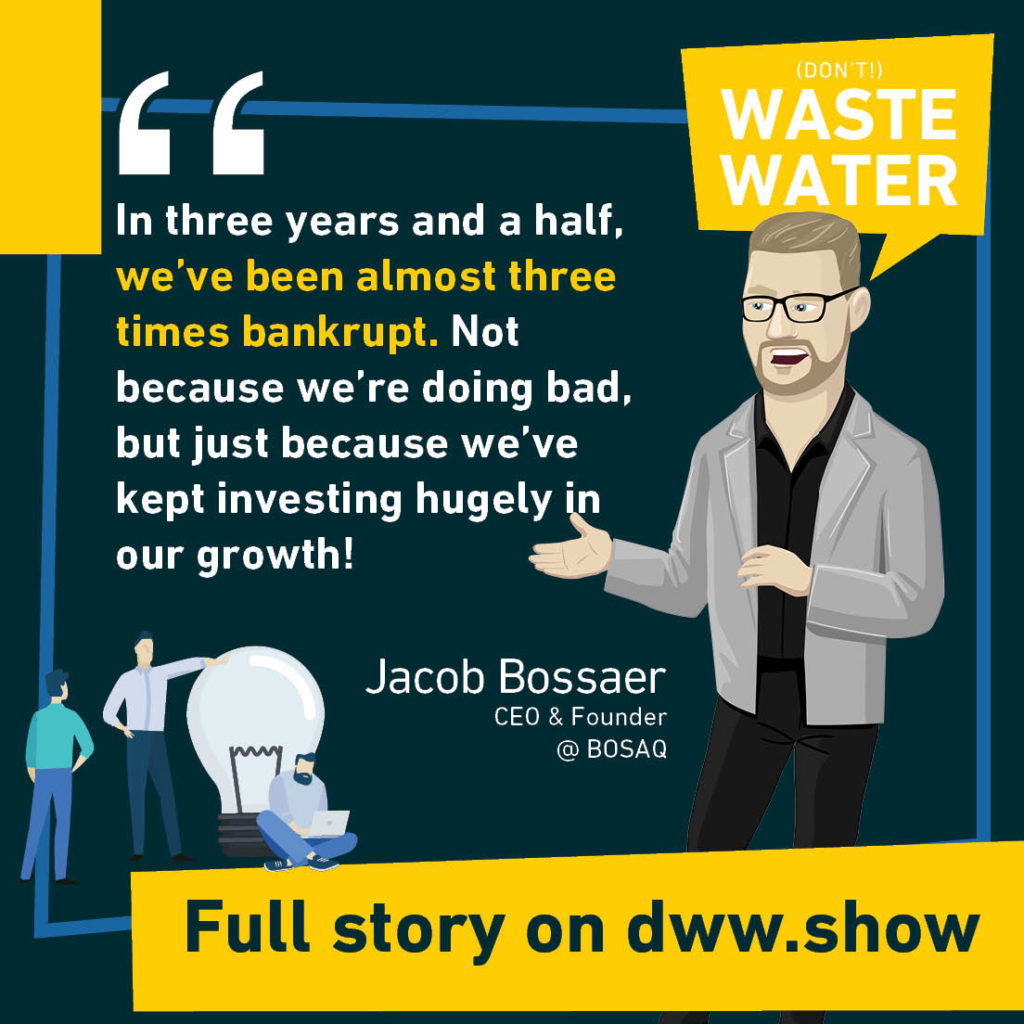 Jacob Bossaer:
This is the middle of a jungle. And if it breaks down, you can't send an engineer from Belgium up there. So you have to make sure that everything is built robust and is built also that you can do from a distance, which we do every installation worldwide, it's connected to internet, even station. And we can see, so it is always there. Or it's through cell phone network, which in most countries is available even in the middle of the jungle in Suriname. And if you don't have it, you have satellites. This is how we make sure that at all time have control, because what happens a lot is with projects that are approved are installed. Insulation is installed. Companies left raise after two, three months, nobody knows about it and it doesn't operate anymore. So also in the concept, what we do is three years of maintenance is included. If a government doesn't want to, we don't provide systems. So it's obligatory.
Antoine Walter:
I have a strong take at the market and everything has, has its clear rules, it's very interesting!
Jacob Bossaer:
The technology transfer is a part of that three years, because if you provide new technology to country and engineers are not trained in it, they cannot sustain it. So in these three years or engineers, train engineers in the country to make sure that they can operate the system without us very important. A second very important thing is our contracts as well. I'm not going to say they're always going to work out, but that's at least the aim we obliged governments to make people pay for water, which is not always obvious. As soon as people pay for water, the value of water is there. Again, we come back to the value. Is there people understand that's the most amazing part. People are really willing to pay. There are really, even the poorest one are willing to pay for good quality drink workers. They don't want their kids getting sick. 4.5 million people die worldwide per year because of drinking water issues. Most of them are kids. So they're really willing to pay for that. And these two things already technology transfer and payment of system is a huge enabler of us for governments. It also helps governments who installed, why there's a payback of their capital investment as well. And there's a payback of operational costs as well. Like I said, it's not technology we provide. It's a concept that we provide.
How BOSAQ aims to reduce Total Cost of Ownership
Antoine Walter:
You have a strong claim in what you said, which is that your total cost of ownership is lower than any other solution. How do you measure that?
Jacob Bossaer:
The thing is we had also discussed today about decentralized systems. Decentralized systems are not very common yet as a structural solution to drinking water. So we compare ourselves obviously to the next best thing, which is centralized solution. Now, if you compare to centralized solution for remote areas, that's a, no-brainer the cost of a piping is with the 150 and 350,000 euros per kilometer. And it's quite independent from country because for example, the one that you have more more difficult access to heavy machinery. So it costs more. So that cost is real. So there the cost there is really, yeah, there's no brainer. And then of course you have competition that works also in decentralized. But if you look at the price or price is quite expensive, but if you look at the total cost of ownership, being that our systems work, operate for 20, 30 years, and then you're going to also calculate the maintenance of it, which is almost nothing. Then your total cost of ownership is super low and that's what we aim at. So we want to be product leaders. So when we want to be the Porsche of the drinking water installations, but with the idea of making sure that maintenance is very low and the robustness of the system is very high and that's where we, why we claim we have the lowest total cost of ownership in the market.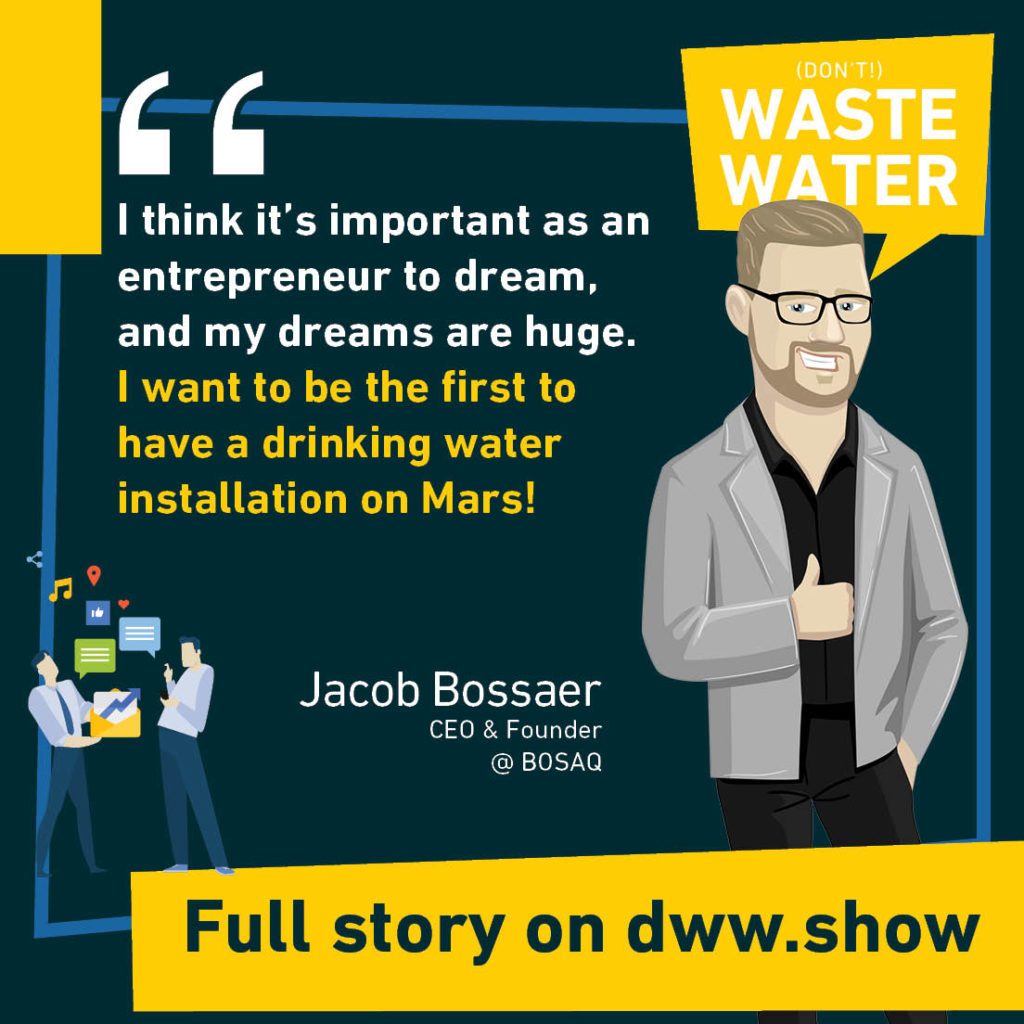 Antoine Walter:
Two thoughts here, my first thought is that goes a bit against the trends, which is to say let's do water as a service. And actually it's the same thought to twofold go together. If you were a pure capitalist, you would say, I have the lowest total cost of ownership. Let me finance the installation and let me bill everyone a service because I know that on the long run, I'm going to be very profitable.
Jacob Bossaer:
That's also what we want to go to. But if you want to do that, if you do that, now you take government again, a way because
Antoine Walter:
Government, they have the capability to invest, but not really to pay. Yeah.
Jacob Bossaer:
Yeah, exactly. And that's also because the what as a service model is something that we do. For example, a bottled water concept is what, as a service, they pay per liter of water. They don't pay an installation installation hours, but that's also because it's completely different setup with governance, a lot more difficult. You know, there are three reasons why we sell to government. First of all, is the needs, but the need 95 countries worldwide need it. The second is network. Do you need to know the right people obviously also on a political level and that there was financing now in Western Europe, that's not really an issue. Governments are financially powerful enough to pay that, but in a lot of developing countries, that's not the case. And if you want to finance a project and you want to do two, what is the service? There is no insurance company is going to ensure that transaction, if you do it through a lump sum saying the project cost 5 million, 10 or 20 million, then they're going to ensure that transaction.
Jacob Bossaer:
And for us as a startup company is only the only way to start up because we need that cash in to make sure that we can evolve to Water as a Service business, because the idea would be then that people pay directly to assist in the money, comes on our account and we be back the investment also pay for operational costs, but then you skip the government again. And that's something I believe that's dangerous, why I'm actually convinced about social capitalism. And what I mean by that is that the basic needs of humans should be public owned. Drink and water. Electricity. Telecom is also a basic need these days because yeah, connectivity is super important, but it should be privately run if you know what I mean, because probably run, you'll get efficiency. You really look at the cost. You, you have a lot better. You have more flexibility on the employees market. You don't have these people that are fixed in a job, but it should go back to the committee and that's why we involve governments. It, so it's an opinion basically, but I believe in that opinion, because in the long run, I think drinking water is so basic. It's so elementary that it should be public owned.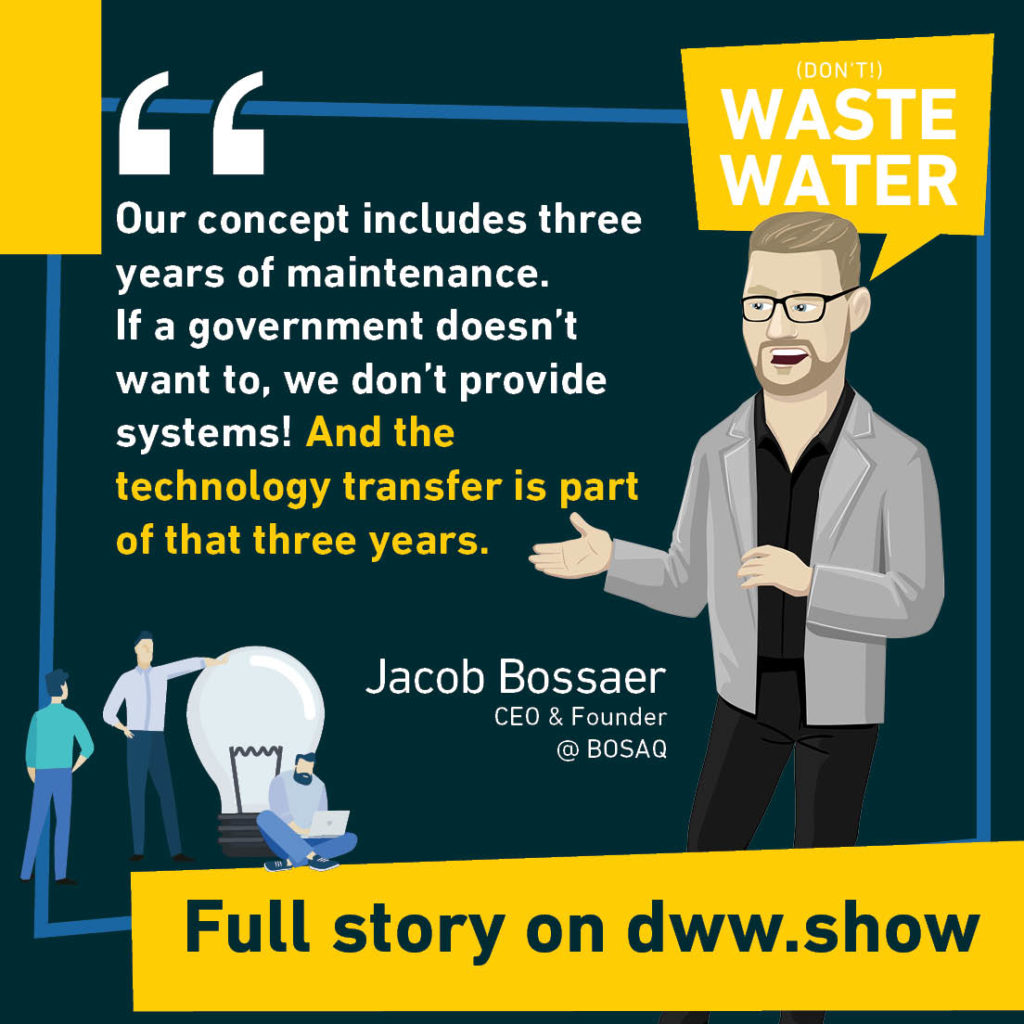 How knowledge transfer and operation contracts ensure long-term success
Antoine Walter:
It's interesting because with your model of this three years of operation, it's almost like you're doing, you know, before for these big projects, there's a build, operate transfer. And a, and that's usually is for really huge infrastructure project. And you're taking the same concept just in a very small scale and say, Hey, you can do exactly the same. You build it, pay for it upfront. And then three years long, we train new people. And after it's yours, use it for the next 30 years. Exactly.
Jacob Bossaer:
The thing is, there's also a reason to that we focus as a company on project 5 million euros and plus. We do project between 1 million, five years, and we don't want to do project less than one mate, unless they have a strategic importance. For example, we do two project now with the biggest drink water company of Belgium, they're a small project, but of course with strategic point of view, very important because they have a big market that we can serve in a longer run. The same. Now in Suriname, we providing for a gold mining company for cause they have communities that the workers that work for the mine and they provide all the social needs, schooling electricity, drinking water. And that's also small project where we do that. Obviously you get into that market because strategic strength, the concept of BOSAQ is a centralized approach on decentralized drinking water supply.
Jacob Bossaer:
If you go, like I said, the example with the Rwanda, the 10 villages, then different installation, that's not efficient. But if you do as one company ten different villages, you have this advise approach, this interest in every village, but you can control centralized. You can centralize your maintenance, you can centralize your spare part management. Then the cost per unit goes drastically down. So it's actually also for bigger projects. And if you were in government a project for 3 million euros for government is super small. Even for developing countries. The project we talk about are, are actually 8 million plus. Why? And that's again, the financing part banks don't want to find anything project less than 10 million euros because not, it's not beneficial for them. Countries know that as well. It's indeed small scale at the all hands it's big scale, but it's, we combined the two, basically for us, it doesn't make any sense.
Jacob Bossaer:
If a country asks us, I want one village, one installation, then we say, no, we don't do that because that's not the impact that we envisioned. That's not how the model is built or systems as well. And that's a technical a thing: our systems are build modular. So every module in the container, in the, in the wherever it's set up, it has its specific goal within the system. So we have a standard product with standard modules. But if you have, for example, mercury in the world, which is quite common in in in Suriname, then you put a module in that takes preferentially, mercury out of the water. And that's an option. Solar, if you want solar energy, that's an option. If you want hydro energy, that's an option. So you pay for it. As you have to relate actually to the car manufacturing market, where you pay a standard car with options.
Jacob Bossaer:
That's what exactly what we do as well. And we make it standardized. So that means that we don't have to re-engineer our product for every different situation, because we just put a model in or out. But if you look at the production capacity, then now it's very expensive to develop. But from a point of production, it's a lot cheaper because you can read the big series. So it was the same and you just built them out. And their both modular from a hardware point of view, but also from a software point of view. And all these modes are connected with intermediate blocks, software blocks that connects everything. And that's of course more expensive now, but on a long run, a lot cheaper. And that's we want to go, we pay now between five 50 cents and one, 1.5 Euro per cubic meter. We want to go to 30 cents per cubic meter and is definitely reachable with the concept that we're developing. So it's built for being big.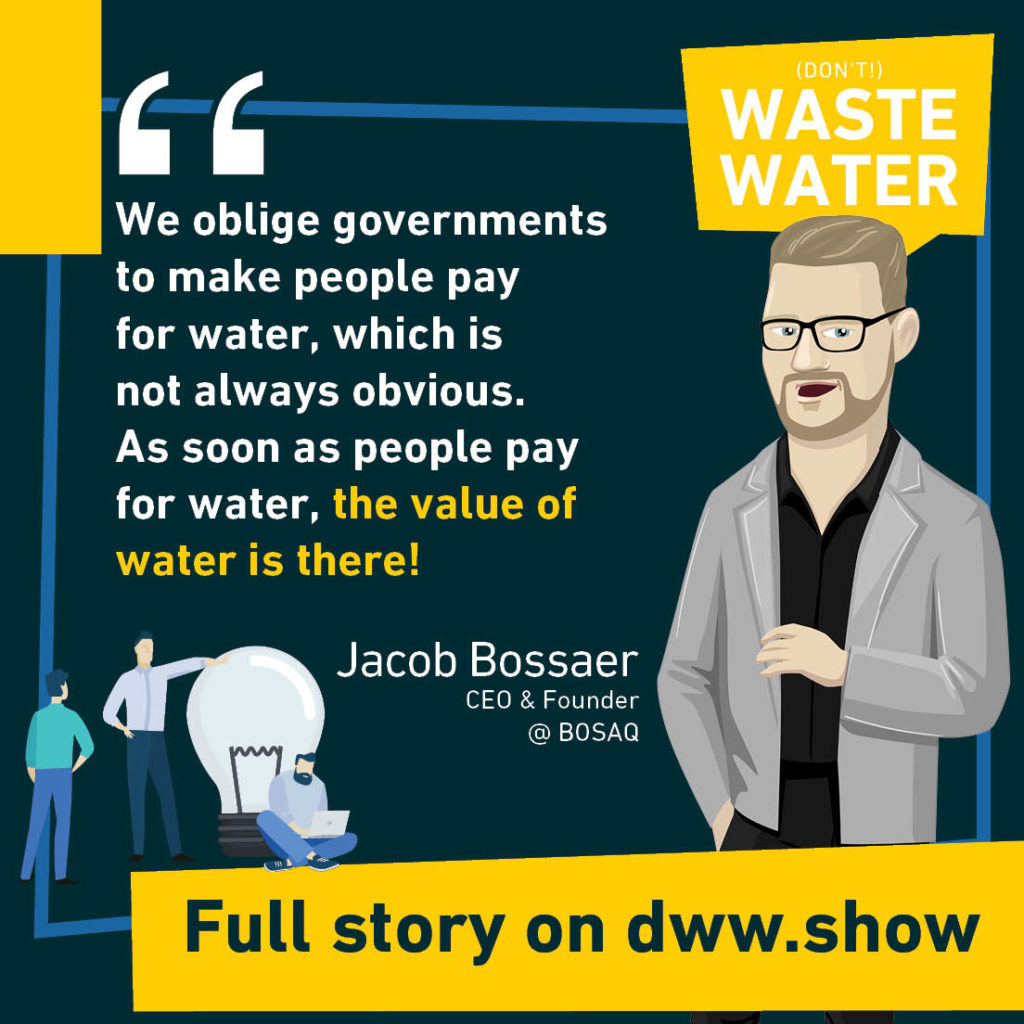 How every water project is the same, except that it is totally different!
Antoine Walter:
It's amazing because you know, if you talk to water professionals, they usually tell you every project is the same, except that it's totally different. And I think every single company out there in the market has tried to standardize. And I would say that almost all of them, I would have told you all of them failed, but apparently you're an example, which makes me no than say almost all of them, but that's always been the ambition to say, there's things you can standardize. But at the end of the day, the water is different at every single place in the world. Exactly. So how can you standardize that?
Jacob Bossaer:
But you can, because it looks like you have the same product, but it's actually not because the different models in it, but the modes are standardized. Okay. So you just, it's like a building blocks. You make building blocks and you make, let's say didn't building blocks, but within building. But if you only need five, you have the millimeters, you really can make a huge variation of final products basically.
How Jacob Bossaer wants BOSAQ to standardize its elemental bricks
Antoine Walter:
So you standardize the Lego bricks, which you can build whatever you want. Makes a lot of sense. You mentioned that you can work off grid without energy. What is powering you? Is it solar power?
Jacob Bossaer:
Yes. So we provide ourselves solar power and we have partners for wind and hydro. But all systems can be also put on the grid because in some committee, for example, Romania, all communities have electricity. They don't have water, drinking water. It's also more sustainable. It's already there. Then you don't have to put solar panels because then you invest twice for exactly the same output. We're not a big fan of that. If it's not necessary to where we want to have more sustainable renewable energies. But of course it's also the client at the sides and every system can also be put on a generator, for example, for remote areas where you have sometimes a energy breakdown, they say are, we don't need the solar panels because we have energy. You have an energy breakdown. They can't put a generator on it, but that's again an option, something we don't promote, but it's an option. So you have the,
Antoine Walter:
But if you run on solar panels and if someone wants to shower at night, how does that work?
Jacob Bossaer:
It's a battery system is so you have, you have backups. So the system is is always built with backup. And also it's not purification at the moment. So there's always a buffer capacity. And that's also, that's an engineering calculation, how much you have to provide for a certain community. So that's always there. And the water is always, re-disinfected also also there we make sure that's more sustainable because normally ultraviolet lights is a good way of disinfecting, but the mercury lamps, you already hear it. Mercury lamps, not sustainable, heavy metal. You don't want that. So we use LED UV is brand new technology. It's more expensive, it's a lot more sustainable. It's also more robust, also ideal for our applications. So also there in new products, new things that we find on the market we implement in our systems.
How to Build to Last
Antoine Walter:
You mentioned that you have the absolute certainty, that your products will last 30 years yet you don't have yet those through to use as both sides. So how can you be so convinced that it's going to last?
Jacob Bossaer:
Ha I think it's experienced. You're not never certain if I'm dead, honest certainty. Exactly. But it's built in that way. And of course it's a lot of experience in the market. What lasts long or it doesn't, this is the reason, for example, why do we work with GF Piping Systems? Because we know it's quality products. We do not put Chinese 20% of the GF Piping System price products in our systems because you know, it's going to fail after, after one or two years, maybe even earlier. So we make sure that the products that we build in are high quality, where there's a lot of experience with it or for long period of time that we know, okay, this price is going to last for a long time. And also the system is also built to make sure that if, for example, a pump fails, it's very easy to build that in and out.
---
Jacob Bossaer:
So it's very flexible in that sense. So can you claim that? No, of course we have to sell and it's, it's a marketing thing. We are the best in the market. We use the best products to make sure that the installation is robust and lasts for a long time, because I can't find the same installation. No, not the same, but they say does the same, same, let's say 5,000 liters per hour of drinking water in China at 20% of the price. But I'm a hundred percent sure that that will fail way long before ours will fail. That's a hundred percent certainty. So you see in the mind it's a frustration from the market as well. It's a big frustration as well. You hear that a lot. Oh yeah. There was just a few months and it's done. It doesn't work anymore. Yeah. We can't have that also with the name of the company. We don't want to have that obviously.
Antoine Walter:
So you're back to this total cost of ownership aspects that's yeah. Yeah. Usually are you can't afford to be cheap. I mean, that's, that's, you're just saying last question for me in this deep dive, you, you mentioned this this element of the digital side of things that thanks to the phone network. You're able to look at everything from remotely, but what do you exactly look at? What is, what is it that you're monitoring? What are you key indicators
Jacob Bossaer:
Quality flow temperature, humidity,
Antoine Walter:
Quality, meaning?
Jacob Bossaer:
Everything! Like we have developed also, it's also be patented it's it's a quality sensor in line, which is a lot cheaper than what you have available on the market. And for example, our systems are intelligent. They know, for example, when the river has more organic content, the installation will run at a lower pace to not burn the, the, the membranes and necessarily, and also the information that we take is locked and the idea is not. So we are now in a process of hiring a software engineer will develop AI, to make sure that the information that we get in from the logging system can help us in optimizing our design to circumstance. For example, if it's very humid, then we can see that a pump. It has needs maintenance after one year and very dry, only two years. For example, it's just an idea.
Jacob Bossaer:
I don't know if that's the case, but that's just an idea. So you can optimize your design, but you also can predict your maintenance. And it's also a huge cost saver predictive maintenance, also it's IOT connected. So you need that data to read in, and that's the reason why we have so much data. So also data that you, from a first point of view, why would you need that? Why would you need your humidity in the country that you're operating at? Well for that design optimizations corrosion. For example, if you see temperature, which with humidity has a lot faster corrosion on this element, okay, we're going to change that to plastic or, or, or, or Inox, whatever or, or any material that's better for that circumstances so we can optimize our design. So that's a bit the idea.
How Machine Learning might be a next evolution for BOSAQ
Antoine Walter:
I don't want to throw buzzwords at you, but that sounds to me like an ideal field too good for machine learning. If you see that pattern, then probably this is going to happen.
Jacob Bossaer:
Exactly. Actually, I think that's also the Case. I think there's so much technology available. Use it. Why wouldn't we use it? It's I also believe I'm a hardware guy. I believe in the, the huge need of hardware provide drinking water, but I'm not an aviator. The thing is software is a main drive for any company. If you want to be on top, if you want to be on top of your game all the time, you need to know what you're doing and how do you need to know what you're doing is data mining in your own systems. And that's, it's a necessity. It's not even nice to have. It's a necessity for us to make sure we are on top of our game for the coming years. And we can keep innovating the system that we have, because like I said, it's not a Fitbit that we work with memory in technology, maby in 5 years, we do complete different technology because we believe that's not technology is better, more energy efficient less burn on the, on the environment, whatever. So I think, and you have to evolve and you also have to dare to evolve with that. And then you need data. We're an engineering company. We just can't say, Oh, we think it's going to be better. No, no. You have to know it's going to be better. Yes or no. So it's trend that we also follow as a company. I think it's necessary. It's yeah. As things are moving very fast. So why not use it?
---
Antoine Walter:
Yeah. You mentioned this element of the membranes that still a recent technology in terms of acceptance. I had Graeme Pearce on that microphone who explained us how, when he was traveling around the UK, in the nineties and early two thousands, people were laughing at him and saying in membranes, I'm never going to be a thing. And look at us 20 years later. I mean, it's just everywhere. So yeah, you never know what's going to be the technology of the future. I'm sorry. I said it was the last question and I keep throwing questions at you, but I have, I promise you this time. It's the last one. It's about, you know, the acceptance of the market. There is something, there is a common pattern within the water market. There's always this. Okay. It might be good. It might even be 20% better than what we already know, but what we know, we know it and it's been working that way for 30 years. So why shall we change? Is your chance here that you are addressing a market where there's nothing, so you're making better than nothing in any case?
Jacob Bossaer:
Yeah, partially I think I think the biggest chance is the developed world because they're, the process are already a lot more installed and, you know, in Suriname, they don't have water in decentralized areas. So any solution is good, basically. So it's a lot easier to get that to them. But for example, we work in Belgium on the hybrid system, meaning centralized, combined, decentralized to have a hundred percent coverage of drinking water within Belgium. That's our process, very political. They have the Holy house. They don't want to kick in. So, but that's, you know, if you think being an entrepreneur is easy, then everybody would do it. It's part of the game. It takes a long time, especially with governments, it takes a long time and it's, it's a fight. It's a fight that, and you keep on fight. I think the main characters of any good entrepreneur is perseverance.
Jacob Bossaer:
Never give up. Yeah. I heard a quote a few weeks ago and I thought it was a brilliant quote, is winners or losers never give up? I like that quote. It's a very good one because it's what it is. Like I said, we were almost three bankrupt. We're still floating. And maybe next year we're bankrupt, you know, you don't know, but my mindset I'm going to make this work and I'll make sure that we'll have that impact and we go for it and we keep going for it. And even at the last thing of hope that we could have, I'm going to grab it and we've got to go for it. And that's what I think entrepreneuring is about. There's a bit of a healthy, healthy mind obviously, but perseverance, I never stopped.
Antoine Walter:
If you want to listen to a cool episode about entrepreneurship in the water words, it's also a Belgian company as well, Wim Audenaert was my guest here from AM Team. It was very inspiring. You have a clear path which is to become a unicorn. When is that going to happen? Just to know when I scheduled the followup with you
Jacob Bossaer:
15 years. Yeah. So five years we're going to grow massively and then it gives it it's it's processed. So now we, a project company will want to evolve to product company and they want to evolve to what is a service company. Like I said, difficulties for going to what a service company immediately is. First of all, cash as small companies, a lot more, if you want to raise 50 million, which you would need for Water as a service company, big scale, then we can't raise that right now. But also it's also more logical to make sure that we now focus on the technology, meaning building the building blocks. So it's a product company. So if a country says, we want this, okay, this is on the shelf. This is what we need for this kind of project. But the project is productized. So the project actually products. And then we got to Water as a service. So that was going to take us some time. So the first five years now is product company and then one is a service company. So that's the Idea. And in 15 years I want to be there. And I want to sit here and tell you that we are the biggest worldwide than decentralized doing drinking water supply. So fingers crossed a love, heart work. We know that. I also know it's dangerous to talk about these ambitions, but I don't want to,
Antoine Walter:
It's refreshing to be honest, it's really refreshing to hear that.
Jacob Bossaer:
Yeah, but I, I think I also need that. I need that goal to set for myself to make sure that we follow up on those. And, you know, I rather die, trying and failing that never tried. So that's for me a yeah, part of my personality, I guess,
Antoine Walter:
Let me throw a closing thought that you, before we switch for the rapid fire question, because I said it was the last one, and this is my third last one. But when you see a company like clubhouse, which is raising $4 billion with I mean an audio social media, which is not even one year old, and you say on the other end, you you're solving an issue, which is a life issue for billions of people. And you say, it's going to be impossible to raise 50 millions.
Jacob Bossaer:
It's not impossible, but very challenging at this stage. And we don't want to put the effort in it at this stage also because a, the downstream maturity should be a little bit higher. If we do that, is it a frustration? And it's not a frustration I'm afraid about that, but I just don't from healthy might not understand it because you can't live with our Facebook. You cannot live without water, but still the value the company
Antoine Walter:
You cannot live without wifi, come on!
Jacob Bossaer:
It's just perception that we are willing to pay 500 years for a cell phone. We not willing to pay five years a year for water. It doesn't make any sense, but that's just the way it is. And let's hope that we can raise awareness about the value of water in the coming years, more than it's now, but it will never be like a cool iPhone or whatever. And so, yeah, but the thing is, is what, like the bottle of water we sell, we sell that in a half a euro a liter and what we sell to governments a half a year or per cubic meter. So that's a thousand times more. And just the perception because the bottle looks very cool. It's a very nice concept. It's a marketing product and people are willing to pay
Antoine Walter:
That don't get me started, you know, I'm a son of what our engineers that have been raised into this belief that tap water is the best thing there is there wasn't, it will ever be. And when I was student in Mulhouse, we had the tap water who had kind of a taste and people wouldn't drink the tap water. So the city of mirrors, what they did is they tried to explain to the people that the taste was because there was this a terror attack and you had to put chlorine into the water. And that was the reason for the taste, but people kept, they didn't want to drink that. So the city took the exact same water, bottled it and sold it, and people bought those bottles. And that, that tells you just sometimes how we can be stupid. But, but yeah, as I said, don't get me started. And it's my third closing. I propose you to switch to the rapid fire questions.
---
Rapid fire questions.
Antoine Walter:
So in this last section, I try to keep the question short and you can try to keep the answers short, but I'm not cutting the microphone. If you have something more to say, fair enough. My first question is what is the most exciting project you've been working on and why
Jacob Bossaer:
Antarctica, absolutely. Because you come back to yourself, very rudimentary. If you talk about log down, I can assure you Antartica is a full lock down. Now there's nothing there. But it's, it was the inspiration of my professional career, the started Bosak. So yeah, that's for me, absolutely. The project that inspired me to,
Antoine Walter:
What is your favorite part of your current job?
Jacob Bossaer:
Travelling. Well actually quite a lot, because the good thing about what has its necessity. So it's also considered as a necessary business, so I could travel quite a lot, but I love being content with different culture. I love being in with different backgrounds. I love being called with different technologies, with different people. I love that. And that's the, I think the best part of my job.
Antoine Walter:
What is the trends to watch out for in the water industry? Don't tell me decentralized treatments?
Jacob Bossaer:
No, I think since I started with BOSAQ, I think also at that same time no, because of both suck a wish, but not the water sector is changing for the good, and I think it's going a little bit further away from government from a technological point of view, in sense, innovation in water is so much innovation is still possible. The low hanging fruits are still there. So I really believe that the trend is that water is going to be hot. It's going to be sexy. It's going to be a product that I believe is going to be also a very important one. Also in the, in the [inaudible] like all was still, Elizabeth will go down. I think what it will go up and they're referred to as the blue gold the new oil, whatever. And I, yeah, think that water is going to have a more public, it will be more publicly debated and it will be a very grateful market work working, I think, for the future. Yeah.
---
Antoine Walter:
I had a great discussion with Nicola Lei Ravello on that microphone about what a future is being traded in Wall Street now. And it has its pros and cons, but it certainly shows that the interest in what I am, what is the thing you care the most about when you're working on a new project and what's the one you care, the least
Jacob Bossaer:
What I care most about is the impact drivenness it sounds a bit cheesy, but it's really important for me. I want that push. We do have a real impact. What I care less. It's a difficult one. That's always the most difficult one.
Antoine Walter:
I can award you a Joker card if you wish.
Jacob Bossaer:
Yeah. I'm going to take a joker for that.
Antoine Walter:
Okay. Joker card. Do you have sources to recommend to keep up with the latest market news?
Jacob Bossaer:
No. one of the worst things about me is I don't read a lot. I read a lot of politics cause it's necessary for my job. But I don't read a lot of books. I don't read a lot of topics I do read, but it's very random. Linkedin. there's lot of things that I follow, but I don't read it even my own articles. Cause I have articles that I write in my name. I don't get the reading all of them. So I'm not a good source for getting the reading the article,
Antoine Walter:
But so your best source is people because you want to meet people.
Jacob Bossaer:
Yeah. That's true. Absolutely. Yeah. The best source is people, that's true. That's true because the thing is as well. Yeah, I'll say to my engineers as well, engineers are a breed. I'm an engineer myself. So back for myself. So I can't say that there are a breed that wants to reach perfection, but the market doesn't demand perfection, the market demands a product that's that works and then you can optimize it. So yeah, people are the best way of making sure that your product isn't optimized profit or market. Yeah, absolutely.
Antoine Walter:
Last question. Would you have someone to recommend me that I should definitely invite on that same microphone
Jacob Bossaer:
In water? Yeah. Pieter Loose, obviously I think from the initial point of view, he's doing great work. I think as well in Belgium, especially we have to be grateful for what he's doing because it makes also what a big topic in Belgium. And it makes us more important than we've ever been before. We're not competitors, not yet at least, but we are adding to each other. And I think yeah, he's, he's a great if you look, if you see what you've done in 10 years, it's amazing. So a big respect to him and a big congrats. He also went just to the stock market, his company, so amazing. You have some other companies like [inaudible], which is focused on very challenging waste water from the pharmaceutical industry has also quite some success now in Belgium. And then you also have George break he's from hydro Volta. Hydro Volta is a company they want actually a great grant by EIC, from European union for desalination. So new technology with the Italian issue, it's a lot more energy efficient than memory technology. It's electric dialysis system kind of thing. He has a great story because he comes from Syria. He had the flat, the war start up again in Belgium, lost everything and has a great company is also a really growing fast startup, also going to scale up. So also very inspiring guy to talk to him.
Antoine Walter:
Awesome. Well, Jacob, it was a pleasure. I could have taken another hour of your time, but I have to be cautious of your time at some point. So thanks so much for your time and yeah. Talk to you when you hit the next big milestone. Yeah. Let's hope. Thanks a lot for that.
Other Episodes: