with 🎙️ Graeme Pearce – Director @ Membrane Consultancy Associates
💧 Membrane Consultancy Associates is a consultancy practice bringing expertise and guidance in membrane technology.
---
What we covered:
🍏 How membrane treatments evolved from a joke to a must-have
🍏 How a couple of lonely prophets actually defeated all ods to impose membranes in wastewater treatment
🍏 The perks of Membrane Bioreactors
🍏 Why MBRs swiftly took off in industrial applications and countries like China
🍏 The Anatomy of a Membrane Bioreactor
🍏 Polymeric vs. Ceramic Membranes
🍏 Flat sheet vs. Hollow Fiber Membranes
🍏 When it comes to Wastewater Treatment, size matters!
🍏 Some limits of MBRs
🍏 Why wastewater reuse will become mandatory
🔥 … and of course, we concluded with the 𝙧𝙖𝙥𝙞𝙙 𝙛𝙞𝙧𝙚 𝙦𝙪𝙚𝙨𝙩𝙞𝙤𝙣𝙨 🔥
Resources:
➡️ Send your warm regards to Graeme on LinkedIn
➡️ Visit Membrane Consultancy's website
➡️ Check our condensed version of this article within our Wastewater 101 section
---
Full Transcript:
These are computer generated, so expect some typos 🙂
Antoine Walter:
So, hi Graham, welcome to the show. Actually, you know, I always like to start with the postcard and in our short conversation before starting, you mentioned you are not that far away from the Heathrow airport, and I'm just wondering in these strange times, did you have the chance to pick a flight over the past six months to one year?
Graeme Pearce:
Well, absolutely not. Not from Heathrow. I suppose my only flight has been, we had a short holiday flight out of Stansted between lockdowns during last summer, but he throw used to be a very common place that needed to go to do my international business. And that's been out of the question for the last year. Unfortunately,
Antoine Walter:
The cool thing for our listeners is that for once we have someone that pronounces English like it shoot with the lovely British accent. So you are in Oxfordshire, right?
Graeme Pearce:
That's right. I'm in a small village in South Oxford chair. I've lived here for more than 20 years and I was at a university at the university of Oxford. So I've come back to my roots by coming to live here. So it's
Antoine Walter:
Because a couple of episodes ago we had an interview with Ken Brin innovation, which is named after Cambridge, but not the Cambridge from the UK to Cambridge from the U S so it's good to see that we are coming back to the real roots. So Oxford like established university background. I mean, here we are in good old Europe. So, so thanks for that.
Graeme Pearce:
Okay. That's, that's good actually,
Antoine Walter:
A membrane specialist. And without trying to be insulting with your age, I'm a 40 year track record, which is amazing in that field. First, let me verify something. You know, when I was preparing for this interview, I found out to me, membranes was invented in the, in the sixties or eighties. And I found out that they around since the 18th century, is that right?
Graeme Pearce:
Yes. Obviously to be commercially useful, a membrane has to be very carefully controlled. So the pore size has to be precise. You need a narrow range of Pores of the particular size that you want. So you want a narrow pore size distribution, and that was a difficult task to achieve. I think in Germany, in the 1920s, there was a commercial development of UF membranes. And I think that was probably one of the earliest really strong developments in uses of, of membranes. But it, yes, it's much more recent that we have a real commercial rollout of membrane technology
---
Antoine Walter:
And talking about yourself. When was your first encounter with membrane technology?
Graeme Pearce:
So straight after my doctorate at Oxford, I went to BP chemicals research in whole and they said, well, we've got a, we've got a new that we want you to start up. It's looking at separation technologies for the oil industry and the chemical industry. So the brief was across all, all separations technologies. I must confess, I hadn't really heard of membranes at that point. They weren't commercially used very much at all. They were little specialized US companies on the whole that had membranes for very sort of specific niche applications. So it looked as if it was an awful long way off from possibly becoming applicable for BP. So I did work on membrane developments there, but also other separation technologies like Pressure Swing Adsorption and crystallization and other things like that.
Antoine Walter:
So starting on that R and D side of things, then you evolved to other parts of the industry with the commercial application and now your consultancy. So can you guide us through your, your path?
Graeme Pearce:
So BP became excited about separations research. So we had our little group in hole where I started with BP chemicals, and then in other parts of BP, they also had some researchers who started working on, on separations. And by 1988, there were 80 people working on research in BP. So this was immensely costly for the company and they thought, well, we need to get some payback for all this money that we're investing in, in separations research. So they decided to form a BP ventures company. So the standalone subsidiary within the group, and I was the process engineering manager of that company. But soon after setting it up and spending another vast fortune on helping us to set it up, they decided as BP, as oil companies often will, they decided to have a change of direction and they tried to sell the company and we put the finance together and we did a management buyout. So that was a tremendous opportunity because we bought no expense spared all the office furniture or equipment. So we were incredibly well-equipped for a startup company and they basically let us have it for next to nothing. Um, so thank you very much BP.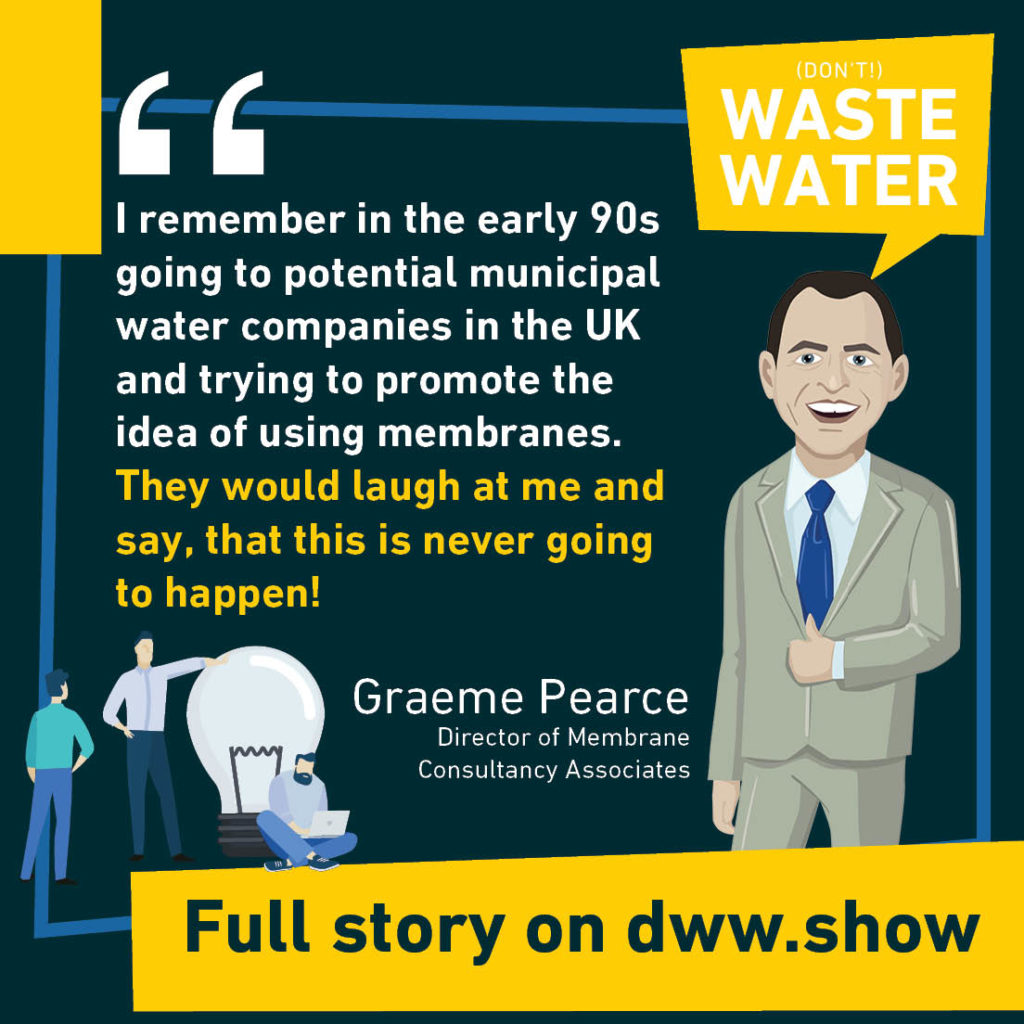 Antoine Walter:
And how did he develop from there? So you were all of a sudden a start-up in the membrane field and in the waste already in the water field at the time, or what was the intention?
Graeme Pearce:
Good point because, I mean, we, we had struggled to be honest in BP research to get our efforts in separations. Technology implemented. Obviously oil companies and chemical companies rely on distillations and they were looking for much lower energy alternatives, but it's, it's extremely difficult to get the business units to adopt anything that's anything like a new or novel approach to do anything. So we felt we were hurling ourselves against rocks basically. And we decided when we were set up as a separate venture company, and especially after we became independent of BP, we decided to focus instead on the water market, because that was a much more clear cut of well-defined market. I mean, the two were in the water market. They too were very reluctant to adopt new technologies. And I remember in the early nineties going to potential municipal water companies in the UK and trying to promote the idea of using membranes.
And they literally would laugh at me and say, well, this is never going to happen. And then just within two or three short years, their attitude changed completely because of cryptosporidium that it was all simply down to that in the UK and in the U S there were some outbreaks of, this is a microorganism, which is a parasite it's about four microns in diameter. It's small enough that it can get through conventional treatment, but a membrane is a complete barrier. So that was a tremendously strong driver. This concern about cryptosporidium. We had outbreaks in the UK and the U S and then we got legislation, which was designed to ensure that companies removed it completely. And with total security. And that was the driver for membrane. So even though it was still an expensive technology at that stage, once you've got the driver, then the prices start to tumble because it's not just one company rubbing their hands and saying, Oh, well, that's great. The prices are high, but you have to do it. That's fantastic. But you got other competitors coming in and the prices dropped like a stone. And quite soon a membrane technology was still a little expensive, but it was becoming more comparable and more acceptable for the user.
Antoine Walter:
So that was a membrane for drinking water. So I guess ultrafiltration if you remove cryptosporidium, right? That's correct. Yeah. So was it used to replace sand filters or what was the application
Graeme Pearce:
In a way it was replacing sand filters, but basically in regard to cryptosporidium removal, the sand filters weren't doing enough. So it had a unique niche within the marketplace. So if you had, maybe if you said, well, five or 10% of the water sources in any particular regional country might be susceptible to cryptosporidium, then the legislation said, well, on those five to 10% of sources, you have to put membranes. So membranes sort of competed in those early days with sand filters, but they competed at the, at the margins where you had these difficult challenges and where the sand filters couldn't really do it.
Antoine Walter:
So that was the big kick in the membrane technology, which was suddenly existing on the water market. And how did it develop from there? I mean, at that time, so you were just launching your startup best equipped startup, but still a startup. And how did it evolve from there?
Graeme Pearce:
Well, so the startup eventually grew like crazy in the 1990s, because so from, because from tiny little beginnings and it's not, I mean, it's not just our company, but all of the membrane companies at the time had a similar roller coaster of a ride. And a lot of those companies had great success at establishing their technologies and became, you know, reasonably sized companies in the course of the 1990s. So you could say that around 1990 itself, you began to see the emergence of these drivers. You had, the problem of Cryptosporidium. Then by the mid nineties, you had legislation, especially in North America and the UK. I think in continental Europe, the cryptosporidium wasn't recognized in quite the same way. It didn't seem to be causing quite as many problems, but then in continental Europe, it was more a question of getting a virus or microorganism barrier and
Sort of moving away from relying on chlorine as a disinfection barrier. If you had a membrane barrier, you would be less reliant on chlorine. So that was the big driver, especially in the Netherlands and in France. And they adopted membrane technology in their drinking water industry. So their driver was a little bit different to the UK driver, but I think the UK driver had real teeth because the government had recently privatized the water industry and then having let them off the leash, they then had this great big hammer or club to beat and say, having made you private, you now have to do this and you have to meet this requirement. I mean, it was a, it was a very dramatic day. One of my colleagues described it as being like being on a start of a race and you're all lined up and then someone presses the starting gun and off you go, and it was literally like that it was a crazy sort of gold rush day for the, uh, for the membrane companies.
---
Antoine Walter:
And what brought you ultimately to consultancy?
Graeme Pearce:
I've always been interested in looking at the whole field of an issue. So obviously if you're with company, you've become an advocate for that company, but my type of personality is I like to look at the other competitors products, and I like to sort of praise them for their good features, even though I might also be talking against them for their bad features. So I like to have this overall position where I'm not necessarily completely reliant just on my own advocating my own product or whatever. I like to have this overview.
Antoine Walter:
And now you have your own consultancy for over a decade and you dedicate to membranes,
Graeme Pearce:
Right? Yeah. So in 2005, I decided to launch the consultancy. And the idea was that I would help basically help the practitioners of membranes. So people who were either supplying membranes or using membranes and help to improve their experience, because as with any new technology, you know, I've given a rather gold-plated rosy view of things, but it has to be said that in those early days in the initial gold rush, as I describe it, there were some missteps because people were too aggressive in the designs of some of the plants. And maybe some of those early products had some innate weaknesses. So if you combine product weakness with aggressive design, clearly a proportion of those plans are not going to work out very well. And so I suppose my consultancy was developed around the idea of advising suppliers and users and trying to get the market to sort of reign itself in a little bit and be more realistic, be less aggressive in its design and to encourage suppliers to improve their products because they didn't really need my encouragement. They were trying to do that anyway. And eventually after the first few years of the market, you know, you have to say that all of those suppliers that had initial issues on the whole managed to sort those issues out. So the products became better, more reliable, more resilient, and meanwhile designs have become less aggressive. But yeah, so basically that's what my consultancy was focused on. It was trying to improve the experience of using membranes.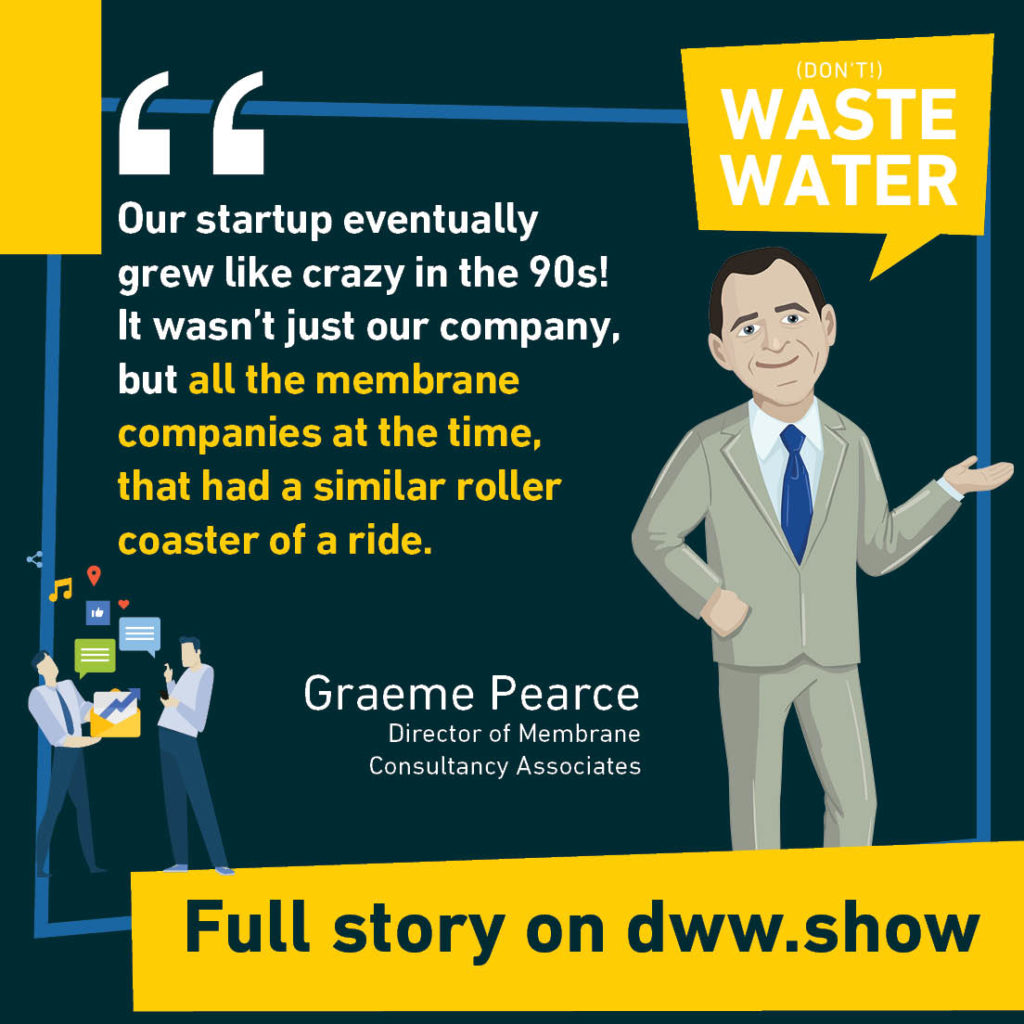 Antoine Walter:
Actually, we've touched this clean side of the membrane words so far, but I'd like today in the deep dive to look at another part of the membrane markets, which is the membranes used I guess mostly in wastewater treatment, but you're going to tell me that probably it's not only the case, but I'd like to dive into the membrane bioreactors. So MBRs and there are, I like to apologize in advance because I have to ask simple and simplistic questions, please. Don't worry, I'm the stupid here. So I'm not insulting you, I hope, but sometimes you you'll see that my questions are really simplistic. I think answer is now my first question, which is what MBR stands for. But first is my way to understand it. Correct. Is it membrane bioreactor?
Graeme Pearce:
That is correct. So a membrane bio-reactor is basically combining the biological reaction stage of wastewater treatment with a membrane barrier. And so we shortened that by just saying membrane bioreactor. So it's an interesting development that in parallel to the frenzy around membranes, in clean water in the 1990s and getting ready for the drinking water market, there was another frenzy happening in the neighboring market of wastewater, which was around companies trying to get a membrane technology applied in wastewater. So that ran in parallel during the 1990s. And there was a very strong advocate at that time, of course it's still present, but under a different name so that the initial advocate was Zenon. And they were basically, it was a bit like the lonely prophet in the wilderness. I always think of it like that because, whereas in the clean water side, we had governments on our side, we had legislation on our side and we had a whole industry turning to us in, in great excitement that we could solve that problem. On the wastewater side, the Zenon people were basically telling industry, this is what the future is going to look like. And for a long time, nobody paid much attention to them, or didn't really accept what they were saying or were saying, it's going to always be too expensive. It's never going to work. It's too technically difficult. So they didn't get the legislative drivers that the clean side got
Antoine Walter:
Exactly. That would be my question. What was the driver? Why were they so strongly convinced that that was going to be the future if they didn't have neither the industry nor the regulation that had their back. So
Graeme Pearce:
There's two, eventually you could say there's two drivers in wastewater treatment. One is that the discharges of our treated wastewater to rivers needs to be improved. So the driver for that came from in the European union. This is, came from the EU wastewater treatment directive. I think that dates to 19. Oh, Oh yeah. Okay. The water framework directive is 2006. So there was a much earlier piece of legislation, which was very important for wastewater treatment in terms of discharges. And that was the urban wastewater treatment directive. Okay. And so, but it didn't say to companies, okay, you're doing it. This with conventional technology, that's no good any longer, you need to switch the membranes. I mean, you couldn't possibly read that into the legislation and implementing the legislation. You could do it with the old technology. So you could say it's sort of a driver. You basically have to improve standards sort of bit by bit case by case, but it's not a sweeping statement.
So that was the first, that was the first type of driver, the discharge improvement driver. And then the next driver, which has only really come to pass in very recent years, is the driver for reuse actually in the European union. We're only just getting now in 2021, we're only just getting our first real legislation that is going to control, reuse quality, and really encourage, reuse up to now. It's always been very sort of approximate if you like, and sort of loose that driver has not really had any teeth now lost. There's a proper legislative reuse driver, but you know, we're in 2021. So MBRs had to become established without even though your reuse would be there. One of the primary objectives potentially for MBRs, it's not had legislation behind it to make people adopt the technology.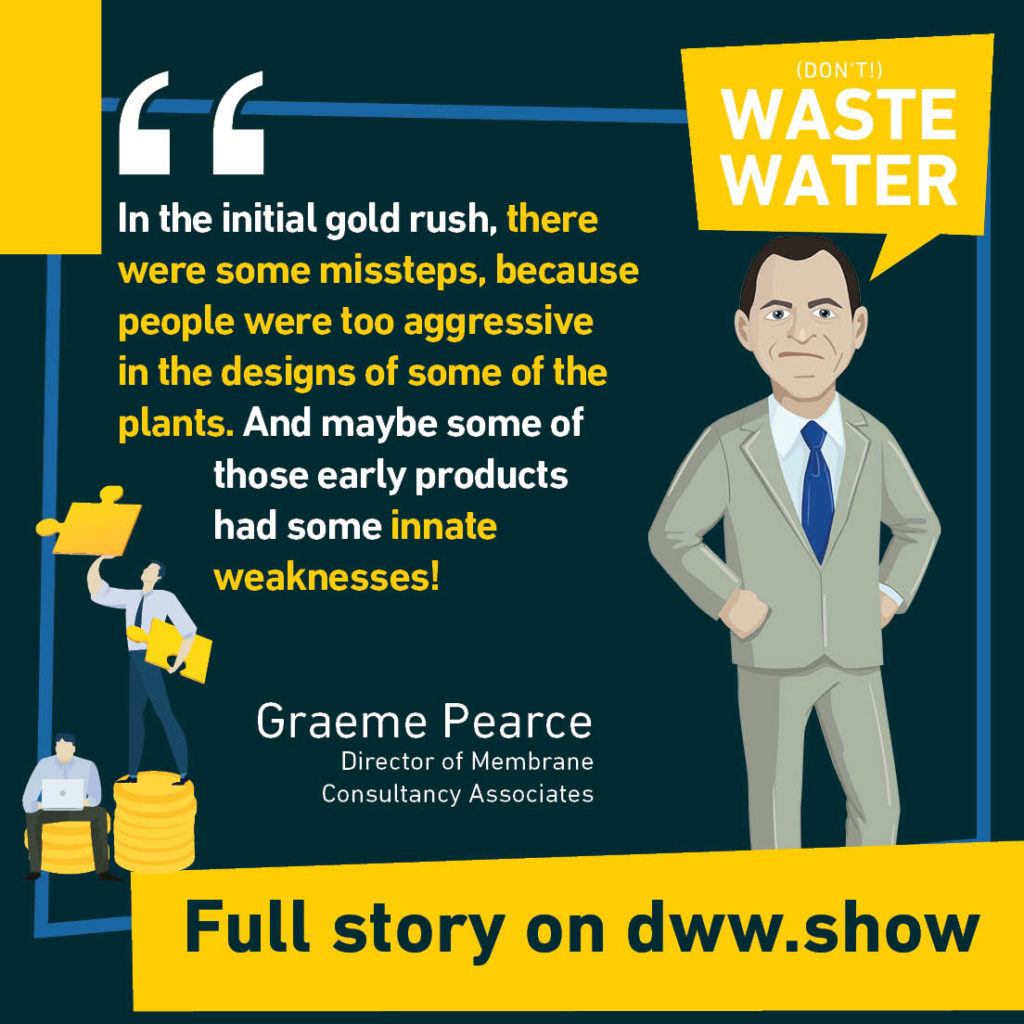 Antoine Walter:
Where does it MBR fits into a treatment train? Yeah, that's a good, I mean, it's a good question because I mean, you know, you could say, well, conventional,
Graeme Pearce:
No activated sludge is the combination of biology, bacteria and nutrients, the bacteria, and the micro organisms break down the nutrients. It creates sludge. You have a big tank, you rely on gravity for a lot of those solids to settle. You then might have a sand filter that would move some, but not all of the remaining solids. Then you have a treated wastewater. So that's the existing status quo. If you like from more than a hundred years ago, when MBR comes along, it basically deletes the whole of the train and says, no, we can do it better. If we start all over again with a much smaller bio-reactor we do the same biological reaction as you might do in the conventional activated sludge, but it's all intensified. It has a much smaller footprint because the solids, rather than relying on gravity to eventually allow them to settle, you strike a membrane barrier.
So those solids can't get out by operating at two higher flow rate, they're prevented by that membrane barrier. So the whole thing becomes small and compact and efficient, but it means that all of that hardware that you installed from decades or a century ago, all those huge concrete tanks suddenly become redundant. So in a sense, in a developed economy, such as in Europe, that's not good for introducing something that's so radical because you're not taking advantage of the infrastructure that was in there in the first place. Then that's why in China, where they haven't had that infrastructure development, suddenly this solution makes tremendous sense that they can leap, frog. Everything that we've done for a hundred years use MBRs to solve all of their problems in a fraction of the footprint with much better treatment quality, and suddenly they're in a better state than we are.
---
Antoine Walter:
So if I get to right, if you don't have existing infrastructure, all things compared to an MBR is the best solution over conventional tanks, activated sludge clarifiers, the full treatment train. So if you start out of the blue, do it like the Chinese, and that explains why two third of the MBRs in the word, are installed in China
Graeme Pearce:
Well, that's right, and this it's an amazing statistic. And all of those big MBRs tend to go into China. I would think that that's probably true what you say, but I mean, one of the caveats is that if the quality of the discharge water is not that important, maybe you would still go with a conventional works, but in most cases, and especially in China, where they have polluted rivers, and they're trying to reduce that pollution. If you put in a new wastewater treatment works, why would you not go for the Mercedes of treatment? We would say the rolls Royce in this country, but why would you not go for the very best, get a really good treated water quality, and also in a tiny footprint in comparison with conventional, because that's so important in Chinese cities growing like crazy, you can't have these. I mean, if you go to London, for example, you'll see some of those Victorian water treatment works and it looks like they're occupying a number of football fields all joined together, you know, with their slow sand filters and so on. And they occupy so much real estate. I mean, it wouldn't be conceivable that you could build something like that these days, you know, so MBR and compact footprint makes a tremendous amount of sense.
Antoine Walter:
So the compact footprint makes it probably a very easy and logical go-to as well for industrial applications.
Graeme Pearce:
It's true. And of course in industry that footprint saving is an extremely important driver. And I would think obviously when you're in the municipal arena, what you're looking at is a 20 year life cycle and you're balancing your costs, your operating and capital costs in a different way in industry, you're looking at a much shorter time horizon and the drivers are different. So I think also in the industrial context, the treatment challenges can be more difficult because municipal waste is sort of similar ish all around the world. Industrial waste varies according to what the factories are doing and what contaminants they're adding. So there's a lot of variation and the MBR can certainly sort of match that reality and become very effective in those different circumstances.
Antoine Walter:
So even if the MBR still relies on biological treatment, it is much more resilient than activated sludge.
Graeme Pearce:
I would say it is it's because at the end of the day, the biology is closely related. It's not identical, but it's a similar situation. But I think in the MBR, because you've got a membrane barrier, you've got a degree of tolerance there that will ensure that you always will get a good treated water quality, no matter what's happening to the biology. I mean, you might sort of foul up your membranes and cause other issues. So, you know, there is definitely a lot of optimization that needs to be done, but it certainly can perform very effectively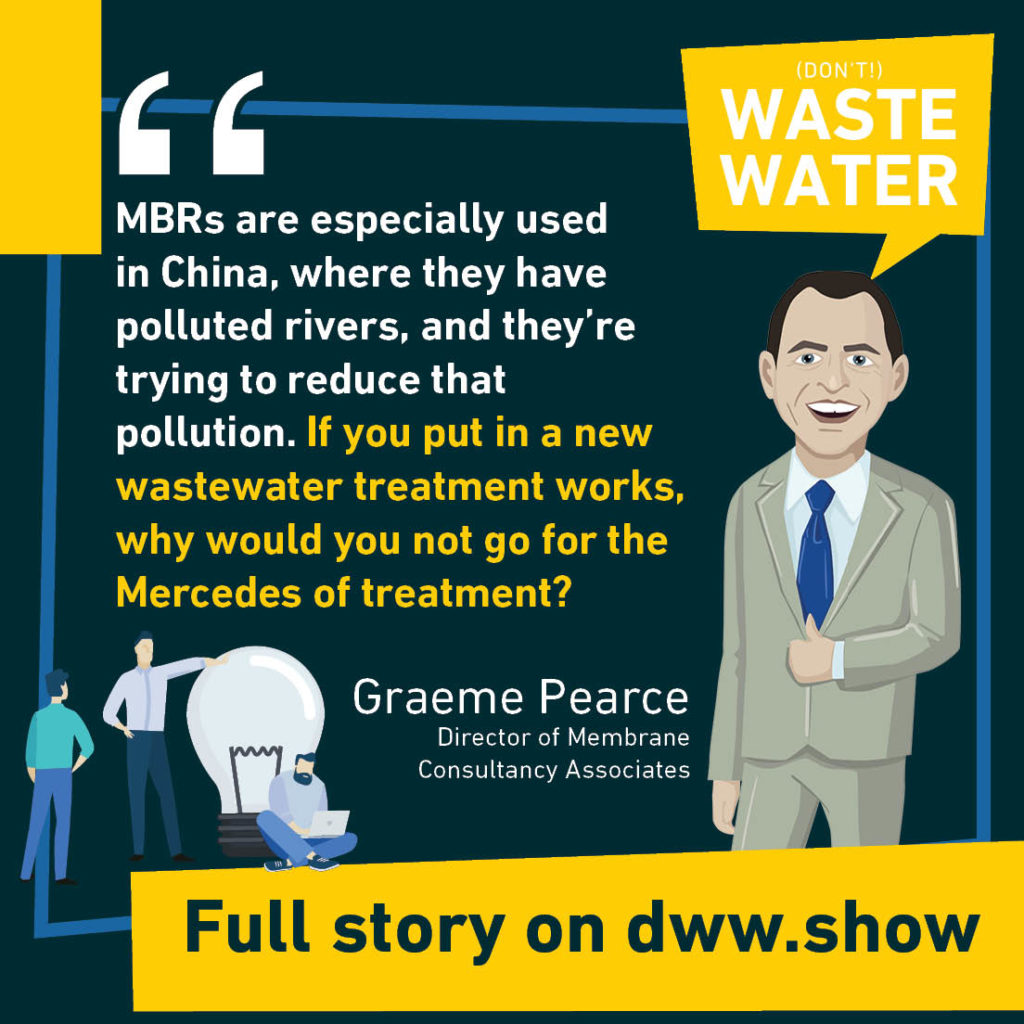 Antoine Walter:
Talking about this membrane barrier. It's probably a good time to make some anatomy of these MBRs, which type of membranes do you see the most applied nowadays in MBRs?
Graeme Pearce:
Because we are very reliant on chlorine use in wastewater treatment. In general, the membranes that we tend to use are based upon those polymers, which are extremely tolerant to chlorine. And the best known example is PVDF. So we see a lot of membrane bio-reactors, whether they have a flat sheet or hollow fiber formats, a lot of them use PVDF one or two examples of some others, but it is an interesting question because there have been some developments recently in ceramic materials for the mainstream drinking water industry and sea water RO pretreatment, and those ceramic materials are beginning to gain a little traction. They haven't really done so in MBR very much, but there is just a sign that they might do. And the reason that there might be an interest there is that the ceramics allows you a very aggressive sort of mechanical and chemical cleaning action.
Antoine Walter:
Actually, it makes me think of one of your excellent blog posts, which I read on your website, which was addressing this ceramic versus polymeric. And from my understanding, from what you were explaining, there was a first battle in the nineties where polymeric had the upper hand because they were much more cost-effective, but recent advances in ceramic membranes. And it had a LiqTech on that same microphone a couple of weeks ago where we addressed it, that same topic. And they said that they know have a better way to do ultrafiltration with ceramic membranes. So I think that all goes together in, in the direction of filling a bit more the furnaces. And if you fill more the furnaces, then the cost of ceramics also go down. So is that a trend that we see for the future?
Graeme Pearce:
Yeah, absolutely. I mean basically ceramic materials the material from which the ceramic membrane is made are very inexpensive and could potentially compete. What adds a lot of costs is the manufacturing process with multiple firings in a furnace at high temperature. And ultimately that adds a lot of cost. You need quite a lot of labor input. You need expensive capital equipment, you need a long manufacturing time. So the ceramics end up being very expensive compared with the polymerics, but this is an issue of scale. And it's also, as you say, an issue of manufacturing optimization that as you improve the way we do things, it doesn't need that mean that we necessarily will have such a big difference in pricing as time develops. And we've seen ceramic prices fall and they've become progressively more competitive. But then on the other hand, the performance advantages they offer certainly addresses a lot of the differential anyway.
So I see ceramics becoming very important in drinking water first. And I didn't really think about the issue of wastewater treatment and MBR until actually you invited me to do this podcast. And I did a webinar training just earlier this week with a company called Techna beers. And literally as I was presenting this ceramic option and basically saying, or sort of implying this will never get anywhere. But as I was thinking about it, I was presenting. I was thinking actually, it's got some important advantages because one of the things that this disadvantage with the ceramic is that it's rigid. And if you think of an MBR operation with all those polymeric hollow fibers, when you do the aeration, which is the sort of core cleaning process for the membrane, but it's also needed for the biological action of the bacteria. When you do that, ration, the air moves the fibers and as the fibers shake, the solids fall off.
So the flexibility of the polymeric is inherent to the MBR and is a critical part of the process. And I was thinking, well, of course, with a ceramic, if you aerate, you're not to move the ceramic membranes, they're rigid. So it's not going to work so well. But of course, what you can do with a ceramic is that you can use an explosive backwash and that's, what's done in the, in the water treatments fair. And that explosive backwash is found to be many times more effective than the normal backwash of a normal membrane. So maybe as we start to think about ceramics and MBR, we might find that in fact, they do extremely well. And as I gave my webinar presentation, I became more and more enthusiastic about the possibility of ceramic. So I started out being sort of rather downbeat. I ended up being a much more optimistic
Antoine Walter:
Somehow we could be at a tipping point. And that's the difficulty of, of the tipping point is that's future will tell, but
Graeme Pearce:
That's true. But of course, potentially being at a tipping point is what a consultant loves. Because if you think you might be at a tipping point, you better go and ask a consultant to see, well, what do they think? So I'm very, very pleased if we are possibly at a tipping point and I can maybe provide some advice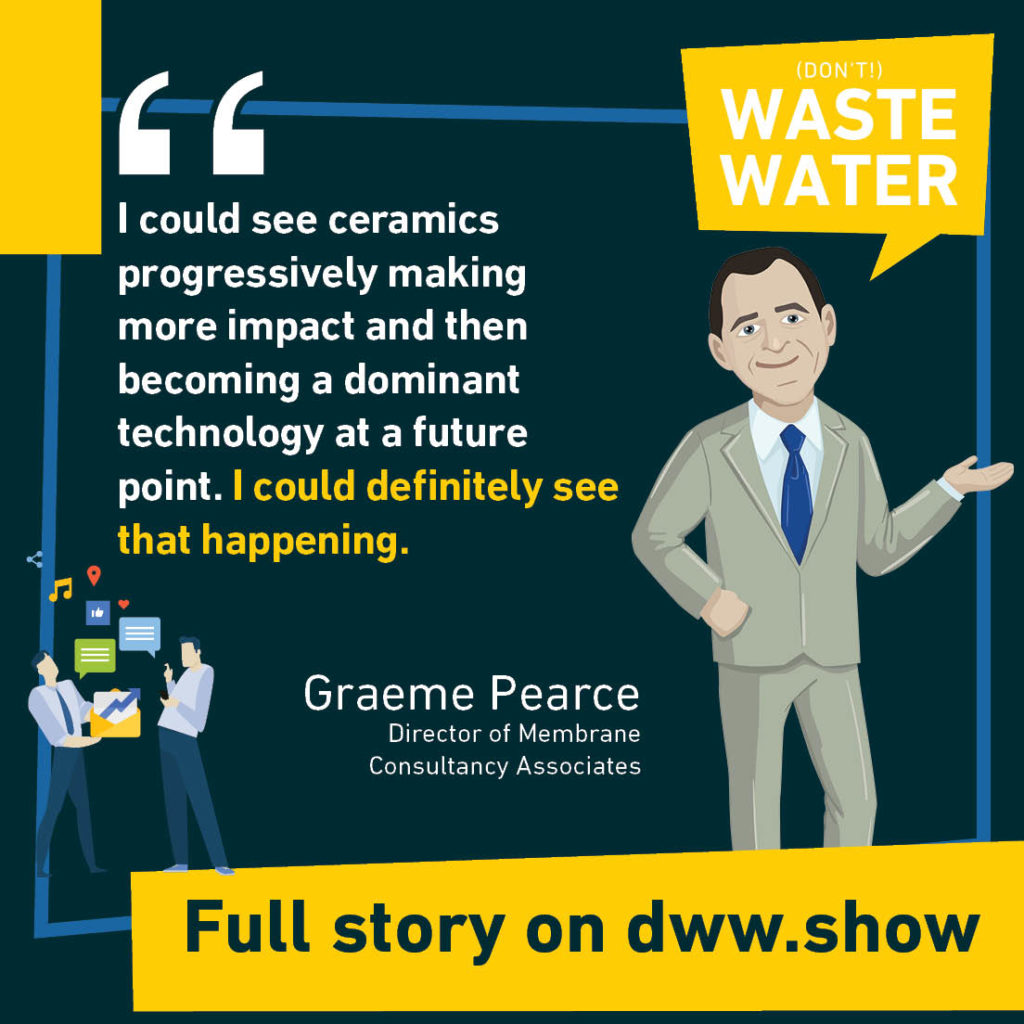 Antoine Walter:
Discussing with Haris Kadrispahic from LiqTech. He was very enthusiast about now being the tipping point. But of course he might be a bit as you mentioned, when you said that you wanted to have a look at the full industry and you went to consultancy he's on the other end of the market, he's looking at his own solution is an advocate.
Graeme Pearce:
Yes, yes. He's an advocate. Yeah. So yes, but anyway, I, I would certainly agree that we may be at a tipping point. I mean, sometimes, I mean, we think of a tipping point is a sharp point between before and after, of course it might be a little bit more smooth out the transition, so I could see ceramics progressively making more impact and then becoming a dominant technology at a future point. I could definitely see that happening. You mentioned
Antoine Walter:
Pretty fast that there there's flat sheet and hollow of fiber. What are the perks and the drawbacks from both of them? Is it really a topic or is it really every specific manufacturer does one or the other, and that doesn't make a big difference?
Graeme Pearce:
Well, you've raised a couple of interesting points in that question. I mean, actually just to that latter point about each manufacturer, being an advocate of their solutions in the drinking water sector, we've had the creation of portfolio companies with portfolios of offerings. So Suez used to be the submerged PVDF outside feed format advocates for years and years, and would basically argue against anybody with anything else gradually by acquisition and internal development. They now offer membrane products over the whole range of options of polymeric in the field. And Dupont also by acquisition has done the same. So whereas before 2015, every company was basically an advocate of a particular format or configurational type since 2015, we've got these two portfolio companies and gradually, I mean, obviously the individual sales groups have the history of being either with one of the legacy products or another, but gradually over time it will integrate and they will begin to offer the best possible solution for each application, each region, et cetera.
Now in MBR, we are still in the position of companies being advocates, and they basically offer a type of technology and would not offer the two options. So we don't have portfolio companies in MBR. So what we have is basically suppliers either use the hollow fiber concept or the flat sheet concept with the hollow fiber concept, it's going to be more cost effective at very large scale. The flat sheet is going to be more cost-effective at smaller scale and more difficult to treat feeds. There are various pros and cons in relation to the tolerance of contaminants like fibers and hairs that might clog up the channels of the feed and other things. So there's, there's a number of pros and cons on each side, the two technologies have an overlap at certain for certain projects, but on the whole they're trying to address different parts of the market. So you get strong advocates for each one, but I think most people would agree that one or other solution is probably going to be the right solution in any particular case,
---
Antoine Walter:
Talking about parts of the market, there's one that we didn't touch so far. You mentioned that the reason for China being such a big advocate of MBR is probably they didn't have the infrastructure that they need to build some things. So an all in one solution like MBR was quite ideal for them. And you also mentioned that in Europe, we already had infrastructure existing Europe, but it's also the case in, in Japan, in in South Korea, I was wondering, is MBR a suited solution for upgrades that you could just transform? I'm saying just, I guess it's not that easy that just saying just, but you transform an existing activated sludge plant by keeping the concrete tanks into an MBR by submerging some membrane modules. Is it something which is doable? And if yes, what's the, I mean, is it interesting to do it?
Graeme Pearce:
Good question. And I think the answer is potentially you can do because the MBR has a smaller footprint. So if you took the tanks of a conventional activated sludge in an existing plant, you could upgrade its output many times by putting MBR units in the tanks. What you have to do is you'd have to have some segregation in the tanks and some division to create the different zones. So you'd have a bio reactions zones and you've have membrane units zones within the partition areas of the tanks. So when people have looked at the idea of changing tanks around and installing partitions, it becomes a bit tricky and a bit expensive, but then footprint, if you're in the middle of a city and you suddenly need three times the treatment flow, I mean, clearly you're not going to be, or it's very unlikely that you're going to be able to extend the footprint.
If your solution needs an extended footprint, I'm sure the city planners would tell you to go and build your plant on the outside of the city, scrap the old plant, make a high rise block, put a new much bigger plant on the outskirts of the city. If you've got the option of retrofitting an MBR. And I think there's an example of this in the Netherlands where they actually did this, they took the existing footprint and basically upgraded its treatment quality and its capacity by putting in an MBR in the old place. I don't know whether they literally kept the tanks or whether they just effectively kept the footprint of the site, but it was a retrofit in that sense.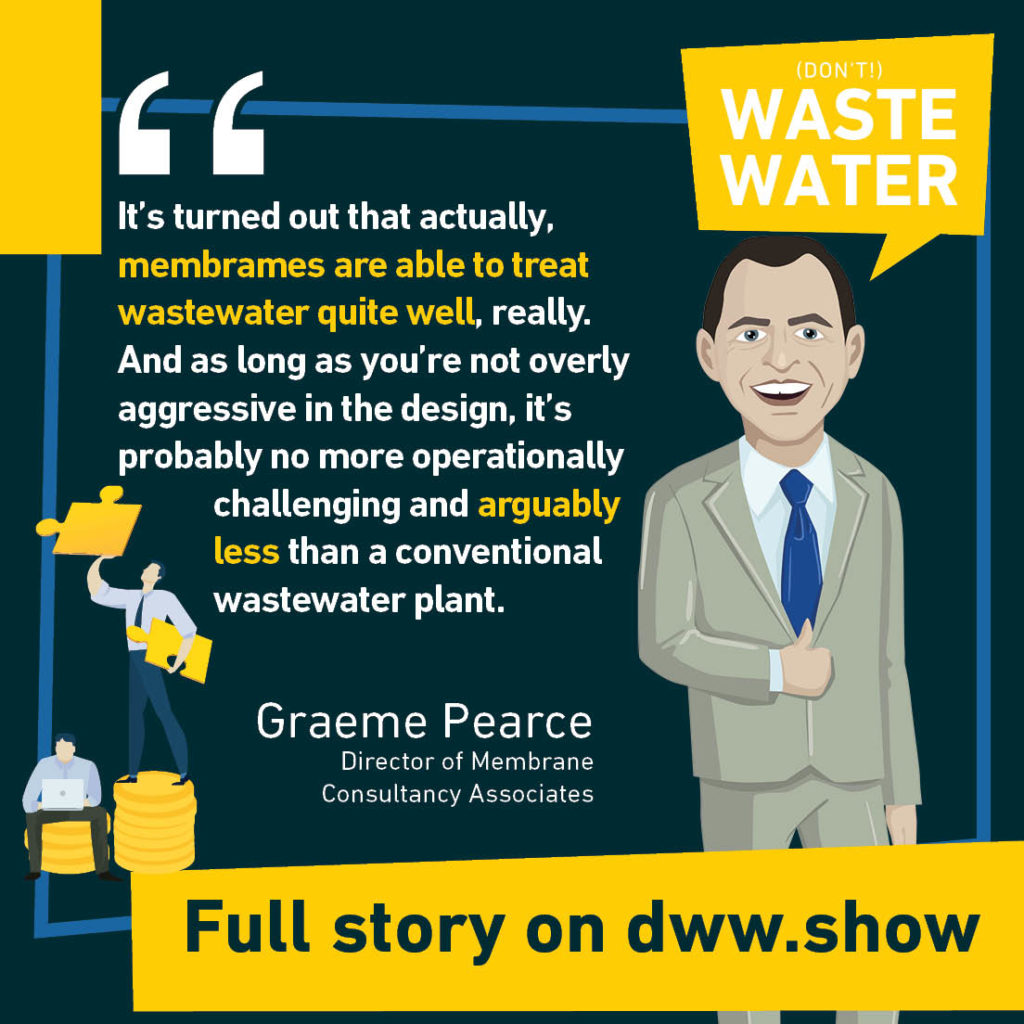 Antoine Walter:
But that's also an opportunity for process intensification. I was just reading yesterday some statistics about the waste water treatment plants in the us, which said that 50% of the plants only have primary and secondary treatment. There is no tertiary treatment. And if you look at the flows, that's roughly one third of the wastewater in the US that's going through primary and secondary. So if you could upgrade your secondary treatment to an MBR, somehow the MBR with the filtration elements is also a tertiary treatment.
Graeme Pearce:
Well, it's a tertiary plus, isn't it? I mean, it's, you know, you could almost call it quarter-turn, it's really upping the game of the treatment plant and giving an extremely good quality. I mean, really I think at the end of the day, the driver for MBR in our modern situation is when you're contemplating reuse so mean that's quite shocking. The statistic you've given about all those plants being only primary or secondary, because we know that fat, isn't a very good treatment at all. And if you add tertiary, if it's a conventional tertiary, you still can't reuse that water. I mean, what a waste, I mean, it's good for discharging, but you can't reuse it without further treatment. If you put an though suddenly you've taken that water quality up to a very, very useful treated level and it could easily and cost effectively from that stage be reused. So that surely is going to be the driver for using MBR. In that context,
Antoine Walter:
Actually, this reuse driver is also advocating for MBRs on the distributed side of the market, because you could locally have some shorter loops reuse in places where you have pretty nothing or limited treatments nowadays, and potentially water scarcity. You could with an MBR have an all in one that also delivers you a water quality, pretty close to drinking water, so that the final step to make it drinkable, wouldn't be that dramatic.
Graeme Pearce:
That's right. And, and I mean, this is an extremely important distinction you've just made because in conventional wastewater size is King, that basically if you operate at launch scale, the costs of conventional treatment are less. And so you can't basically have conventional treatment at very small scale, or it's extremely difficult to set it up. So that's what conventional treatment is like membrane bioreactors are the completely opposite end of the scalability spectrum that you can have the tiniest MBR and it can be absolutely fine and be very reliable, or you could have a large MBR, but that is basically just a combination of all those small MBRs with smaller economies of scale. But basically it's just getting more and more membranes and so on. So what you're saying about possibly not overly centralizing, but using MBRs as aware required, if you need that additional quality in a more distributed sense, I think that would be very attractive and would be a good solution to reuse issues in the future.
Antoine Walter:
Do I get you right here? That MBR is pretty easy to operate. I'm saying pretty and not, but still pretty easy to operate.
Graeme Pearce:
I don't think it's not a problematic operation. Yeah, I would say, I would say it is. I mean, I think, I think at the start of MBR, people were concerned about treatment problems and operational challenges. They were basically assuming that because it's wastewater with very challenging phalens for membranes, everything is going to be very, very difficult and it's turned out that actually membranes are able to treat wastewater quite well, really. And as long as you know, you're not overly aggressive in the design, I would say that it's probably no more operationally challenging and arguably less operationally challenging than a conventional wastewater plant. Is it the kind of thing you
Antoine Walter:
Can fully automate still to explore this distributed side of the market, where you might be putting some things somewhere and almost forget about it? I mean, I'm exaggerating a bit here, but the idea is that you cannot have, you cannot afford to have an operator next to the plant 24/7.
Graeme Pearce:
Well, I think it would be, I mean, actually there are companies in North America. So in North America where they've got a much more distributed population, you have a lot fewer people on your wastewater network. So in continental Europe, in the UK, we tend to rely for nearly all of our population on the municipal wastewater treatment system. We're all connected, basically nearly all of us are connected and America, that's not true. So you have an awful lot of single home, single community sort of bespoke treatment that is privately provided and not provided by the municipality. So they have looked at this issue that you're talking about. And I think these systems do have to be fit and forget, because you know, you're talking about homeowners, you can't rely on homeowners to be expert operators. In fact, they're hardly going to do anything really well. You have to rely on them to do hardly anything in that respect.
Antoine Walter:
I like not to look at the negative side of things, you know, to be a bit more balanced. You've given us one case where you would not go for an MBR it's if regulation doesn't push you to be too good with your effluents and your discharge limits, then probably a conventional treatment still is a cheaper way to treat the water. Would there be another case where you would say that MBRs probably are not the right solution,
Graeme Pearce:
Some contaminants are going to be particularly problematic for the membrane and might be very fouling to the membrane. So I think on a case by case basis, there might be situations where it's too challenging, but I don't think that happens that often.
---
Antoine Walter:
What would be the contaminants? Something like filament bacteria.
Graeme Pearce:
Yeah. So that sort of thing. And so oily contaminants. So MBRs can be challenged by some level of oil and Grease. And of course in a domestic situation, you know, you might find a lot of that material in the feed. And normally the MBR handles that pretty well. And that's all very biodegradable. Of course, if you've got anything synthetic synthetic oil, that's going to be very bad because that's going to be difficult for the bacteria to break that down. Or they might take a long time to break it down. So they might be the sort of situations where then a conventional treatment will be challenged as well. But I just think that the membranes would not like that type of challenge. I think membranes don't like certain types of, you know, we use chemicals and polymer chemicals to treat wastewaters. Some of the chemicals that are used are not compatible with membranes. So we might get some bad fouling situations that occur there.
Antoine Walter:
But basically it's almost a silver bullet.
Graeme Pearce:
I think it, I think it is a very comprehensive treatment. It works well from what I can see in many, many circumstances. I mean, the fact that in China, if you look at the statistics of uptake and these massive works, if the technology wasn't working, we would you know, we know about it and there wouldn't be that rapid uptake. So they are very much bought in to the use of MBR. And I think it works very soundly.
Antoine Walter:
So actually it sounds like sky's the limit for the MBRs, because if you look at it, if 80% of the wastewater worldwide is still not treated today, that means that the leapfrog that you mentioned for China might be something suitable for any kinds of place where today you don't have a treatment.
Graeme Pearce:
If you look at where we get our water from, we get a significant proportion from groundwater. I don't know what the percentage is, but let's say it's sort of 25 to 30% and we get a larger proportion from fresh surface water. So that is making up nearly a hundred percent. And then that makes together the groundwater and surface water. Let's say that makes up 95%. And then the other 5% would come from what we call alternative resources, which would be reuse and desalination. So that's what the pie chart looks like at the moment, but the surface water basically should always be available to us. But the groundwater is a bit of a different situation because in many areas of the world, we've over abstracted. It, I mean, in India, it's, well-known massive issue and groundwaters, if they are overused, they can deteriorate in quality. Some ground waters are not replenishable.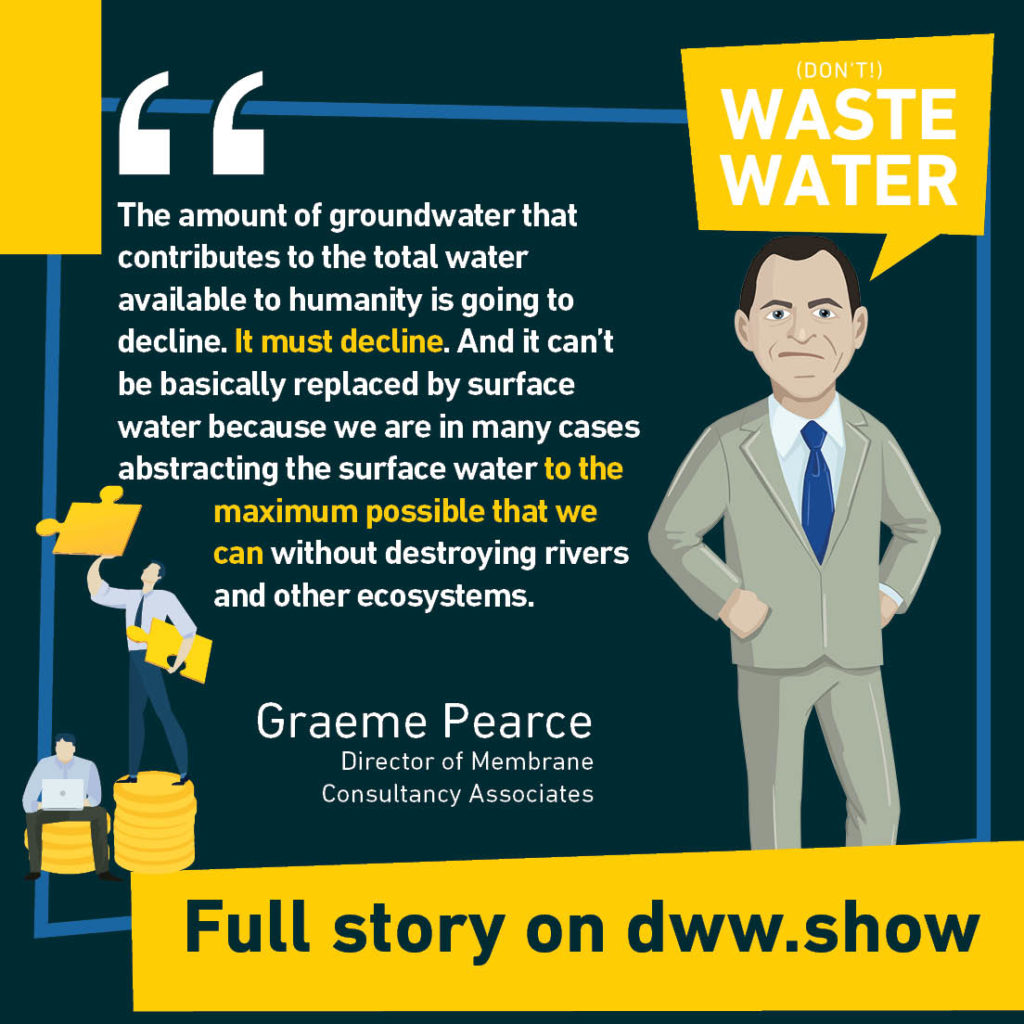 So it's like mining water once you've mined it that's, it it's finished. So without doubt, the amount of groundwater that contributes to the total water available to humanity, that's going to decline. It must decline. And it can't be basically replaced by surface water because we are in many cases, abstracting the surface water to the maximum possible that we can without destroying rivers and other ecosystems. So what I'm saying this for is to say, we have no choice, but to develop either reuse or desalination or a combination of both. Now, desalination is a technology of last resort in that it's so energy intensive in comparison with freshwater, particularly that you would not do it if you had a choice, but of course we do do it because in many places we have no choice, but reuse sort of splits the difference between fresh water and desalination.
Wastewater reuse has an energy, which is a lot less than desalination and somewhat more than freshwater, but it would make a lot of sense to the water balance. If we did a lot more reuse and in parts of the world like California, they're doing loads of projects now with indirect potable reuse. And in China, they're doing more Australia and so on and we will see more and more reuse. And MBR is a very important part of that puzzle because you've got two choices. You can either take your conventional plant and put various stages of membranes after it. Or if you're starting from scratch, you can use an MBR and then put some technology after it. So there they are your two choices. And that's what the future holds for us that we will have as very high increase in reuse over the coming decades.
Antoine Walter:
Well, the downside is that there's an adoption curve. When you see examples like, like Singapore, it took them some time. Now they are the world leaders when it comes to these direct potable reuse, but before every country accepts what Singapore, California, Texas Florida is accepting. There's still a huge factor if I might say so to overcome. I know that's usually the counter argument again, because I'm a strong believer that this is our future, but you know, the example I usually give to my colleagues when they are, they're asking me how we could be reusing our wastewater is, you know, the headquarter of the company I'm working for is in Schaffhausen and Schaffhausen. And these were just next to the Rhine falls. So when you go to the toilets in Schaffhausen, it goes to the Rhine. And actually when the Rhine goes to its Delta in Rotterdam seventy-five percent of that river E's wastewater and people in the lot of them are using 98% of surface water for their drinking water. So they are using the Ryan as the source, which means they are doing a long loop reuse, but still it's wastewater reuse. And that's what we will using for decades and centuries. But we just have to accept that the loop can be shorter and still the water, be absolutely perfectly drinkable.
Graeme Pearce:
Well, when you compare the treatment that when you have the short loop, of course you are controlling the water completely in the reuse technology that you use, what we do at the moment. In that example, you gave of the Rhine, going down through those countries, getting lots of wastewater is that we then put on a simple conventional treatment plant at the end, and we say, don't worry about it. The fishers and the, and the other things in the river at all the nasty stuff, don't worry. But of course in that situation, I would be worried more because of the manmade chemicals. It's not the waste, the human waste that's in the wastewater that we should worry about. It's the manmade chemicals that sort of make their way into the waste water that we don't address with conventional treatment that we would address in a purpose-built reuse plant. So I think indirect, potable reuse, even if not direct potable reuse, I think indirect, potable reuse will become absolutely the norm. And I would be a hundred percent confident that that's a much better security and safety for our water supply than the status quo at the moment.
Antoine Walter:
Last question, Graham when it was preparing for that episode for the future of MBRs, w what you just addressed, it is the future in terms of application and process. But I was, I came across a couple of articles about anaerobic MBRs. Is that the thing and why?
Graeme Pearce:
So this is throwing me a bit of a curve ball because you're taking me outside my comfort zone. So, so I mean, obviously the anaerobic MBR is you've got a different sort of set of bacterial colonies and a different operating environment. I mean, the reason that we had aerobic based MBRs in the first place is the fact that you can use air to clean the membrane, and you can use air to feed the aerobic bacteria. So you want air in both cases, it was hoped originally that the air might do both jobs, might both clean the membrane and feed the bacteria at the same time. It turns out that that's not actually effective use of the air, but nevertheless, the fact that you've got excess air in the environment doesn't detract or denigrate either part of the operating cycle. So it's all very synergistic.
When you come to anaerobic MBR, you've got upset bacteria that don't like air and need to be kept separate from air. And then you've got to clean the membrane. So you're moving into a very different type of concept. And I'm, I'm not actually sure how that is solved. I've not come across anaerobic MBRs running in practice, but it strikes me that that's a huge challenge. And you have to go to a completely different sort of membrane operation potentially with cross flow or other types of cleaning might be a good opportunity for ceramics actually to run there because you might be more reliant on high velocity backwash and not using any scouring. Cause you can't use aeration. If you were using gas scouring, you'd have to use something like CO2 or nitrogen or something. So, you know, that might be the way that you would have to address it. It's a very different sort of field. And I think it's got applications in a much smaller segment of the total wastewater market.
Antoine Walter:
You mastered that curve ball.
Graeme Pearce:
Do you think I got away with that?
Antoine Walter:
No, it was really, that was a deep answer to a topic where you, you, you, you mentioned from the beginning that it's a curve. So I'm just wondering if there's anything where I can ask you something, you don't have the answer, but I'm not going to. So thanks for that for that deep dive. I think I do understand much better MBRs. Now. I hope that's going to be the same for our listeners. I propose you to switch to our final section with the rapid fire questions.
---
Rapid fire questions
Antoine Walter:
So in that section, I tried to keep the question short. Ideally, you would keep the answers short as well, but I'm not cutting the microphone. And I know that you have many interesting things to tell. So let me start with the first one. What is the most exciting project you've been working on
Graeme Pearce:
And why? So I think the thing that's most challenging at the moment in the membrane water world is the fact that in using us, for example, for seawater or O pre-treatment, we find that we get issues with our, Oh, biofouling. So you've used a U F, which is a barrier process and it's a great pre-treatment to the IRO. The aro works well apart from the fact that in certain circumstances you can get biofouling and that's created by the overall process flow sheet, not being right, that you've got chlorine upstream of the U S that breaks down organics and provides nutrients to the biofilm. And so I think this is a tremendous challenge to the membrane dissemination industry, and one that's not been fully resolved and addressed, and I think there are solutions to it. And so it's a big problem that has solutions and we're not getting it right at the moment. So I find that an exciting and rewarding part of the job to advise on that issue.
Antoine Walter:
You kinda answered my second question as well here, which is what is your favorite part of your current job?
Graeme Pearce:
Well, I suppose so the things that I do, I advise suppliers and operators to improve their plans. I also, when things don't work out, I work as an expert witness, so I helped to support legal teams in challenges. That's interesting. And I, I enjoy that. It can be a little burdensome and I I'm sometimes frustrated about the amount of money that's spent on trying to resolve the problem. Whereas if the money had been anything, a 10th of the money had been spent earlier on the problems wouldn't have arisen. So that's a little frustrating, but I do, I do enjoy that. And I'm involved in quite a lot of those sort of activities.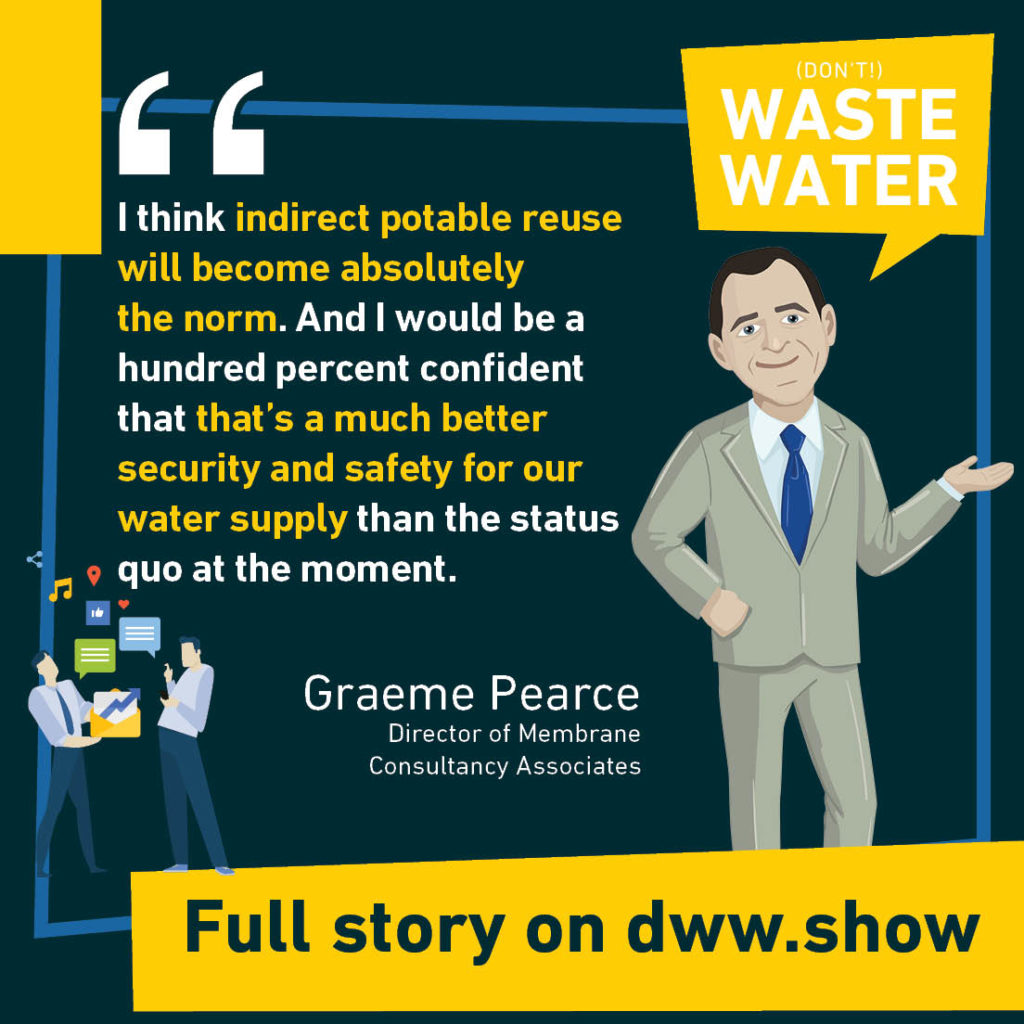 Antoine Walter:
What is the trends to watch out for in the water industry? And you're not allowed to tell me the rise of MBRs.
Graeme Pearce:
Well, I think the rise of ceramics and the, so from a technology point of view and the move towards reuse, I would really like to see that gathering pace in my working life, which is which is I'm still working full time, but then there has to come a limit even for consultants. So, you know, that's a little challenge I would have is I would like to see reuse, really being rolled out while I'm still active.
Antoine Walter:
Well, I hope I will see that as well. I'm a bit less optimistic than you are. What is the thing you care about the most when you're working on a new project and what's the one you care the least?
Graeme Pearce:
Well, I suppose when you're working on a new project, I mean, my first reaction is how am I ever going to find out enough information on this topic? Because it always seems a blank sheet of paper that, you know, you're, you're desperately trying to think of similar things that you've done before that will, will help to form your opinion, but then gradually as you start to get into it, all the pieces of the puzzle will begin to fall into place. I mean, that's very enjoyable as that happens and you can begin to see the whole picture. I suppose, the thing I liked least, I mean, obviously we all want to be interested and energized by our work and obviously things that don't interest us or energize us are very, very tedious. So I don't want to name particular sort of aspects because that would seem wrong, but some aspects of work can be a little tedious.
But then, I mean, I like analyzing data. For example, when you start analyzing, it can become a bit repetitive. Sometimes I do a lot of troubleshooting in my job. I go to plants, I see all the, all the information, but rather than providing an E on a Excel where I can just manipulate the data with a click of a mouse, maybe it's in hard copy. And you can imagine what you have to do to take all that whole copy and do a proper data analysis. It means getting your root Elton measuring things, and it can be very tedious. But then as the picture emerges of the patterns in the data, I love that. I love to be able to see what the trends are and the movement of the data, and to draw, be able to draw conclusions from it.
Antoine Walter:
So they are parents to digitization, but still being in archeology is interesting. Do you have sources to recommend, to keep up with the water and wastewater market trends?
Graeme Pearce:
I use global water intelligence information a lot. It's quite a sort of commercially oriented and generalized in a lot of cases, but then they have resources like the cell data, which is, you know, a lovely spreadsheet with a vast amount of project information of all of the desalination plants in the industry. And so, you know, if you really need to know about projects and what Knology is being selected, I like to use that
Antoine Walter:
It turns out so GWI gets recommended in two third of those podcasts, but I subscribed to that. I mean, I'm a fan myself. So would you have someone to recommend that we should definitely invite as soon as possible on that same microphone?
Graeme Pearce:
Well, I think Paula Callahan at BlueTech research is very knowledgeable, broad. He's got a broad sort of spectrum of interests within water. So I think he'd be an interesting guest. He just completed his doctoral thesis, which was on innovation in the water industry. And I was one of the referees for his thesis because part of the doctorate looked at early stage membrane data. So he asked me to be a referee to that. So that was very interesting and I think he's got a good broad perspective.
---
Antoine Walter:
So I make sure to reach out to him actually he was on my radar somehow, so. Okay. So thanks a lot. Grim. It's been a pleasure discussing with you. I'm sorry, because I would have had so many more questions and right now I already abusing of your time. If people want to reach out to you, where can they find you the best?
Graeme Pearce:
So well, I've got a website which is called membrane consultancy.com. I am diligent at keeping it updated. I write a blog which is posted on the website. I'd love anybody to look up the blog. I write on these issues that I'm talking about on reuse and ceramic membranes have formed the subject matter of some recent blogs, for example, and legislative changes and things like that. So anything that I find is interesting in the movement of the industry. So you can contact me through the blog, there's a contact page, or you can drop me an email.
Antoine Walter:
And like always you'll find all those links in the episode notes, don't hesitate. I mean I've read not your full blog, but I think over time I will, but everything I've picked within your blog has really spawned my interest and developed new thoughts. So I'm really thanks for that. And I cannot advise enough to have a look at what you're putting out there.
Graeme Pearce:
I was just going to mention was that I also do training and I just finished a series of training webinars. So they were sort of one and a half hour webinars they're all online so they can be subscribed to through the company that organized, which was technically theirs. So that's a Thai company and the webinar series is under their know how webinar series. So I think if you're new to membranes and just feel that you want to get to grips with the basics of the technology, it's all there. It's late. So everything I know is laid out in these 16 webinars, they're sort of like one hour lectures with followed by Q and a, and it's laid out, they're all independent of each other, but they follow in a sequence and it's a full introduction to this.
Antoine Walter:
So actually, if you've been teased by, by these episodes, now you have, we scratched the surface. If you want to go a bit deeper, there's lots of mature in what you have in your webinars. And I've seen how you dealt with the curve ball. I can only imagine how you deal with the matter when you are fully at home.
Graeme Pearce:
Yeah, it was, well, I had some practice.
Antoine Walter:
I'm going to grab you for one more minute, but I was wondering how do you manage to deliver so many webinars? I mean, I've seen it, your, your schedule. It's amazing.
Graeme Pearce:
It was very, very exhausting. And I did say to my wife, when I finished, I'm not going to do that again. So because it's over three weeks. And so every day there's this sort of very, very focused activity. It is hugely exhausting. I do quite a lot of real life training workshops and so on. And of course you are energized by the students and the discussions that you have. And so that's also can be quite exhausting, but it's exhausting in a different way. Of course, I've been forced online by the pandemic, but I think it was, I wanted to put the material online because then it's there forever. And it means that I have to keep reproducing the same teaching notes,
Antoine Walter:
Make sense. Well, grim, it's been a pleasure. So thanks a lot. And I hope to have the opportunity to talk to you in a close future and maybe have a look at the clean side of the membrane world after digging into the dirty side.
Graeme Pearce:
Okay, well that, that would be fantastic. And actually, I mean, it's been a real pleasure to do this interview. Thank you very much. Your questioning has been nice and kind and has hopefully teased out all of the key issues. So that's very good. And thank you very much for inviting me.
Other Episodes: