with 🎙️ Megan Glover – CEO and Co-Founder of 120Water
💧 120Water is an end-to-end solution for drinking water programs, COVID-19 wastewater sampling, and compliance.
---
This episode is part of my series on Water Digitization – check it out! 😀
What we covered:
🍏 How the Idea for 120Water came from scratching own itches
🍏 How the company swiftly pivoted from B2C to B2B or B2B2C (I hear you like acronyms? 😀)
🍏 How digitizing the way you test the water and manage the results actually enables a whole new world of operation and maintenance
🍏 How bringing this information in plain sight helps to educate the public on the water topics and challenges
🍏 How innovation can be inhibited by regulation
🍏 How you shall consider non-technical parameters such as demographics when prioritizing maintenance works (and how 120Water helps with that)
🍏 How having been involved in 13'000 programs across 26 States turns 120Water into a bespoke lead expert (and how that leads – no pun intended 😊 – to adjacencies)
🍏 How a fresh eye on the water sector can be shocked by what water professionals got accustomed to (e.g., black boxes)
🍏 How customer communications might still be a blind spot for the Water Industry
🍏 How Energy may be a role-model market for the Water Sector when it comes to marketing
🍏 How you can't manufacture growth (but may actually "hypergrow" your path to impact)
🍏 Michael Moore, PFAS, IPO… and so much more!
🔥 … and of course, we concluded with the 𝙧𝙖𝙥𝙞𝙙 𝙛𝙞𝙧𝙚 𝙦𝙪𝙚𝙨𝙩𝙞𝙤𝙣𝙨 🔥
---
Teaser:
---
Resources:
➡️ Send your warm regards to Megan on LinkedIn
➡️ Have a look at 120Water's website
---
Infographic: 120Water
LinkedIn-Infographic-2

Full Transcript:
These are computer generated, so expect some typos 🙂
Antoine Walter:
Hi, Megan, Welcome to the show!
Megan Glover:
Thank you so much for having me. It's a pleasure to be here.
Antoine Walter:
Well, actually, you know, I always like to start these episodes with a postcard and you're in a city where I should brag about, you know, you're in Indianapolis right now and for the one that would ignore it and I'm sure nobody ignores that, but there was a French guy, Simon Pagenaud who won the famous 500 miles two years ago. So how is it to live in a city which is dominated by French culture now?
Megan Glover:
I actually was at that race too. That was actually my first Indy 500 and my first race there. Yeah, it's humbling, right? Yeah. It's very humbling. It was a sign, right? He was meant to win. No, it may, may is an exciting time and he is welcomed back to win the oval track any time.
Towards 120Water
Antoine Walter:
So, yeah, actually, you know, I had many guests on that podcast, many of them being water professionals with a full track record of being water professionals. And there's one common pattern between all of them. They all told me, you know, if there's one thing in this water industry is that we suck at marketing and somehow you're the exact opposite to that. You are a marketing professional that for whatever reason, had a weird epiphany at some point and said, Hey, I want to go to the water industry. How did that happen?
Megan Glover:
That is ironic indeed that it was, yes, I am spent over a decade as a marketing and sales executive and enterprise cloud-based technology. So building software, enterprise software across lots of different industries, MarTech sales, retail, healthcare, ed tech, and water found me is I like to say because I was a concerned consumer of water here in the States circa 2000 and late 2015, we had the Flint Michigan crisis. And that was an epiphany for me as a consumer of water because I wanted to know what's in my tap water. And I called my water department and asked if I could test my water. And they sent me a consumer confidence report and said, well, we don't test your water, but here's this thing called a consumer confidence report. And that didn't do it for me. You know, I mean, in this day and age where I was buying organic snacks for my children and hormone-free, uh, protein and milk and, uh, and I get my DNA tested through 2.3, me, why couldn't I have my water tested?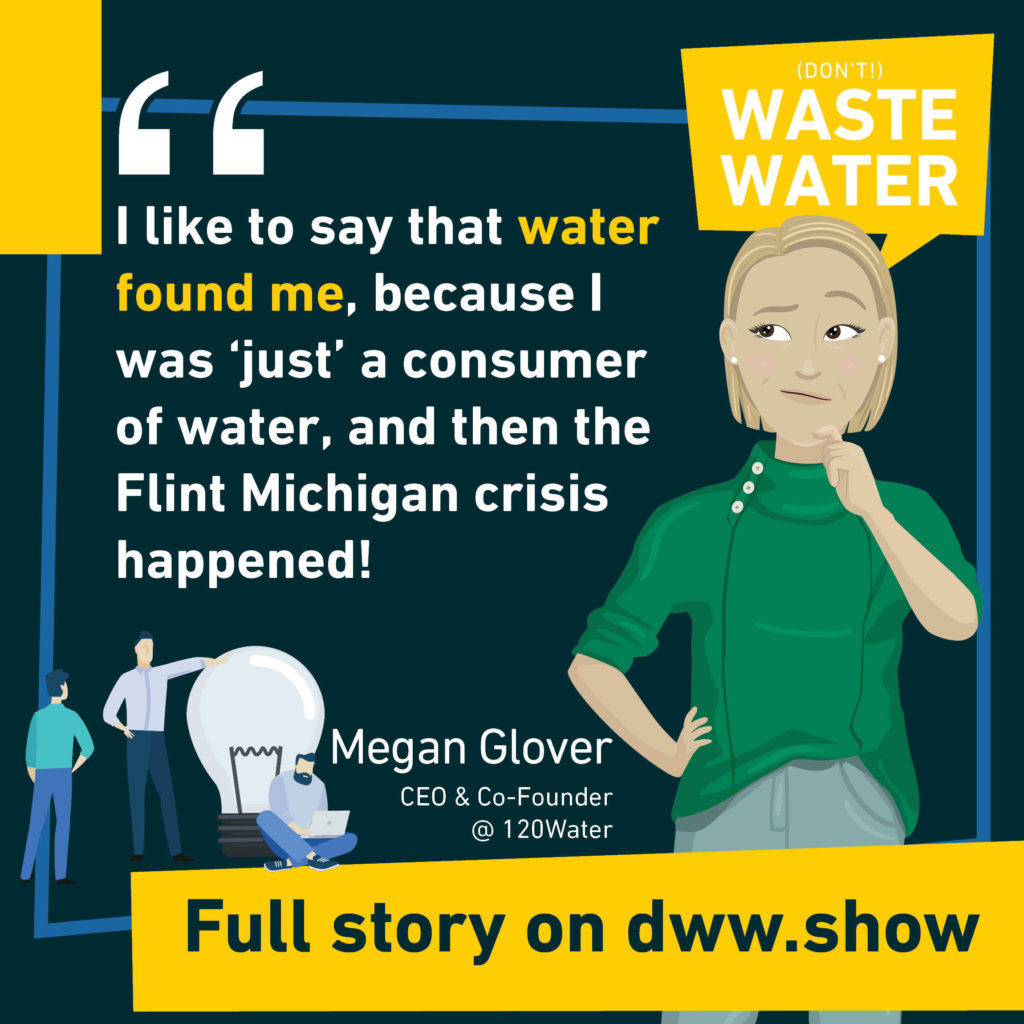 Megan Glover:
So what I like to say is water found me, but my background in marketing and specifically providing and building solutions that help consumers, right. And help people do their jobs better kind of allowed me to think about, well, if I wanted to get my water tested, how would I do that? That was kind of the original idea and managed to take that to a couple of mentors and investors of mine and raise a little bit of capital. And within six to eight weeks, 120water launched. And that's really the original origin of the story
How Megan Glover shaped 120Water
Antoine Walter:
Talking of 120water at listen to your very good interview with my good friends, Jim Lauria and Adam tank on the Water we talking about podcasts. And I was just thinking, when listening to you, you know, one 20 water could have had many shapes. And one of those shapes when I was listening to you explaining that, you know, many people were concerned about this difficulty to have access to a very costly water sample. And I was thinking, you know, why not build the Groupon of water? You collect all of them and say, Hey, let's get a better price for our water testing. So in all the reality, that might have been your, your venture, but it is not so far. I understand what you're doing. So can you pitch us 120 water?
Megan Glover:
120Water, so who we are today. So we are a digital water platform and that platform consists of cloud-based software point of use kits and services that government agencies, water systems and facilities use to manage their drinking water programs that protect our public health.
Antoine Walter:
So now there's 120Water, but what was existing before? What are you replacing?
Megan Glover:
Actually when we launched 120water, we actually thought it was going to be a business to consumer company. And why we exist? There's still a need for that. But what we found as we were launching the company was that our solution was very, very applicable to water professionals, trying to skate to the pack and, and execute these new water regulations and water demands in a post Flint world. So what was happening when our very first water utility customer in Pittsburgh, they actually had opened up a consumer water testing program. So anybody within their distribution could call them and request a water testing kit. The problem was they didn't have any infrastructure to deliver those kits. It was taking the beta 4,000 kit backlog, and it was taking them four months to fulfill that program. And so we heard about this, we went there, we said, we have this very modern, you know solution to this problem.
Megan Glover:
We can come in here and clean this up and no problem, and sure enough, we won that business. And so we ended up taking that 4,000 kit backlog and taking it from four months to 14 days and completely modernizing how those results are getting to the consumer. So at the end of the day, they can cut through the science and say, is my water safe to make easy math? Right? Can I drink this water? Should I be concerned? So we completely modernized. And re-engineered that process. And then have gone on to build a business around that, around compliance and that, you know, those types of programs.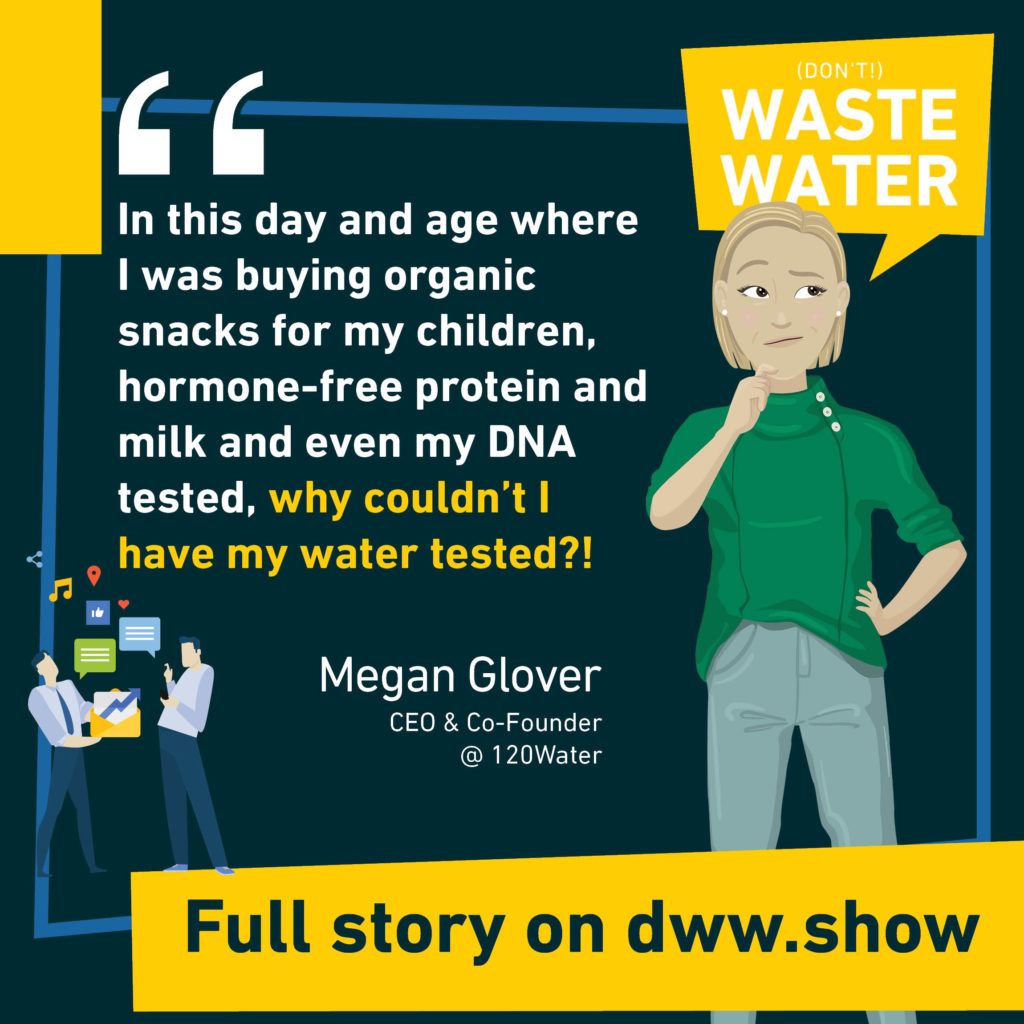 120Water's path from B2C to B2B
Antoine Walter:
So it was supposed to be B2C and it ended up being B2B. The kits are still the same, but what you change in between is all the way they are handled. So basically all the logistics around and you bring that digital element.
Megan Glover:
That's exactly right. So what we replaced is essentially the, the manual field labor, right? I, I am a field contractor. I go to my workshop, I get a paper bag, I get the bottle, I drop it off at the consumer's house. You know, I pick it up two days later, I drive it to the lab, you know, with all of the point of use testing that now has to occur with all these regulations that just doesn't scale. And it becomes very, very expensive. So we essentially automate all of that and have real time tracking so that the customer knows every step of the way where those kits are the results as soon as they come in and then the communications back to the end user as soon as possible.
Antoine Walter:
So, you know, when I hear that on one end, it's, it's fascinating. And no, if I take my devil's advocate hat, I'm like, you know, we're in 2021, come on, let's do IOT, industry 4.0 or 5.0, or 6.0, and I can pour so many buzzwords at you and put sensors basically at the end, at every tap. And everybody would be just opening their tap. And the sensor is automatically connecting to a satellite via Mars or whatever. You are relying on sturdy proven kits. And you're saying what was to be improved was everything in between. The kits are just fine,
Megan Glover:
But we say that that last mile in innate making that last mile of, of sampling easy and visible for the utility, and actually the reason why they are good old analytical laboratory tests is because at least here in the US, the EPA is so slow to recognize any methods that aren't run on a machine in a laboratory. And I'm as an innovator personally excited for the day when we can connect to real-time sensors to bring that data in because for us a result, as a result, as a result and the faster our customers in the market, get those results, the easier that they can make real time decisions. So we may have met the market where they are today of the analytical laboratory testing, primarily that's where our regulations are today in the US
Harvesting a load of Water Data
Antoine Walter:
I'm French. I think I'm alluding to that too regularly on the, on that podcast. And I'm never afraid to do a bit of French shaming. You know, that there was a regulation in France three or four years ago, which was an enforced to make more analyzes at every waste water treatment plant, because they wanted to measure micro pollutants. And so they started measuring, analyzing, took all the results. And then they found out that they have no way to gather all the data and do anything useful with it. So they were doing all the tests and the analysis feeding databases, and no one was looking at them. And after two years they just stopped the regulation because they were like, okay, we are measuring thing. We are spending money to measure things and we don't do anything with it. Which drives me to, to my question is you're making the logistics much easier, but where does the data flow to? What do you do with this data? How do we leverage the data?
Megan Glover:
Yeah, absolutely. And I think that's, again, back to not being in water, starting from enterprise software and business software, bad data in bad data out, right? No data insights, no improved workflow. And so when we build our, you know, our, our software and application, it's one, how do we make our data electronic? Because I mean, we are replacing paper. We are replacing at best Excel sheets, right? So first it's, let's get data normalized in a cloud platform, but then our platform essentially automates all of these workflows, inclusive of compliance that our customers need to do their work. So everything from once the data comes in, if there's any reporting or notifications that have to happen, we also have predictive tooling. What that means is particularly in the US around service line infrastructure, our customers need to know where these the material types of these lead service lines. So we use the data that's coming in from the sampling, from their Curbstop and, you know, information from third-party sources to actually feed predictive information back to the utility. So, you know, again, we're still a five-year-old company and that area of our business is growing. But our whole philosophy is, you know, one, we need to get the data in a unified digital format. And then what are the workflows and predictive indicators that need to happen from there.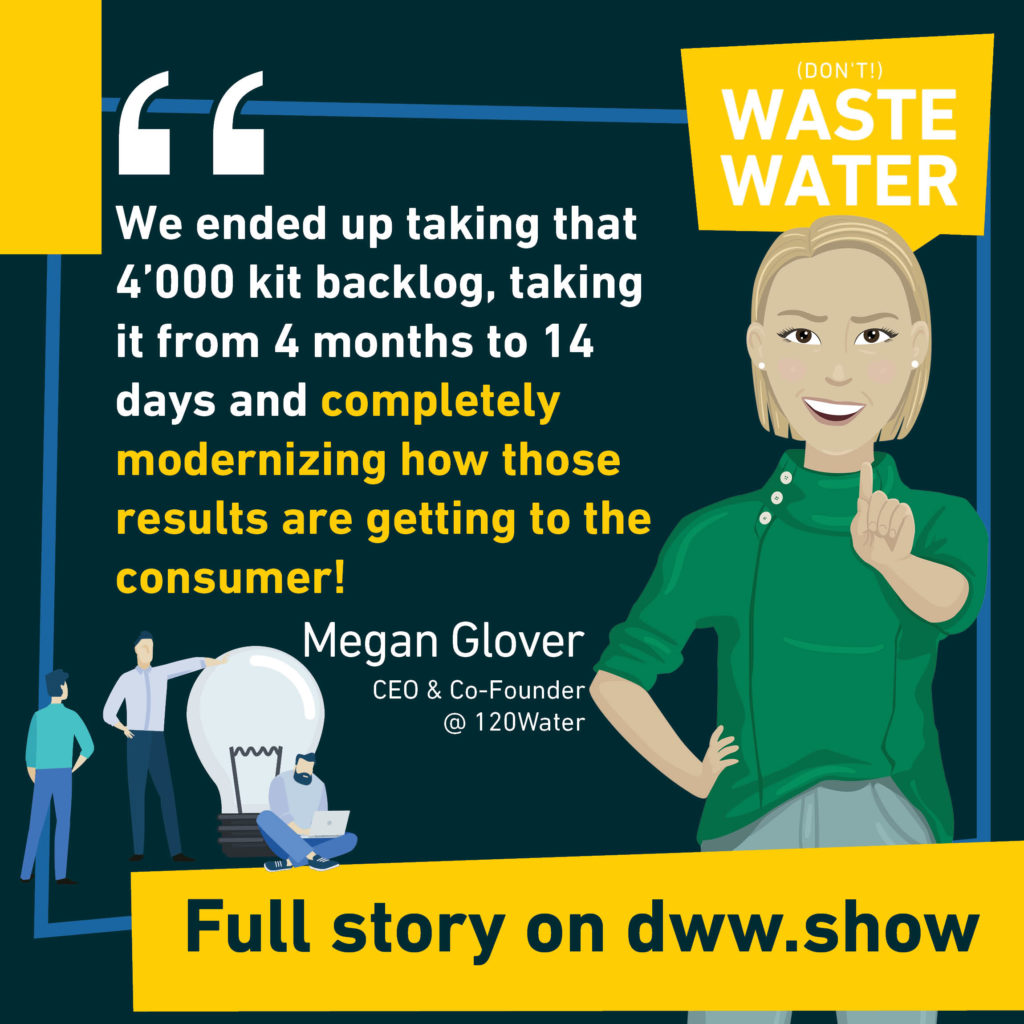 Tracking Water Quality with help of 120Water
Antoine Walter:
You mentioned the B2C vision you had at the beginning, and then the B2B way, it transformed somehow as an end-user. If I'm doing this testing with my kits and everything is much smoother through your platform, but what do I get, do I also get my results? Do I get my tracking?
Megan Glover:
Yeah. And again, this goes back to me being a marketer, starting with that, that end consumer experience first is actually where we started. So for example, we do lead programs anywhere from lead in daycare facilities, all the way to water systems, you know, just doing standardized lead and copper rule or consumer testing. One of the very first things we created was a, essentially a public transparency dashboard at any point in time, anybody in the community can go to that dashboard and, you know, see, you know, they can see, you know, a service line material. If that information exists, water testing information. When was the last time this tap was tested? What was the result? If there was an exceedance, what was the remediation? So one making that data transparent to the community. And then also that one-to-one communication that you alluded to. So what does the actual consumer get, having their water tested?
Megan Glover:
They receive a wonderful, again, communications driven letter, not scientists driven letter, right? Not EPA driven letter. It's Hey, we're going to tell you what the science says, but then we're also going to explain why there's no reason to worry. One of the other things that our system does that I think is really important is we actually trigger the remediation as well. So if we get a, an exceedance, you know, if it's over the action level, we can also drop ship a pitcher filter kit as well. You know, cause one of the things we found very early on working with our customers is we can't just send them a letter saying they have let go to your home Depot and buy a pitcher filter. They actually want that solution delivered directly to them. So we really try to bundle that up in one, nice, easy to consume package for them.
Antoine Walter:
How often does that happen? How often do you measure something which is outside the threshold where it should be?
Megan Glover:
That is such a wild card question, because it's all dependent on your age of your infrastructure, corrosion control methods. Here's the thing though. What I always say, going into a new program, as you're going to find lead. If you're an older system, you may find a higher percentage of lead across your distribution system. When we're dealing in school scenarios and older schools, those, you know, build less than, you know, probably 1970s, it's not uncommon to see lead in 20% plus of the fixtures that we sample. So that's why we say you have to start at the end about what are you going to communicate to your stakeholders when you find lead? Cause you're going to find lead or you're going to you're for sure, going to find PFAS. If you are sampling, you're going to find what you're sampling for.
How 120Water also helps with Infrastructure Projects
Antoine Walter:
Yeah. That's the beauty of the water analyzers is when you don't look for something, you're quite okay, you don't find it. But if you start looking to stuff, I mean, every water has some caffeine inside. Not everyone wants to have their coffee when you're just take water from the tap. So I guess of course, yeah. If you look for something, you find it, you alluded to the infrastructure and I saw on your website that you also help with the infrastructure. How shall I envision that? Is it that if you see that in that part of the city, you see lead coming more and more led or something else, you would then warn the utility and tell them, you know, if you have to prioritize the way you want to replace your network, please start there.
Megan Glover:
Yeah. Yes. That, and I mean, again, the first step in getting the lead out is knowing where you're going to probably find it. And so part of what our platform does and the programs associated with our platform is helping our utilities and communities better pinpoint where they're going to find lead. And again, we do that through customer outreach. We do that through predictive intelligence. Again, we do that through you know, combining a lot of their different data sets. So one it's just helping them kind of pinpoint where they might find lead within their distribution system. We do sequential sampling. So a lot of our customers may actually do some pilots in terms of collecting multiple samples from aligned to see if they can kind of pinpoint where that's coming from. And then I think the other thing that our platform and we help our customers do is once they know they need to start replacing this or prioritizing where they replace lead, it's going to the vulnerable populations first. So we track things even down to where we can, what's the demographic of that location. Are there any pregnant or seeing, you know, children in the home, you know, again, are there other vulnerable characteristics where you might want to prioritize that area of your community over another, in terms of replacement of the lead pipes,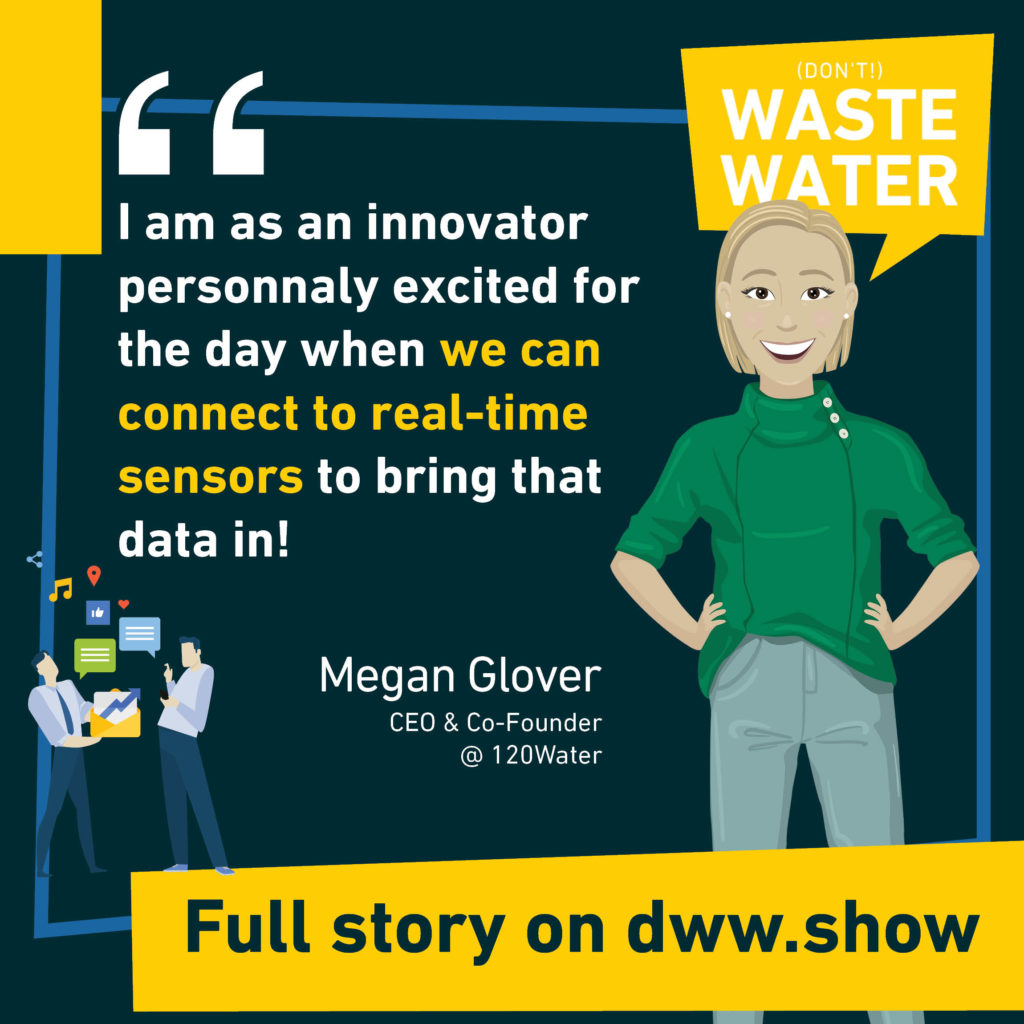 Antoine Walter:
The heart of, of your offering is around this, these water quality. What is the boundary, or do you fix any boundary to what you could be doing in the future is a field like, I don't know, non-revenue water is something which might be of interest for you, or is it really something you would let to others?
Megan Glover:
Yeah, I think one of the thing about not coming from water that I love and appreciate about it is water is really sourced to tap and it's massive. And I think one thing we've learned at 120 is we start with an idea and inevitably year over year, we expand into another adjacency and we do that because our customers say, well, if you can do this, could you do this? And yeah, actually we can and we can connect it here. And so, you know, in terms of how our solution has grown and I think where we're going, I mean, we're going to continue to make sure that we are experts in the lead programs, right? I mean, that's where we've come. That's where we are. That's we've, we've done over 13,000 programs in the US across 26 States. We have more data and experience doing that than probably any entity.
Megan Glover:
So we will never let that go. But there are all other sorts of water quality programs that our clients are tasked with managing that are still very antiquated and need some modernization to them. So when we think about, you know, where are the boundaries and where could we go? We're kind of in that process of identifying what are the other segments that we should be looking at that have kind of those same characteristics is as lead, not scientifically, but programmatically that could use some modernization and inclusion of sensors. You know, again, an where could we bring in sensors to help provide some more data, especially across things like Legionella and PFAS that need more real-time monitoring that, you know, a sample a year is not going to provide them the best picture.
When Software partners with Hardware
Antoine Walter:
If you go into those new topics like Legionella, like PFAS, is it a point where you partner with established hardware companies and you bring this software and market touch because, you know, if you're a sensor company, you have a hammer and everything looks like a nail. So you're not really sure about where the where's the market. Whereas I would really subscribe to what you were saying about being new to the industry. You have an eye which looks at the problems and then looks for solutions. So back to my questions, would you partner to, to make that happen?
Megan Glover:
Absolutely. A thousand percent. I mean, in fact, that's the other thing that it was so shocking to me being a newbie and water was how black box and closed off these ecosystems are in water. And it's not that way in other industries and especially other industries where you had platforms really succeed and help transform industries. And so our philosophy as a business is we would much rather partner with best of breed technologies, whether it's IOT or other software applications or other services, rather than trying to reinvent the wheel on our own. So we have an entire partner ecosystem where we actively look for partners. That may be good fits not only now, but even down the line.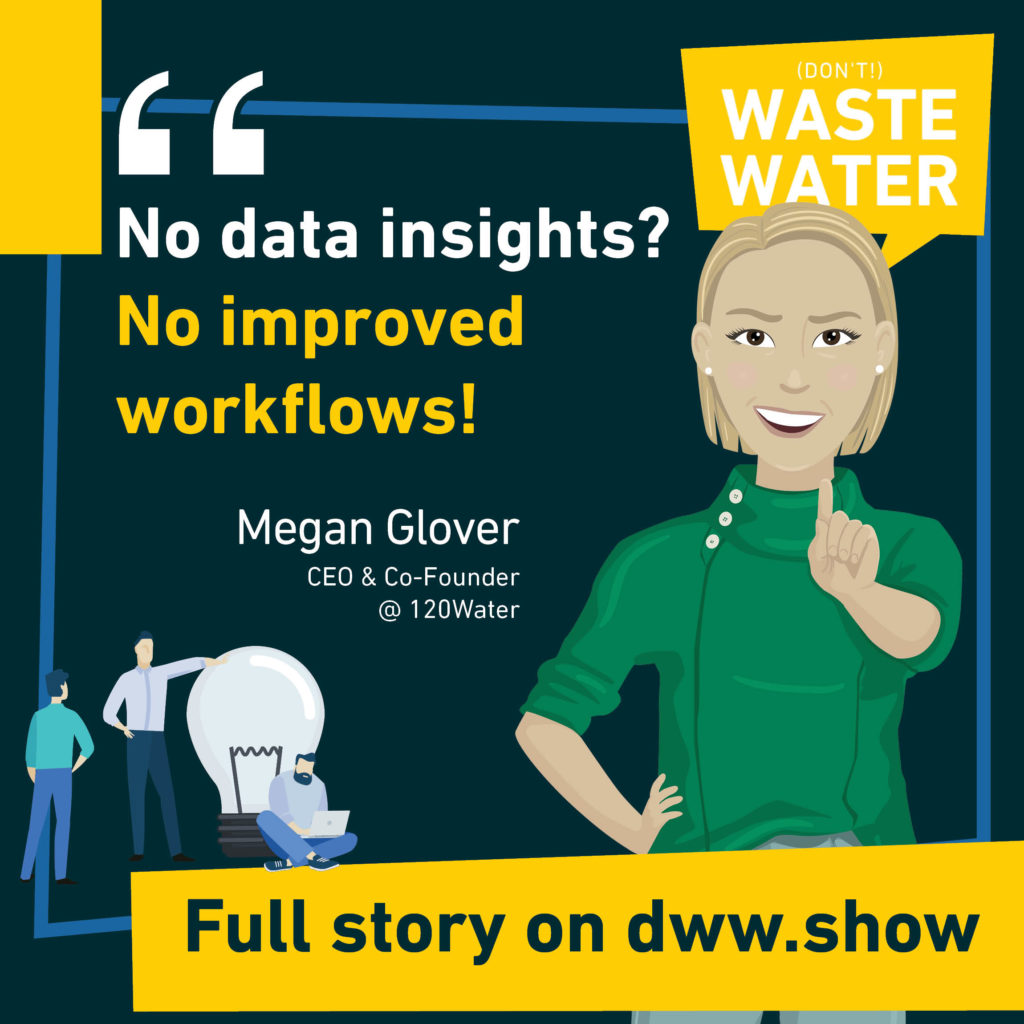 Antoine Walter:
You mentioned that you're active in 26 States. I would guess one of them must be California.
Megan Glover:
We do have a client in California. It's not the most active state.
How trust in Drinking Water is not a given – even in developed countries
Antoine Walter:
Okay. Now I'm just asking, because I read a study from 2003, which was saying that 80% of the people in South California don't drink tap water because they don't believe in the concept of tap water, or they don't believe that it's safe to drink. And California, I'm not the best expert in geography, but it's quite far from Flint. And that study was 12 years before. So it looks like there is a long way to go before everyone in the U S gets kind of trust into the tap water. Is it a mission you want to fulfill on the long run?
Megan Glover:
Yes. I mean, absolutely. I think I say this a lot when I speak to utility professionals, when they say, well, we don't have competition. Yes, you do. The bottled water industry is your competition. And right now they are better marketers than you and their product. And they probably have an inferior product, but they do a better job marketing what's in their water. You know, again, part of our goal as a company is to make the quality of water more visible so that consumers feel very comfortable drinking that tap water. And we've seen that over and over again! Again, Pittsburgh, that initial customer of ours, the amount of distrust between the customer and the utility, you could feel it, you could cut that with a knife. And now, you know, five years later, they are such an example of good, you know, their customers are thrilled that they're actually replacing their aging infrastructure. They're doing this testing whenever they want. And so it really is a, I think those are models or examples of when utilities focus on marketing and branding and help kind of raise the quality of their own water. I think you can get people drinking more water. I think that is I might be on the far extreme though in the US in that mission. I think it's one thing to have a mission, but how do you actually put that in practice as a whole is a whole other can of worms!
120Water may help with storytelling around quality
Antoine Walter:
But, but it's very interesting that, that you mentioned that this marketing element, because had this discussion on, that same microphone with Jacob Bossaer, from BOSAQ, he was mentioning that he intentionally mirrored the marketing of bottling companies to say he's making premium drinking water, but that actually flows to a tap. So that is something which is maybe, which is today a missing link in our industry. And, you know, I was listening this week to I don't know if you know, Louis Grenier, I have to, to align a bit in terms of, of marketing. So we have, he has this wonderful podcast called everyone hates marketers, and he was recalling this week, an interview he had with Seth Godin. It was all about, you know, facts that are not going to change people's minds. You have to, to put yourself in the shoes, have empathy and, and build stories around that. So my question here is you're bringing facts to people because did they have the, their results, their samples who tell the water is good, just drink it, but still, if they are not convinced, or if they are really kind of reluctant to drink the tap water, that's not sufficient. You cannot just stop there and say, Hey, it's good to go chemical, say it.
Megan Glover:
I agree. And I think that is again, I actually did a panel yesterday and I called this out to be one of our number one threats as an industry in the U S that we're not paying enough attention to, and this is communications and customer communications. I mean, the amount of conferences that I go to where communications isn't, doesn't even make it to the agenda or a talk track. And it's just so integral to the success of what you're talking about, getting that, that storytelling and that, that, that message across the finish line, because we can only do so much and we can only do so much for free. That's the other thing, too, the budgets for marketing and communication in water in the U S is almost, non-existent now the budget for when there is a crisis and they have to communicate about that crisis is infinite. But as I like to say, do, why do you want to be in reactive reaction mode when you can actually be proactive? And when something occurs, you know, you have a communication reputation plan in place just to be able to, you know, not react to a crisis, but be proactive in that communication. So long-winded to say, I completely agree with you. And I, you know, I would love to see communications as a discipline in water, become a lot more prominent in the US I think it's going to need to be,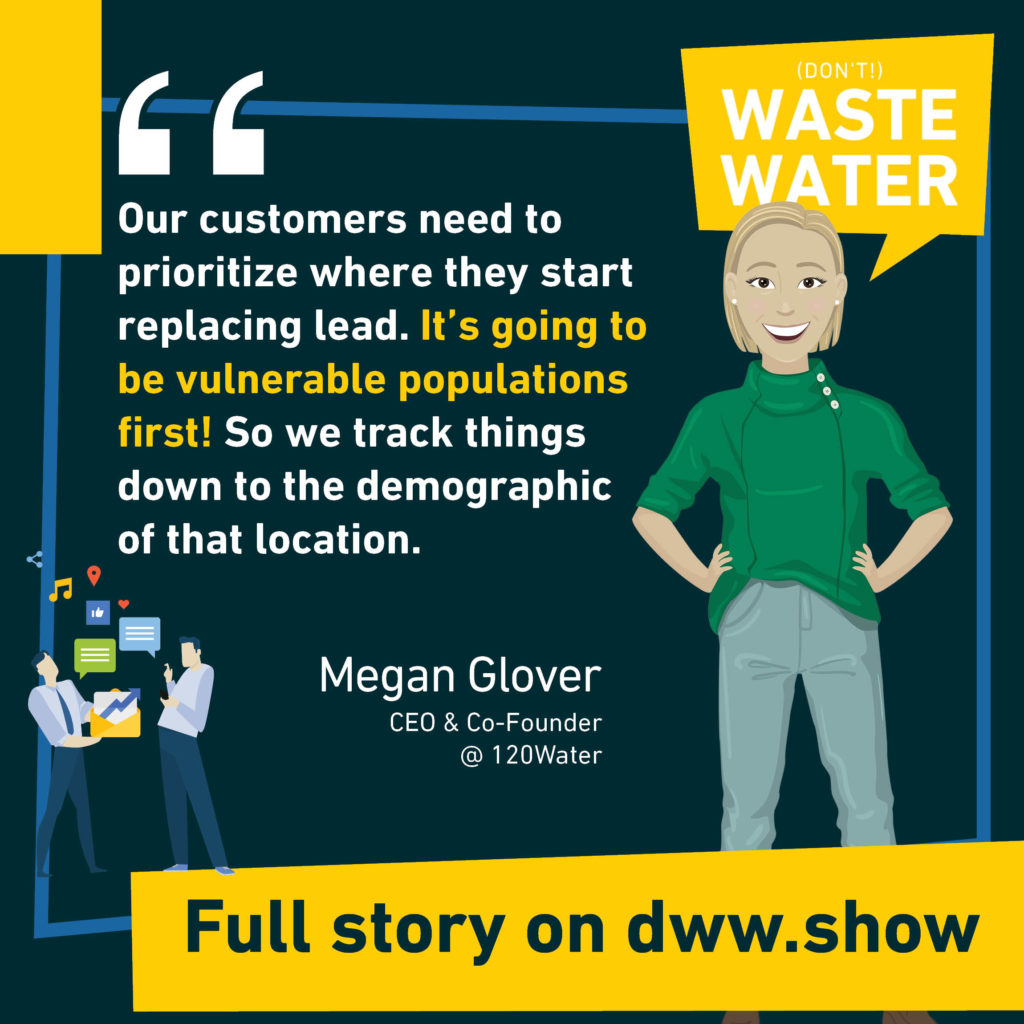 Antoine Walter:
It's interesting because you know, there is this, I'm talking a lot over France today, I'm sorry, but there's this, this French bottling brands I think it was Perrier, when they arrived in the U S it was hard for them to sell bottled water to the Americans, which is there, wasn't like this tradition of bottled water at the time. And it turns out that 50 years later we have the exact opposite problem. So life is a cycle it's, it's almost frightening. You're doing something, but where to start, where should we start? What is the common story? Our industry has to tell if we wants to bring people back to that tap.
Megan Glover:
And I think though, it's going to take, I mean, I don't, I actually I've heard that before. And I would love to read a case study on it and actually see how much they actually spent in branding and in the type of executives that it took to actually, you know, get that brand and impede it in people's minds. Because I think it's going to take that level of talent and muscle. It's not going to take people in water to do that. Just point blank. I think it's, I think it's going to take an entire industry to adopt water as a sector that they want to modernize it. And I think we're, you know, we're seeing that on the energy side a bit in the US, I mean, again, the energy as a sector has invested more in marketing and branding to kind of level up all of the education that's needed around sustainability and conservation and whatnot. That same thing needs to happen in water, but I think it's going to take experts outside of water to educate water on, on what we need to do. But yeah, I think that's a great example.
120Water as one of the World's Most Innovative companies
Antoine Walter:
So I guess it's going to take companies which are innovative. So I'm pretty glad to talk with one of the most innovative company in the world. Actually, you are on the top of that list. So I think we got a glimpse of what takes you at that place, but what's your interpretation of being first, far in the ranking? What makes you different?
Megan Glover:
Yeah, that, that, that was a really cool as a, as again, as bootstrapped. I mean, I can't, this business was bootstrapped. I mean, literally I was filling bottles on my kitchen table and to actually get that notification that we were among the most innovative, I mean, just kind of blew my mind. I'm like, how did we get from there to there? And, but honestly, I think it's because we've never, we've never said no, and that could be crazy, or that could be the best thing that ever happened. But we made that list for launching our wastewater monitoring solution. And, you know, our customer came to us and said a state wide customer. So, you know, as territory in Indiana came to us and said, we need to stand up a wastewater monitoring network in like 10 days. And so anyway, we basically said, okay, is this enough? Is this close enough to our core competency and capabilities that we could do this? And if so we'll do it. And sure enough, between our laboratory networks, our kits and the way our platform is set up, we were really able to meet that demand. And, you know, and we didn't say no, you know, and I think that's part of the innovation that we brought to the market is listening to our customers to the extent where we believe in it, they believe in it let's go.
Antoine Walter:
So basically you were advocating for that movie. Yes, man. So in your case, sorry, you mentioned that that bootstrap elements, but I would say that is now history for 120Water because you, you just closed it. I mean, you, you closed some month ago a series a, so now you're really changing levels. I mean, you raised seven millions, right?
Megan Glover:
Yes. yeah. We a series a seven, 7 million. We've now added a little bit to that as well for hyper-growth so, yeah, I mean, we are kind of series a we're venture backed. We have over 50 employees, which to go from zero to 50 is pretty great. We've all grown up and it's an exciting place to be for us.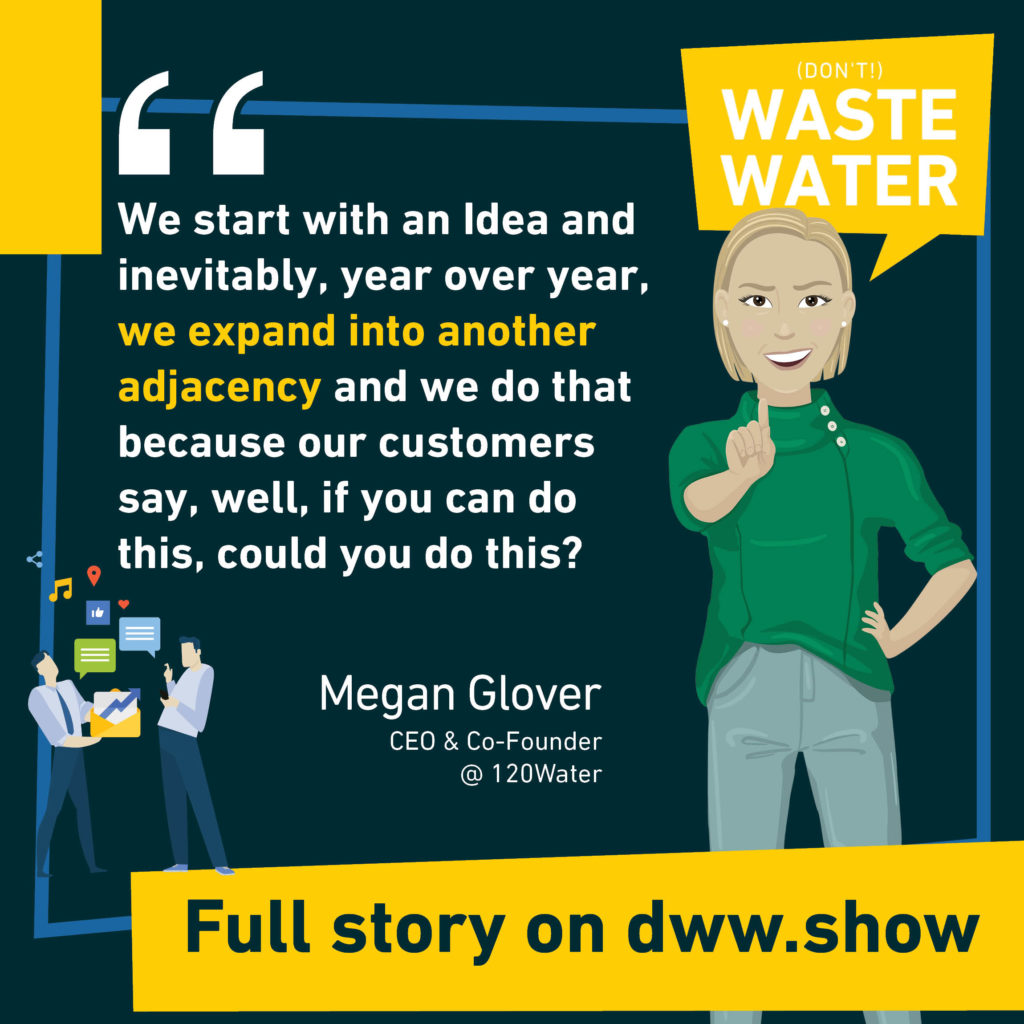 Can 120Water follow a hypergrowth path?
Antoine Walter:
You mentioned one word. Usually I'm the one who raises this hypergrowth question. I'm annoying all my guests to ask them if hypergrowth is possible in the water branch, you come with that. So thanks for that. The unicorn path is like you have to multiply by three and by three and by two and by two, and then you reach 1 billion, you did 250% growth last year. So you are on leg. One of that path is – that's the golden question – is hypergrowth a suitable strategy for the water sector, in your opinion?
Megan Glover:
I don't know. You know, I think our philosophy is we just want to grow as reasonable and fast as possible as the market will allow, but I think the market has to be ready for it because you can't manufacture growth. And I think you have to have venture capital. That's willing to understand that the market needs to dictate when they're ready to buy innovation in water. And that's what I've been very clear with our investors that we found is that, you know, we can't manufacture growth or put a flashy thing in front of customers and, you know, magically budget appears for them to buy. So I think I don't believe that every company in water should be venture backed. I think at some point in time, we won't grow a hundred percent year over year or even 60%. And that's going to be okay
Antoine Walter:
More than okay. In that sector. I mean, 60% you're a rockstar.
Megan Glover:
Yeah. Yeah. That's good. And that's going to be a okay, because that means that we've captured the set of the market that wanted to be early adopters will now wait for kind of that middle part of the market. And but yeah, I mean, I didn't start one 24 a quick in and out. We just started to build a really sustainable business to modernize, you know, water quality, and we're following the pace of how fast the market wants to grow.
Crossing the Chasm as a young Water Company
Antoine Walter:
So you would say that you are at this crossing the chasm phase that you have to, to move from these early adopters to, to this early majority. So I'm not mentioning that just to mention that many companies die in that, in that stage. Not at all. I wouldn't try to put a spell on you, but you mentioned that you, you, you, you moved from zero to 50. Do the 50 already work with you or are you still in that growing up phase?
Megan Glover:
Yeah, I think we've my philosophy is you want to hire just ahead of growth, but not too far ahead to your point where you stall. And so I think we've you know, we were very responsible during COVID because we didn't know what the market was going to do. And so we stalled a little bit of growth. So part of that growing to 50 was a little bit making up in some areas that we, we held off in, and now we're at a really good place. I mean, I think we were going to add, you know, a handful of heads here and there, but we've done the majority of our hiring that we'll do for a while. And then as you know, I mean, this, this market is so channel driven as well, that a lot of our sales are attributed to our partner ecosystem, some of our channel partners. So, you know, we want to make sure that we have enough direct folks and full-time employees, but at the same time, how do we build out that ecosystem? And that, that global channel ecosystem that is, that is so important for growth here in this market too.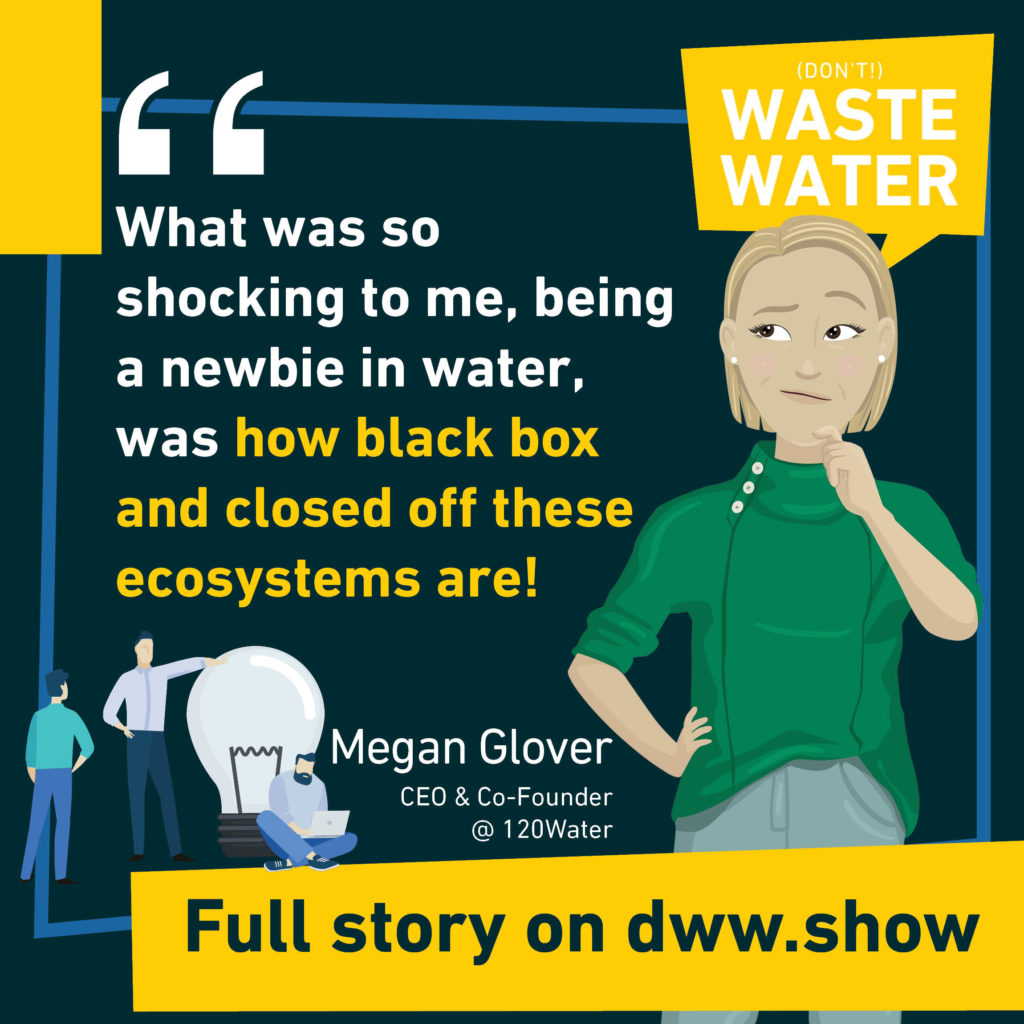 Antoine Walter:
So you mentioned, and you're absolutely right, that you cannot manufacture growth, but to watch me do that tricky transition to a tricky question, they are sensor manufacturers in that market. Hey, manufacturer growth / sensor manufacturer. Hey, so, so brilliant. And they might not have these digital acumen and this market acumen that you have. And I think I read that in, in Paul O'Callagan's PhD thesis, that he was mentioning that there is no water unicorn. It just doesn't exist. There's not one. And there's a reason it's that usually before a water company becomes a water unicorn, they get bought out by a company who, who needs some external innovation. So what's your path is that path. Or at some point you ring the bell in New York IPO, and you are that first water unicorn?
Megan Glover:
I wish I had that Crystal ball. I mean, I think there are a number of doors that one 20 water could go down over the course of the next 12 to beyond years and months. And I think we're exploring all of those. Do we stay as a standalone company and raise some additional funds to do our own acquisitions and really make this a standalone company? Does it make more sense for 120 to be a part of an existing digital water platform? So without good showing cards or whatnot, I mean, we are kind of exploring all of those doors, but that doesn't change our vision and roadmap for the company, you know, and in terms of where we want to go. And so I that's my job, right? As balancing the future while also operating the business day to day, making sure we get what we need.
Antoine Walter:
I would have like 2000 additional questions, but I have to be cautious every time I would invite you to come back to that microphone in five years, just to check if you just rang that bell in New York, or if you're now part of a conglomerate, but I propose you to switch to the rapid fire questions.
Megan Glover:
Absolutely. I w I will be back in five years. I'll take you up on that.
Antoine Walter:
Oh, let me, book the calendar, just when we're done with that interview, I really want to see where that's heading!
---
Rapid fire questions.
Antoine Walter:
In this rapid fire question section. I try to keep the questions short. And of course, if you can keep the answer short as well, we keep the rules and don't worry. I'm always the one cheating inside writing. So my first question is what is the most exciting project you've been working on and why?
Megan Glover:
I'm always the first project when we did the entire state of Indiana lead testing in schools, we sent over 500,000 children back to school with safer drinking water.
Antoine Walter:
See, I'm sidetracking from the first question, but what's your feeling when you, you close that first project? Is it like pure excitement or are you terribly afraid because what could go wrong?
Megan Glover:
Yes. All of the above, all of the above it is the adrenaline, right? I mean, you're literally building the engine as you're flying the plane and it's absolutely terrifying, but to see those results in numbers, it's just like an out of body lifting experience.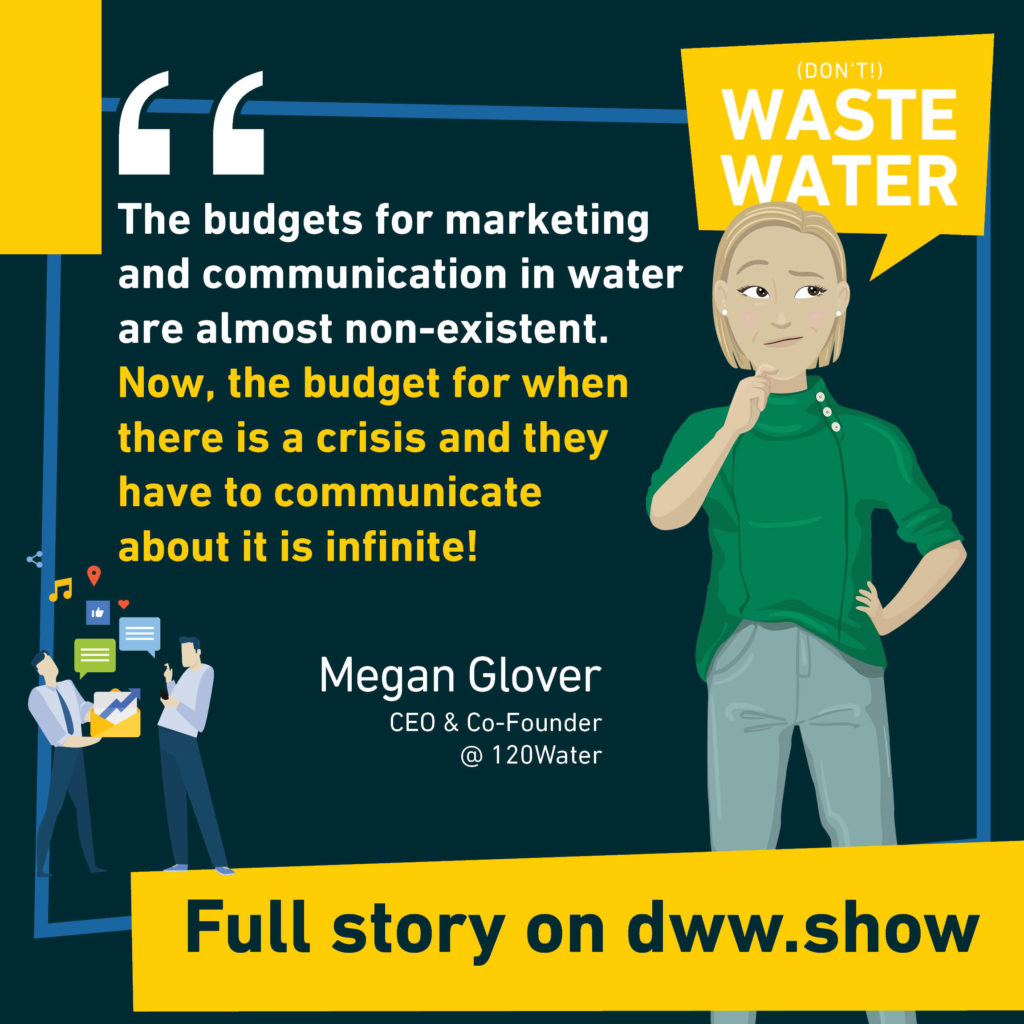 Antoine Walter:
What's your favorite part of your current job?
Megan Glover:
Oh my goodness. I love our customers. My favorite part of my job is, is talking to a customer about a really, really challenging problem that they're trying to solve. And just going into ideation mode with them and saying like, how do we solve this together? So really our customers and going in the trenches with them
Antoine Walter:
Sidetrack again, the topic you address, is it something which is really on top of their minds or do you have to tell them why they should matter
Megan Glover:
Right now? The lead topic is, I mean, it's all consuming. It's not on the top of their mind. It is their mind. And right now, where are we on the United States? It's helping them even just say, where do I begin? Like it is so overwhelming and all consuming that that led at least in the U S is very top of mind with all of the Biden infrastructure, as well as they revise lead and copper were visions coming down the pike.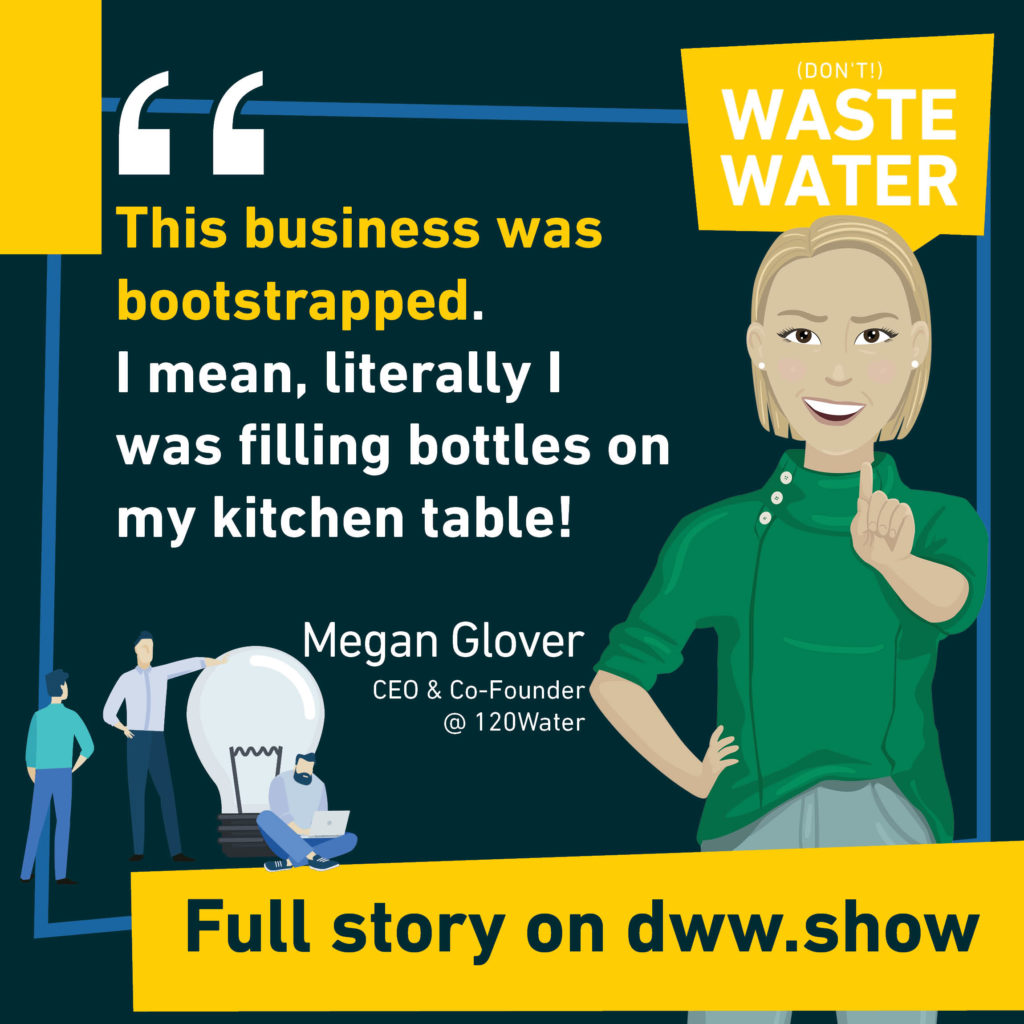 Antoine Walter:
Well, you know, I, I could tell you how wonderful polyethylene is as a replacement to lead, but I'm not here to do my own advertising. Have you ever met Michael Moore by the way, because from an European view and you know, Flint was first this Michael Moore documentary.
Megan Glover:
No, I have met Michael Moore at a conference. He would not remember me from Adam and it was a marketing conference, so I wasn't even water at the time, but yeah, our, I attended his keynote.
Antoine Walter:
What is the trend to watch in the water industry?
Megan Glover:
Gosh, I think the trend to watch in the industry and I'm biased on this, it's honestly, I think it's the digital transformation, I think to your point, there's a lot of data that's being analyzed and thrown out there, but it's what are we going to do with it? And I think it's going to be very interesting over the next decade to see what gets done with data. That's the keys, what is going to be done with data?
Antoine Walter:
So data crunching, data analyzes…
Megan Glover:
Data science. I mean, I think if anything, you know, what we proven through our wastewater monitoring solution through a lot of the data science use on predicting lead pipes, is that it is helpful. If you can get massive data sets and use them in the right way, it is very helpful for public health and infrastructure, repairs and whatnot. We just need regulators and industry experts to recognize that as an applicable method,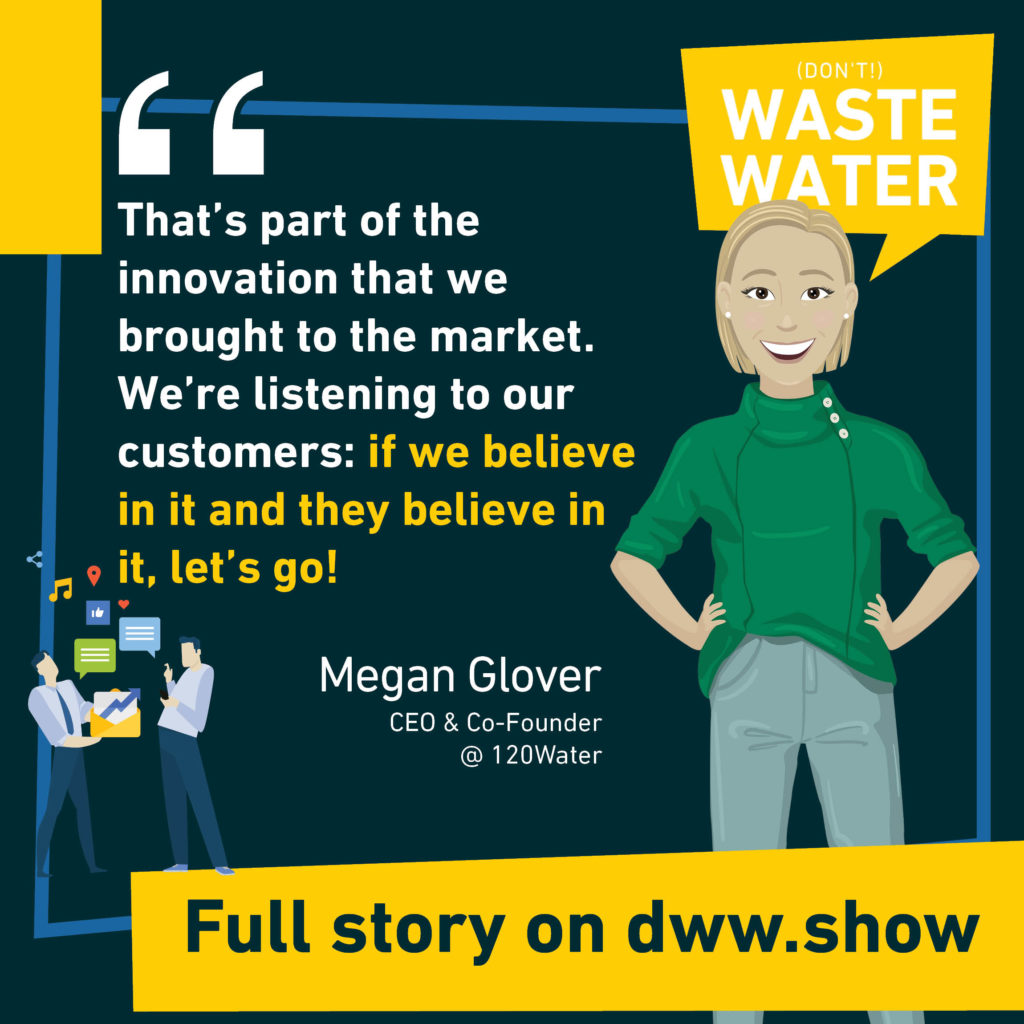 Antoine Walter:
What is the thing you care about the most when you're working on a new project and what is the one that you care the least?
Megan Glover:
What I care about most is delivering outcomes for our customers. So I hold my in any large project that we get, I hold my breath. It's like a, it's like the longest underwater swim ever. Not because I don't think we can do it, but we just want to Excel in the outcomes that we deliver. And then my least, my least favorite part is procurement. There are just a lot of projects that either our customers can't buy us or we can't compete in that. And it's, it's a, it's a real, it's a bummer when we can't work on a project or with a customer that, that needs what we have, but for whatever legacy procurement we can't, we can't work.
Antoine Walter:
Do you have sources to recommend, to keep up with the water and wastewater market trends?
Megan Glover:
I love Twitter. I actually, Twitter is my go-to when I just, when I want to just kind of know what's happened in the Waterworld. I love Twitter. And if you follow me, you can probably follow on Megan Siegel over all of the folks in water that I follow. And then, you know, I think they're great. They're great, you know, trade pubs out there that are probably very obvious, but I think podcasts and Twitter for me are, are very much the sleepers of where you're going to go to find the real trends.
Antoine Walter:
It's interesting that you do this combination of podcasts and Twitter, because actually the only other of my guests who answered Twitter, it was Adam. It sounds like a pattern. I have to say to me, Twitter is a, is a riddle. It's difficult to, to follow all of that, but for sure I'll add your Twitter hashtag and username. See how not professional of Twitter. I am in the footnote of the episode and I'm going to give it a try, thanks to you.
Megan Glover:
I'm a terrible poster, but I enjoy the following. I need to get better at it, but I always get caught up in what do I, what's the right thing to say that someone would care about.
Antoine Walter:
So last question for today, would you have someone to recommend me to come on that microphone and to be hopefully as awesome as you?
Megan Glover:
Oh gosh. You had some, Oh, you, I mean, you took everyone. I, that I are normally my go tos. I will tell you let's stay on the theme of communications, the rogue water women out of Texas. If you've not connected with them, they they're revolutionizing how utilities communicate with their customers. So there again, the rogue water is their agency name and happy to put you in touch with them personally, but they are super superstars on that. Let's see Louisville water. They are again, when we think about branding, branding, tap water, they have really a, they are the case study and kind of the one that everyone goes to Kathy Bailey, if you haven't had Cathy Bailey from, from Cincinnati is a hoot and literally the godmother of, of all things innovative in managing water and managing a large system at that. So I'm sure I could mention so many more, but there are three awesome women for you right there.
Antoine Walter:
Well, you see, I promise myself to not ask that same question to all of my female guests, because I feel it like a burden to put on you. So I didn't ask about women in water, but I'm glad to see that there's a pattern in your recommendations. Megan, it's been really a pleasure to have this this hour together and yeah. Talk to you in five years or before. Whenever you have your next milestone, let's have a talk.
Megan Glover:
Let's do it. This has been such a pleasure. Thank you so much.
Other Episodes: