with 🎙️ Gabi Wolkinson – CEO and 🎙️ Ofir Menashe – CTO and Founder of BioCastle – a microbial encapsulation company.
💧 BioCastle is an environmental biotechnology company that encapsulates nature by developing and marketing an intriguing technology: the Small Bioreactor Platform.
---
What we covered:
🍏 How BioCastle develops the smallest bio-reactor in the world
🍏 How its simplicity makes it a perfect fit for multiple wastewater treatment applications
🍏 How this full story starts with an almost midlife crisis for Ofir and pressing fish farming challenges for Gabi
🍏 How Gabi and Ofir might be considered bacteria breeders
🍏 The hurdles of starting commercial expansion in the middle of a Pandemic
🍏 How shelving bacteria opens a whole new world of targeted actions
🍏 How the adoption curve can be challenging for a young water treatment company
🔥 … and of course, we concluded with the 𝙧𝙖𝙥𝙞𝙙 𝙛𝙞𝙧𝙚 𝙦𝙪𝙚𝙨𝙩𝙞𝙤𝙣𝙨 🔥
---
Teaser:
---
Infographic: Microbial Encapsulation
Linkedin-Infographic

---
Resources:
➡️ Send your warm regards to Gabi on LinkedIn
➡️ Then you can do the same with Ofir as well!
➡️ Have a look at BioCastle's website
---
Full Transcript:
These are computer generated, so expect some typos 🙂
Antoine Walter:
Hi Gabi, Hi, Ofir. Welcome to the show. Well, it's not every day that have the chance to speak with two guests. So we have two guests today for the price of one. So wonderful. Let me start with that with a postcard. And actually of course, with two postcards and the first postcard comes from Beers Sheva and that's you, Ofir? What can you tell us about your place?
Ofir Menashe:
Beer Sheva is in the south west of Israel in the negative way. This is a desert area. It's a nice place. My parents live here, so I visited them right now.
Antoine Walter:
So I guess in a desert place, you probably have water stories. We were going to dig a bit deeper into that in a second, but you Gabi, you are in Modein.
Gabi Wolkinson:
Yeah, a lot of history here, a lot of the ancient digs we're smack in the middle between Tel Aviv and Jerusalem. It's a fairly new city, 20 years, maybe
Antoine Walter:
When it was preparing for the discussion, I was looking at both of your path. And I was wondering what brought you together? What made you cross your lines? And you gave me a little glimpse into that Gabi some seconds ago and that has to do with, with fishes. So what's the story.
Gabi Wolkinson:
It's a wonderful story. Actually, for the past 10 years we've been working, I've been working in the fish industry, trying to initiate and initiating actually different types of recycling, agriculture assistance, fish, pharmacy recycling the water. And we built one of the biggest fisheries in the world. Actually today we're growing a barren Lindy. It's about 20 minutes South of where our field is located at the moment. And through trying to initiate fish farms or RAs systems in the world, I came to the conclusion that we need to find a technology that would be fit for a recycling, the water and fish system, but fit for smaller growers, traditional growers. Because today, if we look at RAs at that industry, then we see that all the systems are very big because in order to be profitable, in order to make an efficient system, you need to grow large amounts of fish and all the traditional growers that used to grow fish in their backyard stopped growing their fish because of all kinds of sustainable issues or economical issues.
Gabi Wolkinson:
And that's when we found a fuse technology, the SBP capsules, which we'll talk a lot more soon. But what we did was we took the technology and we built a small fish farm inside a caravan. And we actually drew Sebring. It's a seawater fish from a very small fingerling, about a half a gram all the way to 500 grams. And it was very, very good. I mean, the chef that we brought it to really liked it and it was a good process. So we learned a lot out of that. And to today, we are taking that forward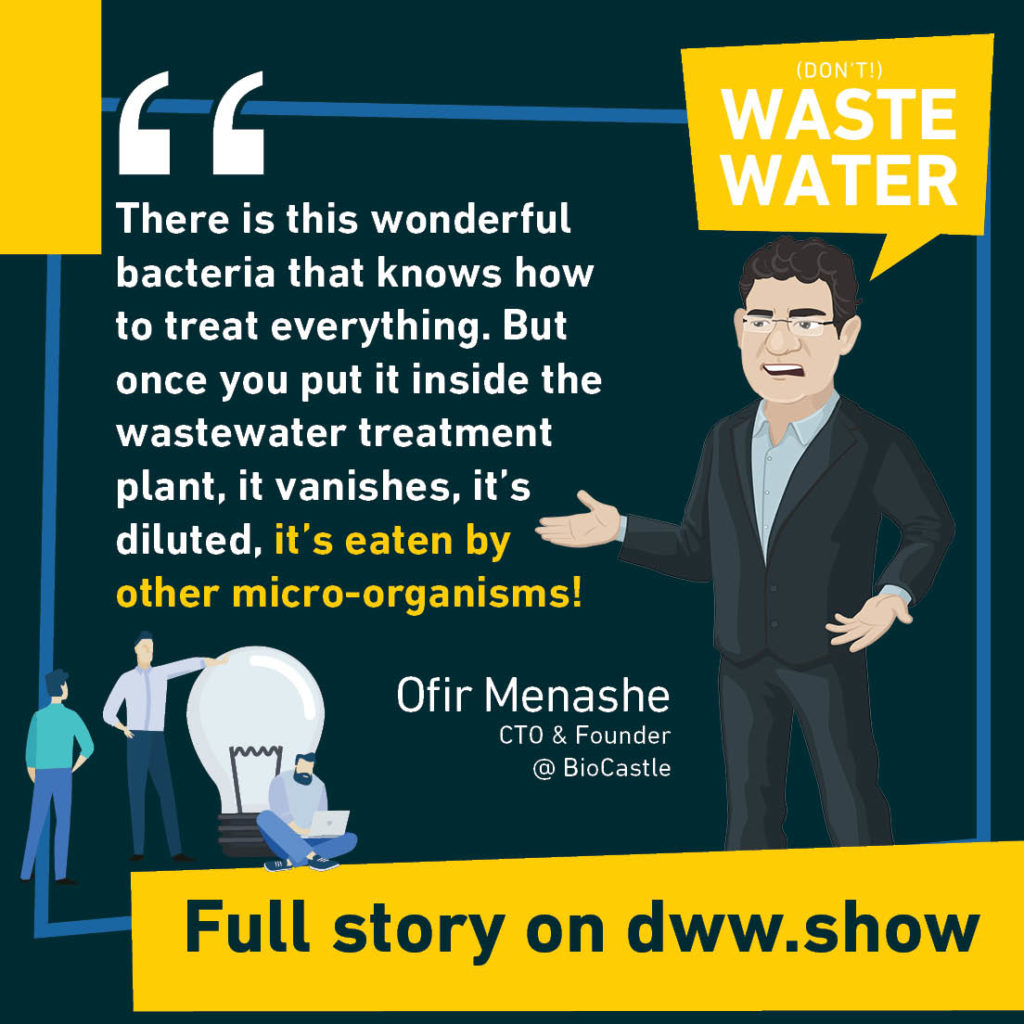 The roots of microbial encapsulation
Antoine Walter:
Now in a separate company. So it starts with a good process and a good fish. And in that story Ofir you're the technical guy. So you came with that SBP, which is the small bioreactor platform. And we're going to dig a bit deeper into that in a second, but how did you get interested in that technical aspect of things?
Ofir Menashe:
Oh, well this is a different story. First of all, I remember the meeting with Gabi. It was three years ago, this meeting I'm really remembering it. We sit in a Televiv in Israeli towers and we will talk about the technology. And then Gabi tell me that if he thinks that the technology might solve a major problems in a recirculating aquaculture systems. And from that point, we were going together. And so this is the story about me and Gabi and about the technology. It's I think it's all started when I was at age 34 and decided to do my PhD studies, just changing, you know, changing the way in the middle of life. You want to do something else. I want to change to do something like entrepreneurship, to invent something that will be useful. So I left everything in my life and started to learn in the university to conduct a PhD studies at the faculty of biotechnology engineering at the Technion, the Israel Institute of technology.
Ofir Menashe:
And I was feeling very hold because all around me was a young people. And I was the older one or the older guy I finished at age 38, about 2009. And in Israel, there was a significant crisis in water. We still did not have desalination process. And we have a lots, a sequence of draughts. And once I say that, I want to cooperate with the water industry. And I'm a microbiologist it's immediately taken me into the road direction of water and wastewater treatment. So I started to check out this work, water, working out this technology, working, and I look at the literature and I found that everything is well known. You have a lot of bacteria and know how to degrade it, everything, almost every contaminant that we know, even absorbing radioactive elements. And this is really was depressing because I said to me, okay, what I can contribute to the world at this at this point.
Ofir Menashe:
And I asked my friend, which is a water engineering. And I tell him, tell me about what you, you are seeing in the water industry. Does it it's really significant as the academic literature is describing this world that we have all the solution, everything is good. And he said far away the academic is just provided some data, but you can not implement it into the industrial world. Now, at this point, I understood that we have a technology gap between academic and the industrial sector. And at that point, I understood that if I will find a technology that will bridging this gap, perhaps I have I have a place in this world of intrepreneur option. And I dig in more about, okay, what happened, why, why it's not working. And he told me that once you are, there is a wonderful bacteria that know to join everything. But once you are putting inside the wastewater treatment plant, it's vanished, it's diluted, it's eaten by other microorganism. It's not adopted and it's vanished. It's not working. So in a Petri dish, it's my work. But once you take it to a big, huge water body, it's vanish, you don't have the capability to use it. This is the starting point that I figure, what is the problem here?
Antoine Walter:
If anyone wants to feel like, you know, empathy towards a factory, you can go to bio castles. So your company's website and I found this video of that poor bacteria, which is, which is just perfect for just doing its work. And then there's just this devil predator who comes and eats that bacteria. And I'm like, no, no, please don't kill the bacteria. I never thought I was going to feel something for a bacteria. And then I saw that video, the story, I didn't want to cut you off, but, but then it was something I wanted,
Ofir Menashe:
As you're saying, because I feel the same. And I said, okay, let's try to figure the bacteria like a man. If you want to employ someone, you need to provide in some security, you need to provide him some condition that he will be able to work properly. And we don't provide it. Now, the second thing after I figured that I understood that I need to invent something that will protect, will provide a castle to protect those bacteria that I want to use. Now, this is, was the invention. It was not simple because at that time I was thinking about only out to wrap it with a microfiltration member. Well, microphone, titration member is a physical separation. It's kind of with a holes, little holes that is smaller than the bacteria itself. So it's not allowed in the bacteria to transfers, but it's allowing other components, which is smaller than the bacteria to get out and in. Okay. And in that time, there was only a membrane. That's like a paper, like a paper sheet, and I need something structural. So this is what was the invention itself to create something spherical as structural and the bacteria will be inside.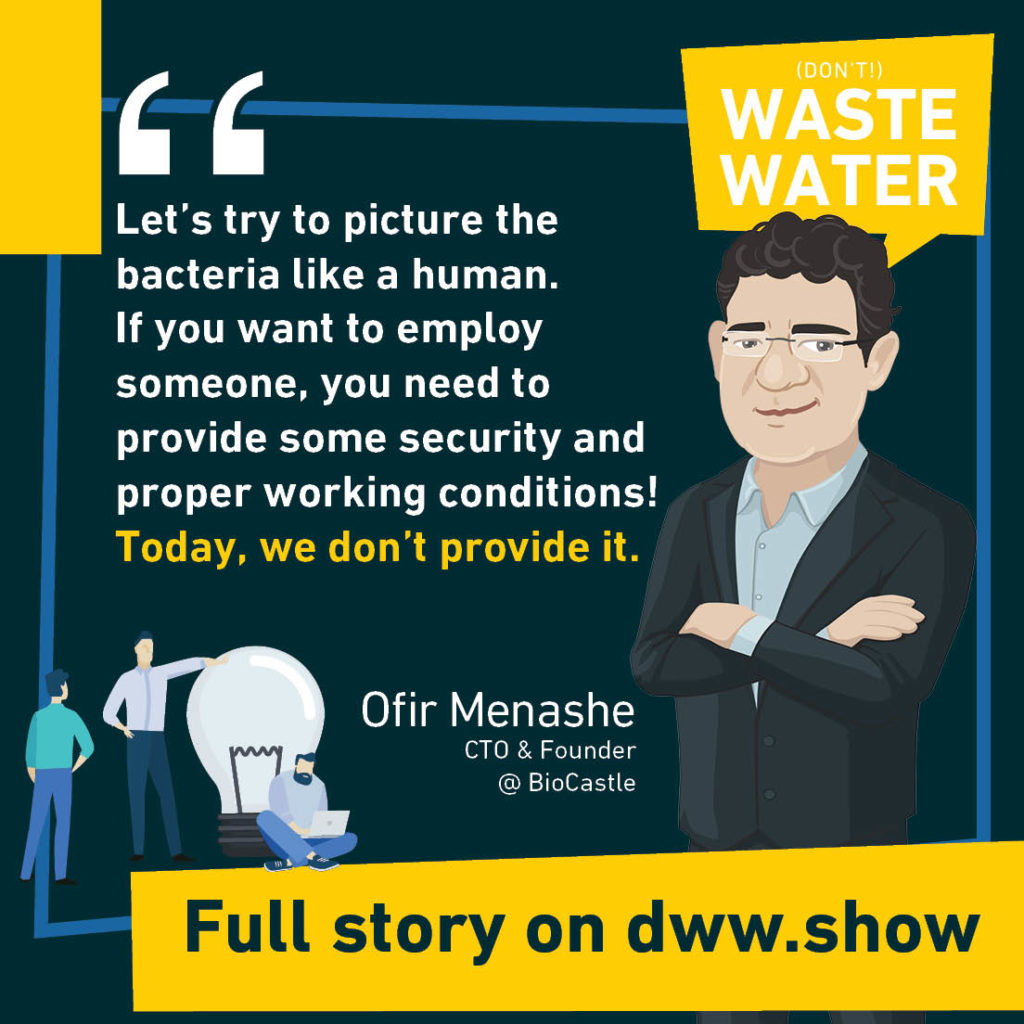 Microbial Encapsulation as a way to reverse engineer larger scale treatments
Antoine Walter:
It's very interesting because you, you reversed engineered microfiltration or ultrafiltration because usually you have that separation step, which has managed to take out the bacteria of the water and to clean the water. And you said, no, wait, I don't want to take the bacteria out of the water. I want to protect the batch, the bacteria. And by the way, nobody gets your name by your castle because you're building a castle for the bacteria and you protect the bacteria. I mean the good bacteria from the bad bacteria so that they can do their work while water is still flowing through your castle, which is here at Maura, a capsule.
Ofir Menashe:
Absolutely you're right. We are protecting the bacteria, but not a usual bacteria, not the natural bacteria that is growing inside the wastewater treatment plant, but in bacteria that especially bacteria that we are using, which can be not growing inside the wastewater treatment plant, but this bacteria have the capability to degraded contaminant, industrial contaminants, such as phenols, such as the fat and oils, such as a benzene and other components, which the bacteria inside the waste water children then are not able to do that. And the idea is to have a sufficient biomass in order to conduct this process, to conduct this treating process. Now, if I returning back to my story, I created a castle around the bacteria and I said, wait, I have a castle. Now I can bring some furniture inside. I can bring some nutrients I can bring out of things that may accelerate all the process and make the home better for the bacteria. And that point I understood that I built the smallest bio-reactor in the world. Actually, it's like a, took a wastewater treatment plant and shrink it into one capsule about 2.5 centimeter long. This was the idea.
Antoine Walter:
So basically it sounds to me a bit like a moving bed bioreactor on MBR, but just the other way round. So it's not a cheap where you grow the biofilm on the chip. It's a chip where you grow the biofilm within the changing and that way you have a controlled environment.
Ofir Menashe:
Absolutely. You're right. However, when you are using a biofilm on the field with the MBB out, you don't have the control. What, which type of bacteria you have there here, we have the control, which type of bacteria we can introduce inside the capsule. We're not, not only have the control of which type of the bacteria. We have the control of the bacteria, concentration, how much bacteria I'm putting inside the wastewater treatment plants. It's according to how many capsule we put in, and also the position because they are very big particle. 2.5 is a big particle. And we put it inside the perforated cages. We also have the capability to control the position of the implementation of the biomass. This make us enable to create a new treatment process. And this is the innovation actually, especially for the industry for the industry itself. Now, if I may, I will explain what I mean, for instance, if an industrial client want to induce a biological treatment, what are you doing today?
Ofir Menashe:
You need to grow in a biomass. You need to separate it that way. With the sedimentation tank, you need to circulate it back to the bioreactor and you need to deal with the waste. Large. Actually you need a wastewater treatment plant. Isn't it. With our technology, the SBP technology need only one chamber the bioreactor because the biomass already separated from the affluence. So you don't need to send the mentation tank. You don't have as a waste large because all our biomass is uploaded inside. So actually you need only one chamber and you don't need to operate because the capsule lifespan is a two months. You only need to add a new amount of capsule. So this is a huge progress for the industrial sector, the water industrial sector.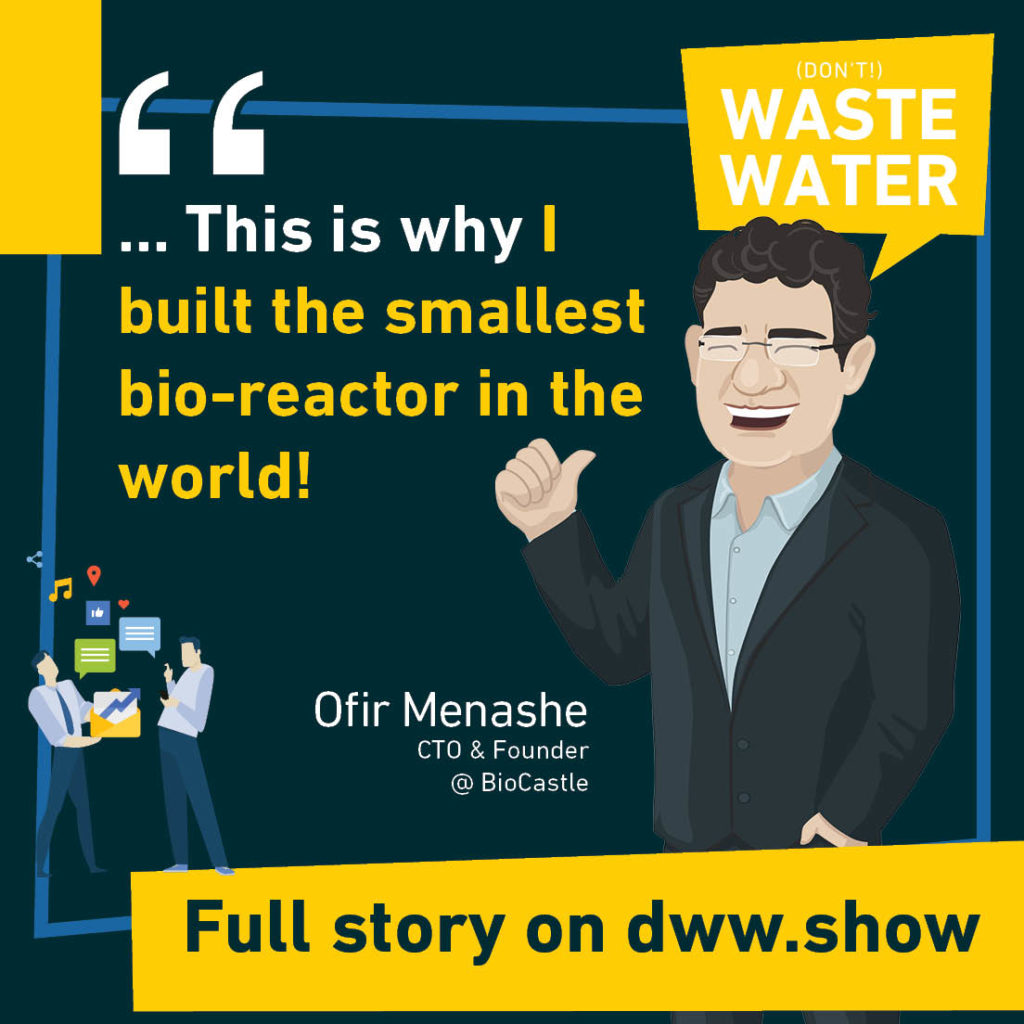 Turning a CAPEX topic into OPEX with help of microbial encapsulation
Antoine Walter:
There's many things to uncover in what you just said. Let's start with the ends. Actually. You say that you're turning basically a CapEx topic, which is I have to have a sedimentation step. I need to have a lot of things in, in my plan, the recirculation, I mean, everything you just listed. And you're turning that into an OPEX question, which is every two months, my capsules are done. My bacteria have eaten everything they can eat. I need to replace them. But probably that means that you also have a balance to find between because in some cases, if the water is very easy to treat, probably your highly targeted capsules might be an overkill. I'm trying to find the pitfall here to be a bit of the devil's advocate,
Gabi Wolkinson:
You're forgetting though that if you do have all the steps and you don't use the bio castle solution, then you anyway have your operational expenses. So you have to deal with your waste sludge and you have the electricity and you have your professional experts that need to deal with it. Whereas we are lowering those operational costs, even with the capsules, because you don't have a need for the manpower that you need in a bigger system. The amount of oxygen that you're going to have to push into the chambers is going to be less the space that you're going to save and on and on.
Antoine Walter:
That's a very interesting point. So sorry to cut you the manpower, because that, that was something that really impressed me in your various literature in marketing support, but also in what you just said is that it sounds very easy. So I need probably less knowledgeable manpower. Exactly. Is that right?
Gabi Wolkinson:
That's exactly right. You don't have to run the facility on a daily basis. You don't have to have the people running the facility. It runs by itself. You have to come in and make the water checks like anyone has to do in any system. But besides that periodically, you're adding in capsules. That's all you're doing nothing more, no trucks coming in and out to take the sludge away. No, no, no crazy infrastructure that you have to deal with and maintain.
---
Antoine Walter:
Now, I'm going to keep my because you know, I'm a bit too enthusiastic about your solutions. So I have to be really the devil's advocate here. I would see probably a scale effect because on lower size infrastructure, your solution sounds like, like really genius. You don't need to have the skilled people around the plan to just pour in that at the right encapsulated bacteria, into, into your wastewater. And just every two months you renew them. But on a bigger scale, of course, you're always going to have scavengers and bad bacteria that eat the good bacteria, but you also have the good bacteria that reproduce themselves in a huge tank. So you don't, you have less investment into into that biomass. So I could see probably a limit and upper limits where both curves cross is that fair?
Ofir Menashe:
You're right. You're right. There is some limit. However, when you're talking about large infrastructure, what we can do is improve the work, the capability to degraded. For instance, if your wastewater treatment plants F a limit capability of a daily organic matter that running inside, we can increase it up to by 20%. So we can work as an additive treatment, not stand along. As we described before, now, we can work as an additive treatment and increase the treatment field, meaning that you can extract much more from your infrastructure with our technology.
Nature is well done. Can we encapsulate it?
Antoine Walter:
I'd like to come back to something you said earlier, which was that nature is, is well done. And that there's a bacteria to treat any kind of pollutants. Does that mean that you, you act like a chef, you look at what's the problem, and then you find the exact good receipt of bacteria and they put the right bacteria in that water.
Ofir Menashe:
Yeah. You can see that like that. There's we can see it almost like a pharmaceuticals that you have a lots of blends of materials that you can see what the problem is. And we can choose which type of bacteria to introduce. Sometimes we are using several types of bacterial, several types of capsules to put inside, think about that each capsule types or bacteria types, providing us independent biodegradable process, one process. And we can develop a lot of parallel processes, treatment processes. So we have unlimited power now. And
Antoine Walter:
Do your bacteria react to sudden changes in the effluent? If there is something which they are not designed for, how did you do the deal with that?
Ofir Menashe:
Well, this is a very good question, because we thought about it at the beginning and the design of the capsule and the capsule that sometimes the bacteria inside, they have several components. Do you remember that we are also providing the furniture for instance inside. So some of the bacteria inside, they have a place to develop a biofilm inside. So if the environment is still all style and you have antibacterial agent inside the water and they might reduce the bacteria inside the capsule, so you will have inoculated, you can inoculate it again, the capsule with the biofilm. And we have another component, which not all the time, I reveal that, reduce the toxicity of the environment and increases the compatibility of the environment to the bacteria itself. So it's well, equipment castle is your castle reusable. No, it's comes in a dry States where the bacteria is dormant when it's not active. Once you put it in the water, all the particles become alive. So once you put it in the water, you cannot transplant it back into a dry state to inactive States. So at that point you have about two months of, by a small bioreactor to use.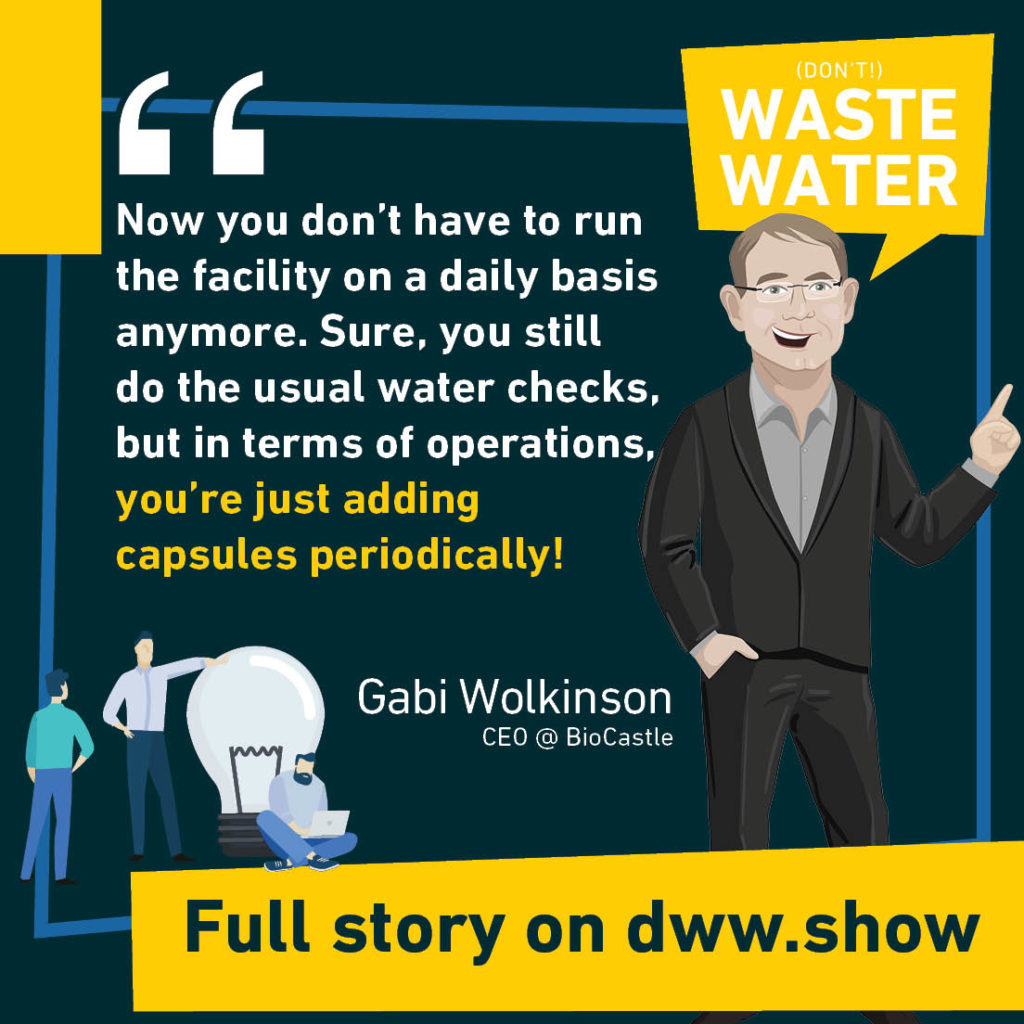 Breeding Bacteria
Antoine Walter:
Does that make you people that treat water or does that make you people that, that breed bacteria
Ofir Menashe:
That's that's nice. I, what you want to answer that?
Gabi Wolkinson:
I think it's both, there was no way to go around it. I think that even though in an MBR, a sludge treatment, you're breeding bacteria. It's the same thing. What's beautiful in my eyes, as someone who's not from the industry is to see how nature works. In any case. All of a sudden it occurred to me that the bacteria itself is already in the water with our help or without our help. Now, the question is how much we breed it. Like you say, in order to create more and more in order for it to treat the water problem is that we have no control. And with the SBP capsules we gain control. And once we gain control, we can minimize the amount of bacteria we need in the water. And you see minimize the amount of bacteria. Then you're saving a lot. You're saving manpower, you're saving electricity, you're saving on expenses. You're saving on space. You're saving on everything.
Ofir Menashe:
Actually. Now we can bioengineering the aquatic environment in the main of microbiology and the engineering process itself.
Antoine Walter:
I also something which, which is interesting, because you mentioned that the literature says that everything is done about bacteria and still you have some experimental bacteria. So I was wondering if maybe new compounds means new, new treatment that you need to put in phase of those new compounds. How do you develop those first? You develop new new bacteria. I mean, probably that's out of the blue. You said like the right ones, but how important is it to, to keep adapting your bacteria to new types of pollutions?
Ofir Menashe:
Well, we're talking about mainly in industrial pollutions that most of them, some of the bacteria are not familiar, especially those that you are using in sanitary, wastewater treatment plant in domestic one, they don't have the time to biodegrade the bacteria itself, or do they still don't know the contaminate itself in order to break it down? What we are using, we are using an isolate bacteria from these industrial zones. That's also already been exposed to the contaminate of today or to the compound that we want to break it down. So they have all the mechanisms how to break it down and, and those bacteria we are putting inside the capsule itself.
---
Microbial Encapsulation – Simple yet Powerful?
Antoine Walter:
So I think it's, it's very clear to me how that works on the technical side. I mean, it's very clear because it sounds also very simple, which is of course, a strong benefit of your solution. Let's talk a bit about business. Let's say I'm, I'm your ideal customer. So first tell me who, who am I, who is your ideal customer? What is the sweet spot for your technology?
Ofir Menashe:
I think we should start by understanding that we treat biological contaminants. We treat organic matter in the water. So until we reached the stage of needing to treat lowering bod, that's where we are. So we would be looking at if we're talking about sanitary. So obviously most of the treatment in the sanitary or utilities it's called would be biological. And we can, we have a lot of added value to those customers. Whether it be upgrading, scaling up their capacity or helping them reach a solutions for specific contaminants, getting better better results in their treatment, sharpening their treatment. The other type of a customer would be the industrial who has to treat water biologically. And you're talking about food and beverage micro electronics that use a lot of water. And most of the industry even turns out most of the industry uses water.
Antoine Walter:
What is your ratio between new plans and upgrading existing plans?
Ofir Menashe:
I think that at the we're talking
Gabi Wolkinson:
About two types of customers that are turning to us, one type has a existing plants, but needs to upgrade what they have. So they'll treat their water to two, they get to a certain rate and then they don't know what to do with it. It's just too much for them for what they have. So they're left with these big bodies of water that they can't really discharge and they're waiting for it to evaporate or for the contaminants to kind of dissolve by themselves, get out of the water by itself. The other type is I would call there would be industrialists that have solutions that they're not happy with and need to do something and look a little differently at what they have. And I think that what's driving things forward are regulations. All of a sudden the States are coming after the industrialists and saying, this is not good enough anymore. We need to, uh, get better results in your wastewater. And they're left with the question, okay, what do I do now? And our solution is very good for them because it means that they don't have to go into these crazy investments, building a big facilities. We fiddle around a little bit with what they have and create like a few set before a new processes for them in order for them to read their their needs.
Automating Plant Operation
Antoine Walter:
We've seen that those new processes might be easier and that's a way to facilitate the operation of the plant. But how does that relate to automation? Because I guess it's a cool thing if it's easier, but if it's automated, I guess it's the next step. How do you to make your plant? Is it like two months sharp? That's a capsule can last in water or does that have something to do with, with the loads coming into the wastewater straightened step to have any means to measure how much the capsule could still be treating in the future? I'll do two major plans.
Ofir Menashe:
Yeah. That's very, very interesting question because we need to experience in order lots of projects to know exactly how much time the capsule will survive in the water, because you have a sheer force you're with other forces that working against the capsules and you have all the acidity in the water level acidity and other chemical elements. According our experience the capsules are stay about two months in the water working good. We don't see any physical damage to the capsule. This is very easy because you see them cracked or breaking down. And this is our day. They finish their lifespan. And there is another things that's very nice because the member itself is make of telos tell Rosetta, which is a kind of biodegradable. So we don't leave any finger painting in the environment. So the capsule and their life and the particle are going for the water and breaking down by downstream. So all our operational is very simple. We don't need to exclude the old capsule and put in, in return, put the new one. We only need to add a new capsule, and this is make the operational much more easy. And the environmental impact much more better.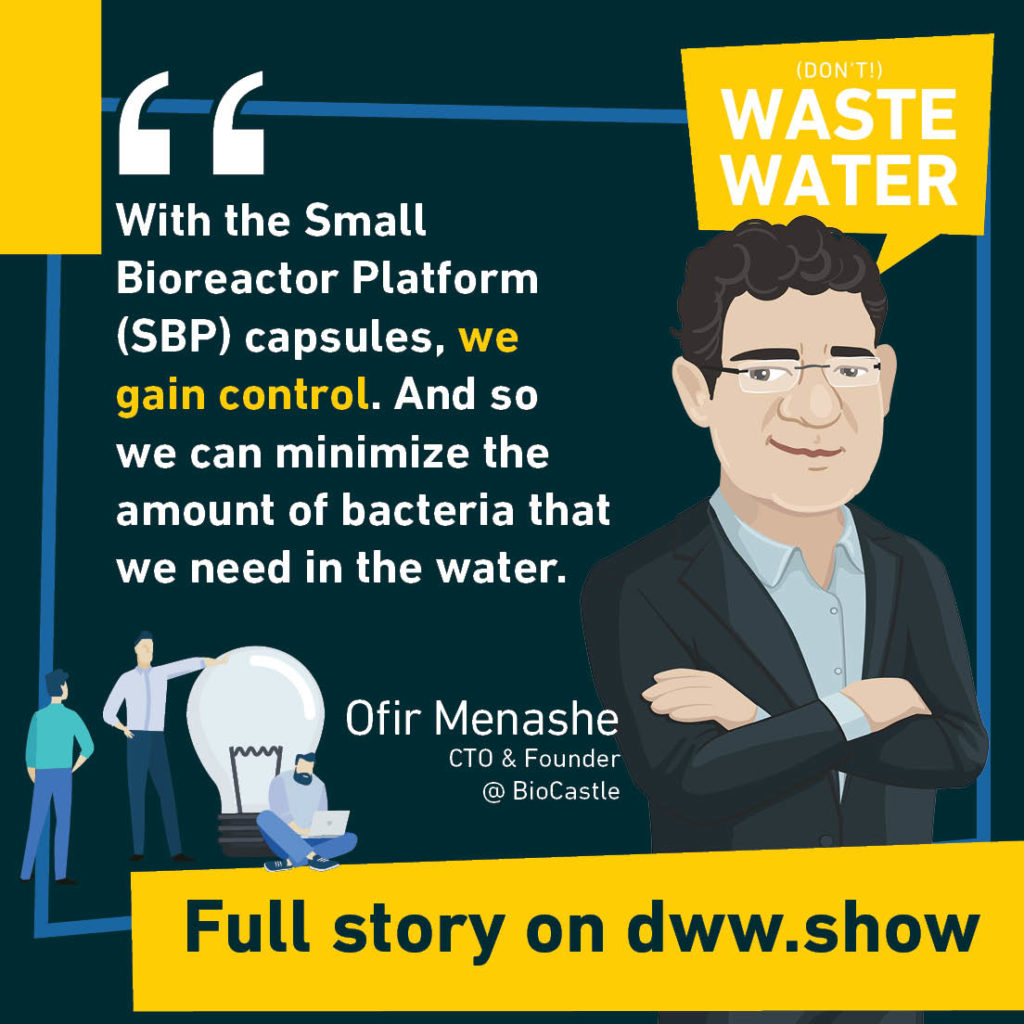 What is the shelf of a microbial capsule?
Antoine Walter:
I'm glad you made that precision because I was imaginating, you know, PVDF membranes left in water. So talking with microplastics, that would have been kind of awful, but it's leverage neutral once more. So you control STD tissue or control P H what is your control?
Ofir Menashe:
No, we don't. We don't have the possibility to control acidity in the water because it's a very large water body. It's there it's required. So lots of chemicals, we are trying to adapt the bacteria into the environment as much as we can. Sometimes you need to challenge by itself. There is a wide range of the bacteria that it can challenge it's. Most of the bacteria it's from the range of 5.5 pH into a 9.5. So it's very wide range if it industrial, and we have a non silica influence, we are saying to the industrial client that you need to have a Brett Rickman. One of the pre-treatment is to stabilize the pH into this range that we are talking about. Gabi . You wanted to add something here.
Gabi Wolkinson:
Yeah. I just wanted to add about the automation part that you would ask yourself. Okay. So how do you know exactly when the capsules break down and when you have to add in more, the procedure is very easy. What we do is we just add a half of the amount of the capsules that you actually need once a month. And then if you know that they break down every two months, you're never going to be in lack of bacteria in the water.
Ofir Menashe:
And in that point, you are gaining two different sludge age inside the capsule, a young one, and an old one with their advantages.
---
Antoine Walter:
So Akio for the automation part coming back to, to the business model, how, how is your business model working? Is it like a subscription model as subscribed to, to bio castle? And every month I get my new capsules, which I bought into water.
Gabi Wolkinson:
Well, what's nice about the capsules is that they have a long shelf life, as long as they're dry. So you don't have to bring in an order once a month and wait for the capsules to come in and be worried that you're not going to get supply. You can supply yourself in the next five years and with capsules, as far as we're concerned and just leaving them in the storage and use the knives you need. We have clients that are interested in putting a capsules on their shelves, just for safety reasons. In case they have some kind of hazard in the water, they just add the capsules and know that they're at that they're safe. Another thing that's very nice about it is the flexibility we've had people say to us, well, if we start working with the capsules and now we're stuck, we have to work with you now for years. And I used to say, why do you have to work with us for years? If you're not happy, you can stop tomorrow. However, if you buy a device for a million dollars now, what are you going to do? Then you're stuck for years with a device that you spent a million dollars on with us. As long as you're happy you treat, we treat your water and we get paid for it. You buy capsules, that's it. It's very, very simple, straightforward, flexible, and not to what we call it. A Catholic marriage, right?
Microbial Encapsulation, a versatile plant?
Antoine Walter:
Yeah. On the other end, if, if they leveraged the added value of your system and just build a simple and single tank, and now they wants to get rid of your, your solution while they need to, to build the full plant. But yeah, I mean, if you treat the water, you treat the water. So, yeah, but just to say, I'm still trying to keeping my, my, my, my devil's advocate hat on a bit,
Gabi Wolkinson:
They postponed the investment. It's just postponing the investment. The investment will have to come in now or tomorrow or the next day, or not at all. If you continue working with our treatment,
Antoine Walter:
How close are you to membrane manufacturers? Because, you know, I had on that microphone Haris Kadrispahic from LiqTech, who was mentioning that they were working on the way to add a layer of biology on top of the membrane. So to have the biology outside of the, the hardware membrane and know that companies like aquaporin are doing similar stuff, and you're taking the opposite route, you're putting a biological layer within the membrane. We're just wondering if there are some synergies there to leverage between what they are looking at and what you are looking at.
Ofir Menashe:
Most of the, of, of the technology and people ask me about the clotting of the member. And if there is any possibilities of clotting the member and by creating a biofilm above the membrane surface. And I tell them that the membrane, our member is having a strong, negative charge or strong negative Zeta potential, which means it's rejecting a biofilm formation because the biofilm itself, it's also having a negative charge. So we don't actually see any growth of biophilic on the surface of the capsule, but you didn't ask me about that. You asked me about a different thing and no, we don't have currently any connection with other member companies or collaboration in that case.
Antoine Walter:
So how would you grow your solution from there? Because it sounds like so easy. I mean, I'm even surprised that it's not really, that's a subscription model because I would clearly see that, you know, I have a pond with 15 fish just beyond my holes. I would say, Hey, I take the, your X, X, X, X access subscription. And I get my, my 12 capsules every month. And I'm very happy about that. But how do you grow from your, your position today? How international are you and how international do you expect to be and is sky the limit?
Gabi Wolkinson:
The major problem with what you're talking about a subscription is that everybody of water is different. And then each one is a tailor made. So it's not like I can say, okay, you buy the subscription and you're set for life. It doesn't just doesn't work like that in this industry. And therefore you need to have a setup of engineers to back up the solution for each customer. We actually started our commercial life at the end of last year and decided to go international slowly, but it wasn't working. It's not working too well for us because the international companies are asking for help in different aspects. And, and we find ourselves working in Spain, in China and in Greece and in other places. So our business model is actually to we're looking for representatives abroad. We have our eyes set on a few, but there is nothing that we are a hundred percent settled on. In the meantime, we're taking care of the individual clients that we're starting to work with and we'll evolve from there.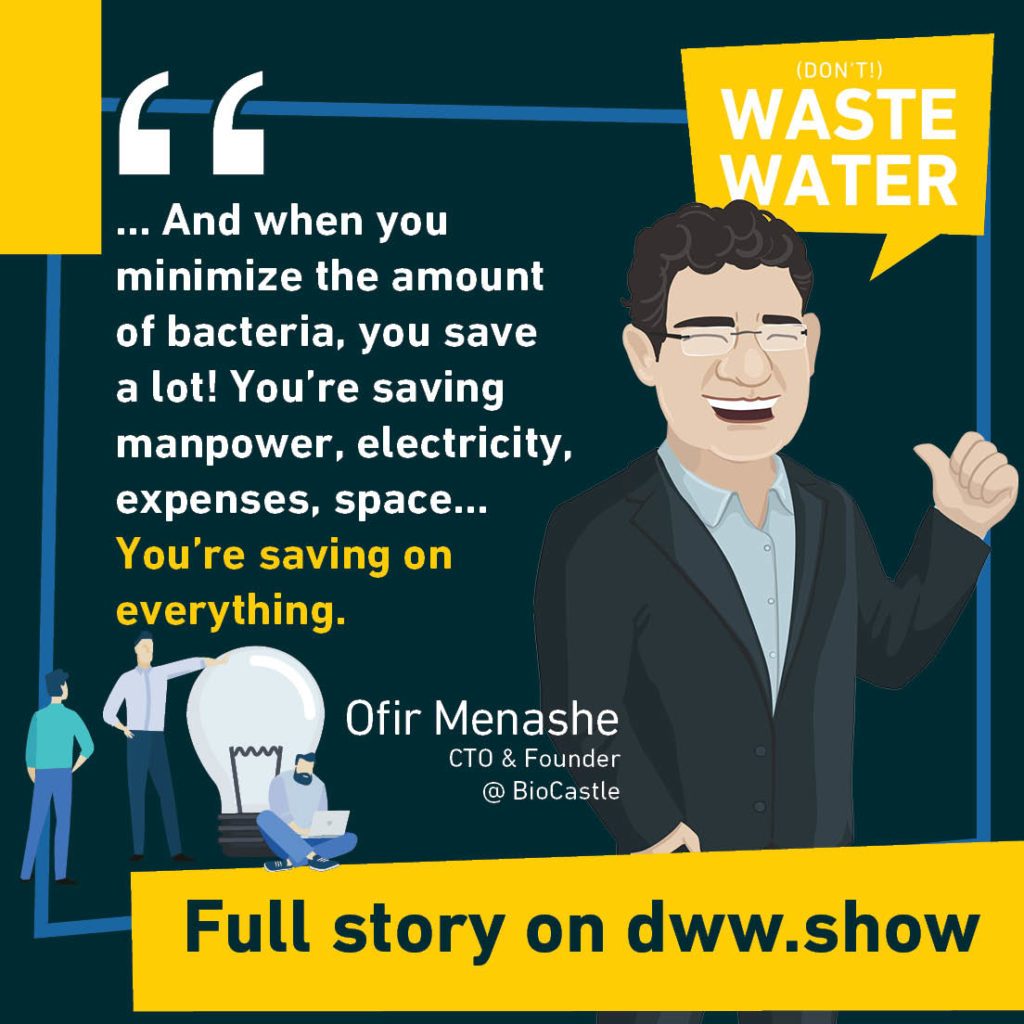 Starting Commercial Expansion in the middle of a Pandemic
Antoine Walter:
It was probably not the easiest year to start shipping commercially worldwide when the full word is in lockdown. So I guess that doesn't help. But you mentioned something very interesting about, it's not like you, you said it's for once and then nothing happens because we are dealing with natural stuff, which might be drifting over time. Does that mean that you, you take some samples on a regular basis that your clients send to you so that you tell them, Oh, you're using the red capsules. You should take two additional green ones and two, I'm putting stupid colors on it. I guess you have scientific names for that. How does that work?
Gabi Wolkinson:
Yeah, I will answer for that. First of all, do you have a water analysis data we are asking for the water analysis data and try to understand what is the data that's that's they providing watch out? The problem is, secondly, we are asking for the process itself, what the infrastructure, what is the operational activity? The drought leaks, everything. We are actually learning about how they treat the water I'll decline, treat the water. The second stage is to ask the client, what do you want to achieve? What is expectation from us? You want
Ofir Menashe:
To reduce nitrogen. You want to reduce Cod. You want, you want to increase capability. Office is in for fracture. After we are decided, what is the, the treatment target? Then we can start to think about our solution. Are we tailor-made our solution to his existing process.
Microbial Encapsulation – a perfect process for combinations?
Antoine Walter:
And I've seen a couple of studies on your website. So scientific studies about combination of treatments. Do you have like a preferred causing our sister or brother treatments, which should capsules work smoothly and synergistically with?
Ofir Menashe:
Yes, actually, let's go to the basic. We are working side by side with activated sludge. For instance, this is one technology. The other one is two are trying to combine our technology with other treatments, such as a UV radiation, physical or advanced oxidative processes in order to increase an accelerated the biodegradation of compounds, especially the heart biodegradable one. And now there is another thing that is very interesting today because nowadays the analysis, the water analysis get a huge progress. And now we are starting to understand that we have a small amounts of compounds. We call them micro pollutants that although that they have a very small amount in the water, their impact upon the public health and nature are significant. I will give you an example. For instance, Orman sex. They were dial hormones that we are also decorated insight into the, our sewage. It's going to the water fish and ambience feeling only five nanogram per liter, which is it's nothing.
Ofir Menashe:
And they all started to transplant. So males into females, that's when we are ending or heading all the next generation and Orman Sensex, there are done, almost are working on the part of the DNA so they can influence the expression of the DNA. So this is only one example. The other example is pharmaceuticals. For instance, if we take Berlin few years ago, there was a vessel billing for conference. They're talking about Gabapentin it's anticonvulsants and medicine, and they already have it inside the tap water. So the next generation of treatment will be micropolitan. There is two countries almost free. That's already have regulation, and those are Switzerland and California. And I think Germany is getting insider. And now we need to know to figure how to treat it. And probably it will be in two sides. One side will be in at the end of domestic wastewater treatment plants and the other one in the origin of contamination, for instance, in pharmaceutical industry. And I think this is, this is the future of the treatment of water of water treatment in this industry. And we are of course, applying to this direction.
---
Can Microbial Encapsulation help remove Micropollutants?
Antoine Walter:
Actually, it's very interesting that you, you mentioned micro pollutants don't get me started on the micro pollutants because if you do so we are there for two other hours, but when we were making some, I used to be part of our research programs. You mentioned Switzerland to be a forward looking country. And I was involved actually in, in the, in the first projects, they were in Switzerland to treat micro pollutants and we made some studies and we found out that, you know, the, the biological step in the waste water treatment plan is already eliminating 40 to 60% of the micro pollutants. But a good portion of those are not really eliminated. They are transferred into the sludge. And depending on what you do with this ledge, you might be putting those glutens back in the environment at some point. So I really see here a first advantage is that if you get rid of the sludge, because everything is put into inside the capsule, then probably you're, you're, you're already solving one first part of the problem. And the second thing is that if we were treating only 60 persons through the microbial, I mean, they're the biological step.
Antoine Walter:
It wasn't really targeted at certain pathogens or certain micro pollutants. And now if you pour in your approach, which is to say, I can have that specific bacteria, which is looking at that specific problem that changes the paradigm. You mentioned that you're involved in, in research project. Is there something you can already talk about here, or is it something that's addressed in the future?
Ofir Menashe:
I can disclose something. We started to develop this process on a 2016, we were starting to target sex or murder. Orman's sturdily Orman's as a model for micro pollution. When we consulting with very senior engineers, they said we don't have any chance because there is a competition. And I asked him, what do you mean about competition about between the bacteria and say, no, no, not between the bacteria, between the carbon sources. You are a very hard bio-degradable carbon source, which is the Germans. And on the other sides, you have a lots of easy to eat carbon sources. So obviously the bacteria will choose the soft. We call it soft bod or soft compounds to buy would degrade. I think it's wrong. I think it's wrong because now you, you are looking at bacteria as something that can choose. I feed that bacteria don't have any capability to choose.
Ofir Menashe:
They evolve in India, evolutions, biochemical, process enzymes, and once are feeling once they are feeling the common sense that they are using. They started to break it down. If they're not a carbon sources, of course they are using both, but still they will work on this major path. But this was very easy to prove in a tube. We put our bacteria in a tube with the sex Oman Stordahl Orman as the sole carbon source. And after a while, check the kinetic rate of the biodegradation. And then we took another tube, put it the Ormond and a glucose, which is considered very easy to biodegrade. Why do you think was the results not significant? It's still breaking down significantly. There are many.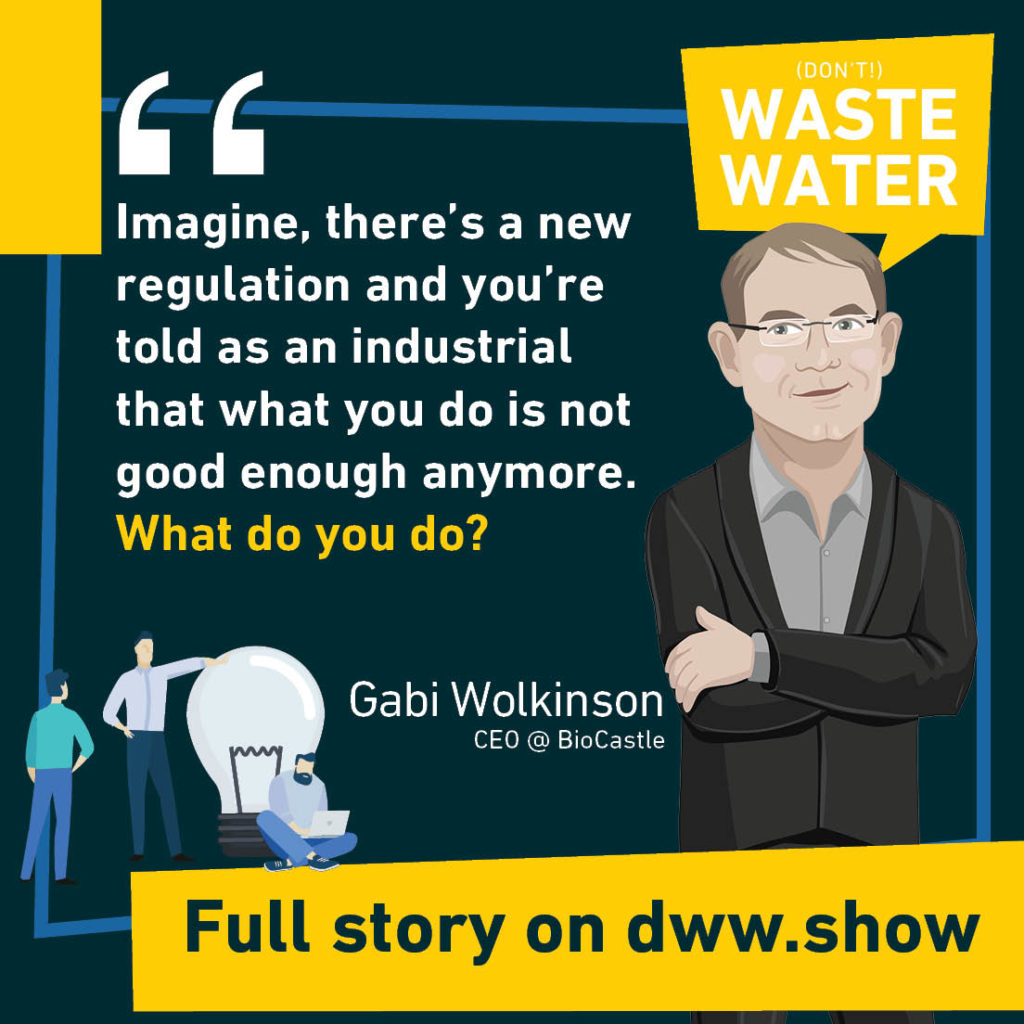 Antoine Walter:
So if you have the right bacteria either, right, and Zim, there's no competition between various reactions.
Ofir Menashe:
You say something very important because if you have the right bacteria, what is the right bacteria? The right bacteria is the one that develop the capability to use this contaminant as a sole carbon sources as a sole carbon sources, which mean that it can take in the contaminates from estates up to mineralization, into CO2 and provide a carbon source and energy by that.
Antoine Walter:
So we're back to your point about breeding the right bacteria. It's fascinating. It's really fascinating, but that's all you don't get me started because
Ofir Menashe:
It's all about,
Antoine Walter:
That's very interesting because you mentioned Switzerland, we start getting certain bacteria. You mentioned California, which is looking at 1.4 dioxane. And you have also now that the full P festival, which is another, another story. And then there is some specific lender in Germany, which is also in, in Sweden. I mean, it's, it's really popping up right and left. And of course the more we are going to go into reusing our wastewater, the more it's going to be a hot topic to, to deal with this micro pollutants. But I take a mental note here. We have to make another deep dive on that. Another time Gabi off your, it was a pleasure to discuss your technology. I propose you to switch to the rapid fire questions.
---
Rapid fire questions.
Antoine Walter:
My first question is what is the most exciting project you've been working on and why?
Ofir Menashe:
Well, I think everything is exciting because it's new. We are really excited industry. Once we
Gabi Wolkinson:
Are developed a new process treatment, this is really exciting, especially when we see the succeed. Not all the, the study was very successful, but once you will see the success of a new treatment that no one done it before, this is really fulfilled. I can talk about the fish. Growing fish is amazing. It's an amazing experience. And to be able to do it in a significantly different way than the world does it amazing. We put the nitrification process inside the fish pool. No one in the world does such a thing. It's totally amazing.
Antoine Walter:
I have a totally different experience about growing fishes. It's a different story, but I'm in a battle against the hero and in my, in my region, which are just eating all my fishes. But yeah, but yeah, sorry, I, I don't want to sidetrack you here, whatever I did with you, a Gabi , what is your, your favorite part of your current job?
Gabi Wolkinson:
Oh, I love working with startup companies. That's what I've been doing for the past 25 years is taking ideas and turning them into a successful companies. That's what I did also in the I've been doing in my previous work and now with the field to take the an idea or a product that he invented into, turn it into something commercial that really has an impact and not just something that sells, but to have a good impact on the environment fills me up that does it for me.
Antoine Walter:
I didn't ask him to do David. It should have, so let me, let me do it. Now. I was discussing with, with Gaetane Suzenet on that on that microphone a couple of weeks ago, and she was mentioning that the water industry is rich of startups and many startups, and it's switch of majors. There are some majors, some even are emerging. What's that? That's another topic, but we are missing the scale-ups because sometimes the majors see interesting startups and they buy them out or simply startups want to have an impact locally, but they don't go to that bigger scene. What is your ambition? I don't think there there's a wrong answer to that question, but what is your ambition? Where do you see bio castle in five years?
Gabi Wolkinson:
Castle in five years is probably going to have competition,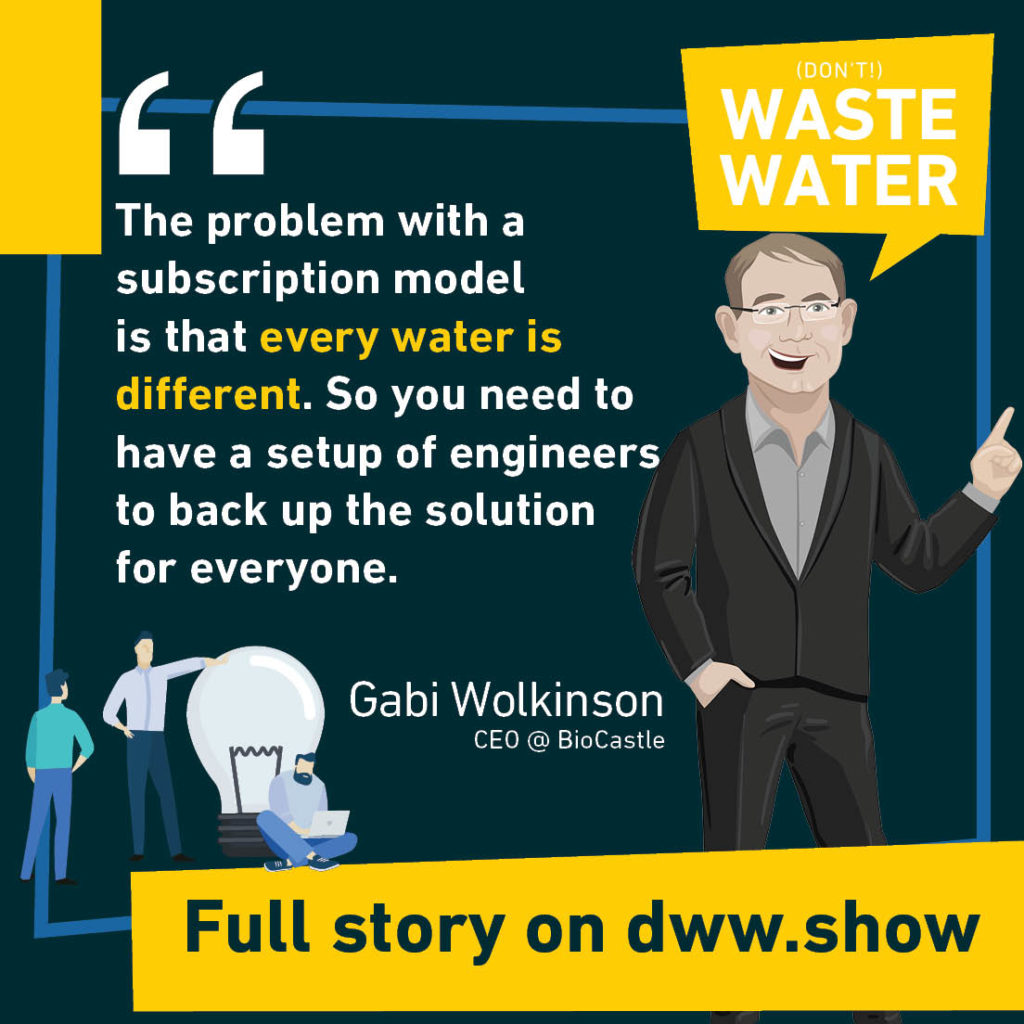 Antoine Walter:
Which is a good thing. That's
Gabi Wolkinson:
Yeah, that says it all that says it all. It just shows that the process is right. And if the process is right in the industry for encapsulation, for macro encapsulation is a correct way to go and the world is going to acknowledge this kind of a technology, and it's going to impact the environment positively. And if that happens, then that means that we're going to go sky high.
Antoine Walter:
So the best thing I can wish was to have competition. Yeah. You know, usually it's a, it's not a good sign when you're the only one at
Ofir Menashe:
The beginning. It's not a good sign, but, you know, I, it always goes back to when we went to in marketing and we asked, why are all the shoe stores on the same street? That's because people know where to go to buy shoes. So they all located in the cells on the same street. It's okay. It's okay. You mean, we're not going to be alone here in any case. And the big companies are going to continue dominating the markets in any case. So the more this type of technology is acknowledged, then obviously companies are going to go appoint to start working in the same direction. And that means that we're in a good place to be. Then we have to be smart enough to keep our head above the water and to grow ourselves faster than everyone else. And to be one step in front with new ideas, with new developments and with new processes.
Ofir Menashe:
And I think that that is what makes us a strong company is that we think out of the box, we're bringing new processes to the market and that's, what's going to keep us going. That's what's going to keep us in front of everyone else. I'm more a dreamer. Now I'm a dreamer. I want in five years that bio castle would change the water industry world. Because if you you're looking, this is an industry. That's almost the only industry that expense only upgrading of infrastructure, only large scale, just enlarging scales and not reduce, reducing the infrastructure as we experienced in all others industries. So we, in this industry, we only experienced in enlargement and increasing in energy demand and bio castle. This small company want to opposite this direction to doing downscale things. We already done it. We extract much more for our infrastructure by 20%. And this is the direction to find a new ways to treat water, which costs less, which required less environmental resources and still will have good quality of water of product.
---
Antoine Walter:
Well, actually, I beg you to believe me. I'm not trying to sidetrack you every second, but you mentioned, you're looking for competition in five years and you want to have that big impact. I'm not sure competition is going to go one to one with you, but it looks like to me that several companies are looking at this activated sludge and thing. Hey, we can do that better. I'm thinking here of companies like, you know, narrate. I don't know if you, if you know them,
Ofir Menashe:
That's interesting because activated style slides, I think it's from 1914 is more than 100 years old technology. So we need to upgrade. So now you're, you're in about granulated activated sludge and everything. And why is the Gabi said that's, it will be much more easy for us to have some competition because we don't have something to compare with. We are so advanced that there is nothing to compare, and this is hard to explain.
Gabi Wolkinson:
Look, if you need to penetrate a market and you have to keep explaining the idea again and again, and again, it makes it hard to penetrate. It makes it hard to go into. And when I said that I wanted competition. It's not that I'm want competition. I'm just saying that in five years from now, if there is competition, that means that we're very successful. That's the idea.
Ofir Menashe:
And adoption is very hard because we need to educate now the client itself, because we're bringing something new, which is operated quite new, which reducing other things that they are used to, to use it, the form, a lot of fears, and you need to educate it, that this is this type of technology is actually working.
Antoine Walter:
Let me bring that back on track. I was the one to sidetrack. So I'm going to bring it on track. What is the trend to watch out in the water industry? And you're not allowed to tell me encapsulating nature. What is the, all the trends to watch for?
Ofir Menashe:
Yeah. The trends are now are trying to use the bacteria in a dry, stayed in granulated, stayed in liquid with you know, by reactor next to the bio-reactor, which all the time, feeding the bioreactor all around, all around solution. This is why we, I told you that we are far away from those solutions. We are bringing something which is quite new and quite different for this industry. And it's really to compare the fall into other things.
Gabi Wolkinson:
I want to take your question back to the beginning. When you asked, are we treating water or reading bacteria? I think that the trends are to try and breed bacteria better than people used to breed bacteria. I think that's, that's the, the major trend. How do you breed the bacteria in a better way so that you get better?
Antoine Walter:
How do you renovate the 19th,
Ofir Menashe:
Anton, you building all the engineering around the microbiology. So once you, you have the power to change the microbiology, all the engineering will change. And this is what we do is we are changing the core treatment here.
Antoine Walter:
I take it as a trend. I mean, that sounds like a fascinating field at least. Do you have sources to recommend, to keep up with water and waste wastewater markets and news?
Gabi Wolkinson:
We have a very good contact, actually global water data, right? Yeah.
Ofir Menashe:
We actually have a few academic academic publications, some of them in wa one of them in water research, for instance, which is very high in having very high impact factor.
Antoine Walter:
So w w we're bringing in some experience academic, and also in project itself, you can find it in our website@biocastle.com. Actually, I have to subscribe to that one because I've read through your website and I found very interesting stuff. So it's really, it's a, if you're into scientific papers, you really cool scientific papers on your, on your website. So I would definitely recommend that. And I are going to put the link in the, in piece of notes, of course. And which brings me to my last question after both of you, which have been awesome guests, would you have someone to recommend me to invite on that same microphone? We have a scene.
Antoine Walter:
I think we should get a scene from the global water data. He's a fantastic guy. I think he's in Indonesia and he just got promoted in his company and he's on top of all the water data, but you know, if you want to have him on that microphone, tell him because I'm trying hard. And he keeps giving me all the contacts and awesome. And he really gives me really awesome guests, awesome suggestions, but he refuses to be himself on that microphone. So tell him, tell him yourself, come on. That microphone will Gabi a few. It's been a pleasure. I can only imagine what it could be to have even more lively discussions without the barrier of the, of the long-term distance. So I hope that we can have a follow-up discussion, the three of us around the same table. Thanks a lot for sharing all these inspiring insights into something I wasn't aware of this, this way to bring nature to a new level, encapsulating nature. I mean, it's a strong marketing take, but it's also a very interesting take. So thanks a lot. And yeah. Talk to you in five years to see if you achieved. What's your, you, you have in line and thank you. Thank you. It was lovely talking to you, and I hope that we don't wait five years to talk to them.
Other Episodes: