with 🎙️ Wim AUDENAERT – CEO and Co-Founder @ AM-TEAM
💧 AM-TEAM is a company offering leading-edge simulation services for process optimization and design.
---
What we covered:
🍏 Why developing new water treatment processes the conventional way is unnecessarily slow and expensive – and what to do instead
🍏 Why having a functional process that you don't understand is useless
🍏 The simple trick that allows you to take the risk out of experimenting with your plant's operation
🍏 What's in for water professionals, beyond today's capacities of process modeling
🔥 … and of course, we concluded with the 𝙧𝙖𝙥𝙞𝙙 𝙛𝙞𝙧𝙚 𝙦𝙪𝙚𝙨𝙩𝙞𝙤𝙣𝙨 🔥
➡️ Get the 3 Page Synthesis for free!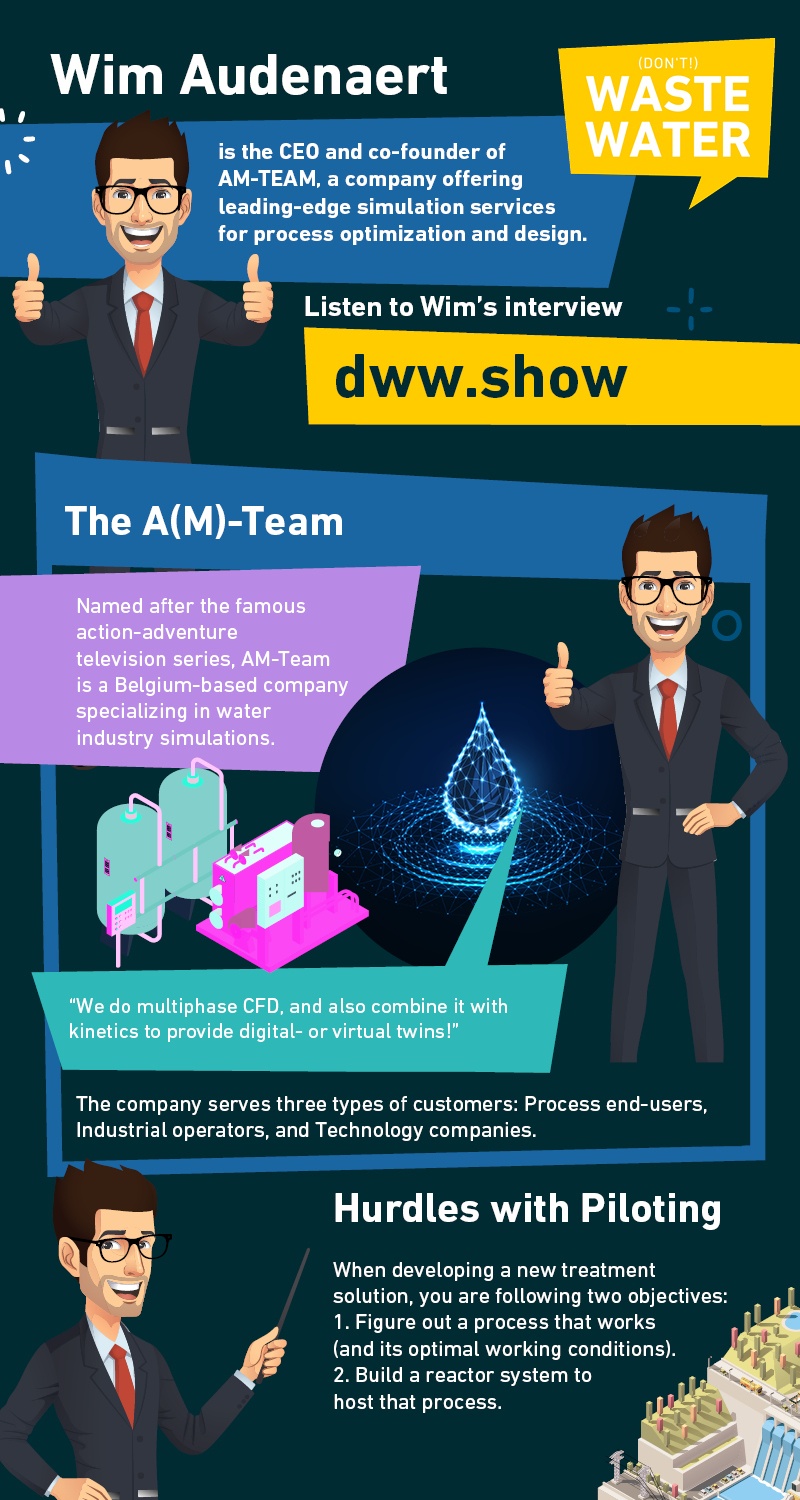 ---
Resources:
➡️ Send your warm regards to Wim Audenaert on his LinkedIn page.
➡️ Check AM Team's website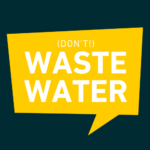 ---
Full Transcript:
These are computer generated, so expect some typos 🙂
Wim Audenaert:
Hi, everybody. We have a very special episode of a LinkedIn life broadcast. I'm actually the guest. I'm not the host guys, but I always start talking. It's my feet. This is my feet, but we have another special person here. Antoine Walter, actually, I have met Antoine the first time on LinkedIn. And this is how I started following the podcast of Antwan. I think it's a great podcast. I love it. And now apparently I can also play a role in this podcast. How beautiful is that? So the podcast is don't waste water. It's actually not usually alive. We do it live because we thought it was going to be interesting for you and you can find the podcast, hopefully. Hopefully. Yeah, well, that's depends a bit on me I guess. And the link can be found@dww.show. So that is the link where Antoine, he has a lot of interesting episodes. This will probably be the least interesting one, but he has a lot of interesting episodes. So yeah. And when I think I'm actually crashing your podcast, I will give the word,
Antoine Walter:
Thanks for the intro and the thanks from welcoming me and my podcast. So it's kind of inception. I'm hosted by my host, but welcome Wim. Welcome to the show. Actually, it's quite strange that our paths didn't cross before, because you have been active in micropollutant treatments. So was I, you have been active in ozone treatments. So was I, you know, people that I know as well, but it looks like for whatever reason, we had to cross a different way. And that's today. The first time I see you in person, I have that feeling because I've been watching videos, I've been reading your blogs and I have the feeling I know you. And I think I have this little advantage on you that you don't know me. So welcome to the show Wim, and maybe to start for the people that might not know you yet, can you start maybe by pitching yourself and pitching your company?
Wim Audenaert:
Sure. Antoine. So, first of all, I want to thank you actually for having this opportunity. I feel honored because I have seen who was in that podcast before. And I mean, these are very experienced people, very valuable for the water industry. So yeah, I'm honored to be here. It's a pleasure, but I will start introducing myself. Of course, I'm Wim Audenaart, my main background is water and waste water treatment technologies, mainly physical chemical, and a lot of modeling. So modeling simulations has always been a very important part of my professional activities. I started my career at Gent university. I had the ambition actually to become a professor and it was really not far from that. In the meantime in parallel, I also had entrepreneurial aspirations and then I decided to go found this company with some very nice colleagues four years ago in 2017. So our company, AM team, the name comes from the A-Team. The A-Team is a special force Team. It's a television series from the eighties, the American people will definitely know it, but we want to combine a very complimentary people to deliver something that is extremely unique. So our company is highly specialized in simulations for the water industry. So we do computational fluid dynamics. We do multi-phase one, two, three phase five phases. We have a lot of projects with where we add a lot of different solids classes. For example, we've combined kinetics with CFD computational fluid dynamics, and we provide digital twins to our customers or digital. I heard a very good name of that. Recently. It's like virtual twin. There are different names for that. And now we also offer a couple of other computational services. So we have three main customers which are end-user of processes end users, for example, utilities and utilities, but also large industrial customers with operating plants. Then we have consulting and engineering firms, but we also do a lot of work for technology companies. And this is very important because we help them in is quite confidential typically, but we help them designing novel technologies, scaling them up or improving their existing technologies. So it's quite revolutionary. We are Belgian based company. We have customers all over the world. So really a big fraction of our revenues come from outside Europe, US until New Zealand, Japan. So customers everywhere because of the niche focus. So that was my short introduction.
Antoine Walter:
The niche focus is actually a nice transition because you know, I like to start with a simple question. What's your secret sauce? And there are many aspects in what you just said. Let me just let you answer this one. And then I give you my impression of what your special sauce is
Wim Audenaert:
That would be interesting. I'm a very curious when. Yeah, yeah, indeed. Well, I think our special sauce is, but indeed I think I should talk to the markets. Maybe for that. I think our special sauce is that we are highly capable of performing the best simulations in the world, in our domain, in the thing, what we do combined with a deep understanding of the process side. If you do that magic can happen. It means, for example, if you look at computational fluid dynamics, people generally look, Oh yeah, you have a dead zone. You have some flow it's hydraulics, but I don't call CFD as such a process simulation tool. You can also look at it from the process angle. You add the bubbles, you add the reactions, you do your simulations different because you understand how the process is working. This allows us to develop unique models that are globally unique, which are allowed really to do quite innovative stuff or to solve problems that were hard to solve before. I think that's our secret sauce. And then a second one. So this is the extremely advanced backend. I think we have really advanced stuff. We work in an advanced way. We have very good collaborations with also researchers, academic institutes or front end. I think it's very accessible for the customers. So we don't overcomplicate things to our customers. They often don't see how complex, how sophisticated our backend is because that's equally important. Otherwise the market will never believe in it if you sell it way too complex. So I think that's our secret sauce being very advanced, but not acting like that in front of the customers.
Antoine Walter:
That's an interesting one, and probably a right one. Now I give you my impression. My impression is that your secret sources, another secret sauce is that you have a different approach. We're living in a world. The water industry is a pretty conservative world and you have a specific tone. You have a specific, I mean, I can feel the culture about AM Team. Maybe it's an impression, but that's my impression. And I was wondering if you also feel that that's an important take in your success, whatever you do, the way you approach it, the way that's you show what you're doing in your communication, but also in the way that you present the people working with you.
Wim Audenaert:
It's true Antoine. So, I mean, the first part I was talking about, let's say that was our technical USP, unique selling points. We also have indeed a culture, cultural USP. And did we try to communicate a very distinctively, quite an unique way? The team is in our company name, the word team is in our company name. This is one of the core values we have. One of our values is also fun or having fun. So it means if you work with us as a customer, it means that you probably are getting energy out of this project, personal energy. If you're working for AM team, probably you also get a lot of energy out of your job and in the end, as you also know. Yeah. It's all about technology. Typically we talk about, we are engineers. We are, we look at the treatment, but it's people business and this is the thing everywhere. How do you attract good people and especially keep the good people. Yeah. By having a very good culture and not only talking about it, but really doing it. That's a big difference, right?
Antoine Walter:
Yeah. It's about walk the talk and last question in this first section, before we dive into the serious stuff, but I've read your advice that you should not read 20 books and then apply them whenever you wish. But instead of that, you should read one book and strive to apply it day by day and to do get it. And then you go to the next one. So I was just wondering, what's the book you're up to right now
Wim Audenaert:
Up to, well again, so I'm a parallel. I hate call it parallel readings. So typically I read like 20 books in parallel. So that's a very difficult question. I cannot name all of these 20 ones, but I can say that I'm currently reading, for example, crossing the Chasm. I don't know if you're familiar, but you're like also have a very good commercial background. You will definitely know that book with the innovation curve. Why is that important for our company? Yeah, because we offer some of our services are quite, I can call them quite disruptive. We have some lower barrier services, but some of them are quite new. And then you need to have a very good strategy to bring it to a rather conservative market indeed. And then another book I don't only well read business books. And for example, reading the biography right now of the guy, Phil Knight, Phil Knight, the founder of Nike, how he founded his company, getting some shoes from Japan, selling them in the U S it's so inspirational. It's like every, every of these big, huge companies are born like that. I am looking up to them. So I believe reading biographies, history, economics, psychology, psychology book. I'm currently reading is wild Charles Munger. That's the business partner of Warren Buffett's. Yeah, he has a very good book. That's poor. Charlie's Almanack, that's a Bible for me. Wow. It's huge. But they've contained so much wisdom.
Antoine Walter:
The best I can wish you is to follow the path of the founder of Nike. Because when I read that book, I was pretty amazed because when you think of Nike, it's like, you think that company has been around for two centuries. It's so big it's so everybody knows. It's like one of those worldwide companies. And when you read the books, just recall that, well, they started small as well and they might've died every second for years. It's pretty inspiring. I would say
Wim Audenaert:
It is another one is Sam Walton's biography of the founder of Walmart, same story, very inspiring.
Antoine Walter:
So that there's kind of a pattern. So I hope for you that you follow that same pattern because you are the one founding a company I'm not. So thanks for those advices. I have to say, I have new books on my reading list. Thanks to you. If it's fine with our proposal to dive to our deep dive of today and what I was pretty intrigued in, what you are publishing is how you can remove all those steps, which are pretty common in the water industry. What I mean by that is that, and I had people on the microphone on that podcast explaining me what's their go to market? How you start from a very process Idea that's moves to a pilots. Then the pilot goes to a small scale eventually to a middle scale, to a first full-scale. And then everybody's watching for five to 10 years. If that things might be burning or working at all. And then if you can prove yourself to have one reference, then somewhere down the line, you get five. And from the five, again, that third chance so far and so on, then you have people in the industry which start talking about the digital twin and the way that the digital twin can be a clever way to run many, many modelizations of your plants, to be sure that you are running the best process at the right time. And actually, that's what I discussed with my last guest on this podcast. But you take it even to the next step. You are building the digital twin to a plant that doesn't exist. So the plant is fully digital and only once it's fully designed digitally, you say, that's the process, which is the right one. And that's the one that we can build. So I'd like to deconstruct that and start from the beginning of your process and go step by step. So what would be the first step for that? Well,
Wim Audenaert:
Because it's, it has become such an important topic in our company. I mean, if you look at their services, this is the service, what we call virtual piloting. So we have a service that we name virtual piloting. The name itself says that, okay, let's pilot on a computer, instead of in reality, it's quite, Indeed's newer people call it digital twins. Or I heard two days ago, we were having discussing with some people from IWA, my co-founder Ingmar and then a Dragan Savage from KWR. He was actually saying, yeah, everybody has his own definition of digital twins. You can call it the virtual clone, whatever. But the thing is, I will walk you through. So if you develop a new process, you have actually two big parts, two big objectives. People don't see these dual objectives. They only see one, let's make a technology that works. You have two objectives. The first one is more of scientific nature. Let's figure out the process. And let's also determine the optimal conditions for the process to work. When that is done, you actually build a reactor system to host that process. In my opinion, a reactor or a system is nothing else than just a vehicle to get to your goal. So a process as such cannot work. That's why you put it in a design, in a reactor, the skills you need to develop the process, to do the testing and to do the reactor design, and then to scale it up to successful full scale plant or installation, they are so different. Usually the same people work on that throughout the whole period of time. My impression is that it would be good to work with different skills there and to blend in computational fluid dynamics from the early start. So what do I mean with this? Not making this distinction. People will then build indeed. Okay. Our process works. Let's build a small pilot. Usually they build a pilot for two reasons. They want to test the process in real conditions. And also they want to tweak the design of the reactor. They want to start tweaking it. They want to start optimizing the process. If you ask me the second one should be isolated and should be completely virtual, completely virtual. Why? Because I have literally seen people building a unit of like meters of height, stainless steel. It's a reactor of that costs also operating it, measuring a sampling, hundreds of thousands of euros easily, easily, and then it doesn't work. They manually open it. They start changing the design. Suddenly it works. They don't know why. So if you don't know why you are not learning, if you then make a scale up again to a larger scale, you have no principals where you can base yourself on. So you can start from scratch. Why do I say that? You can start from scratch because scaling up is the most difficult exercise. I always say to my customers, water molecules or gas molecules, unfortunately they don't scale. Along with the reactor. They remain the same size. If your molecules don't scale with your system, which you're scaling, you have a nonlinear behavior and it costs huge amounts of money. But I mean, the time spent is years. What if you can cut this process with like a few years, your technology goes to the market way earlier. It is quite disruptive. If you ask me, it's hard to stop because it works so brilliantly that the benefits are just huge. I mean, people that are now like doubting it, I think they will one day just start doing it. So that's what I call the virtual piloting. You will accelerate the development of technology by isolating the design. So let's see if the be used for the design. Of course, we use very realistic CFD models. We include all the process phenomena that we think are important. I mean, you have a virtual clone of your process that is extremely realistic. And if it's very realistic, you can use it
Antoine Walter:
To start really from the roots for the beginners, for the stupid like me, what do you need at the beginning to feed your model? I guess you still need to have some kind of physical stuff. So I mean, water analysis, water samples what's the root.
Wim Audenaert:
Yeah. So if people are developing a technology and they call us or they email us, typically what they have, if you're in development stage, you have a small scale system that works, that typically is happening either in a lab or a small pilot on site, we have seen both and then they ask a questionnaire. We have to scale this up one or two orders of magnitude. Well, first we will start modeling this small scale installation because it's a test installation. They have a lot of data on that. Measurement data flow. Everything is very well monitored because it's an experimental setup. So we need some flow rate data and some water characteristics. For example, of course, some operational data like flow rates of air as well. And then a, the design, not in a digital file by some clients just draw the dimensions on a paper in order that we can make a 3D design. Then we bring in the physical equations and we start. So actually it's two things input from the process side, which is actually readily available. And then the design inputs.
---
Antoine Walter:
The lab or the pilot version of it is already working. It's a process which works to treat a small amount of water when you're scaling up. But can it happen? That's on that scale already. There are still open questions on the process.
Wim Audenaert:
Well, there can be open questions. Indeed. Some of our customers could not explain a certain behavior of technology. I mean, for example, the oxygen transfer rate was way lower than expected or the conversion rates were lower than expected and they couldn't really grasp it. If you then perform an analysis at that scale, we have had quite some situations where you really see the problem. And of course the eyes opener. I mean, Oh man, this is the cause of course. Yeah. But once you have done that, so we typically develop a very good model there. It takes some weeks. I'm not talking about a year because that's a misconception, CFD cannot be used. It takes months. We just finished projects within weeks. Of course, a large and big scale projects. They go over months because you need discussion with the customer. But I mean, once you have done that, we scale up without any intermediate piloting, we start going and we scale up this reactor with one or two orders of magnitudes. Typically the first prototype looks not so good. I mean the virtual prototype and then we make four or five new ones and there's always one that is iteratively working. So you see the problems coming with, we change and you end up with a system that you don't only understand fairly well. You know why it works? The system is the best one. It's not like a compromise on design.
Antoine Walter:
So when you say it's the best one, how can you assess it's the best one? Are you running multiple hypothesis in parallel? And then choosing like Darwinism taking the best one. Exactly.
Wim Audenaert:
For example, in one system, the inlet outlet configuration can be slightly different. Maybe they'll a water level is alterate it's maybe the height of some baffles or membranes or whatever is in there. We change. And some of these perform best in need. Of course. Can you keep optimizing it incrementally? I'm pretty sure, but why do I say the best? If you would have not taken the virtual route, you would have never known what design would have been the best. Maybe there was still an improvement, significant improvement possible.
Antoine Walter:
I think that's the story of what the treatment, if you look at it I think there's no two plans which are really identical because you always identify something which would have been better and what's develops over 30 years or 50 years. If I get your rights on your scale, it's more a matter of weeks because you can evolve the model and have much more iterations than on a concrete tank. Exactly. Well, yeah. So when you say you model something, how do you, how can I understand that again? Don't forget. I'm stupid. When you're modeling, for instance, let's say you're an MBBR, there's the MBBR from one supplier. And then there's the MBBR from another supplier. If you listen to them, they are gonna explain you how different those two design are and how different everything they do. And the process is because it's not the same chip inside because it's not the same overall design and some of them might be proprietary and some others, it might be just common design that everybody is doing the same. How would you address that? Does that mean that you have, let's give three names so that I don't have only one, but do you have one design for Veolia, one designed for Suez and one design for Wabag? Or do you have one thing which is called an MDBR?
Wim Audenaert:
Yes. I would say we have one thing that is called an MBR. We have the model in place that can model a MBBR. So it means water air and these very difficult to model solid granules. So we have constructed a model that is based on physics that is actually applicable for many designs. So typically what we do is we are approached by people, either designing a new MBBR or we are working together with people that are developing these in house technologies, these technology vendors of MBBRs in needs. I'm just giving examples. So we don't really, I mean, there are many people, very good at selecting technologies. I think on the market, we don't want to replace engineering and consulting firms that put together treatment trains. What we want to do is we add something that nobody has to really optimize the design. So I would say it's a generic framework. Of course, if we work for technology companies on a core technology on a brand name, but that's very under the radar, it's all confidential. We cannot really say a lot about that.
Antoine Walter:
So you've mentioned the technical aspect of things, which is finding the right process and seeing how that might scale up. You've mentioned in the introduction, the human aspect of things, but what about the economical part? Because sometimes the best process might be technically the best, but might be also the most expensive. And then if you compromise maybe on five, 10 % treatment capacity, you might have something which is much better in terms of money. And then it's, there's a subjective part. How do you weight economics against techniques? Is it something which is within your reach or is it something that you leave up to the end user or to the engineering consultants?
Wim Audenaert:
I would say the major decision there is taken by the end user and the consultants indeed because they are doing this at shops right now. What we of course offer is if it really comes down to operational costs or design costs, of course we can assess. If you can maybe make a reactor 20% smaller for that specific process here, I'm just talking about, ozonation, we have done a huge amount of work on that. I also did my PhD on that topic. It's close to my heart, but that process has so many opportunities to improve. So are you can both reduce CapEx and OPEX significantly by doing this kind of modeling. And then of course, if you then make the comparison with the technologies, it can impact your decision. But typically we are really a company that works together with a lot of parties. We are not like a very big consulting engineering firm that does all these things together. We try to really focus what we are very good at and then work together with the parties that are good at other things,
Antoine Walter:
Typically on a project you're there for the process. There's a manufacturer which is there for the equipment itself, probably a consultant an end user. And that's the winning team. If I get you.
Wim Audenaert:
Yeah, exactly. That's a good winning team.
Antoine Walter:
Actually. I'm too tempted. Sorry. After that, in this one, you are an expert in ozonation. I recall from my years where I was working in, in this domain, we were running a pilot on the removal of micro pollutants and we had a pre ozonation. So we have raw waste water. You put ozone inside and on the paper and all your wisdom and all the scientific papers. Everything tells you that this has no chance to work because your ozone is going to target everything. But the micro pollutants. And indeed, we had to significant reduction of the micro pollutants through this pre ozonation. And as you said, the thing, we had something working, but we have no clue why. And then you cannot industrialize it because if you have no clue, why then you cannot upscale you can't, I mean, you cannot consistently take warranty or say to someone it's going to work because if yourself, you cannot explain it, then how could you sell that? Is it the kind of thing, the kind of riddle that you can take on and say, Hey, by the way, there's a way to model that. And the model might tell us what's exactly happening. Yeah.
Wim Audenaert:
My answer is yes. We have been working on a mechanistic kinetic model for the last four years. So now it's really a, like a very advanced stage it's in the application stage and this mobile contains mechanisms. So it means if you start modeling that process, you know, which micropollutants are being removed, how many hydroxyl radicals you have, how much ozone you have and which part of the removal is caused by the radicals. And by the ozone for each of the individual components. I can say, of course, in raw wastewater, you will not have any measurable ozone, but it has been there. Right? So you have had an exposure. You added, for example, 10 milligrams per liter, you added 10 milligrams per liter. It's not there anymore, but it reacted. So you had an exposure. The exposure indeed can be more than sufficient to remove some of the pollutants very easily. And it might relate to a huge amount of radicals. Yeah. Given the organics, the organic matrix, ozone, will start stealing electrons from the carbon molecules. It steals them. It will produce extra headaches. All right.
Antoine Walter:
So, well then you mentioned it is Amazon, right?
Wim Audenaert:
Exactly. That's Amazon. So am Amazon.
---
Antoine Walter:
Oh no. That you say it. I get the pun. It's funny because I saw it written there, but I never got it. Okay. Let me Pat myself. So let's take this one as an example. How do you come with such a model? What are the steps to develop such a model? Yeah,
Wim Audenaert:
Yeah. Yeah. That's another good question Antoine. A very good interviewer. I think you have to start simple. That is the main rule. I think for any modeling, don't start overly complex. And that is a big risk for scientists that know too much about the process. They will only see what is not in the model and engineer. It looks at it from the practical side and just puts up some first equations. I strongly believe in the Pareto principle, try to create the first 20% that gives you 80% of the value. I really believe in this for modeling because yeah, you can keep extending, keep extending, but I really believe that with a few equations. I mean, what are these equations? These are the key principles of this process. You have to, of course know some of the process to derive the key principles. One of the key principles in ozonation is for example, don't build a model that only has ozone in it because you will not be able to predict any of the pollutants that react with hydroxyl radicals, right? Bromate is formed by both ozone and hydroxyl radicals. So you simply need both in your model in order to accurately predict bromates. So these are, for example, some principles in ozonation. So you isolate these principles and then you have to, I think, build a few equations around these core principles and take it from there. And it gets so much motivation because you can already start calibrating your model, you see the data being described and of course, then you can make it gradually more sophisticated. I think that's a very good exercise. If you start overly complex, you might really get disappointed.
Antoine Walter:
So maybe what you're saying is the Google approach. It says this iterative thing that you have to first put something which has two legs and that's pretty it. And then from that, you build the details until it really describes what you see. And once it describes what you see and you get a fair understanding of what's happening. Exactly. That's true. Okay. So that's what you did with your ozone modeling, but you expanded far beyond the ozone with your company. So do you have to build this kind of model for each kind of treatment? And if yes, of course there's thousands of treatments. So you are busy for the next century, if you have to describe everything.
Wim Audenaert:
Well, the good news is that a lot of very beautiful models have been developed by a very, very knowledgeable people in our industry. I'm just talking about nitrification, denitrification, phosphorus secondary settling. There are really many, many things described. So if we can use an existing kinetic model, we can readily plug it in, in our CFD model and we can really use it. Of course you have to implement it, but that's what we regularly do. If we a very big question from a customer. And we also think that a lot of other customers will face this question. Then we start developing an own model. We are not really scared of that. So our company is also spending quite some effort on R&D. Only of course, if we have looked at the markets, we will not like tailor for every customer at one model that we can use once. But we will try to look at the market, how big is this need and this problem. And then we start going. For the ozonation, it was clearly the case
Antoine Walter:
Clearly. Well, actually for the ozonation, I can only subscribe to what you say because it has been for years, this big debate bromine/bromate. When is it at risk? When not? Should the wastewater be treated to the drinking water levels. And then the roommate, of course, it's even more of a problem. And if you're solving the problem of micro pollutants at the cost of creating bromates, of course you are just replacing a sickness by a sickness, which is even worse. So I think there you're bringing clarity, or at least in my eyes, you're bringing clarity. But to me, the interesting aspect is that's what's replying. And the beginning is allows you to scale up from lab process to the operation. So to the full scale, but is that the end of the road? Or do you have then next steps to say now? Okay. We have designed something it's working, but there's always room for improvement. Is it something that you leave to the operator or do you still support them? And is it also inside your reach?
Wim Audenaert:
Exactly. Unwind. It is within our reach because we have touched upon so far in this podcast on the development of technology. Okay. Then you might select technology on your plant. Will I select technology? A, B or C? Okay. Let's go for C. Then you design it. For example, you use CFD to design this plant. A very good reactor, no short-circuiting. I mean, it's all is working fine. Okay. It has been built then the operation and monitoring starts, of course. Well, we have a lot of customers that come to us, Dan, in that stage, we have the CFD model. Anyway, we can actually, we have an in hose methodology to export that CFD model to a very simple process model that runs in any simulator. I know for example, you have Imre Takacs on the podcast, so you can run that. For example, in Sumo, the big drawback of only process models in quite complex hydraulic systems is that they have to assume mixing conditions. They have to assume a complete mixing in a large chunk of the basin or reactor in reality is not happening. So what happens is if they neglect the hydraulics, still, they get good fits on their data if they tweak the parameters, but they will have to tweak them from time to time. And actually they are tweaking kinetic parameters to compensate for missing hydraulic description in the model. So what we can do is we can derive from CFD simulations an extremely simple, but very, very accurate hydraulic model that can a kinetics as well. We call that a very realistic digital twin and that can be running in parallel with the plants. So that is the link I think very easily to the operation. We had one other customer where we had the virtual scale-up. So the virtual piloting, we delivered a full scale installation. That was the final one. They build it. We again, transform this model to a very simple process model. And our customer has a process model. He can, he or she can play with themselves. For example, for customer A, this water matrix comes in, how will your technology perform customer B in our technology, this affluent, how would that perform? They don't have to pilot this. They will run it through this flow sheet model. It can run an offline or online, offline for testing different conditions online to create really the digital twin. So that's the link
Antoine Walter:
That triggers two questions for me. The first is when you have those kind of processes, if you were running it to get it, you would build the process. So you understand what's behind. I'm pretty sure you would see if something isn't realistic or doesn't make sense. I mean, you've probably must be 1000 times better model than I have ever been been. When I was in engineering school, we had models, we were running models and then we had water or two meters high, and then there was no wall, but still the water was not flowing out and we didn't notice it. So that doesn't happen in reality. So if you don't check, of course, you just take results for granted, which are not granted. So you have that knowledge, but I'm not sure every operator has that knowledge. So maybe you might have to have a watch on that. And my second question is while we're at it? Why wouldn't you take the opportunity to automate aspects of the plant? Because sometimes the model might be a better operator than the operator himself.
Wim Audenaert:
Oh, well, that's indeed a very lively discussion going on in the whole water industry right now, the digitalization, where are we going? I completely believe that you can automate a large, if not complete parts of treatment processes. The question only is when will this happen and which part of the process first, probably the most simple ones that we know most of it. And so it means our models are most trustworthy. So it probably those first ones, because yeah, the model you need in order to do that needs to be very good, of course, but then indeed the benefit of such a model is that it looks in an integrated view and an operator has much more difficulties to see in an integrated view. What's happening. Coming back to the ozonation. One example is we did a study for WEFTEC actually together with Dynamita HRSD and in U S and then Jacobs, a couple of people, they had a very nice biological treatment plant model. We had the tertiary Ozonation model. We coupled them together. What they did is they optimized the sensors to tweak the controls as such that the affluent was more suited to be treated with ozone. What does this mean? Lower nitrites are looking at ammonia. For example, if you combine the whole train with models, you know how an upstream decision will impact a downstream process. And that is probably the main reason why you might be able to make better decisions. One of them probably in needs.
Antoine Walter:
So really having a full plant approach against something, which is really saying optimize this one, that team as this one up team has this one, but then you end up with ozone scavengers in the ozonation. And then of course there's as a nation gets inefficient. So you run in the most efficient way, something which cannot be that efficient because of what's before. That's an interesting one, which brings me to something else, which is, you know, you can digitize many things. And one of the things we can digitize if I get it right, is the sensors. So you take some simple parameters and you put some digital sensors, which are taking your advanced parameters. And then we have been using those advanced parameters for years as a proxy to measure things, which we could not measure. I go back to the micropollutants. We say, you don't need to measure micro pollutants because if you measure COD, then you're also measuring the micro pollutants. But now we can also say, if I measure pH flow and I don't know, conductivity, my model might be able to give me the COD. So I would be measuring very, very simple things. My model calculates something, which is a proxy to something. So now it's a box in a box. Is there at some point a limit to what we can do with the models or really that's almost magic.
Wim Audenaert:
Yeah. Interesting. I think you can do a lot. I think you can do a lot. And of course, mechanistic models have their limits. Why? Because if you look at wastewater treatments, by the way, we were both in drinking water treatment and waste water treatment at our company. I love this because there is such a gap in between these two worlds. We really try to bridge this. But apart from that discussion, wastewater matrix is much more complex than a drinking water matrix. It's so complex and variable that it's very hard to know everything in your mechanistic model. Huh? I mean the inputs, I mean, extra equation and extra variables, but we have AI coming and I strongly believe in that. I think it has huge potential and these models can collaborate. Imagine you cannot explain part with your mechanistic model. Why not try to fill the black box with your AI model? AI can do stuff we don't grasp with our brains. We don't know how AI does it, but it produces a certain output that is valuable. Of course, the question is again, when will this happen? But I strongly believe in AI being capable of bringing us a lot of value in that respect.
---
Antoine Walter:
I am a digital enthusiast and I was told many times that I'm probably too enthusiasts. So for once I'm going to take the other end of the scope and I'm going to give you my star Wars example in star Wars, Luke Skywalker is flying over the death star and he wants to, to destroy the death star. And AI cannot find a way to do that, but suddenly he just disconnects the AI and he feels the force and the force allows him to destroy the death star. So I'm pretty sure that star Wars is a fiction pretty sure, but for a second, let's look at that one. You know, the operator has his gut feeling and the guy is in the lab, developing the process as also his gut feeling and, and this kind of magic in this kind of, you know, this Apple, which fells on Newton's head. And then he discovers gravity. Sometimes there's the beauty of the unforeseen. Is it something which might be disappearing if we rely solely on AI and solely on modeling? And if it disappears, is it a bad thing?
Wim Audenaert:
Yeah. If it will be disappearing or how to say, if it will become obsolete, I don't really know. All I can say is that you have people with 20, 30 years of experience, 40 years of experience, they sense things that nobody can sense. I also believe in that, for example, they go to a plant, they look at the bioreactor, they look how the swirls of the sludge go. And they know if it's well settleable sludge or not based on the patterns because yeah, if it's well settleable, you will have some clear zones where there's some last mixing very easily. For example, they combine all these observations from the past. They have kind of models in their heads. It's actually also a model, but it's a human model. The only problem is that the principles are not written down. So if these people retire, that's the problem. That's the benefit of a model. It's a database, it's a storage of principles. And I think they go hand in hand, you cannot, as an underestimate experience from people onsite, these people can be of great help. I think in improving models, they look at the output and they will make, they will know if it makes sense or not. They will know if it doesn't make sense, they will very rapidly lose the belief in the models. If the model shows something that they were suspecting, but could not measure, they become overly enthusiastic. I think both go very well together. How it will turn out in the long term. Let's see here. I don't know, but experience is so important. And this is what brings us to the process understanding. If you are a good modeler, a good modeler understands the process sites. Why, if you are only looking at your model and you don't understand the process, you don't know where the weaknesses are, or you don't know which additions potentially could add value. Where is the uncertainty? These are again, the big principles of the processes. I think modelers have to have a good level of process knowledge and then talk a lot with the people on sites and people that have designed so many plants before and things like that.
Antoine Walter:
So that speaks for your secret sauce. Basically you cannot be just a software designer. You have to be a modeler of one on one end of course, but you need to have that process expertise because if things don't appear to be the way they should, you have to notice it in you, your you'll get feeling has to help you on that, by the way it's addressed it. So I'm going to ask you this difficult question. I know it's almost impossible to answer, but still I'd like to have your take. If you looking at my crystal ball and you're looking into the future, let's say two years, five years from now is modeling. Now the new thing everybody is doing, is it still something which is relying on specialists? Like you, maybe a bit more people, maybe your company is even twice bigger by then or five times bigger or the new Nike. I wish you all the best, but what's your vision?
Wim Audenaert:
Well, I think my vision on that is in the end, if you look at the big trends from history, the new ideas always start with a small group of people. I mean, the specialists able to understand and daring to take the risk, to struggle using this new technology or whatever you call it. And then through time it reaches the big chunk of the market and more and more things get, I call it commoditized. So what I strongly believe in the fact that things we only can do today that would in 10 years, much more people will be doing it. And they will need much less specific knowledge on modeling because look at the simulators that they have become so accessible. So many of them, for example, many people, they are not really modelers, but they can use these simulators for treatment plants. They are so easy or straightforward to graphs. This has already become much more accessible. It will happen for CFD as well. I think for many of the applications, the simple ones, first of course, but here in the end, I strongly believe that more and more people will start using it. On the other hand, there is like another parallel thing. I like very much. Our society becomes very specialized. So we are living in the world of being very specialized. You can build a company on a niche of a super niche of a niche. You can build a successful company on that because you are simply the best in that little micro-niche. So on the other hand, if you outsource work to that company, you address probably high likelihood. They can deliver at a tremendous speed and a quality you can never meet. So probably to answer your question, we have to distinguish between what is your goal? Why do you want to reach? Is it something you should be doing in house? For example, everybody can try a building, a website, but how many companies do build a website in house? There are so many platforms, openly accessible. We are outsourcing our website. It's not our core activity. So I think if it's important enough to be your core activity, more and more people will start doing it in house, but still then there will be a lot of, part of big part of the markets where it's, they can do it potentially, but it's not their core business because they can do everything if they want to. And they will probably start outsourcing to specialists. So the objective is very important. Then also is the model existing or not? How mature is it? Do you need a lot of experience to handle it?
Antoine Walter:
And so specifically on your company on AM Team, where do you see yourself in two years, in five years? You mean in company growth or in company growth and company boats, you know, it's the season, all the companies are buying themselves together. So maybe that's also a way to see it. I'm joking. But I like to think with the crucible. Yeah.
Wim Audenaert:
The Gildan with our team here last week, Oh man, we have plans to buy Suez, damn Veolia did it. Damn, no. We will have to save for a couple of years to buy the whole thing. So that was our joke. But our company, while we have big ambitions, why? Because we feel we can help. So many people globally, too many people to stay small. So this means we want to keep growing. I think hiring will never stop anymore. Now in our company, we will hire regularly new people. So within two years I expect this company to be like 30, 35 people. We are now with a team of 11 people. And I expected within five years, our team size around 80, 85, something like that. And within five years we would really love to be the reference internationally. If you need that kind of stuff, go with AM Team, right? It's like a no brainer. That should be the goal within five years internationally.
Antoine Walter:
I'm sorry, because I have to be cautious of your time as well. But there's still one aspect, which is really puzzling me. I have to say maybe I was not watching, but when I was working for a big company, to me, the Water world was a word of big companies. And over the last, I would say one to two years, I see many startups really interesting takes on that markets. And I don't know if I was not watching or if really that's a trend out there that more and more people have ideas to nail a niche because there are many, many specialized aspects that you could do as you are the absolute specialist in your absolute fields. Is it your same impression that it's growing or was I just not watching enough?
Wim Audenaert:
I also cannot really quantitatively judge, but I have the same impression I think. Yeah, probably there are water industry became much more sexy. Some of the utilities have done also great jobs in that to make it extremely like, I mean, there are some utilities worldwide. Some of them are, you look up to these people which vision they put in the field. So that is changing as it has become more sexy. On the other hand, of course you have all these things kind of climate change, water scarcity, even in Belgium where it's raining a lot, we have droughts, it's much more on the agenda of the politics and gradually it would be much more on the agenda of investors probably if not already. So probably there is a more interesting ecosystem that might drive all of this. I have written it down on my notes, start your business in the water industry, exclamation Mark. So I think it's a good moment to start specializing. As long as you're unique!
Antoine Walter:
Wait, you mean the word doesn't need an additional marketing company really needs water treatment people, but I'm being sarcastic. But, but it's true that it's a field where you you're less tempted. I have to say when I was in school, it never crossed my mind. I never thought, well, I might create my company and it's quite inspiring to see people like you or other of my former guests on the podcast, which just went out and say, Hey, I have a different take on that industry and I can do something. And I think it's inspiring. So I hope it inspires some more people
Wim Audenaert:
One and it's closer than you think. It's I did a post on this like a few weeks ago on LinkedIn. It's closer than you think. Because before starting your business, you are thinking like, Oh, it's so big and where should I start? Start small with the right customers. And you will get there if you are really in deep, think about what makes me very unique and you occupy this little niche. Yeah. Every victim has to be filled. That's a physical principle. And as the market grows and changes so fast, you create much more vacuums than the people can fill them. I think there are great business opportunities. Great ones. I think coming back to the investments and economics of water industry, there's definitely a paper. I read it on LinkedIn. It was Sudhir Murti he co authored that paper with three other authors it's published in the inter American development bank. It's called innovations in commercial finance for the water and sanitation sector. It's out of your comfort zone as your technologists, but I would recommend reading it. It's really summing up the barriers for investments in the water industry. One of the barriers is that you have a very high capital requirements and low tariffs. So there's not really an economy in water. I mean, there's after six years there, it's aging for 20, 30 years challenging governance, complexity of projects, and a lack of data in payback times and things like that. But I think they do great effort because you can work on the technology side and create all these beautiful things. But if there is no economy supporting it and I'm especially looking at many of the countries that still have to build the main infrastructure while then you have a problem. So that should be there as well.
Antoine Walter:
So I put the link in the episode notes for the recorded version of that podcast. Wim at the end of all of my interview, I always concluding with the rapid fire questions. So if it's fine with you, I propose you to switch those ones. It's supposed to be short questions, short answers, but don't feel yourself restricted. If you have interesting stuff to say,
---
Rapid fire questions.
Antoine Walter
My first question is what is the most exciting project you've been working on and why?
Wim Audenaert
Yeah, well, we have been working on a lot of them, but I would say my most exciting until now is the development of the novel a nation model, because there are so many aspects that make it very attractive to me, great partners, vision, daring, to do something that nobody thinks is possible. And then applying it and making an economic business model around that. I mean, we have great partners that are denied meta HRSD in the U S and us. We started this rolling ball so little, little by little and it grew. And I think that's my number one, experience my personal, I mean, our team has so many cool projects.
Antoine Walter
So what's your favorite part of your current job? And that might be difficult because if I get your bites, you tend to love everything about your job, but what's your favorite part.
Wim Audenaert:
I have thought about it and prepare this question a bit, but I think it's creating to call it in CFD terms, creating a bit of turbulence in the markets and also energizing people at the international scale. I think that's really what gives me so much energy. I mean, that's the benefit, but also working in an rather slow, if you call it that way or a conservative industry, there are so many opportunities.
Antoine Walter
What is the trend to watch out in our conservative water industry?
Wim Audenaert:
I define several trends I've written them down here. For example, there are many societal pressures, for example, regulation, climate change, things like that. Water use water scarcity, but then you also have technological trends. And if I can just isolate one, I think the main things to watch are not per se new disruptive treatment technologies. There will be, of course there will be, but I think it will rather be a platform. For example, VR, AI, these kinds of platforms, how they will be integrated in the water industry. I think that's something to watch. And if you ask me big opportunity, a lack of companies that can one provide value seconds, explain the value to the markets in a clear, understandable words, use your opportunities. If you ask me to start the company,
Antoine Walter
You say AI as a platform, but is it the platform for water industry or is it spread from which is broader than the water industry? Because maybe you have some data from the energy sector data from the transportation sector, and you could leverage those and have a better take on the networks. And if you have a better take on the networks, then you have a better take on the water and so far and so on. It's an integrated cycle, isn't it?
Wim Audenaert:
Yeah, exactly. So indeed probably a lot of inspiration can be indeed taken from different industries where it's already much more mature. One example is CFD. CFD is not new. We didn't invent it as a company. It existed in the seventies, in the sixties, they use it in aerospace car engineering, not a single car is designed without CFD, not a single one, but that's already decades, decades that people use it. So yeah, I think you can steal things from other industries. It's extremely powerful. And that's why reading multidisciplinary is also very valuable read different books.
Antoine Walter:
But I guess not everybody has the ability to read 20 books in parallel. So there's a limit to some brains. You know,
Wim Audenaert:
I have to be a bit of a freak also. I think some people will think I'm crazy, but I don't mind. I'm enjoying.
Antoine Walter:
What is the thing you care the most when you're designing a new process or a new product or new service and what is the one you care the less?
Wim Audenaert:
I like that question very much. Actually I have written down care most. If we can identify a big pain in the markets, we can put a solution against that. So we can cure that pain, that big pain in the market. And we are the only company able to do that. That is what I care most about. If we start up new ventures or projects and care less, I think at least it's money, I would say in a development stage. What I mean with this, of course you have to be careful that your account doesn't dry up. But what I mean is if you are developing something disruptive or quite new, or you have a research project going on and you really believe in this idea, speed is much more important than money. And we always leave some dollars or euros on the table. I think in projects that are in the framework of development effort, we could squeeze these projects slightly more, but I don't want to lose one more weekend and negotiate.
---
Antoine Walter:
No that you were mentioning money. I was listening to your interview in the podcast from Hakim El Fadil, fatty liver, which is very good podcast and very good interview from yourself. And you were mentioning that you didn't have any accountants. Did that change since the podcast because you grew or are you now watching the finance as well? Yeah,
Wim Audenaert:
We have always had an accountant actually, when I think I said in that podcast is that the, I was still doing the administration. I was the one sending the invoices to customers following up the payments. This has changed. I can tell you, yeah, we have a very good colleague at Villa man that this is a revolution. I mean and that's the biggest challenge for growing a company delegation. You start with like a very mixed thing of tasks you don't know, even in which category they belong and suddenly you have to isolate them, delegating to one person, isolate them, have confidence in the person isolate. It's incredible. It's a very complex exercise, but that one was one of the best decisions delegating that.
Antoine Walter:
So that's a good advice, I think for the day and from Peru, I want to be you, that might be listening. Yep.
Wim Audenaert:
By the way, on one, we are a modeling company. So it means we have a financial model that predicts our cashflow. Of course, I love that model because we calibrated. We have some data and then suddenly, yeah, of course the next quarters you have no predictions. And I mean, the model is really cool to predict
Antoine Walter:
That's a good one. Do you have sources to recommend, to keep up with the water and wastewater markets? I'm going to do a bit of your advertising, cause I guess you're going to do it as well. I've seen it. You're enrolled for web connect and that you shared your recording. So I'm looking forward to presentations that we have to connect, but I stopped answering my own questions and I'll let you answer it. Thank you.
Wim Audenaert:
I'm glad one person will look at my presentation. Really glad to hear that. And then yes, I have written down a couple of things. I think the first thing is the paper. I already mentioned coauthored by studio Murti and some other people by the inter American development bank. So on the innovations in commercial finance for the water and sanitation sector, to me it's I love it. I will reread it. It's quite heavy. But then I would recommend a book that every water practitioner should read. It is called the quest for pure water. The history of water purification. The first name of the person of one of the authors is Moses. But I don't remember the last names, but you will definitely find it. It's a blue cover. I love it because I mean, there, you see that water treatment started yeah. Millennia before Christ. It's so cool to see the, all these development and the questions. And then, so that's certainly a source I would recommend. And I like to read history to understand the future. I love this. Why? Because again, it's about principles. Things happen over and over and over again. So if you read a lot of history, you become much better at predicting the future. I think because things repeat and then events or networks that are definitely interesting to follow, to keep up with everything. I think it's WEF water environment Federation, IWE international water association. IO utilities. It's a great platform for young companies to showcase what they are doing. Global water intelligence, blue tech. I think all these platforms are doing great efforts to make this world a better place.
Antoine Walter:
So I arrived at my very last question. If you had to recommend someone to interview in that podcast, who would it be?
Wim Audenaert:
Oh, well I have a person in mind. Yeah, but I don't know if you will be able to catch him for this podcast. I don't know because he might not like it. I don't know, but he's definitely worth interviewing it's Charles bot. Charles bot is I'm CTO of HRSD the utility in Virginia Norfolk, I think while different sites. But I think that person, yeah, it was a big inspiration for me. That person not only has a vision, but only brings his vision and practice because you have many people with vision. You only have few with a vision making it happen. That kind of person is person like that. And I think he's an inspiration globally for many utilities. So I would definitely recommend you to interview Charles bots and ask about all the great projects they are doing, including the Swift, which is the indirect, potable reuse project.
Wim Audenaert:
So I'm going to reach out to him and hope that he accepts that interview because you just teased a very nice content. So I'm really now I'm curious. So thanks a lot. It's actually thank you very much Wim. I think it's the longest record I've ever made and I couldn't make it last for another hour, but really I'm sorry for that. I have to be cautious of your time at some point. So thanks a lot for having being with us. And I hope to learn a lot during your upcoming conferences at WEFTEC and in the next ones. Thank you very much. It was a pleasure talking to you.
Other Episodes