with 🎙️ Nick NICHOLAS – Technical Director @ Genesis Water
💧 Genesis Water Technologies is an award-winning leader in specialized drinking water & wastewater treatment and reuse solutions.
---
What we covered:
🍏 Why companies should consider sustainability as a priority (especially in shaky times)
🍏 How Genesis Water Technology guides a typical plant manager through this transformative process
🍏 The 3 Pitfalls Industrials keep entangling themselves into
🍏 Key process insights you might value if dealing with PFAS removal
🔥 … and of course, we concluded with the 𝙧𝙖𝙥𝙞𝙙 𝙛𝙞𝙧𝙚 𝙦𝙪𝙚𝙨𝙩𝙞𝙤𝙣𝙨 🔥
➡️ Get the 3 Page Synthesis for free!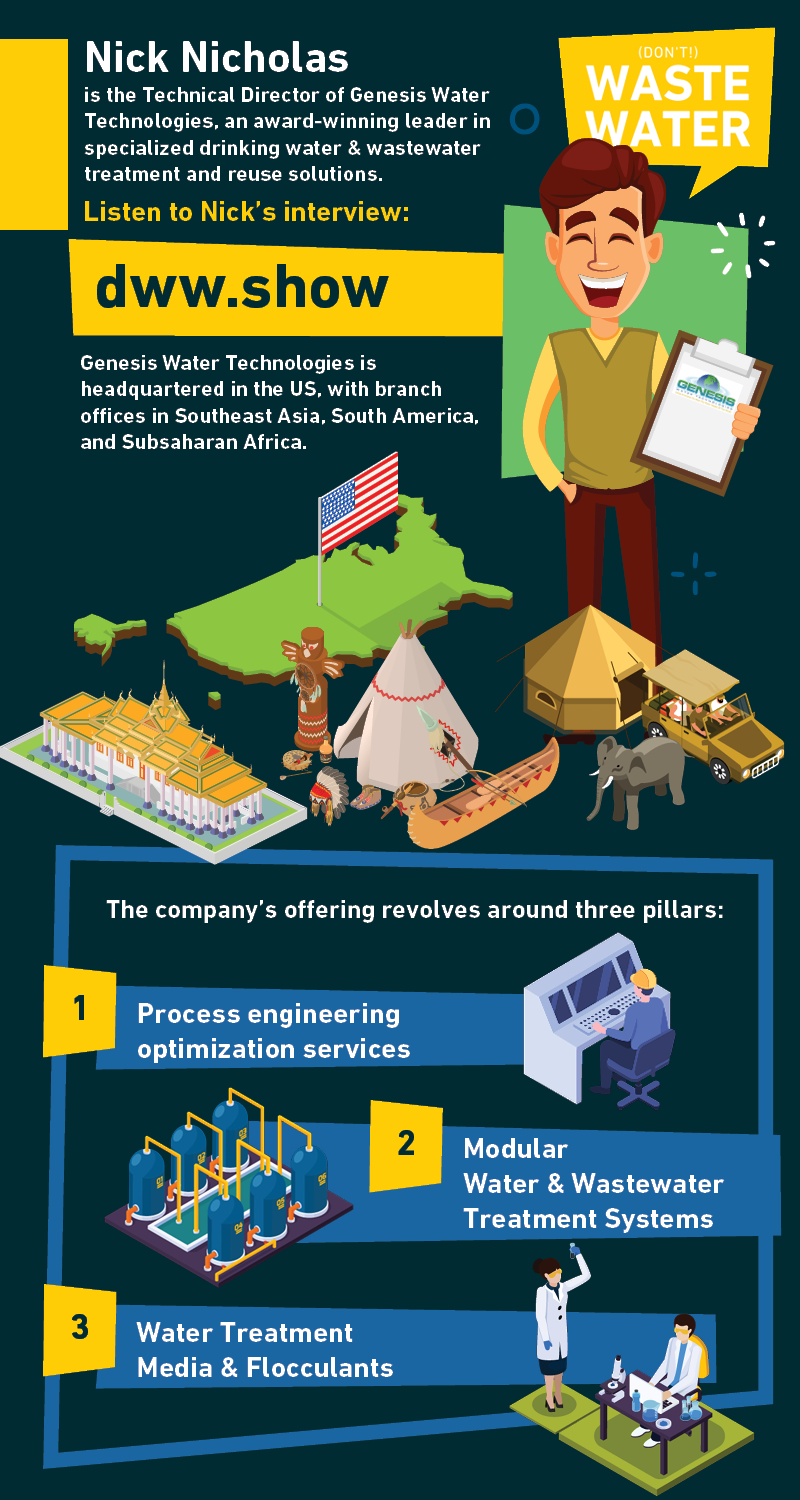 ---
Resources:
➡️ Send your warm regards to Nick Nicholas on his LinkedIn page.
➡️ Check Genesis' website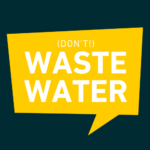 ---
Full Transcript:
These are computer generated, so expect some typos 🙂
Antoine Walter:
Hi, Nick, and welcome to the show. I'm glad having you, and I'm also pretty happy to be able to go on the other side of the ocean this morning, cause you're sitting in Orlando right now, right?
Nick Nicholas:
That's correct. That's correct.
Antoine Walter:
So let's start with the postcard. Just describe me how beautiful the weather is on your end of the word right
Nick Nicholas:
Now. It's basically probably kindness guys in the range of approximately about 27 to 30 Celsius, like in fairly well and glad we don't have any hurricanes right now that are affecting us. That's another good thing on this part of the world is during these months is simply, you know, a lot of them are tropical storms and hurricanes. So we're in the clear right now. So I'm grateful for that.
Antoine Walter:
That's good to hear. And no, let me do a crappy transition, but somehow a hurricane is a kind of Genesis. See what I did.
Nick Nicholas:
That's right. That's right.
Antoine Walter:
So maybe you can just start by pitching us your company. Sure.
Nick Nicholas:
And Genesis water technology is or are in GWT. As we say, an acronym is a global water treatment engineering solutions company with manufacturing capabilities. We are headquartered in Maitland, Florida, which is just North of Orlando in the U S and we do have a presence as well in Southeast Asia, South America in sub Saharan Africa. At this point, basically I that's in a nutshell in terms of Genesis presence here in the U S as well as overseas.
Antoine Walter:
So how do you work? Is it like a technical advice comes from the headquarter and get spread worldwide, or each office has its kind of independence.
Nick Nicholas:
Yeah. So basically each office typically has a independence in terms of a business development and implementation of the business strategy that comes from headquarters. And then they each have basically their own localized design team with main design and technology coming from a U S side.
Antoine Walter:
And so you were working in the headquarters. So what's your role? Exactly.
Nick Nicholas:
Role is a technical director in our company basically. And a part of the executive team would be basically a technical director, or you can say managing director sometimes. And when ours is a lead role as technical director and then above that, we have our board and then below that, and it's basically on the regional regional managers of each of the offices in the Southeast Asia, South America and Subsaharan Africa, and then their relevant teams.
Antoine Walter:
So you've mentioned And your presence, but what sets you apart in this world of water and waste with the treatment? What's your secret sauce?
Nick Nicholas:
So basically I know in Genesis, one of the technologies, one we do essentially is solve contaminated water problems worldwide with cost effective and efficient solutions. And there was a, both our systems and services from all of industrial organizations and water utilities. And then within that GMT basically solves these problems through three different solution categories. And there was a solution categories basically are broken up into process optimization. Engineering services are specialized modular treatment system solutions, which integrates AI technology, artificial intelligence technology, and our treatment medias. So those basically are composed of a specific flocculants treatment and granular medias and our disinfection, chemical called, Gen clean.
Antoine Walter:
So does that come in a specific order that you would start for instance, with prostitute mutation, then grow that into modular treatment and end up with the treatment media or is it fully three different kinds of things you can do totally unrelated.
Nick Nicholas:
So basically it's both based on the needs of the client and sometime the client just need one of those specific solution categories. In other cases, as you mentioned, we go through each one of the steps in which would be the engineering optimization first, and then the implementation probably that the treatment system, and then follow on to that. What would be the, we call them consumables, which would be the treatment medias five elements or the Jane glean disinfection.
---
Antoine Walter:
I think this leads us quite smoothly into our deep dive, because what I would propose you as a kind of role play, let's assume I am one of your prospects or lead. I'm an industrial owner. It's nice because I, in my fantasy, I can create like factories where I'm running those factories, but that's cool. I'm an industrial plant manager. Let's start from the very roots of it. Why should I bother about water sustainability
Nick Nicholas:
Now it's as interesting question. Why should you bother? But what we do is we'll take that from basically one is a sustainability. Now one is water sustainability, and then we'll go into, why should you care? Or why should you bother? Or first sustainability, we can break that down into three foundational elements and one would be social. Next one would be economical. And the last one would be environmental. So traditional and business models, they aim to basically create value for shareholders often at the expense of other stakeholders. But in this case with sustainable businesses, they basically are redefining the corporate ecosystem by designing models that create value for both stakeholders, as well as shareholders. Those include employees, shareholders, and their supply chain civil society and the planet at large. So when you were looking at a key strategic value of water sustainability, were they telling us when they need to continually talk with and learn from key stakeholders? Right? So through continuous dialogue with the stakeholders in continuous improvement, a company with a sustainability agenda is and better positioned to anticipate and react to economic change, to social, environmental, and regulatory changes as they arise in with a heightened sense of concern for each one of those areas, these issues, they have a dramatic social and financial impact on the company itself by his operations and risk management. So taking this approach, why should you bother? Well, you should bother because it dramatically affects most of the social impact of the particular plant. Then it's your you're operating or plants as well as the financial impact of the firm itself.
Antoine Walter:
So basically it makes me stronger if I start launching this kind of initiative because it makes me of course sustainable over the long run. That's correct. I guess I have to start from somewhere. So do I have to identify myself the kind of problems that I would have, or maybe can you be a helping hand and help me make a diagnosis of what could be done better?
Nick Nicholas:
Yes. I think it's definitely a, we would help in terms of identifying first, the advantages or benefits to sustainability for you. So that would first essentially be the process optimization. So we would look at, okay, what are the benefits or impacts that you can generate from these sustainable initiatives? And then from there, look at how you can implement them and how you can sustain them into the future.
Antoine Walter:
I think I skipped an important step. I didn't define myself my identity. What would be the perfect persona for you? What kind of industry can reap the most benefits of these sustainability approach?
Nick Nicholas:
Oh, we can say probably the main industry is that we can look at our energy sector and the Pulp and paper sector. So as particular industry sectors typically have the greatest amount of impact for sustainability initiatives. And they're generally the largest consumers of water in industry. So targeting those specific industry sectors when definitely benefits both the industry of clients, as well as the the impact for for the environment and social impact of the surrounding society.
Antoine Walter:
Let's take the principle that I'm from the energy sector. What I'm wondering is what could be my level of self consciousness today about my water usage. How is it in this kind of industry? Is it that they perfectly aware of what they are doing with water or do you also have to educate them a bit to help them see what's invisible to them?
Nick Nicholas:
That's correct. So basically there is a education step first, essentially it wouldn't be then that initial education, making them aware of what they're dealing with. One of the impacts on these invisible things that they may not see. And that's always either first step is education upon that. Then you can basically further define what are the specific strategies on once the education process has been understood.
Antoine Walter:
When did you do process optimization? That has to start from the fact that they have a process. So basically you come and watch what I'm doing, or you are kind of supervision. You leverage, you mentioned AI, you mentioned IOT is this kind of stuff which I have to envision, or how do you do that?
Nick Nicholas:
So basically what we do, and, and then a first step of optimization is look at your current process. So with your current process, and if it be a, you know, a myriad of things we analyze it is the current processes that you have now and look at well, how can we optimize that current process? So basically that's viewing the process itself viewing the, the award analysis on each stage of the process. And then that's where, I mean, that second done based on the second phase, when, when we do the recommendation for a system solutions, our we're able to integrate AI within the program. So those specific systems to optimize the treatment process for those particular clients,
Antoine Walter:
That is basically your second step, the model of treatment advancement of a treatment step. So now let's assume that my diagnosis is done. You found out that there are some optimization which can be done on the plant. So you would run directly into that model of treatments, right
Nick Nicholas:
This career. So after that first step, we diagnosed on what we can optimize. We look at the impact of the changes on operating costs. There was other parameters related to water quality, et cetera. Then that, that second step, we basically go into a treatability, treatability basically it looks at basically a bench test. And from that bench test, we can either determine if it's something that we have done previously and are confident in the results, or we can go from the lab test all the way to a full scale system, or we can go from a bench test to a smallest scale system. And then then full scale system at that point.
Antoine Walter:
Why does your get a log of things you've already done, where you can say your confidence to directly jump from the bench test to the full scale,
Nick Nicholas:
Basically when, when we analyze those results and we're able to based on our experience and jump into that, that whole scale I knowing with confidence and those parameters will be achieved.
Antoine Walter:
It's really, it's an industry where you're already been working with or the kind of water you've already seen. What would be the leading parameter,
Nick Nicholas:
Basically two parameters that you mentioned, both the experience in the sector, as well as experience with that particular water quality profile.
Antoine Walter:
Okay. So let's assume I'm in both cases with work actually, but when you say that you start making a small scale going down to the full scale, that means some equipment that means some actual process treatment steps. Is it something that you deliver or is it a place where you play your consulting role
Nick Nicholas:
Basically, and in this stage, this second phase, basically the provision of equipment. So what we would do is we would provide both GWT technology, as well as any auxiliary on a technology would be integrated in that particular system process, a new system process to maximize the benefits that were witnessed in the process optimization report.
Antoine Walter:
So you act as an engineering procurement and construction company.
Nick Nicholas:
Yeah. So what we do in that phase, we are not contractors launch. We work with local implementation partners. Our contractors too, is we install on the treatment solutions side, the client site.
Antoine Walter:
So that means that you have this process knowledge, you have some proprietary technologies. And then for the rest you are, you're building a team, as I would say, for each project, with the local people and also all the technicians.
Nick Nicholas:
That's correct. That's correct. So yes,
Antoine Walter:
That's, you're doing optimization, but when you're doing optimization, you have to optimize according to certain parameters. So what would be these indicators that you can take to say what you're doing is working, or maybe there's still some further improvement to do.
Nick Nicholas:
But what we do is basically we have questions surrounding what we call our key performance indicators. And basically these questions include is one or an important topic for the company or for the site. One is the amount of water used, does the company or asides have, or can't foresee a water related to water induced problems. How critical is water for production volume or quality, and when opportunities are there for water savings and efficiency improvements, now that one or one of the costs for water treatment and, you know, what are the opportunities for cost reduction? So when we look at the, and there was pretty good questions, then we go into, okay, how do we measure those particular questions? And there was other KPIs or key performance indicators. And those basically are you know, what is it, total water usage of this particular client side plant or client's treatment process on one of the domains, this particular process in flow rates and water quality regulatory, or the parameters that need to be involved. What is there that you want to demand for this particular client process? Is there a demand for cooling water? Is there a demand for other non-potable uses such as irrigation or are there uses of this particular or water? What does it cost for, for in that water into the plant? How is that accounted for when is the wastewater volume and basically finally, what is the cost from one route with treatment? So that would be okay, including the cost of handling on residue, such as fudge concentrates. Those are the particular KPIs that would be identified in order to make a proper decision.
---
Antoine Walter:
So let's assume I'm trying to make a reuse project. So I have some wastewater and I'm not very happy with my total consumption because I have to take much water from the network. And at the other end, I'm just rejecting too much wastewater. So I'd like to close a bit that loop. So I guess one key performance indicator, we will be on how much I'm able to recycle. Correct. First, just out of curiosity, what's the amount which is, let's say an industry benchmark today, how much would a typical industrial energy user like me? I mean, someone from the center of energy, how much would I be reusing already?
Nick Nicholas:
Typically these particular in particular in energy and users need work in terms of their water reuse initiatives. And a lot of times they temporary, we're using less than 10% in certain cases. So there's definitely a room for improvement in your sector.
Antoine Walter:
So that sounds like a good start. I mean, if I'm using only 10% of my water, of course, there's some way to go. So what you do watch, what you take on your watch in order to then bring me some process optimization.
Nick Nicholas:
Oh, you do are there basically is again analyze your process now and is concerned and then determine based on that. Okay. Well, how much can we increase that percentage to meet both your requirements as well as stay within a realm of cost parameters to make an economically justifiable for you to reuse?
Antoine Walter:
I think you've said kind of a magic word with this economically viable aspect, because I guess many kind of process might be able to solve my issue, but what's going to be the deciding factor is going to be the economics of that. So I get it. That's, I'm a sustainable and socially responsible company. So I'm willing to make some changes, but not fully at the cost of my profitability. How economically valuable would it be for me to go from 10% reuse to, I don't know, 60% reuse is it's something which needs a lot of willpower, or you convince me with maybe hard economical facts that it's also in my upper interest to move to that.
Nick Nicholas:
Yes, I'm then there's a key step of the first process, which is the optimization when we're able to look at, okay, you can move from 10% to, let's say a 60% and this, this will be the cost savings for you to move up to that specific percentage and maintaining the economic viability of the particular initiative. Of course, that plays into what is my cost of water outlets and how that plays a role in the economic viability of the particular initiative.
Antoine Walter:
So there must be also some external factors like an incentive from the local government saying that you should not reject that much, which will give higher costs to my wastewater. Or do you say that without incentives with the state of today's technology, it's already viable to reuse almost the full stream?
Nick Nicholas:
This is of course, based on location, certain locations have different regulations and is basically which we say regulation driven in accordance with their wanting to become a more, a more responsibly sustainable. So what we look at is, okay, based on the location, determine the feasibility of various efforts based on other external factors as well, such as a scarcity or relating to what their inputs out order costs, which is another key factor in their reuse initiative. Okay. So
Antoine Walter:
I think you've convinced me that I need to do something about this reuse, and I'd like to go back to your process aspect. You mentioned that you have a kind of part of it, which is the proprietary technology and some other stuff, which you might take from partnering companies, but what's the core of DWTs technology. What is your portfolio and where are you at home?
Nick Nicholas:
So basically what is the core of our portfolio? Well, core of our portfolio on, on a system side is basically on both in two realms. One realm for industry is we look at basically the secondary treatment and, and I try to share a treatment basically where our advantages are secondary and treatment. We're looking at on specialized technology, similar to electrochemistry utilizing those particular advantages with that specific technology using advanced oxidation technologies that are both cost effective, being able to deliver it via chemical feed pump or a some industrial chemical way in the last in the tertiary stage is on a membrane technology. Each one of these technologies that I mentioned, they all basically utilize artificial intelligence parameters on a logic within their system controllers on G optimize the treatment of performance at each one of these stages.
Antoine Walter:
Can you describe me a bit how that works, this advanced artificial intelligence sensors that you have? Is it really in the sensor side is on the controller side, where does it lie? This AI
Nick Nicholas:
It lies in the controller itself. So basically it is a algorithm and that algorithm makes we calculates continuously calculates accordingly based on the parameters of the particular water quality. So that's, that's how it's able to optimize both the operating cost and in a treatment performance of each one of the technologies.
Antoine Walter:
So you're taking off the shelf sensors, you build them together with your technology to make like a skidded or I'm in a treatment solution. And on top of that, you program your controllers to have some AI insight so that they can have a watch on the various parameters of the plants in order to still have this optimized way of running it. That's correct. That's correct. So what's the level of optimization you are reaching is its advices, or do you also automate kind of the optimization you're doing?
Nick Nicholas:
Yeah, so basically it's it's all automated. Each of the systems are automated via a programmable logic controller and they each have a human machine interface with the capability of remote monitoring that remote monitoring template is, is via internet connection through a secure web dashboard. So they're able to monitor the, in particular, I don't know the system performance parameters either locally at this system itself or remotely at you know, let's say a control room or, or or another, I'm not a location.
---
Antoine Walter:
So just for me to understand, to have a practical example, let's assume I have an ultra filtration step from GWT. What exactly are you monitoring? Is it the falling of the membrane? Is it the backwash cycles is it's the aging of the membrane on which kind of lever can you act?
Nick Nicholas:
So basically what we're doing is monitoring the the water quality and its effects in in particular a membrane itself and on the treating water performance. So in that controller, we're able to basically optimize the eye, the cleaning cycle or backwash cycle to accommodate those variations based on a varying, you know, the order quality.
Antoine Walter:
Okay. So once we've decided on the process, we've decided on the way to treat all of that. Let's assume also that I'm digging into an area where you are in an industry where you would directly go to a full scale. Now we come to the point of time where you need actually install it on. My premise is how does that work? So you mentioned that you are working with a contractor, so I guess the contractor is the one installing onsite and you do the supervision. Did I understand that right?
Nick Nicholas:
Correct. That's correct. So yeah, basically the qualified contractors that we work with are the implementation contractors. So they would be basically implementing the systems and in, according to the system process diagrams that are provided combining Moz, and we provide basically the supervision and commissioning by each one of the, in the systems.
Antoine Walter:
So they also do the commissioning and they do the transfer to the end user. And you then can come back into operation because you can also go to the remote monitoring step, where you have a watch of the process
Nick Nicholas:
That's correct. And, and the remote monitoring that's simply an agreement that that is provided to the clients as a service. So it basically allows for a continuous engagement with the client over a long time to assess their their ongoing needs accordingly.
Antoine Walter:
And so that's where the third part of your business unit comes in because you have that treatment media aspect too. I guess that's more on the consumables and the operation side of things. And there, you can also support the customers on an ongoing basis.
Nick Nicholas:
That's correct. So with that client engagement and we're able then to then provide those ongoing consumables, on your treatment media, when they've flogged, Glendora, Jen, clean on disinfection products to maintain their operation in the best way.
Antoine Walter:
Okay. So I think with that, I'm pretty confident that we started with a good reason to do it. We developed the right process to scale it. We took it into operation. It's working, I have all of that working very smoothly. So thanks for that. In our example, that's pretty nice. Now, let's assume I wasn't that lucky. And maybe I wasn't involved with you from the very beginning. What are from your experience? The three pitfalls that keep coming in the way of people like me launching a sustainability initiative.
Nick Nicholas:
That's a good question. Three pitfalls to avoid how we would advise would be to be aware of the waste water quality. Now those variations in waste water quality can be detrimental on a waste water reuse initiatives, because if you don't use the right technology and the right approach from the operating costs can basically destroy the waste water reuse initiative and the feasibility of that particular initiative that you're trying to achieve. The second one, we would look to be aware of ever changing the regulatory requirements and their effects on the economic viability of the wastewater reuse initiatives. And that's in one thing too, to be very keen to look for the last one, or you would advise, would be to understand the advantages and disadvantages of wastewater reuse and their impact on the key performance indicators. Those was basically are the keys to have a successful economically viable wastewater reuse initiative.
Antoine Walter:
Basically your number one is on the waste water quality, which means basically if I'm shit in shit out, if I may say so, if I don't have the right data, of course I have low chances to get it straight, the changing regulation, as well as something I understand quite well is that, of course we live in an evolving environment, but on the perks, I mean, advantages and cons of waste, the reuse, you mean that I have to have a high level of consciousness about what I'm doing right now and understand this one, right?
Nick Nicholas:
That's correct. That's correct.
Antoine Walter:
So does it happen that sometimes I need a helping hand? Like I'm not absolutely sure what's good for me or what's bad for me. And then can you be that third part, which is kind of agnostic and can help me with that?
Nick Nicholas:
Yes, it's definitely. That's why we start with nine with our step one, which is the process optimization. Because a lot of times you, you don't know what you need or the advantage or disadvantages of you know, particular technologies and their impact on your, your initiative. So that's where we play a key, first role in helping you evaluate those particular aspects.
Antoine Walter:
Okay. So that's like at the hospital, you don't go directly to get a cure. You have to start with the diagnosis. Makes sense. So I think that's really it for this deep dive. So if it's fine with you, Nick, and thanks for helping me as an industrial, I like to switch to the rapid fire questions sure.
---
Rapid Fire Questions
Antoine Walter:
So in this last section, I try to keep the questions short. So you can also try to keep the answers short, but of course I don't shut down the microphone. So if you need to explain a bit more, I'm more than happy to hear from you. So my first question would be what is the most exciting project you've been working on and why
Nick Nicholas:
Exciting project that been working on is actually a water you project. And this particular project basically involves one of the emerging contaminants that we have seen now in the U S and in other places across the world. And that is on PFAS compounds, these particular compounds they're, they're basically calling that forever compounds cause they don't degrade as, as easily as other particular compounds found in, in nature. So they require a and most STR process in the process has to be economical in nature but also be able to onto handle these particular compounds. So when we found that it's a particular project to me intriguing and satisfying,
Antoine Walter:
No, I'm curious, what did you use as a process to remove these PFS?
Nick Nicholas:
Basically it wasn't once we found a is we used our Jen clean Jane clean is basically our new advanced oxidation liquid product. It basically, I were able to develop this particular liquid, immense oxidation process to work hand in hand with the grain activated carbon absorption system to basically reduce the PFAS compounds and within water and add a justifiable cost, which was, it was the key to, to that particular initiative is economically justifiable.
Antoine Walter:
Nice because I'm hearing that that's a concern and it's not that often that people come up and saying, well, we found a solution plus economically viable. So it looked like you were real and something interesting.
Nick Nicholas:
That's right. That's right. So
Antoine Walter:
What's your favorite part of your current job?
Nick Nicholas:
The favorite part of my current job is the consistently changing landscape of afforded in wastewater. It's never, I never something that's that is staying static is I denomic industry. You know, that, that's what we foresee for the ongoing future is one of the most favorite parts of this particular job.
Antoine Walter:
So in this dynamic industry, what is the trend to watch?
Nick Nicholas:
They're trying to watch out to is basically ongoing moves to to sustainability initiatives, paying close attention to to issues around water scarcity on climate change and, and regulatory impact. I mean, how, how those play a role in, in the impact organizations and utilities worldwide,
---
Antoine Walter:
That's the thing you care the most, and what's the one you care the least when you're designing a new product or process.
Nick Nicholas:
So what should we care the most? Basically on two things we look at what is the the treatment of finishing CEO, this particular product, and, you know, the, the, the demand of the client to, to want to treat this particular thing. And the second is coming back to the financial liability of the particular product for the clients. So those are the two key aspects of of looking at designing a new product or process for us, but is the one that you would care the less basically looking at is this particular product AR you know, a larger or a smaller scale. We don't necessarily care about that. We just care about John, where the need is, where they're going. So we don't, we don't necessarily care how big or how, how small scale they, the the particular system needs to be, as long as it, as it's a problem then shared by by many I industry clients.
Antoine Walter:
Okay. Do you have sources to recommend, to keep up with the water and waste with the market and the trends?
Nick Nicholas:
Yes. So we do have some sources to recommend these are particular publications and I ensure your reports. These would come from such sources as of course our, our, our particular thought leadership blog, which is a R R T it's all leadership blog, as well as other industry sources, such as water online, the United nations has engraved on a sustainability goals report, which has a section on your sustainability objectives. There was a really good tool. Look at the Merona very good and useful information. Are you a surfer? No, not now. Not necessarily for, but I can, I can't say that I have tried it, not the best at it, but
Antoine Walter:
Yeah, I'm asking because, so you're sharing a, some articles from surfer.com and I was wondering if you, because it was about sustainability and it was about water treatments, we've made 40 cents, but I was just wondering if you happen to stumble upon them by accident, or if you are actually a surfer to know. I know,
Nick Nicholas:
Yeah, that was actually something that, you know, I stumbled upon and, and I was looking at you know, asset, I think this, and this definitely applies and, and and see the logic in it. So let me share it.
Antoine Walter:
It's actually, you didn't mention your own LinkedIn accounts, but I'm going to add that into the sources, which you could recommend, because it's an interesting, of course there's your blog, which is interesting as well. But on top of the blog, you also sharing a lot of other contents to do a nice curation, and it's interesting to follow you at this. So I would recommend that to the listeners. And of course I'm putting on all the links you mentioned into the
Nick Nicholas:
Yes, definitely. Thank you for for bringing that up. Cause you know, I do share on quite a lot of content on on LinkedIn and, and it's, it would be great for people to follow that in get some great knowledge along the way.
Antoine Walter:
So Nick, I have a last question for you, which is, would you have someone to recommend that I should definitely invite on that same microphone anytime soon?
Nick Nicholas:
Yes, definitely. I have in a couple of interesting entering guests at it that I think that could be definitely
Antoine Walter:
A clickable and I'll definitely share that with you here in the next coming weeks. Okay. So you've been wanting to risk it, to tell it at that microphone. Okay. I get it. So that those must be really intriguing and, and nice guests. So I'm looking forward, there's definitely Netflix. You don't want to step on toes or, or, or commit them prematurely. But definitely there will be something to, to move forward with. So Nick, you've been know some guests and thanks for that. I hope that people would have as much fun listening to you. Then I had discussing with you and I wish you a nice day. You're going on from there and with my French accent to the other side of the Atlantic. No, no problem. I'm a I'm. I'm great. Great to listen to you and, and share these a number of, you know, French dialects volunteer. Thanks it up. Thank you very much.
Other Episodes