with 🎙️ Christos CHARISIADIS – R&D Engineer @ Lenntech
💧 Lenntech dedicates to innovative water treatment and membrane separation solutions. Their mission is to provide their customers with the most professional, efficient, and reliable water treatment service available.
What we covered:
🍏 Why the most important initial in "R&D" is neither "R" nor "D"
🍏 How to solve a treatment riddle and why this is a team sport
🍏 How a concept invented in ancient Rome never has been so relevant
🍏 Harsh, strict and demanding regulations are a blessing. Here's why.
🍏 The truth about brines and what to do with them
🍏 Zero, Minimum… Here's why less is more!
🔥 … and of course, we concluded with the 𝙧𝙖𝙥𝙞𝙙 𝙛𝙞𝙧𝙚 𝙦𝙪𝙚𝙨𝙩𝙞𝙤𝙣𝙨 🔥
Resources:
➡️ Christos' amazing booklet on Zero (and Minimum) Liquid Discharge
➡️ Send your warm regards to Christos Charisiadis on his LinkedIn page.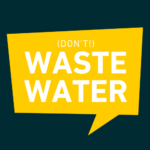 ---
Other Episodes