with 🎙️ Abdelhakim El Fadil – Ph.D. Researcher and Podcast Host
💧 The "Smart Water Solutions" podcast addresses technical hints and industrial expertise to better exploit water treatment technologies.
---
What we covered:
🍏 How Sales and Marketing people active in our very technical industry need competitive benchmarks and technical understanding
🍏 How podcasting is a powerful channel to save them hours of exhausting searches and cross-platform investigation
🍏 The three layers of information that shape the Water Sector
🍏 How Giving is the true Having, as the better way to understand a topic actually is to explain it.
🍏 The influence of product lifecycles in the Water Industry
🍏 The work behind every single technical deep dive
🍏 The similarities and differences between scientific papers and podcasts
🍏 The best ways to bridge industry and academia to build a successful path
🍏 How the Water Industry's product life cycles make it a totally different beast compared with IT or Software
🍏 What's the path of a successful Ph.D. researcher during and after the deep dive it involves
🍏 How the best way to learn is to take critics, especially if they are bad, and to DO rather than think
🔥 … and of course, we concluded with the 𝙧𝙖𝙥𝙞𝙙 𝙛𝙞𝙧𝙚 𝙦𝙪𝙚𝙨𝙩𝙞𝙤𝙣𝙨 🔥
---
Teaser:
---
Resources:
➡️ Send your warm regards to Hakim on LinkedIn
➡️ Visit the Smart Water Solutions Apple Podcast Page
---
Full Transcript:
These are computer generated, so expect some typos 🙂
Antoine Walter:
Hi Hakim. Welcome to the show!
Abdelhakim El Fadil:
Hi Antoine.
Antoine Walter:
Glad to have you. I'm really glad to have you because it's the first time I see you. I've been listening to you, so I'm really happy to have you here. And actually, you know what? I like to start every interview with a postcard and I was looking at your place. I mean, the place where you live right now, and I typed it into Google and Google didn't return me something about the city. At first, they just said, it's the headquarter of the biggest beer company in the world. So you live in a beer city, right?
Abdelhakim El Fadil:
Yes. That's true. Thanks a lot. I mean, Antoine for having me in this podcast and I'm really also glad to be here and thanks a lot for having people who really formed the water domain and really bridge really very good, insightful content. So you ask maybe the wrong guy, cause I don't drink alcohol, but I'm exactly in the middle of the biggest. Let's say a beer corporates worldwide, but the good thing they have alcohol free beer. That's a good thing. So the good thing about Leuven, I would say Leuven, is very famous with the university KU Leuven. So you can imagine you have more than 55,000 students and people are living 11 is almost 70,000. You can imagine that the people are living in Leuven and are actually working for the 55,000 students more than 5,000 PhD students, all in medicine, drug, and then chemistry and other stuff. So it's a huge facility. Yeah, apart from that, I would say to me, someone coming from Morocco, I know the French language been touched with the French culture Leuven is like really it's a harmonic between French and Dutch culture is beautiful. I would say city it's. I would say it's recommended to visits for someone who would like to see the Harmoni mix between French and Dutch cities it's here.
Antoine Walter:
Okay. So that's a good recommendation for the day we can travel again and we can visit places. So put it on their bucket list. Actually, you touched the university of Leuven. You just mentioned it. If I take the opportunity to jump into your, your path, you are currently pursuing a PhD at the university of Leuven. Right. Do we understand that right?
Abdelhakim El Fadil:
Yes. So right now, I mean, my background is in water technology. I've been working with Dow chemical for about eight years, Dow and Dupont. And then last year I moved from, let's say working in the water industry to doing some fundamental research. So right now I'm doing a PhD on research and development of solvent, tolerant, nano-filtration that can be used for water mixed with this is the reason what I'm doing here. So just to give you a background, how I ended up here doing a PhD in Leuven, it's quite, I mean, most of the students they ask me. Okay, well, what are you doing when you find a job, make you back to school? It's not conventional. I mean, I know, I know it's not conventional and you're right. I mean, sometimes you get involved in some things and really you get like, let's say very interested in one topic.
And then, you know, the companies, they change the strategy. They changed the way, how they navigate in whatever the application that they are in. And most of the time they develop projects and they put a bullet on the head of that project. They kill it. So it's, if it's stay in your heart, you will continue that project. If you said, okay, I will move. I will keep going. Whatever the company takes me, then, then you keep going. For me, I've done the voice of customer of that project. I understand let's say the technical background behind this technology. And we started actually, when I was working with a company document, could we have started that project with KU Leuven and other companies, other universities to develop this chemistry platform for solvent torrents applications. So when the company said no for that project, for me, it was, I was reluctant at the beginning.
And then later on, I said, okay, let's take a risk, jumped to that project because there is a good value for this technology. If someone develop it in the future and it will solve a couple of applications in the industry and also the team that's here in love. And I mean, profits are evil when cucumbers, when known has more than three decades expertise on this, on this technology, which I think a few universities worldwide has this, let's say this expertise. And this is, let's say the reason how I jumped from working at the company to doing a PhD at the university. So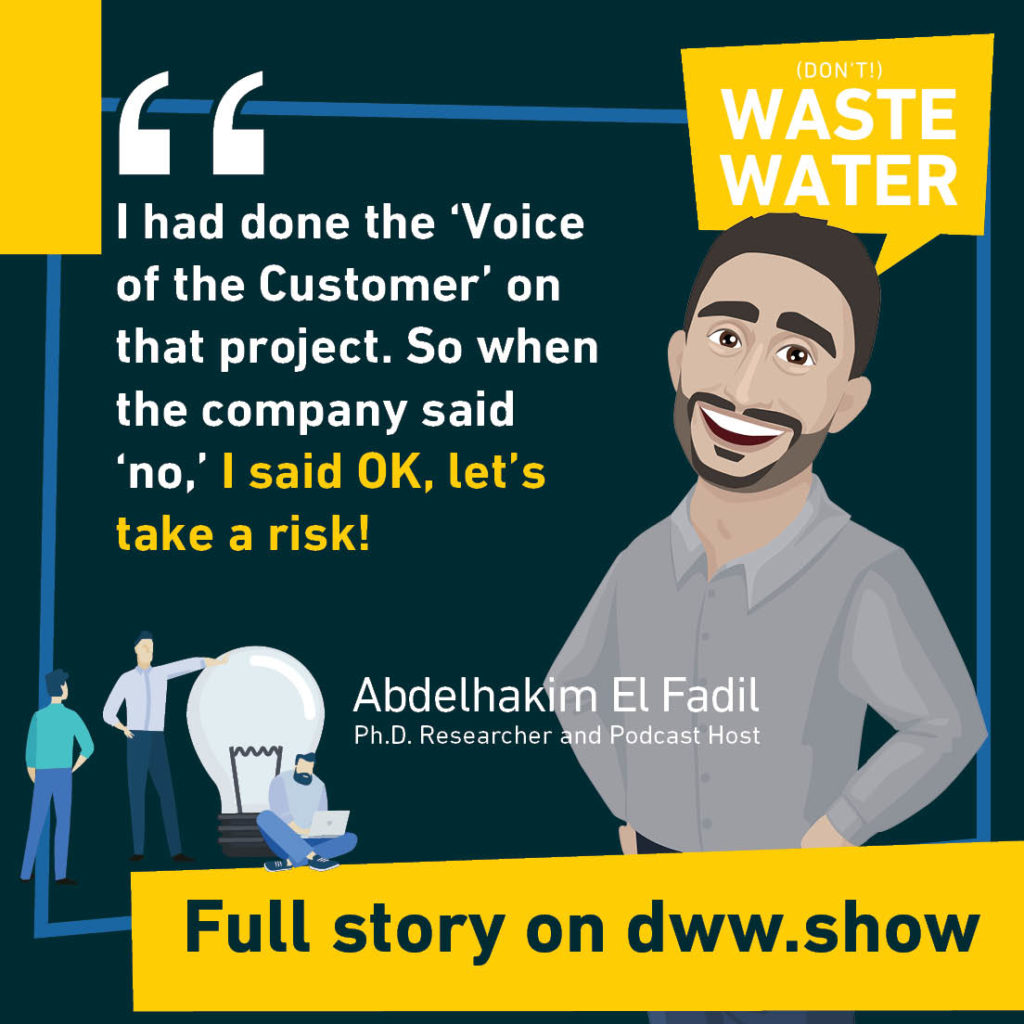 Antoine Walter:
Seconds ago that you're working on a technology that someone might develop in the future. Let me put that idea in the fridge because I didn't realize before you just said it. And now that's something that makes fully sense to me with your path and with your various interests. So really I put that question in the fridge and I'll come back to you within our deep dive with that topic. Actually just before we go to the deep dive, I'd like to get how you fall in love with Water. How did you do start this interest with Walter. And how do you connect the dots between your first engineering study is then you've made a, a master's in, in sensors technology, which is also amazing. When you think of it, then you've been in the industry. You come back with the research, what is this connecting line? Is it a waterline or what is it it's? I mean, this back to
Abdelhakim El Fadil:
What I did in my muscles, in an, in Morocco and in chemistry. And frankly, when I was doing my study, I was always asking myself, what is this sense of all those things that we are studying? And then I think most of the students, they get this questions until the end of the master thesis. When you choose the topic, if you chose the topic that you like. I remember we had the lecture, which is that time water treatments. And we had a professor who teach us one lecturer delivers us Moses technology thing in 2007. And by that time he was talking about this technology and not too many companies pour the wide at that time or produced a reverse osmosis, I think almost yeah. In us and then Japan. And then I get answers to on this technology as a memory technology and then did my masters.
And after that, I was looking where I can continue my study. And in the same time, I guess, yeah, you get good quality of study and same time have access to the industry market to get some expertise. And also it's not expensive. I would say it's kind of free of charge. The good place would be it's in Germany where we can study, you have the access to the company to do internship, to work after that. And also it doesn't cost too much. I mean, you have, you get a decent, good quality of education, but it doesn't cost you like in UK or in the other place. So I moved to Germany and I moved to castle. That was recommendation of my friends. One of the good place in Germany to get good education is also similar to live in a city. Really it's a mega city for students.
And at that time I selected a topic that was also interested in me, which is sensor, all kinds of sensors that we use in chemistry, lab, conductive [inaudible] and flows. And so all those councils have was very interesting for me because something that you've touched them, something, that's, you evaluate what you have in your water. I did a muscle in that department. I remember it's electronic departments and there was only one professor from a chemistry background. And someone told me, there is a professor here who work in water technology. And he worked with universities from Morocco, from where you are coming. So I stepped to his door is like perfect much. He told me I have projects with the case university on treating the only oil waste water. So I said, I'm looking for internships. I work with him for small projects and also does another projects.
And after that I did my master thesis with him on developing membrane bioreactor for all the wastewater treatments, which we get from Tunisia and Morocco. And then later on Dow chemical was looking for someone who can understand the language and the mentality of North Africa to support, not African for water treatment, and also has slight expertise on MBR at that time, thou has intention to step in the MBR business, but they didn't. And as someone who's willing to travel. So this is how I get working with Dow was on post solutions having, let's say master thesis in [inaudible]. And also I was working on manifestation to remove ezine. We had also another projects friend of mine and that's place. We had a project with Bangladesh where they develop none of filtration. We do noble energy to remove ezine from water for drinking water. So those are the component that's brings me, let's say to Dell, chemical, I would say, and then working in water sector,
Antoine Walter:
That's an interesting path and uncommon path, but it's interesting.
Abdelhakim El Fadil:
Yeah. And then interestingly, with, when I get to see the first installation desalination, for instance, for me, it was interesting. It's like you have a membrane inside the whole system and the membrane communicates with us with some source for me, like was kind of something that's ditch view something that is, it doesn't scare me. The things that they have done, how they calibrate the soul, how they program to with MATLAB or CMS or whatever, the software for me, it was not so difficult to get to that space.
Antoine Walter:
I guess the story makes sense. But the deep dive of today is another story, which I would like to understand coming from you. I have alluded to it a bit in the introduction. The reason why I've listened to you quite a lot before we meet is that you actually run your own water podcast. And you know, I had Adam tank and and Jim Lauria on that same microphone a couple of weeks ago. And they, they also run a podcast. So let's say it's a, the podcaster meetup. But what Adam said is that to him, they were already plenty or too many podcasts on the water topic. And which I would oppose. If you take a category like true crime, they're like 10,000 times more podcasts that in the water word. But to me, when I started that podcast venture, the only podcast around you was you. And I felt like, you know, it's very cool to listen to your interviews for one hour per week or one hour every second week, but that's not enough. I need more. So I thought, okay, that, that more of that I need, I'm going to create it. So that's how I started a bit following your path. So that leads me to a very simple question is how did you start? Why did you start a podcast venture?
Abdelhakim El Fadil:
That's a good question. You know, when my job was traveling to the customer more than 40% of time. So when I was traveling, I need to use that time in a train of airport in the taxi and the flights. So it's so much you lost. I mean, when you travel to the customer to have one hour meeting, you spend two days traveling and there was two days the only thing that I can use them, it's when I'm waiting for any transport or in the car. I was listening to the podcast, Joe Rogan, Jordan Patterson, I mean, psychology, blockchain, and different topics. And then there's one thing that whenever you go to the customer, when you step out of the customer, you get an information about the weaknesses, the strength of your products, what you are selling to that customer. And also you get insight about the competitors.
And then when I was traveling to other customers, I mean, this is something that I, most of the time I do when I'm traveling, let's say a big dairy producer in New Zealand. So the first thing I do is I studied the homepage. And then when I started the homepage, I tried to understand what kind of new product they have done. Let's say they concentrate new protein with EDI, with this technology, this technology competing against the technology that I am offering. So this kind of content was not available in podcasts. I need to sit in the hotel, look on the ads and it's search stuff. There was no video, nothing that can give me this information. Then I was looking in a podcast. I didn't find someone who can bridge me this insight, because if I get this information, I will be very confident when I assist with the customers.
I know exactly the weakness of mechanical vapor compressor. I know the weakness aquaporin I know when aquaporin makes sense, compared to Reverse Osmosis, all those kind of insight, I didn't find them. And then I discussed, I ran kind of, you know, when you launch products, the first thing you need to do blueprints in voice of customer to understand if there is a need not develop something based on vacuum. So I asked my colleagues from marketing and sellers and they told me it's definitely a good idea, because we spent so many hours in the car. If we would have someone can bring us those insights, that will be valuable for us using that time instead of listening five hours, music or whatever. So this is how they encouraged me. And then I started doing my own podcast.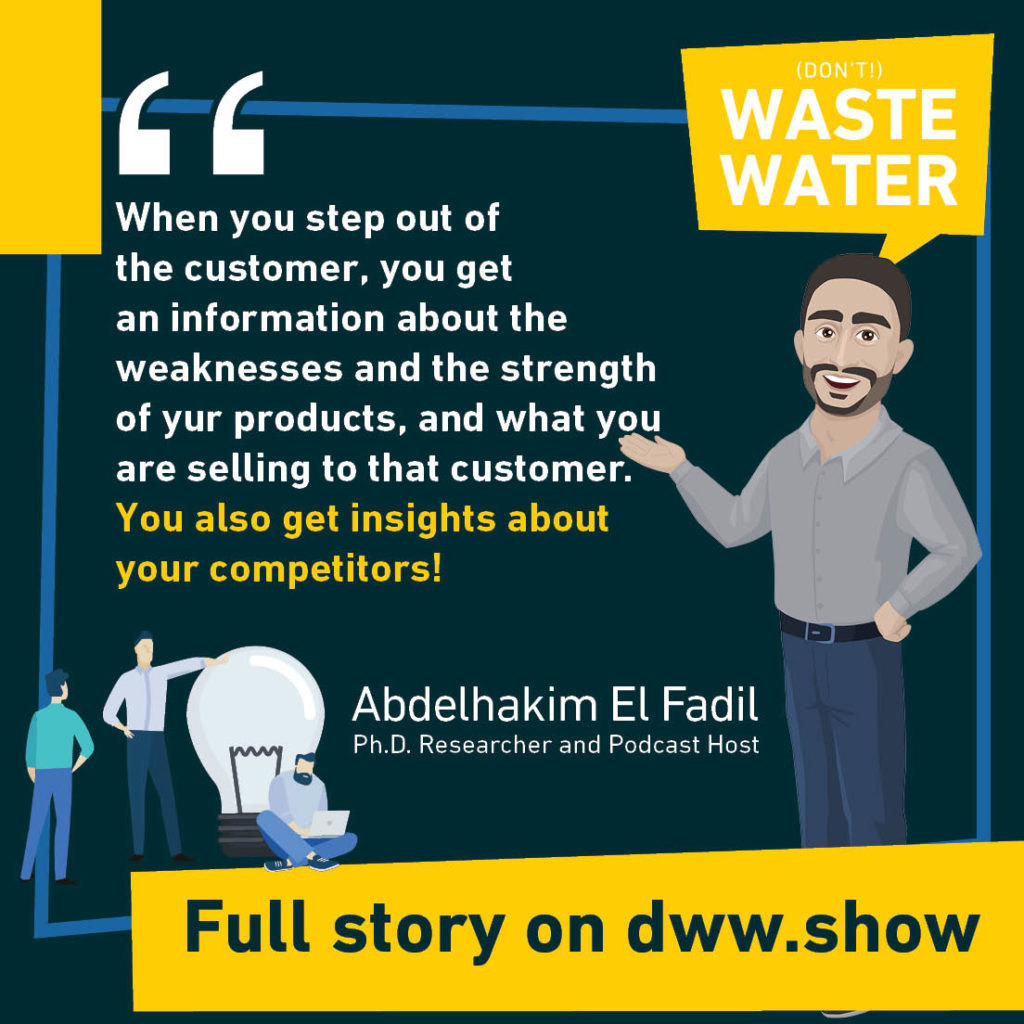 Antoine Walter:
So that was a competitive benchmark on one end. And it was also a sales training or an application training for your, your sales colleagues.
Abdelhakim El Fadil:
Exactly. You mean, you said the point that was at the beginning was kind of a product for my surrounding. The first interview I did with consulting was something that's always happy. I send it to, let's say to the customer that I've been working with. And also, I mean, if you look to buy first episode, there were questions answered that. So many of my customers, they would like to get an insight or answer about. So it's like something that's helped me and also helped my surround at the beginning.
---
Antoine Walter:
No, it's, it's very interesting because it sounds familiar to me, not because of the competitive intelligence sediment, but because of the explaining the sector to my, my colleagues. And sometimes I thought, you know, they will be tired after a certain point of time to listening only to me. So let me dragging some people that might be much more experts of the field than I am, and they will explain to them. So it's very interesting actually, because it's, it sounds very similar to me, but actually what's interesting is that in the meantime I found out that there are more podcasters than just you and me covering this Waterfield, but still when you look at the various podcasts, which are out there, I'm not sure if there's many others in Europe, I still don't know all of them, but there are lots of fellow podcasters in the U S and what they share with me, which they don't share with you is that they all come from the sales and marketing sides of the industry. And to my understanding, you are the only technical podcaster in this water field. So how do you feel to be different there?
Abdelhakim El Fadil:
Well, I mean, think maybe you agree with me, or I know when we talk about, I think water technology, when you sit in front of the customers, I think 95% or more than 90% is technical discussion. And that technical discussion actually is translated to a marketing and sales pitch. So when I'm talking about CapEx, OPEX is something that's you explain to me how much OPEX and CapEx, and then translate them in terms of dollar. And that's exactly what a sales and marketing. They pitch the customer. Look, we have a product competing against PayPal X because you would save so much OPEX within one month. And the return of investment. This is how much before getting those numbers, there is a technical question, which is you ask the customer, what problem really, you need to solve with the member that this technology cannot solve. They say, well, we have problem.
We need to shut down the system every day, we need to clean the system every day. This is the technical information that I'm looking for. You and marketing. You take that information and you make sense out of it in terms of money. So we, all of us are talking the same language, let's say, but a different layer. So this is why for me, it was kind of this raw material that's, I'm trying to extract is first valuable for the people who are operating daily and the plants, and also valuable for marketing and sellers, because I've been working with marketing people. They know when you say something technical, they can translate it into dollars, how much would it mean for the customers. So this is kind of, let's say for me, I'm, I'm kind of the bridge between the technical and the marketing and you guys, you have the sophisticated language to translate what I'm trying to get out of the customer mouth in technical way. I would say,
Antoine Walter:
I think that's also a, probably a particularity of the water industry when you think of it because it's full of engineers. So sometimes the, well, sometimes often the sales guys or the marketing guys are also engineers. So we are really a technically driven industry. So, but yes, I think you're fully right, but still, I need to drag you in a corner and to be a bit provocative here, you know, in your podcast speech, you identify technology experts as key stakeholders, as you just said, but also policy makers, investors, and researchers. And I don't see any kind of mention from sales and marketing people. So what about us? We are, we are this fifth column, which is invisible. What do you think about this sales and marketing role is it somewhere in the background. Don't take me wrong. I don't try to bounce a bad question at you were, but I would be interesting to have your take on sales and marketing is it's only or,
Abdelhakim El Fadil:
Well, I mean, if I look to the marketing people that I've been working with, I would say at least in, within DOW, I think the most of them, they are, I would say strong technical than me. Maybe they have so much years working in this, in that field. So the way how I see the marketing people, they have very, very, very strong, let's say knowledge on technical stuff, the seller also, the only thing is, I mean, the seller or marketing people, they take with them. TSND which is I mean, was my job as technical service and development engineer, because every technology you keep accumulating technical details every year, the how and why this technology can bring a value for X customer, the sellers marketing. They know that, but when it comes to the so many details that they accumulate every year, this is where they need.
Let's say the technical guys like me, but marketing and seller is not like consumer product is not. I mean, it's not like when you go to Amazon, you can compare smartphone X with smartphone B no, it's very technical technology. And in order to do marketing part of this technology, you need to understand that technology. So to me, the markets unsettled people, they are very technical. Maybe they know have enough time to follow all the details. And this is why they moved to, let's say to focus on a broad picture, they have customers, they have account, they need to follow with this account supply chain. They have to deal with other stuff, but technically they need to know. I mean, most of them, they know what they're selling. It's not like they sell you something. They have no idea how it works. And then what does mean no, no, I think they know what they're doing.
And they have really good understanding of what's going on. And in my podcast is when I say the water experts, it's marketing, TSN the seller, ENS, all those people who really work in water technology. That's what I mean by market. So even manufacturing people, they know what they're doing because they develop the stuff. They pilot everything inside the house. They mimic the condition outside. They really were tough with me. Whenever I have an issue with a customer, it gets back to the supply. People work on the C producing membrane, they know what they are doing. As I said, it's not like consumer product is very technical product. You need to understand what you are selling. Do you agree with me,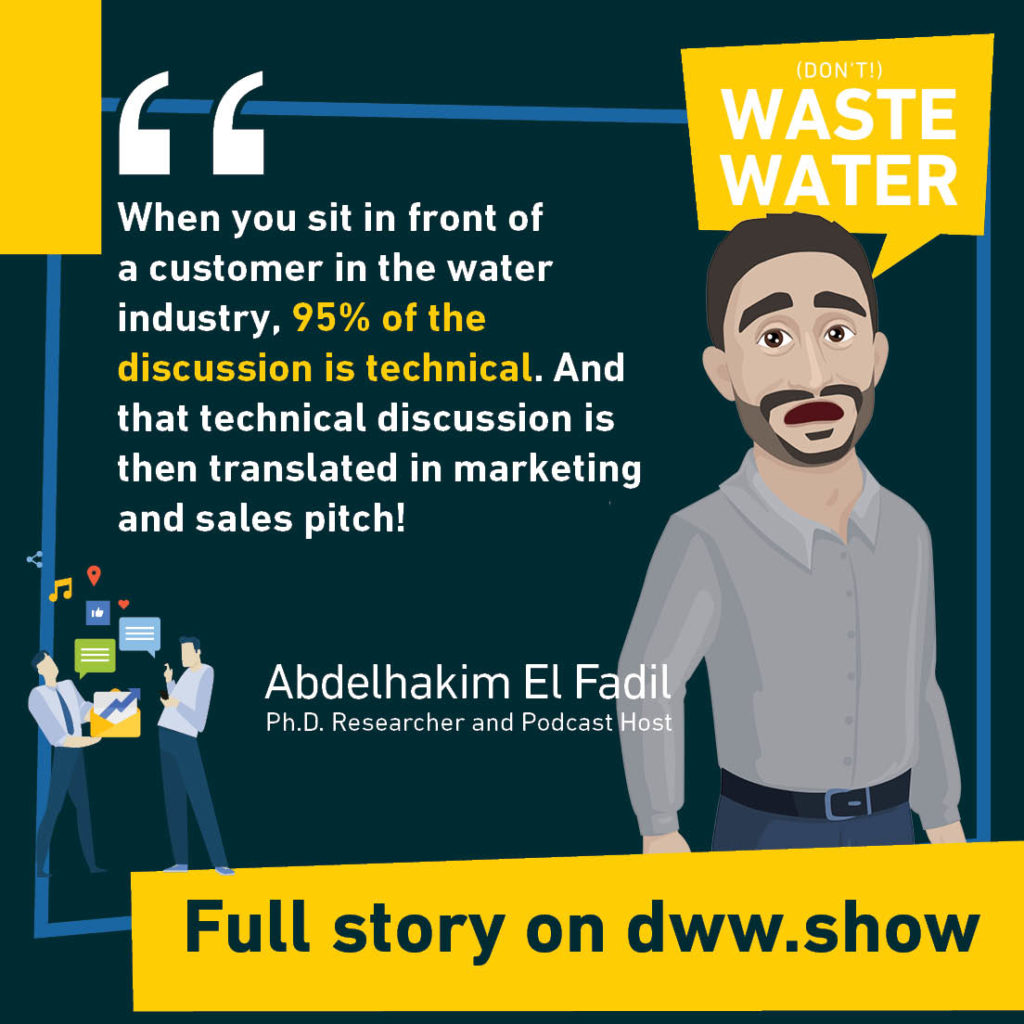 Antoine Walter:
You mastered that curve ball, which I sent you. So congrats with that. I fully agree with you. I fully agree with you, which is also sometimes the limits when you think of it. Because as I said earlier, there's a lot of technical people in our water industry, which are working in sales and marketing roles. And the limit of that is sometimes we have more technical skills than we have sales and marketing skills, because it's, it might still be a different skillset. And I fully agree with you when you say that it's not consumer good, and that you can not just apply the same receipts than Danon or Procter and gamble. But still nevertheless, to me, when I switched from engineering and application to sales, the biggest thing I had to learn is that you have to go to the customer and prevent yourself from telling him what he needs.
You have to start by just shutting up raising questions, listening to his problems. And that is counter-intuitive. As a, as an engineer, you're an engineer. You come to a plant, you see there's that problem, that problem, that problem, you have to control yourself because you want to go to the operator and tell him, no, correct that. Then I will do this and I will do that. But if you do that, the guy doesn't know you. It's like it's insulting. It's not the way you should behave. So that's why sometimes this industry might also benefit from pure sales and marketing guys with a less technical knowledge, because sometimes it's a blessing to ignore things because you dare to ask questions. So that's the only, let's say slight amendment. I would have to use statements. But apart from that, I agree with you.
Abdelhakim El Fadil:
Yeah, that that's definitely, I mean, I do see it's in that way, but still, I mean, you are right in those kinds of water technology to a probe or to get, because as you said, you need to be silent to get as much insights from your customer in order to pitch, or to bring the value of your products in the table, to bring that value in the table. You need to prop, you need to have some questions to really have the feeling what's going on. And the better the question, the good insight that you can get from that person. And it's always helped if you have good technical understanding, because you will remove all those basic questions and you get to the heart of things that you think is very sensitive. You know, it helps, you know, but it doesn't mean that if you don't have that, you will struggle.
No. I mean, I've known your light. I've known seller who really have, let's say a good overall vision. So when we're talking about selling a package of technology, I mean, now you said, if you would like to sell us an exchange on arrow and that's case someone who is not familiar with all those technology, he is better putting questions more than us because everyone is looking for his silo, you know, you're right. I mean, I'm looking to drive for our member and he's looking for you if he's looking for ionic shares. But if someone is coming outside, he has different view. He may get something better than us. You're right.
Antoine Walter:
No, it's actually a fun thing. I learned from my very first Sales Director, he was saying, you know, the day I understand an application, I cannot sell it anymore. So
Abdelhakim El Fadil:
He was actually, you
Antoine Walter:
Know, when we were trying to explain him an application, it would just start, you know, just showing lalalalala. No, I don't want to know. I don't want to know. So it sounds silly, but it's true when you master technical knowledge within this industry, you're a bit like a hammer looking for nails and every nail looks just like another nail and you would just hammer it down with, if it's nanofiltration, you would just see another filtration everywhere when maybe at that specific place. Another technology would have been a better suit. But what I would like to understand in your approach as well is you mentioned that you've used your podcast as a way to do competitive intelligence. So I fully understand that you cover a lot of membrane topics and I get the digitization aspect of things which comes quite often in your various interviews. But there's one thing which to me is intriguing is this interest and this this focus, you put on the investment and on the funding within this industry, because that sounds a bit further. Yeah. A bit farther from your, your core membrane topic.
Abdelhakim El Fadil:
It's a very good question. And then, I mean, it's kind of probing questions. If you feel something that I have, which is, I mean, I had this because in my job I was doing the TSN D the D component is development components, which means I was working with large end-users and also some big OEMs to try to develop a membrane that did not exist in the market to develop that membrane. I need to understand why it's valuable for them bridge this value. Try to get some funding internally, go to the, on the developers, product core supply chain, get the product, ship it to the customer, do the pilot test and bring the product to the market launches. Good. I see this process and I was interested, let's say, I mean, everyone would ask me when you work with a big company at all, but whatever the company you said, why not me?
I mean, I have ideas minus coming to the entrepreneurial part and you try to ask some questions. And I actually, this is from where I had to interview those people, because I have seen, let's say the pipeline from getting an idea, realize, and I think it's in the product. And then I know the product, what does mean in technically in the markets and from the marketing side selling points. But there is one part that I have no idea about it, which is the funding parts, the money. I mean, there's so many ideas in garage developers. If they are lucky, they get bought by big fishes, big companies. If they have no funding for them, it's money is oxygen. They will not get to the market. For me. It was interesting to the first question that I had. I remember I hadn't put a beep. I said, those people who invest in the water startup company, do they have something in their mind differently than the people who invest in it or other companies?
So I craft a couple of questions and I was looking in Google, is there actually copies of venture for water technology? And I find, yes, actually there is small companies are money. They invest only in water technology. And I was looking to their profile. They have bagger on water technology. And I said, okay, why not? Because those people, they may bring something again for marketing and sellers. So I've been working with so marketing answer inside the company. Also, they are interested on looking to the biggest traits because you are selling X technology. So you have no guarantee in three, four, five years, what you are selling will be cannibalized with different technology. So marketing or sales people, they always have an eye on outside what's going on. And if there is some small fish, they will catch it, buy it, grow it, sell it to the markets. And that small company it's most of the time, as I said, it's, it needs a funding. And this is why, how I get to that part. I would Spencer interview in those people, because at the end of the day, you will bridge an information about new technology is coming up to the markets. This is why they invest on it. And all those information is valuable for the, let's say the folks that are working with.
---
Antoine Walter:
So that gives you the perfect opportunity to take my question out of the fridge. You mentioned that your current topic, which is this solvent, none of filtration might be something that someone might develop in the future. And I remember one interview you had with with Wim Audenaert, where you were exploring how to transition from academics to entrepreneurship, and you just explained us this investment aspect of things. So is there any chance that in a close future in a midterm future, you take that topic of solvent tolerance and a filtration. You make a company out of that you leverage everything you've learned from your podcasting venture and yeah. You build that next big thing.
Abdelhakim El Fadil:
I don't know, actually, I mean, I do have interests that it's more working on something here couple of years, but not in an SDF. And also was one of the reasons that I step out to working with a company that's only for the university, the university one part to finish this project. Cause I see the value of it. But also I'm working on something in palliative because they see the value of it as startup. So back to your question. Yes. So all this exercise that I'm doing with the CTOC or all the people that are invited, I learned from them something very interesting. And then all this learning your rights, it will, for sure, sometime in the future, I will try to let's say implement what I learned from them. And then just back to your point to the investments, I mean, there's interesting when you look to, let's say the new startup company in water technology, and then if you do the interview with them, most of them in garage or whatever they're coming from, when they get purchased, those three people, they sit in front of them.
There is tech people who has very strong on technical. They check all their technical details, patents and everything. If they make sense. And they add on top of that, the guts feeling whether this technology will make it in the real industrial scale. And you know that, I mean, you, for example, more than me in MBR, if they bring you something on MBR development in garage, patented and sophisticated, you will look to this and you with your gut feeling what's going on in the market. You said, ah, it has some chance to be in on that. And there is financial guy who looks at the numbers. One, two, three, four years. They give on the gut-feeling and they give the ranking. And then the third person is the legal one. I check all the papers and if everything is fine, then this garage Idea will have some oxygen, which is at the end of day, which is money.
And then they will get out of the market. So this learning, you may learn it if you are lucky with the big corporates, but also you may learn it alone. For example, me and you, you may learn it with a podcast by doing a podcast. And I mean, my experience when I discuss with those people in the water, six are they're very friendly. They are open-minded they share all those insights. I mean, we can learn so many things from what podcasts and specifically your podcast. I mean, I've been listening to some episode, it's a very interesting to me is a gold of the information that extracts from those people. Entrepreneur, as you said, coming from the university, they can learn so much from you and they can get those things. They can apply them. You may not find them in the internet reason, but it's a good place to get this insight. I think we are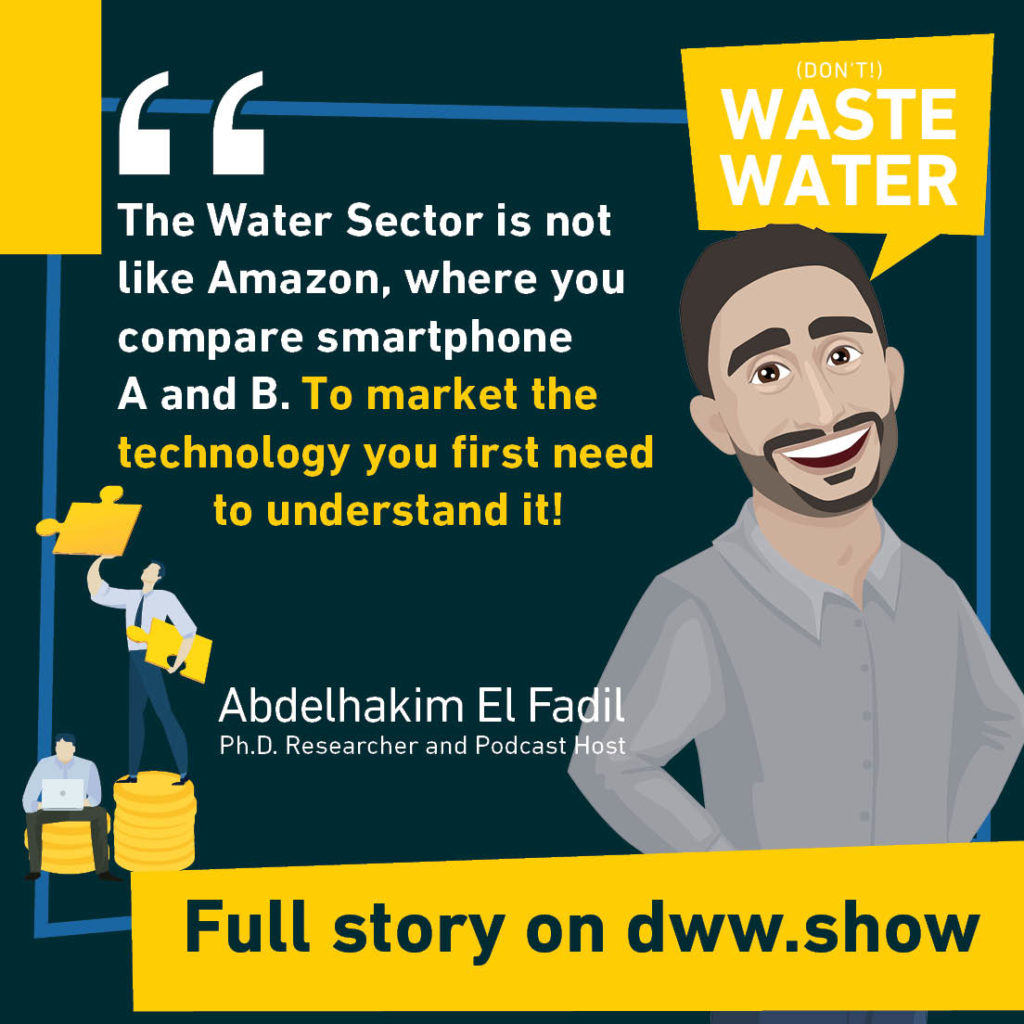 Antoine Walter:
Somewhat cracking a secret here. You should all start a podcast because you know, I quite often refer to what I'm personally doing. Like it's my personal MBA or my, my water MBA, if you want to call it that way. And I think you're fully, right. This industry is absolutely keen on sharing information on exchanging thoughts, content, and building on each other's shoulders. Yeah. I think the only thing you have to start at some point you have to push the record button or to start discussing with people. And actually you can also forget the full podcasting element and replace it by just discussing with people. And I think that's sometimes not sometimes that's always the best way to learn about a topic. It's to find someone that knows much more about that topic than yourself and to just raise him some questions. So it's very funny that the way you described the way you see your podcast venture, because again, I feel like I'm seeing myself in a kind of a mirror.
So it's really interesting. There must be some truth here if we feel the same on that. But actually, you know, there's one thing that people ask me and we're have the shittiest answer in the world. So let me check with you. If you have better ones, because people ask me, you know, you've been interviewing those people and this and that. So you should know the future. What's the future. And I have no clue. What's the future. I can maybe tell there's a trend on these. There's a trend on that, but I don't know the future. What about you? Do you know the future of, of membranes? Do you know the future of digitization?
Abdelhakim El Fadil:
The people who really forecast and see the future, they have that answered by this COVID COVID has changed everything. All the numbers have been crushed out itself. If you have a guarantee that's called, we will disappear completely. And there's no COVID 20, 21. Then the future. I think just the simple answer. I don't have any, let's say prediction on the future, but I do have one thing which is, I mean, in my experience, and then you can also share the same idea with the MOOC's water. Technology is not like an IT industry. I mean IT electronic industry. So when I was working in the past, I had a colleagues who work in the electronic business and they changed their portfolio every three years, which means the R&D is working like hell, the manufacturing, they recalibrate everything. So they changed their portfolio every three years, the software, I think the same thing. They change their portfolio every year, maybe. So the water hardware technology, we're still working with 20 years of membrane. So it takes a long time, Wes water and dissemination to really get new technology, which will cannibalize old technology or even the new portfolio. It takes long time to replace the old portfolio. So the point is water technology. It takes time, at least in my experience is not very fast. You cannot predict what's going on in, in a short period of time of three or five years. So that's the bottom line. I would say
Antoine Walter:
Your membrane analogy is interesting there because you know, when I interviewed Graham peers well I was bluffed by him from the beginning to the end of the interview. That was really, I was talking of, of MBA. That was my MBA membranes. But what was surprising to me, which I didn't know is that he was mentioning that, you know, 20 years ago he was going to customers and telling them, you know, you could be doing this and that with membranes and customer would simply laugh at him and say, no, that's never, no one is ever going to pay for that. It's never going to be a real who wants to membranes, who needs membranes. And that it was just 20 years ago and no membranes are quite everywhere. So it's true that sometimes the same product is still around, but still when there's a good Idea and the time has come for that Idea, then everything can be changed in five years. Still within this conservative industry,
Abdelhakim El Fadil:
Ion exchange is more than thing is more than 40 years. Okay. Then he can't do that to the nuclear station yet. They still use the ion exchange to treat the water distillation. For instance, you need to fight with the regulatory in pharma industry. They more so than they use distillation. However, Pharmacopia in Europe. They recently allowed to use a very small solicit Japan. They, they allowed to use the resource most and other technology. I think it's more than five years ago, the us as well, but still those pharma industry, they still use distillation, which handed years old. So yes, for some type of industry like this desalination or wastewater, they can be flexible, but there are some rigid industry. As I said, like pharma industry, like nuclear power. I mean the way how treat the water to get 18 mega Ohm tats. I mean, they don't tolerate any membranes. Good, but there is a chance, 0.01% failure? No. Period, there is no discussion on the table. So I agree with you in some type of industry, yes. You can convince the people to adopt your technology because it's fancy, interesting, lower energy consumption and smaller footprint, et cetera. But there are some rigid industry that's yeah. It's difficult to move them from one industry the other.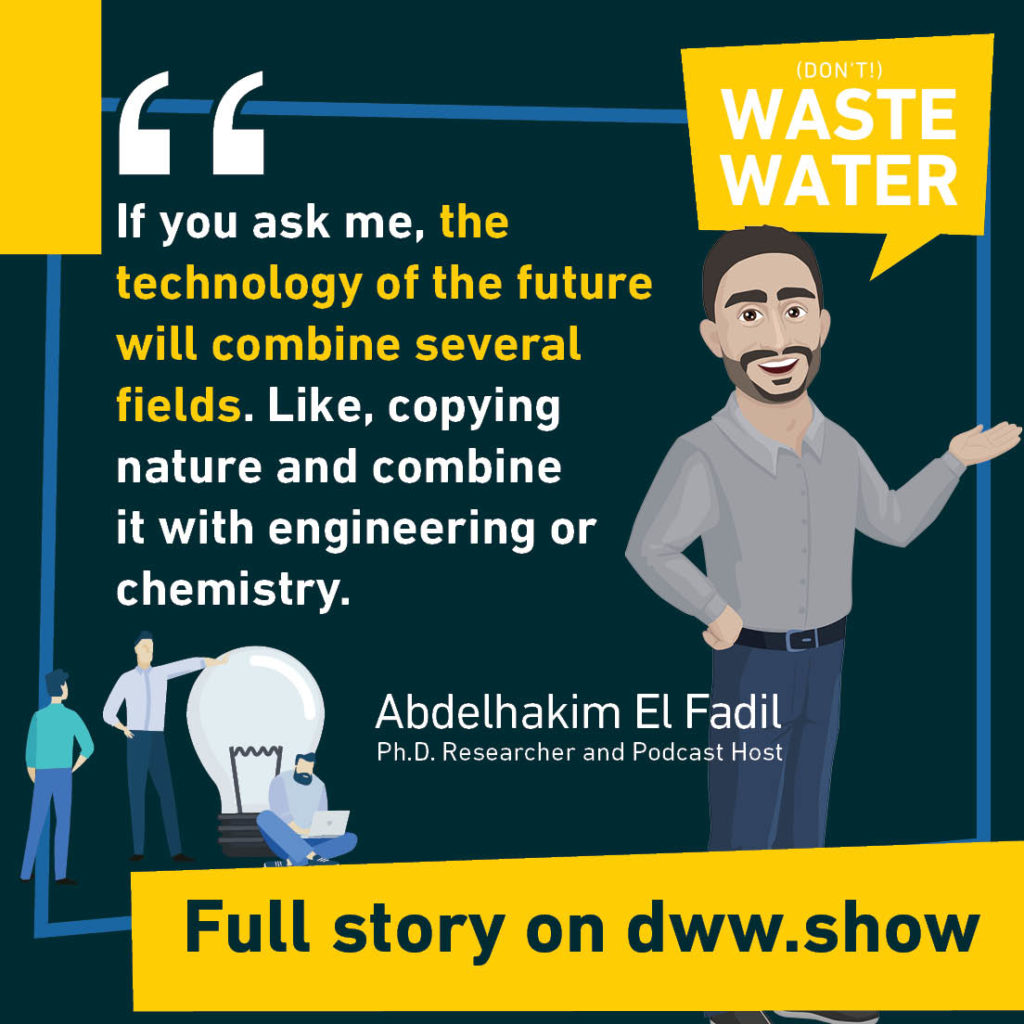 Antoine Walter:
I just alluded to Graham and I like to get your subject to feedback. Now, out of your 28 interviews, did you have a guest that blew your mind that told you something that you were like, Oh, I had no clue about that. Did that happen to you? Is chill dropping element.
Abdelhakim El Fadil:
Actually in every episode I learned so many things. And then for me Aquaporin was very interesting.
Antoine Walter:
I have to tell you, that's the one where I didn't understand anything. I was feeling so stupid and I really listened to it. And the second time I listened to it, I understood a bit, but still that must have been very technical too technical. Sorry I interrupted you.
Abdelhakim El Fadil:
Yeah, no, that's fine. I mean, that's the point Antoine, the way how, I mean, for every episode it takes me minimum, I think round five hours up to 13 hours preparation. So I studied the technology from the homepage, the case studies, and then study the background of the cast and then have some kind of charts before the episode. So I prepare is like, I'm going to the customers. And then I try to, because I know there are so many information that I can find in the internet, but there are so many information that you need to do your exercise to get to those information. So the point is, I know in some episode it's maybe hard to follow because you may need to do some homework to look exactly what's the technology looks like
Antoine Walter:
Don't take me wrong. I wasn't saying it was hard to follow to the opposite. I mean, you were breaking down a concept, which is incredibly complex when you're not a membrane professional, which am not. And I was able to understand some bits because you did this pedagogy get forward because you were synthesizing the answers of your counterparts. So don't take me wrong. It's I'm not even criticizing at all. It's just, I was like thinking, you know, there's this full world within the water industry, which I simply see from so far away. So yeah, sorry.
Abdelhakim El Fadil:
Yeah. That's that's, I mean, it should be easy. And that's also, this is kind of exercise that I have that I'm trying to improve every time, which is try to get the information from the guests as digestible as for most of the folks, because you are a hundred percent, right. Sometime I lean too much to a technical part rather than the, make it a little bit simple. So that's also one thing that I'm trying to work on. But back to your question, it's, Aquaporin that's, for me, it was very interesting because I am a believer that the interest in technology for me in the future, those technology who combined to discipline the chemistry and biology, it's like aquaporin for instance, someone who can copy the nature and they combine it with engineering and chemistry does very interesting technology. However, it's very tough how to produce it and get reliable quality or liable product in the markets.
That's challenging, but, but I'm believer in those things. And also it gets me out of my comfort zone. I'm not an expert in biology. You see, that's the thing that I struggle with, but it's okay. Again, it's a learning for me. And also at the end of the discussion with him, I was taking so much notes. I was Googling. I was looking for the book here, came into me. So, so many it's like he gave me another exercise. So for me back to the equation, that was one of the gases read. I learned a lot and I spent so much time afterwards to learn what he meant when he discussed something with me.
Antoine Walter:
It's actually for everyone listening to this right now, if you want, you have a link to that episode, I just checked his dad, the Smartwater solutions episode, number 18 about aquaporin. And I would recommend to listen to it because it blew my mind really in the sense that there's a few podcasts where I remember what I was doing and where, and that one, I was in the train between Schaffhausen and my home in Basel. It's a one hour traveling in the train and the episode is roughly one hour and it was listening to like, I understand the words, but the link between the words, but, but it was very interesting. Don't get me wrong. I know that the description I'm making of the episode is now terrible, but really it was interesting. And I really listened to it a second time. One way there was running because I have to tell you as well, that you've been my running coach for quite a lot of runs a bit less recently, which is also something I'd like to get from you is did you pause your venture? Hopefully not stop it because that would be a pity.
Abdelhakim El Fadil:
Yes. I mean, you phrase it correctly. It's I paused because I Borden on this team with with live in university and then try to digest. I mean, it's a different spectrum right now. You get to the level to make it a nano membrane and then trying to understand the chemistry exactly inside it. And it's very, it's a small, I mean, a resolution that you need to search in. So I'm spending quite time with the team. And then in the meantime, I'm trying to get back to the Episodes so sooner I will launch some episode, but right now let's say the priorities kind of shifted from publishing some episode to actually publish in a contest at the end of the day. I mean, I, the funny thing, when I joined here, the university for me is the professor is like you and me and everyone, they broadcast their content.
The only difference is they broadcast their content once per six months in terms of paper and article. And then we brought our content in terms of episode, you know, in audio episode. So they also brought something, what they found in the lab within six months or one year with other community globally. And then they followed them and then to broadcast this content, it consumes so much time. This is why I'm, I'm really hooked by those people. But the meantime and trying to get back to the podcast, because for me, the podcast is also right now, it's the only way to keep me online with water market or water industry. Cause they get only papers. People who fantasize about very good technology and it was in the future. 90% of them, they will fall in the trash. But the good thing is I'm keeping with the, yeah, the podcast is it's like for me, it's the, it's a nice window to get to learn what's going on in the markets. And luckily we have people like you who really bring those insights to us to learn from them.
---
Antoine Walter:
You know what? You're making a good analogy between the articles and the, and the podcast. I sometimes see a good podcast episode, which is not always the case, but, but the good podcast episode as a summary article, it doesn't go in the depth of each of the articles. But if you read a summary article, you get an overview of a topic and you know that there are other more in depth papers that you can just explore if you want to dig into the topic. And it's true that because of the format of the podcast, you could never go to the very bottom and start explaining chemical reactions or how a curve looks like. And I mean, that's not the right medium, but probably to get a first glimpse of the topic. It is a good mean. I think so that's my analogy. But does that mean that you you're writing some articles right now?
Abdelhakim El Fadil:
Right? I mean, if you would ask me, what are you doing actually, what is the thing that are doing in this PhD project? I'm trying to answer two questions. The first, why the commercial water, nanofiltration and commercial, organic solvent, none of iteration fail when you use them in water contaminated with solvent. The second question that I need to answer, which is, okay, what are the criteria that the nanofiltration needs to fulfill in order to be solvent tolerant? Nanofiltration? So those are, let's say two fundamental questions that I'm trying to search on and to answer. And then you mentioned an article been working on one article and actually it's one inspiration from whim, been discussing with whim. And then the article, I was just discussing with one of my colleagues in Leuven and she finished last year, her PhD, and then she find the ideas.
Very good idea. And then we work together on it. And the first article was kind of a GPS, the GPS for the academia to know the sexist criteria that's enables their membrane to be upscaled in the industry because so many universities, they developed reverse osmosis for water application, but actually there us or MBR, but there are some success criteria that if you fulfill those secretaries criteria, you have more chance that your membrane be upscaled. You will get funding from the company and stuff like that. So we are trying to this is kind of the first article to understand the success criteria from the industry to use the success criteria on filtrating, all the measurement that has been developed in academia. I mean, not all of them, but in a couple of years, and then give some kind of guidance as an article for the academia to share with them.
It's like a bridge between academia and industry. This is what the industry they would like to get as performance of the product in the real market. And also the way how you develop the membrane. For instance, you can have very fancy Idea and nice Idea, how to synthesize the membrane with toxic chemicals. And at the end of the day, you get the, you have a big organization in Europe, which is REACH and this rich organization in Europe, they said, Oh no, you cannot produce this member because you have this toxic chemical. And then, okay, then this Kim, the, someone can copy the recipient and produce it in China and bring this back to Europe. Then the holder search, which is in Europe is like waste of time, waste of money. So we are trying to discuss those kind of things that is not aware. There's people in academia. They have no idea about those things, but someone coming from the industry, I know those things because whenever there's discussion to develop a new membrane for the markets, you bring the people from the Hins, who knows what's reach in Europe requirements. So they stop you before thinking about something, they will stop this monomer, or this polymer is not possible to produce in Europe. Then think of some alternative environmental friendly or et cetera. And then we can develop that product.
Antoine Walter:
That sounds like a really fascinating topic. And I would have so many follow-up questions here, but if I do that, I have to take another hour or two to go through the topic. But you know, I was taking one question and putting it in the fridge before if you're into that topic, I would say, when you consider that you've reached a point where you're ready for publishing something and you think of maybe making an audio version of what you publish. I'd be very glad to have you on the microphone and to make a deep dive into the topic with great pleasure. So consider it like a suspended, open invitation whenever you want. I don't invite you as a podcaster. I invite you as the specialist for a solvent tolerant nanofiltration. Thanks a lot. I have a last question for the podcast, or now I'd like to go back to your beginning.
You know, when you put something on YouTube or when you put something in on Facebook, the algorithm likes you a bit and says, Hey, it's your first thing, but I'm going to show it to a couple of people so that you get some views and some people reacting to what you push online when you first publish a podcast. Well, there's absolutely no algorithm at all at any point. And that could sit there for 10 years with nobody ever listening to it. So that to me was a, you know, quite hard at the beginning because I was so proud of my one, two, three first episodes. And and to see that if I was not actively pushing them everywhere and telling everyone to listen to it, well, just nothing would happen. So how did you experience that? What was it different to you when you publish your first episodes? Did you instantly feel traction or at the end of the day, that wasn't even your goal. You were there to make competency of intelligence and to give some content to your sales colleagues. So anyways, your goal was achieved.
Abdelhakim El Fadil:
No, I mean, I had the same feeling like you, I mean, you, you do something and then it's like your products. I mean, the first time that it's your product, it's not someone else's product is your product as you bring in the market. And there is so much ego in stake, saves people. They don't like is you get, I had the same feeling. I ask all my friends in Lincoln in, I ask them, okay. I mean, first thing is the circle that they developed for the customize it. Okay. I'm developing something. Okay. Since to the customer, I sent it to my colleagues. That's the first surrounding. And then, you know exactly, as you said, you wait, okay, one day, is there someone else? Okay. I ask the friends that I have, and then it asks them to push them in LinkedIn and your lights. I mean, this point that you mentioned, I was not aware at the beginning.
And then I get to this point, which is the podcast is not like Facebook is not like it's either someone reached them or not. You know? And then someone said, it's always starts with the first listener, you know? And then you said, okay, the first podcast one tomorrow's two tomorrow, three, and then it's right. It's right. To, for good test. It's okay. Try to focus on the list that you have. Because at the beginning I put 10 guests, 10 potential guests. I put the schedule of the, of those people. And I had a, I mean, I learned from one person is Brian Rose. He is the one who give us some indication about podcasts. He said, Hakim, don't procrastinate. Put your content. Don't adjust too much. You are from academia. The bad thing with People coming from academia. They procrastinate. They want to put something perfect.
Who cares? I mean, he tells me, I know he, I agree with him. The first episode that I listened is from Joe Rogan was thousand 200 something. I have no idea about this, the first 500. So maybe my good listeners will be when I reach handle 20 something. So the point is not to focus at the beginning. How many people you grow it just to keep going producing. And this is, this is what I not commit. And I really, I appreciate that. You didn't stop. Don't stop. Just continue and collect the bad feedback. That's how you grow. The good is nice. Okay. But you need to collect those bad feedback, work on them and try to remove your ego from that. Because it's nothing about you is, is the product that you put in the markets. It's, something is bad, is bad. Try to improve it and go on. I learned so many things from this because as I said, the first time is not someone else's product. If they blame, they don't blame me. I need to blame supply chain or someone. It's my product. I need to be humble, humiliated, and then learn from all my mistakes and continue
Antoine Walter:
Because I mean, we are one hour. If someone is listening to that I hope he likes it so I can crack a secret. I used to have another podcast in French where I was sharing some of the thoughts I had because before this COVID everything, I was traveling quite a lot. And so I was seeing some stuff left and right. And whatever that, what is inspiring me in terms of sales, I was sharing it. So anyways, I think it's not anything for people listening to this right now, because it's a podcast in French. And with the pandemic, the first lockdown I stopped, there was one week where I didn't release an episode. And then one week goes and the week after it comes and you're like, well, Oh, really didn't publish last week. So I can still not publish that week. And there was no followup episode. That was my last episode. So I try to never break the chain. And I think it's a commitment which I have with the people listening, but also with myself to not break the chain because I know myself and I'm probably not as resilient as you are. And I know, if I'm stopping, chances are, I'm never starting again. So
Abdelhakim El Fadil:
No that's too it's you need to keep the momentum. That's the most important thing in a podcast is to keep the momentum. But I mean, as I said, for me, I've been going through couple of stuff recently. I mean, from last year and then the move to win, this it's kind of priority. I mean, you have this experience when you work on different projects, sometimes there is priority. You need to hold something, hold on. You not necessarily need to kill this project, but just hold that project and keep going. The other cause makes 3 cents. Yeah.
Antoine Walter:
That has been awesome to me to discuss with you in these deep dive, but I have to close it at some point because I have to be cautious of your time as well. I propose you to switch to the rapid fire questions. Okay.
---
Rapid fire questions.
Antoine Walter:
So in that last section, I keep referring to that, but it's so true. I try to keep the questions short so that we can keep the answer short and don't worry. Emma was the one which makes it much longer than it should. So here's my first question. What is the most exciting project you've been working on and why
Abdelhakim El Fadil:
Do the preparation of my own podcasts. The reason is because there was no blueprint. There was no someone before me in Waterloo bridge, this technical kind of insights. And I improved them based on honest listeners feedback, really bad feedback. I'm trying to improve them. That's the most exciting and the reason why, how do you collect those feedbacks? I ask one by one, I have emails. I really follow them. And whenever I know someone, I pitched him, my podcast, he listened to it. I asked him again, so this is how I follow up with people. That's a very valuable advice to me. So thanks for that one.
What's your favorite part of your current job it's learning? And let's say the ages of the breakthrough technology that is, that are developed in academia, you know, and try to fantasize based on my gut feeling experience with a dose kind of breakthrough technology will make it or not. That's the dentist in part, what is the trend to watch out for in the water industry? Oh, two water industry. I would say it's a, as I said, it's technology, that's like, aquaporin, I mean, I've seen technology really try to combine biotechnology, bioengineering technology and chemistry. I mean, those kind of technology. I, I mean, I'm, I'm strong believer on those kind of technologies, like cooperating, for instance, I had [inaudible] from leak tech on that microphone and he was teasing something that they would produce, which goes into that direction. So I guess that's now a second sign that you're sending me now with this trends on this combination that I should try to understand that the in and out of the, that combination.
So I think that's maybe a, a right point of time for me to listen to that aquaporin episode for a third time. We, we should, at this time, I understand everything. So yeah, I think I'd take a note for myself on that one. What is the thing you care about the most when you're working on a new project and which is the thing you care the least in the past, when I was working, I care so much about technical, economical value of that technology. It needs to make some technical, economical sense. The thing that I'm thinking less, which is how to bring it to the market or how to set it, because I have confidence on people who can do that job. This is why I'm, I was not thinking, how are we going to just say no, I don't think about whether they will buy it or last on how we will sell it. But I care most about really the techno economic value of that technology. If it makes sense or not.
Antoine Walter:
Do you have sources to recommend to keep up with water and wastewater market trends?
Abdelhakim El Fadil:
I mean, recently I only use LinkedIn. Let's say the platform that's whenever. Cause I have, I mean you and so many people, when I scroll every time I find something about water, that's the easy, friendly platform that I'm using,
Antoine Walter:
Which, sorry, I mentioned that I'm always the one that makes it longer. Do you think we've reached the maximum that we can take out? Because when I was first scrolling, LinkedIn, maybe five years ago, it was just, you know, a job platform. So people wouldn't really do gets at content and nowadays it's, it turns out that there's so much content that we are reaching the same points sometimes then with Facebook or Instagram, then the feed is limitless. You could be reading stories about water day in, day out and stopping to work at all. So you think there is still some means to stand out in that jungle and to sort out what's interesting. And what's maybe a bit less.
Abdelhakim El Fadil:
Absolutely. I mean, did, is I don't want it to spoil the things that I'm working on, which is actually in this direction, but there is a need, there is a really need, I mean, it just can give you an indication. I mean, if you look to other industry, they are very well organized in terms of the content, just content, deep technical content, marketing contents, and then also selling content, selling points. I mean, they are very organized. You can name it, electronic it and others, but when it comes to water, I don't think we have very strong platforms and then yeah. Place where we can get those insights.
---
Antoine Walter:
So you might be helping with the curation in the future, hopefully. Okay. That's a teaser more than a spoiler, but I'm teased. So last question. Would you have someone to recommend that we should definitely have on that same microphone?
Abdelhakim El Fadil:
He's Hertz, he's a city or blue foot membrane based in Belgium. He was my mentor and I've been working with him a lot. He has his kind of startup company is very interested in what they're doing those guys. And then, yeah, definitely. I would recommend it. And then maybe the other guy is Mark housekeepers. This one is like an outlier. I mean, this one is, is like the rotor for water industry. Everyone knows Marcos givers. I mean, that's also second person that's I would two for the price of one. Awesome. Well, thanks for that Hakeem. That was a pleasure to have you on the, on the show last almost housekeeping topic you you've alluded to LinkedIn. What is the best place for people to follow you? Linkedin? Probably for me, LinkedIn, yes. Linkedin would be a place where I can, what I also published.
I mean, podcast episode and then yeah, but I do most of the activities as well. And obviously for the one listening to these, if you scroll in there in the episode notes, your you'll find the links to, I can spot cast too, because I think, yeah, if you like somehow what I'm doing and I think, I hope you do because after over an hour, if you don't like it, you're kind of measure shifts, I guess. But if you lack that, definitely you have to listen to what Hakim is doing, because it's like the same, but understood rates because it goes deeper into the topics it's really, it's, it's available to me a Bible, a bit more oriented on, on membranes. And I do, but still a Bible. No, I mean, definitely. I mean it just one thing to conclude here, Antwan it's thanks a lot for invites and very good inside that you are trying to do.
And the hard part is you are keeping the momentum and then the reward is immense. And then, I mean, you can, you know, that, that my experience is I think the attention span of the audience is nuts. I mean, it's crazy. When you look at the podcast, most listens worldwide. It's three hours, including me. I listened to podcast three hours. Really. I don't care about it's. My time is three hours, but I do listen to the post. Even your podcasts, if it's more than one hour, I mean, I really am hooked because all the things that you try to extract from the guest as a water expert, I get them. So it's my attention to you either the first five minutes, as you said, from the summary, if I go or not. So if I go and go forward, thanks a lot. Well, thanks you. And yes, you, as soon as as a researcher and not as a podcaster.
Other Episodes: