with 🎙️ Fajer Mushtaq – Co-Founder & CEO @ Oxyle AG
💧 Aquacycl is an award-winning Water Start-Up offering a Swiss Solution to a Global Problem.
---
What we covered:
🍏 How do long-time banned substances keep polluting our raw water sources?
🍏 How and where shall we treat the round 100'000 different chemical substances one can find in water?
🍏 A revolutionary way of leveraging the most potent oxidant: the hydroxyl radical
🍏 How to smartly monitor wastewater quality and treatment efficiency
🔥 … and of course, we concluded with the 𝙧𝙖𝙥𝙞𝙙 𝙛𝙞𝙧𝙚 𝙦𝙪𝙚𝙨𝙩𝙞𝙤𝙣𝙨 🔥
➡️ Get the 4 Page Synthesis for free!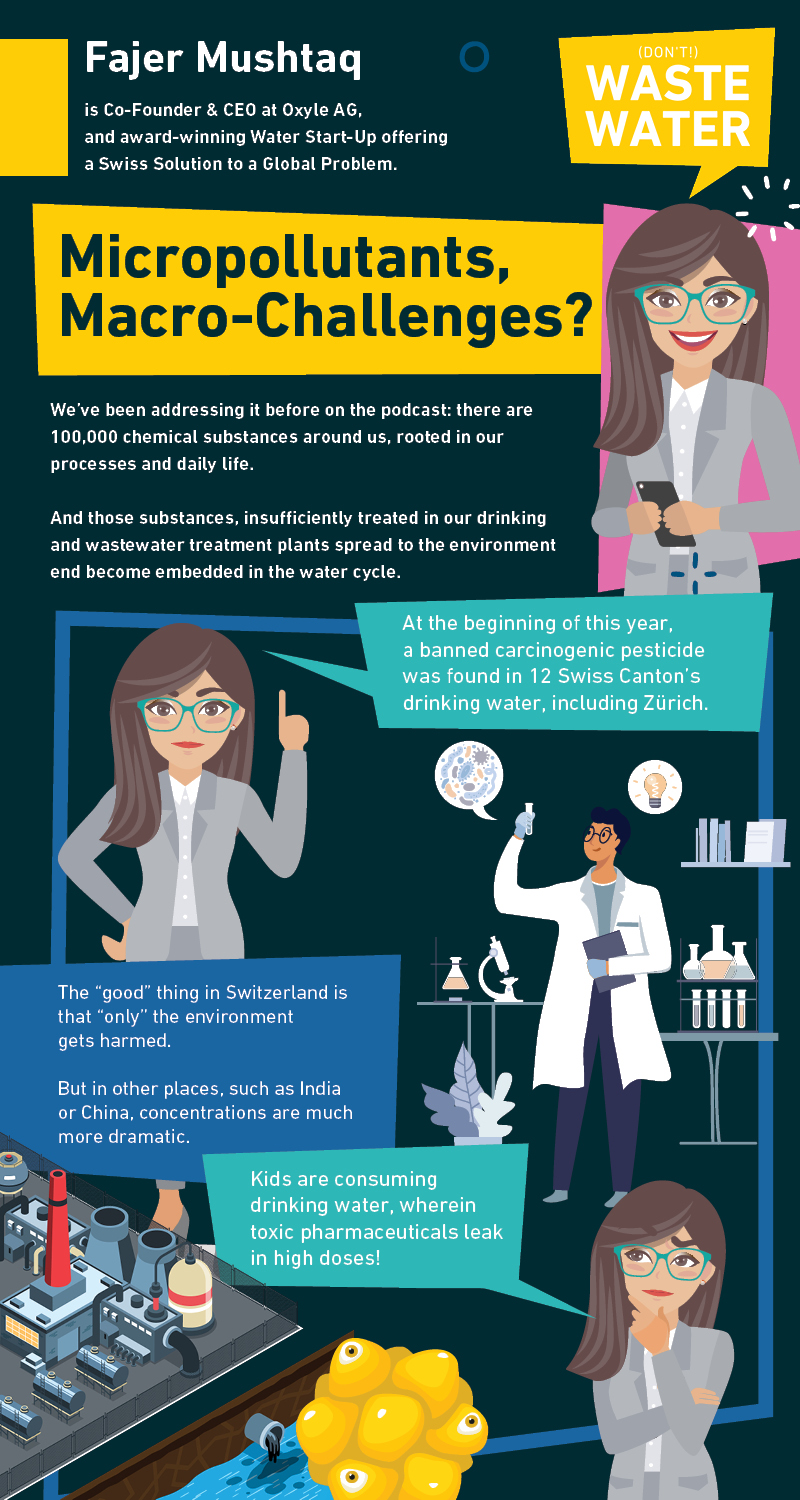 ---
Resources:
➡️ Send your warm regards to Fajer on LinkedIn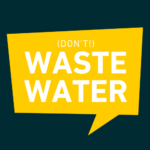 ---
Full Transcript:
These are computer generated, so expect some typos 🙂
Antoine Walter:
Hi, Fajer. Welcome to the show. I'm very happy to have you.
Fajer Mushtaq:
Yes. Thank you so much for inviting me. Very excited to talk to you.
Antoine Walter:
I'd really like to start with the postcard every time. So maybe you can tell us where you are sitting right now.
Fajer Mushtaq:
Well right now I'm in my office at [inaudible]. So that's in the basically downtown Zurich. I have a really lovely view of the Alps and the Zurich Lake and all the beautiful autumn tree colors. So I have a little younger than my office. I have a lot of plants, so it's a good place to be right now.
Antoine Walter:
So you see, we just started them. I'm already Jarius. You mean the Swiss Alps, the Zurich Lake. That's just a wonderful place to be so lucky you.
Fajer Mushtaq:
Yes. Thank you.
Antoine Walter:
I would be really happy to start with your story. I've read on your LinkedIn profile, actually, that you've been studying electrical engineering and you then evolve to micro nanotechnology is that's you're applying to environmental remediation, but that's just what I read. What I would be interested in is the you telling the story. So what's the story behind
Fajer Mushtaq:
Well, the two red is mostly accurate, so I did my electrical engineering bachelor's in the UK and followed by that I worked in industry for a year. I wanted to know how it feels if and how I decided if I wanted to further education. And after working for a year in the automotive industry, I decided I would like to study more. And the reason for that was that during my bachelor's, I also took some courses in nanotechnology and I was really fascinated by how amazing this field is starting from the fact that you might not see anything. And then when he goes to the microscope, you see a whole world living on that same surface. So I knew that this was an exciting field and I wanted to learn more. So I took a few courses in, in my bachelor's in the UK, do my extra engineering course loved it, decided to pursue a master's in that field as well.
And I came to each and Zurich applied for the macro in nanotechnologies course. It's an excellent course, which really gives you a very broad overview of what all is possible in the field of microbiome technology. Be it biomedical applications, environmental applications, electronic applications. It's amazing what all is possible. Be a learning more and more every single day. And during my master's at ETH Zurich, I as my semester project in a lab where they are developing really smart nano materials for a wide variety of applications, but mostly biomedical. When I started working for a PhD here after my master thesis, I realized that why working in the lab, we work with a lot of antibiotics and chemicals for the experiments that literally every week, once a weekend in a university, we are allowed to collect all the water in special containers and then ship them for basically treatment.
And upon inquiry, I realized that treatment happens to be incineration for wastewater contains heavy metals. So it contains organic pollutants, et cetera. And that didn't seem right. I thought maybe we can expect that in some other country, but insensitive and we have to advance. It's a green, why are we burning our water? And literally within the second month of my PhD, I decided to change tracks. I was still working on developing more advanced micro and nano technology based materials, but I switched the focus from biomedical to environmental science. And my focus sole focus was to find a better way for treating the space water that we are using in the labs. And I thought if I could just start there and how is he using that can help people in every lab of ETA Zurich. That's tons of water that we can say for burning.
And the problem basically starts from there, right? It's a huge problem. The more you know about the field as I'm sure you do, you know, a lot of people do use incineration cause over the most toxic chemicals that I just read difficult to treat right now. So that's what sort of sparked this joy in me that it's something I want to explore more and see if I could contribute in any way. And so I spent the last six years of my doctoral research at ETH Zurich, researching new kind of catalytic materials that can treat water in a sort of a cost effective in a sustainable manner and prevent the release in the environment and also prevent any direct CO2 emissions coming from that treatment.
Antoine Walter:
You were exploring that field. And let me guess, I think you found something because actually if I get it right too, you just found that you are your own company and it's not like you were just doing that in your garage. You already won several prizes. And one of which being venture, which is somehow the biggest competition you could win. It's kind of the world cup for startups in Switzerland. And when you see the list of people that won those prices before it sets you on quite an impressive path, but you somehow started doing it, but can you pitch us your company?
Fajer Mushtaq:
Yeah, so that's true. In the very beginning of my PhD, I sat in realizing that the materials that I was working on had definitely a big promise going forward. So my hope USD was really focusing on different types of materials and trying to find which one is the most stable, the most, the nerds in harsh environments and can be reused multiple times. And once I knew in the third year of my PhD, we have something really good. We filed for patterns, you secure the technology. And after my PhD, I applied for the bridge proof of concept grant. It is this business national science foundation grant that supports young to be entrepreneurs on the path to developing the better technology with the sustainability aspect in many cases. So that's what I was doing for the last one year where I took these smart nano materials, so to speak.
And I tried to implement them into a way where we could easily upscale their production and we don't cause any secondary contamination. And that is something that can be easily on an industrial scale. You know, so the last one and a half and two years have really been focused on how do we take this technology for the lab where it works in amazing, but it has to be suitable for the real world. It has to be practical. It has to be cost effective. We should be able to make large varieties of them in a, you know, reasonably manner with high level of accuracy. And that's what I've been doing for the last two years as part of my ongoing research for market entry of this innovation. And then during the lockdown this year in March, I stopped spending so much time in the lab because yeah, being in the lab makes me happy as is that's most engineers in sciences.
So I was really in way first and us be in the lab and do more treatments with new material. And I started looking at the commercialization strategy, the business plan, and that is also going to be applied to the venture competition, which will be one day before the deadline in March. And it does surprise me to this day that we did so well, honestly. And at that point we had not even founded a company. So we legally founded the company in may of this year. So we are quite young, but the idea and the innovation behind what we do has been going on for the past seven years in the lab. And now that we know that we were able to deliver successful results, especially through some of the customer proof of concepts that I have been doing for the past two years, we knew that yes, it's depend demic.
It's scary, but you know, what dependent make is going to be over in two years for the vaccine everything was valid, but the water crisis is just growing and yeah, we all need to be worried about the next big global crisis. I think that is why we did so well in the venture competition because we were so motivated. Like we need to get our product out there and what better platform than venture, where just the jewelry that you interact with in different stages of the competition, they are come from some really big companies. Some of them who could actually be a potential clients at that point. So we were trying to answer the question, but I was impressed the jury, right? So we were doing it to really make a case known then what we have done so far. And we got some really interesting questions for them.
Some of them asked us questions based on what is their biggest issue in water treatment in the company. And it was very useful for us to see the insights from industrial point of view, but our potential customers see the biggest problem and if we can help them. So overall, it was a great competition. And I think we developed it because the technology product we were very confident about. And then this year we focused more on the business aspect that it's good to have an idea, but do you have the right team, right? You have the right execution plan. Do you have the right business plan? So that was our big focus this year as well.
---
Antoine Walter:
You just mentioned the team. And actually before jumping into the deep dive in and talking about your solution, I noticed that your team was one of the two only teams in venture that was featuring a majority of women. And I have to say, I'll tell you, I'm really not proud. I'm a son of feminist and father of two daughters. And you're only the second woman which I have on that microphone. So that shows how under represented the woman are in our industry, in, in our business. And I was wondering if that matters to you or if it's just something that we should maybe even stop noticing.
Fajer Mushtaq:
I mean, that's a very good question. I was actually in female round table conference a few days ago, and we discussed that at the brilliant woman, how they feel about representation, you know, because it's not just in the water treatment industry. We see the lack of women in leadership roles in many different aspects as well. And my honest opinion is that it is not something that's really bothers me. I mean, do I notice it? Yes, of course. When you have these meetings, like today's meeting, they were 10 people and I was the only woman on the table. It's not something that is surprising. It's something I had sort of accepted, right. I started doing engineering in my first class ever electrical engineering. There were 220 people there and five girls and we all sat on the first row and right behind this were 200 plus men, right?
So I got that dose early on 12 years ago. So that, that is how the nature of STEM research is. And also wastewater treatment that I realized is, and it's not a great thing, but I'm have a very positive outlook towards that because I am seeing more and more women actually taking part in research topics and education topics there. It was mostly male dominated before. So I think we are seeing a good change. Women are feeling more and more comfortable studying whatever they want to study and not because the thing would be a better job role because of, you know, the dynamics of that role. I think that's a very good thing. And I think going forward, we just going to see this getting better and better, obviously representation matters and wherever possible, wherever I see more women where I had not expected to see them, I get in touch with them.
I communicate with them. I say, that's great. I'm so happy you're doing this. I think representation matters. And if we can celebrate this, we should try and do that. So that other women, if they had any apprehensions about doing so they can just come forward and be like, Hey, you know that more of us are entering this market. So I think it should be fine. And I think if it keeps doing what we are doing, supporting choices made by people, so individual choices for their education and their career and not something that the society and poses we are on the right track. I have no worries about that. And wherever possible, I think we should really celebrate diversity based on not just gender, but in general, as well as I think that's a very good thing. And I knew this, this wastewater treatment is heavily male dominated, but I did not realize how heavily it was.
And I realized that actually the summer for the first time when we were doing our onsite pilot at treatment plans and the very first day after having lunch I was just like, okay, I need to use the washroom. And you know, there is the women's restroom. So you can't do that because they're just any women who work in those plants. They don't have one that one month of working there all the time. That was a tough month. And that's when you realize we need more people out there from agenda. So it's just not even a discussion it's just normal. Right. I don't believe in forcing my ideas on anyone. I think if more than a woman come out there, they will be everyone's washroom in these plants because it's needed. Right. And in that same drive, I also, when I meet women who are excited in this area, I like to work with them.
I like to get them more excited. So yeah. For example, one of the team members, someone I worked with for her master thesis, and then she joined the company and now she works here and she's equally, if not even more excited about this. So I don't think it's agenda based preference. If you'd like it, you should do it. And we are seeing more and more women out there. It's all good. And something to celebrate. And just mentioned once in a while I feel, but nothing that we need to, I think worry about this. So feel if the trend is right and it's going to hold,
Antoine Walter:
I think you you're fully, right. It's a matter of trend of examples. I remember in engineering schools, which was really about water environment, we were maybe half and half women. And so I was like, it was an engineering school. And yet we have this equality in terms of gender diversity. But then when we were just choosing our specialty and it was coming to wastewater, then I just wondered where were, where they all gone. You know, I always say, yeah, but yeah. Terms of heads. And I think we're on the, on the right track and that's thanks to people like you. So thank you for that. I'd like to switch to our deep dive of today. And actually our deep dive is pretty written. It's about what you do and which kind of problems you solve. And there, I would like to start with your tagline. I was really intrigued by your tagline. The tagline of your company is a global problem, which is solved by a Swiss solution. So there's two aspects with the global problem. And this is solution. Let me just start with the problem. What is exactly the threats that we are facing that is that global problem?
Fajer Mushtaq:
Well, the global problem that we referred to is really a multifold problem. The current technologies that have been used to treat water beat industrial or municipal are just simply not effective. And there is enough data and proof to show that we are unable to treat some of the most persistent mobile. And even in some cases, toxic chemicals with the existing technology. So what is happening is that these chemicals, because of lack of proper treatment and now being found in our surface body. So our rivers and lakes, and even in the ground and drinking water, and what should I think raise some alarms in people is the fact that even in a developed country like Switzerland, where we take our water quality. So seriously that we found in beginning of the year banned pesticides, which are carcinogenic in the drinking water of 12 cantons of Switzerland, including that of Zurich, the water that I drink from the tap every day, I'm very well aware of what's in there.
It is something that I think it's important to know these facts supporting that these studies are done. So we are aware of how big the problem is and that we can't just keep zooming. The problem is going to go away. We should invest heavily in new treatments. We should really invest heavily in making sure the problematic areas where the new advanced technology does not exist should be a graded as soon as possible. So that there's global problem, because I know you talked about example of Switzerland, but we are one of the few lucky ones. If you look around at other places of the world, India, China, the problem there is so much more tragic where in Switzerland, we can say that our ecosystems are getting harmed. Our aquatic animals are getting harmed in other countries like India, where they produce of the largest pharmaceutical production gets carried out there.
There are people that are really suffering because there's toxic pharmaceuticals and high doses in the drinking water and kids are consuming it. So this is really the problem that we can't just pretend that, you know, once the water leaves the facility, which is not a problem anymore, that's not true. We need obviously proper legislative insight into these matters. And we need to talk about this. Most of the people that are aware that we need to step up our game, it's a global problem, and it should deserve a global attention, not just a few countries who talk about it. And in that sense, we're lucky it's, but Dylan does talk about it a lot. We do actually have this Fitzwater ad from 24 14, which asks to implement and upgrade. I think if I'm right, I'll have 700 more than 200 wastewater treatment plants have to be upgraded with the advanced treatment.
That's a very good step in the right direction because we know that these micro pollutants, these pharmaceuticals, these person get products, banned pesticides, carcinogenic, insecticides are in our bodies of water. They are in our lakes. Our aquatic animals are ingesting it. We are seeing feminization of male fish because of the EDC combatants. We are seeing the presence of PFS forever chemicals in the bloods of pretty much every aquatic animals, including humans. It's a much worse problem in some parts of us, of course, but I don't think we can just simply accept. Yes. We all have a bit of PFS and a blood. I mean, yes. I think we need to have a more direct conversation about it. It's a problem. And it's a problem that our future generations are going to really have to tackle. And I think we need to start by doing our part of the road here by addressing this problem. Current treatments do not work. We need a new solution.
Antoine Walter:
You mentioned how Switzerland is forward-looking. I remember a couple of years ago, there was a study around the Geneva Lake, which said that the micro pollutants, w we say micro pollutants. So it, it sounds like, you know, nothing but prize of the Geneva Lake. It was one ton. If you put all of them together, it's one of pollutants which are there in the Lake embedded in the Lake. And I remember at that time were looking at them personal care products. And they were like, you know, just scan and read what's written. There is, it needed, you need all of those. And by putting this kind of pressure on the industrials, they were triggering the fact that some of those pollutants were removed from the recipient of those products. So that made the change. But that change is only on scratching the surface. Somehow you still, as you say, we have pesticides, which are banned in full Europe for 40 years, and still we find them in the buddies just because nobody's treating them. But that leads me to my question. Where is the best place to treat that is in the wastewater treatment plant? Is it in the industrial waste water treatment plant? Is it on the drinking water side? What would be your best guess?
Fajer Mushtaq:
We honestly believe that the best way to treat waters, which contain these micro pollutants is to be as close as the source as possible. If possible, we know it's not always going to be the case, but for example, we can have a treatment in every household complex to treat gray water before even enters the municipal wastewater treatment plants. Because we are aware that there are leakages in the pipes that's cross-contamination issues. There are many issues when you only centralize the treatment. So I think decentralized treatment should be the norm going forward. There is nothing wrong with imagining a water cleaning system for every household, every household complex with streets, their water onsite to prevent further contamination. The same can be said for industries. Some of the biggest polluters out there where instead of thinking, how, how can we now move this world with treated in a safe way?
The conversation should be, how can we treat this wastewater directly close to where it's being produced even more so to maybe treat this wastewater in the particular stream? So in our conversations with some of our clients, but we have learned is that every industry obviously produces different products, have different production lines in different streams. And a challenge that they face is that when everything collects in a centralized location, we have this sort of cross-contamination into mixing problem. And then the problem is even worse for them because they don't even know how to treat it because those active ingredients from different streams have now reacted with each other, right? And the problem becomes even worse, which is now in forcing some of these people to use incineration because the existing pieces do not work. And what we have in proposing to some of these clients is how about we bring our, let's say a medium scale reactor with streets, let's say 10,000, 20,000 liters per day.
And we installed that at sort of the most problematic streams that you have on your production line and treated where it is. Not only is it going to simplify the treatment, because we know in a given day, there are these X amount of chemicals and nothing else in this specific stream, we can treat it. And this will not be a bigger problem by mixing everything up together and making a larger volume, which is now diluted. Yes, but still contains a vast variety of these pollutants and no one treatment can solve the problem. So we think of it as a centralized treatment is great. It has been working for awhile, but I think is time to talk about a decentralized approach where pollutants should be treated closer to the source, where they are being produced at hospitals and households, and definitely end the chemical industry or the food and beverage industry or pharmaceutical industry. I think it would benefit them more. I think in the long term, this would be more cost saving. They could make sure that they meet the regulations. Well, they can make sure that they don't have any cross-contamination leakage issues and it's good for the sustainable image going forward as well. So I think we need to move away from the centralized and more towards a decentralized treatment, wherever possible.
---
Antoine Walter:
That is the route we're exploring we going to the de-centralized treatment. So really next to the pollution source. So that might be even inside an industry sites, it could be that you don't go directly at the outlet, but rather directly to the production dine, which is producing one specific pollutants, right? Yes. So how does your solution actually look like now that you speak, I see a box that you put somewhere, but that's, I don't know if my mental picture is right in that case.
Fajer Mushtaq:
I mean, yes, it is a black box from the outside, right? That is true. So obviously going forward, our plan is to make it as easy as possible for our customers. It will be a turnkey solution. I know we throw the word a plug and play easily around, but that is a vision to have a system that you can easily adapt to the existing infrastructure. It is already included in the existing water collection networks at the very end of the pipeline for that particular stream. So in our solution, what we plan to do is deliver these wastewater treatment reactors at varying scales. Obviously inside these reactors, we will have a catalytic material. It will be integrated. And depending upon the TUC values or whatever water matrix, it has a bit of mechanical. It has, has every reactor would obviously have a different amount of the cleaning material.
We add different arrangement of the cleaning material to get the most efficient and fastest speed possible. And this is one thing that we do right now. That's a lot for clients every time a client makes a contact with us regarding the water requirements. We obviously ask them to provide us with the technical assessment. Is there water followed by exchange of water samples, carefully collected and shipped and stored and on these water samples. And we do our preliminary studies where we study different conditions and let them know the results from performance perspective and also from an economy and a sustainability perspective and bevy design move forward and start designing a larger reactor for them, which would really fit where they wanted to fit and where they can get the most benefits off. So I think it's very important to have the dialogue with them early on.
So you really understand, you know, in some cases we hear from the customers, Oh, we have this problem in the centralized tanks. And we asked them, where do you think this particular chemicals is the most problematic for you construct? And in some cases they know right where it's coming from the production chain. So we suggest why don't we directly there and treated because then the other chemicals that you have are not problematic, they can be treated with existing treatments. And so you don't have to have a much larger volume. That is a bigger problem for you. So these are the kinds of conversations we have with them. And our plan is obviously to provide them in a fully functioning, automated reactor, which is easy for them to use. They have to do nothing really. We control operation remotely and our catalyst as a job. And they get as quick ideas about how the cleaning is going.
Our mission has obviously to integrate our reactors with a real-time monitoring system. That's something we have extremely passionate about. And we know, I think that's going to be one of the areas where wastewater treatment has sat moving. You can't just rely on a surprise audit once in a while and hope it goes well. I think we want to do is make a customer extremely confident in the treatment that they're using with the reactors. And they can do that once they have a real time water monitoring information that is good for the customers, but it's also very good for us. So we can always deliver, you know, a food group treatment. And that's part of the switch solution tagline that we have. We want to do a good job. Switzerland is known for its efficiency, and we want to be efficient in what we do. And we want to show them that we are treating it. And if sometimes they have a different load in the wastewater, we want to be able to do the treatment longer and have a feedback loop from the real-time monitoring, which will help us control the treatment time to always deliver the right effluent quality at the end.
Antoine Walter:
Actually, there are many things what you just said that, let me just try to, when I would have questions on the catalytic material on the monitoring, but let's go step by step. Let's start with the catalytic material. That's the hurt of what you're offering, right? How's that working? How does it glute? Like, did you develop it from scratch? Tell us the story of, of that catalytic material.
Fajer Mushtaq:
. Yeah. So this catalyst material was yeah, it was pretty much from scratch, starting from the nano materials that are embedded in the material to how we sort of assemble our catalyst and how we give it the vide porosity. So the materials that we work with are sort of the baseline is formed by polymers that are accepted in the wastewater treatment industry. So we're not working with a chemical that you're not comfortable with working with. So we are working with materials that are used quite frequently in the wastewater treatment industry, for example, in the MBR reactors. So we work with some of the polymers. Well, what we do in our technology is that we functionalize them in a specific manner. So we sort of crystallize and treat them in a way that they become functional and they will not function before we do that.
By giving them a specific prosody, we give them by giving them and embedding them with smart nanoparticles. And then we functionalize the entire catalyst on its own once all of these small ingredients add to the recipe. So it's a multi-step process that we have to keep making it more and more efficient. So that one catalyst is really efficient. And by making this recipe from scratch and we sort of, you know, improving it every year for the last seven years, but we now have, is super flexible catalytic material that can be basically made into any shape on an industrial level really, really fast, like using a rule to rule technology pretty much. And then it can be designed to be fitted into any reactor size that a customer wants. And this material is very enough. It's quite robust in terms of harsh chemical environments. So it's sustainable in that sense, you don't need to be replacing it or cleaning it.
It is actually a self cleaning material, which is one of our biggest USBs because of treatment method basically uses clean energy sources, such as we use a light sunlight would do the job, the room light I'm in right now, which is a novel white led that would activate this material, mechanical noise vibrations in the water. This material can, can sort of harness those vibrations from the water and get activated and even magnetic fields. For instance, activate this materials. There are more than one energy sources that actuates the material. And once the activated, it produces large doses of radicals, these radical treatment, AOP advanced oxidation processes, so to speak are very well established. We know the benefits it provides. We use a hydroxyl and the superoxide radicals. We don't use ozone radicals and there are advantages of using the hydroxyl radicals specifically they're non selectivity, meaning they will react with pretty much every other chemical that is in their surrounding.
They don't show a resistance, certain chemicals that ozone would do. And more interestingly in the last pilot that we did to the customer, but we also realized that the part of the parliament ozone treatment that they were facing was they had an, some bromide in the water. And if you have that and deforming, carcinogenic roommates as a byproduct yeah. And they have to implement new technology according to a law. And they were hesitant to go towards ozone just because they can't use ozone alone. They would have to have a secondary polishing treatment like pack. And then the cost is just too expensive if they have to have these treatments, you know, side by side. So they contacted us. We did the pilot with them and trauma treatment as a direct comparison to ozone. We found no bromate in our reactions. We dedicated directly the ions in the water to bromine gas with the OSTP radicals. And that's also one of our USP. So we can apply this technology where existing technologies are able to clean yes, but producing harmful byproducts at the same time.
Antoine Walter:
So you have a catalyst that catalyst reacts with sustainable energy, which is around and the sustainable energy produces this hydroxyl radical, and that's helps you to then oxidize, whatever kind of compounds you have there in the water. And you mentioned, did I understand that right? They'd self-cleaning so it's just a perfect material yes. Happening because these
Fajer Mushtaq:
Radicals is invaded in the surface of the catalyst. Right. Okay. And these OAH radicals and days, Oh two radicals are well known, set cleaning agents that even this infection agents, people have been using, for example, catalyst like titanium dioxide, which is activated by light for many years for disinfection purposes because of bacteria viruses, because with radicals are extremely oxidative in nature and they will react with anything in their surroundings. And that is also something we have seen from a biological assays that we have done that after the treatment, the cells prefer to grow in the treated water more than before. And I strongly believe that has to do with some that is infection properties that we bring to the water. We be kind of sterilizing the water as well because of these radicals.
---
Antoine Walter:
So it is like a form of a treatment. Once you have the reactor up and running, you don't need to maintain it. That sounds too good to be true. Come on.
Fajer Mushtaq:
Well, that's really depends upon what's in the water. If you only have, for instance, only organic solvent organic compounds, then it can really go on forever, et cetera, meaning. But if you do have any suspended solids, if you have any organics in there which can sort of, you know, flock the nanopores of some catalysts, then we do have to take the capitalist out regenerated and then put it back on. And in one of the cases of water we got, we did see this docking mechanism, right? Because it was an organic species in there, which you can't treat with the radicals. Like you treat organics. And there, we did face a part of having to do more regenerations every few months, we had to take it out, do acid bases, reflect cleanings and regenerated and keep it going. So it really depends on what's in the matrix of the water.
If you would just give me a really nice, comfortable water sample, like the municipal water, we love that we have been using municipal wastewater treatment with the same material for months and no issues, but some of the industrial waste water samples are indeed challenging. And there we develop a strategy where we can maybe do some pre-treatments first, and then what's coming into the reactor is free of the suspended solids and inorganic components basically. So then we can improve the lifetime and yes, as cleaning materials, underrated, and that's the way to go, I think, in the future.
Antoine Walter:
So that was actually going to be my question about the treatment train, because if you mentioned suspended solids to be an issue, I could imagine that you could just have a pre-filter B2, sand filter and ultra filtration step of whatever, but then you get rid of the suspended solids and then you would have your catalyst. How do we insert it today into a treatment train? Is it like you put it really at the source and you put roll water on it, or is it something that you implemented between existing treatment?
Fajer Mushtaq:
We see ourselves as a polishing step, just how as a nation also see, so we are a touch-free treatment. We do require suspended solids, big biological matter to be treated beforehand. And for these pilots that we do, we normally obviously do a pre-treatment and we do them in the laboratory. Like you said, we do situation. We do ultra filtration to remove some of those problematic pollutants that can be removed well with existing treatments, and then comes the challenge of how can you remove the stuff that he can't see. And it's a little water and it's hard to remove, right? And that's our expertise. So for the pre-treatment steps, we usually collaborate with other people who have expertise in providing, let's say a membrane bio-reactors right. So we connect our reactor with them in succession, and that's how we do a treatment. And so these cases, and if you go to a municipal wastewater plant, that's the best case to try.
They already have a primary and secondary treatment installs. There's no issue at all in the biologically treated water, we just entered the one directly into a reactor. We don't have to do any treatments, any pretreatment there it's quite cleared. It's suspended solids, but then that's free water. We do need a, for a stage in there. And for that to be a working with people who have direct experience in doing reverse osmosis infiltration, and then the water will come into our reactor. So it will be a multi-stage process. And not just our reactor cannot just solve all the water problems that a customer would have. So you see here, you see, it's not too good to be true. You see, we need other people's help.
Antoine Walter:
I said that as a joke, you know, I'm really impressed by it. I think I understand now how the catalysts work. I mean, on the surface, not in depth, but you mentioned something about monitoring. I'd like to come to that. What exactly are we monitoring? Because if I recall what was tested in Switzerland, there were many things, there was this cud monitoring, there was some biological monitoring. And what exactly are you tracking?
Fajer Mushtaq:
What we know about micro pollutants for example, is that they absorb and they fluorescence at different wavelengths, right? So if you want to do a really quick test, you can just look at the UV value at two 54 nanometer and see how these micro balloons are absorbing the light. And then you more or less know how many max exclusions were gone, because there's an established rule that the absorbance intensity goes down by 40%. That means 80% of micro pollutes remove it. So there's a trend that is established well in terms of getting a quick answer, but what we are doing is being going a step forward because absolve itself really relies upon the fact that water has to be absolutely clear, not turbot, which is really not the case for a lot of industrial science. So we are looking at fluorescence as one of the methods where we can combine it with Raman spectroscopy and do like [inaudible].
So we are working with other companies that have the expertise and we working together and sort of correlating lab based testing, where we know how much viewed was removing that treatments and what that means for the spectra of the fluorescence, for example. So that's one of the things we are doing apart from that. We're also looking at new innovative methods, such as a microwave residents technology. That's a completely a new hair in this field. And we are working with a player in this who has experience with that. And we're trying to sort of retrofit their sensors that they are developing is especially for us in this case, into our reactors and do the next pilot testing with them. So like the last pilot we did, we already had a collaboration with a second company that does real-time monitoring with deep fluorescence, and we can show the customers, you know, you can see the spectrum going down with every minute of the treatment.
And then we did the offline analytic treatments, you know, HPLC, GCMS of standards. And we were able to correlate that spectra intensity here means this. And this spectra is very different from the existing absorbent session is that you do right. This can be applied to all types of waters, you know, murky turbot, it's quite good. So we are using machine learning. We're using AI technology to read out from the spectrum and quickly present online to the customers what's happening with their water. It's really interesting because it's not just treatment. I think what really bothered me in the beginning was I had to wait for a few days to get the results of the treatments. It gives the HGC and GCMS the ICP, and it takes some time, right? I was sort of impatient. I wanted to know, did it work and how good was it?
So that is when I realized we have to do better at a better real-time monitoring. And we have to be able to give the customers that they are happy with how the treatments are going and that we have a feedback loop control. And we really have tried that in the last two pilots, having a real-time monitoring sensor attached to our reactor, we have the machine learning, we have trained the software to know only when this spectrum reaches this level for this water, should the valve open, should the water be getting out until then the treatment goes on? So we are doing studies like this, so we can always guarantee the best cleaning performance. And we are teaching our system to AI and machine learning to learn these tricks. So yeah, that's what we are doing
---
Antoine Walter:
Are really very interesting at the border between those two last topics between monitoring and the place in the treatment trend. You mentioned that contrary to the use of ozone, where you would have the byproduct and the bromate bromate problem. You don't have that because you're working with a hydroxide, but if you have a look at the way ozone is used in Switzerland, when it was on, is put in wastewater, you have to put after a sand filter to use an existing sand filter as a pollution step. What about your process if you are using your process? Okay. There's no, no matter of bromine bromate, but still, if it's an oxidation, I could imagine that there might be some byproducts who take a big molecule and you break it into smaller, which are then faster biodegradable, but still it's still the, the, the small pieces. So did you test that? Because I know it has always been a debate about the toxicity just right after the treatment we know in the long run that the toxicity is going to get much better, but just write up the treatment. That's always the touchy points, let's say.
Fajer Mushtaq:
Yeah, we totally agree. Just to give you a quick example of how we see that problem. In the last we did our reacts to treatments for the catalyst. And at the end, we had a way to sample water directly from the reactor. And then in one way, we were sampling the water that was coming out of a, sort of a post concentration step. And so we took waters from both places. We did a deep analytics, found no roommates in both cases did biologically, I says, found notes, had toxic essays, and also looking at the fluorescence intensity, because what is also important to know is that once you break these compounds down with the oats radicals, you do break them into smaller pieces. We agree. I will be. So interestingly at the fluorescence spectra, the real-time monitoring was that after the sand situation there, the spectra does decrease even more.
So this is clear that we are breaking those compounds with always radicals in the small products. They don't have any roommate toxic effects, but they are still there. And that is where this fluorescence spectra and that real-time monitoring came really handy. I know there's a debate out there. I recommend the user real-time monitoring to answer those questions like we did here. So we know that they're there and the sand filtration absolves them. And this spectrum becomes almost like a water spectrum, Clearwater spectrum. So we know that those are absorbing on those cases, but we still have to definitely do is extract those compounds from the sense of situation. And we look at what they are and how bad they could be. What we did only so far was just look at some mutagenic essays and estrogenic essays off the water collected directly to treatment. And also after the post sand filtration step.
And we didn't find any discrepancies, any differences in there, but that being said, as you are excited about what happens when they break from, I find it fascinating and how much time, what products are formed, right? This is interesting. I know that a million different combinations that can take place West radicals can attack a ch bonds. He all bond [inaudible] randomly anytime. So it's very hard to predict that. And that is also why we are working with some experts from Europe whose specialty really is doing a modeling on a degradation product. So we are working with them to really understand at what time, what should we expect? And we do that by their modeling and doing analytics of water that we collect every minute, for example, and seeing what are we finding in the water? So I think going forward, we would definitely have some more interesting results to share in this front.
I think it's fascinating to know that so that we can even control our treatment time better. If we know that that's what we have after just five minutes is not problematic anymore, can be treated. Maybe we don't have to run the peak of the 10 minutes, right. We can just save in costs and time. So I think once we have more data on that, that would be good. And I think the trend in this area also is to really take help from modeling and kinetic dynamic, kinetic modeling and using machine learning. I think these two fields can really go in because yeah, doing a testing for everything takes much, but if you have simulations and AI to guide you, that is the future to get faster answers to these questions.
Antoine Walter:
You've mentioned a couple of partners that you're working with, a partner for modeling a partner for sensors, I guess, maybe a partner to make it happen like an installer or this kind of companies educating to treatment. How do you arrange that? Can you name some of those partners or are you working today?
Fajer Mushtaq:
I don't think I'm at Liberty to disclose the exact name, but I can definitely discuss how do we get in contact with them. But in some cases we were contacted by them. For example, in the case of machine learning, we were contacted by the company as they were looking for another approach to ozone. So they had already done some testing with real-time monitoring, with ozone treated water, and they were looking for a different approach that is always radicals. And they heard about us through the university landscape basically ETH contacted us and we decided to exchanging some samples. And to their knowledge, we learn so much about the spectrum [inaudible] samples. And we saw how different aspects were looks. That that was fascinating. In some cases, these really start from getting the word out that you exist, you're doing something cool. And if someone is interested, they should contact you.
And in some cases, you know, it's really us trying to call an email and get in touch, ask for a meeting. And this first, what we are doing, what the bigger picture is and make them see the potential in that in a collaboration. Because I feel sometimes that she can be able to conservative and changing and trying a new thing out. But I think if you convince them with enough case studies and data from these customer pilots, they start listening and they're interested. And that is how we are working with such a diverse portfolio of collaborators, because yeah, that's one thing to say, we just bring the reactor on site and our job is done that I think we can do so, so much better by giving the customers a real-time monitoring, but telling them what's in the water using AI and machine learning to be figured these important topics out what's left in the water and providing all this information to the customer online, right?
So they can access it whenever they want. So really trying to make this field with some people sometimes say, it's an unsexy field. I disagree. It's very interesting to make it from this un-sexy point of view to a sexy pump. You know, you have an app for that. You can test what's happening with your reactor. In fact, it helps you, it tells you what's in it. And I think that should be the way going forward so that there is a lot more transparency and a better checks and balances like for us, this whole real-time monitoring, for example, comes from the point that we really want to tell them that it's clean and we want to be a hundred percent sure ourselves that what we have done it's clean. And if you don't have a constant checks and balances, how do you guarantee that sometimes there could be differences in production streams.
There could be differences in the dilution of the water. How do you correct for that? And when as people are there, how do they do that right now? They don't right. They just trust that everything is signed and that when the audit comes, everything goes smoothly. I think we can do so much better for our customers. I think a lot of them really are trying to have an easier life when it comes to wastewater treatments, there are in troubles. I think we can help them. If the industry is trying to change small companies, new companies like us, the different vision to solve this problems should do all we can to help them change. And that's where we are.
Antoine Walter:
You mentioned the bigger picture and the, you mentioned customers and pilots. So where are you exactly in terms of business deployments of your solution pilot stage already with the commercial references, or how do you see those next steps?
Fajer Mushtaq:
This whole year has been sort of a, you know, building a credibility phase for us, where we started off the year by doing proof of concept studies, mostly to lab exchange of samples and, you know, studying how we can treat it, providing them an assessment. And then based on the design, we propose for them to this group of concepts, we then move the step forward towards onsite pallets. And recently they also started doing some paint pallets for the customers, in which case it required longer time and more resources from us. So we are still at the stage where we have shown on sites that are treatment roads fixed and periods of time. We have shown to real-time monitoring, whether it means to add analytics, whatever that means. And the next stage really for us is to raise more funding. So we are in the middle of a fundraising stage.
So we can literally build more of these prototypes. We call them prototype version two, which will be integrated with the real-time monitoring option and have an online platform integration. So that can run on the customer sites for a few months so that they understand the new products. It's not too spooky, it's just new and fancy. They can try it out with all these new features that we have been building up slowly together. And the idea is to really start from providing our customers with a small scale reactor first. So that product we aim to be in the market by the second or third quarter of 2023. So in two years we envision the first product is out there and that is exactly the solve this decentralized cleaning needs, right? So it's kind of going back to the full circle. The idea for this came from a lab in a chemistry lab at ETH Zurich university, whereabouts 60 people work pretty much a given day.
It's, it's a very busy lab, it's a big lab. And we collect a lot of water, a thousand liters in some cases of contaminated water that we send off for birding once a week, the idea came from there. And our first customers that we envisioned are going to be like, we institutions like ETH Zurich, where we have one of the small scale tabletop reactors installed in every lab saying we want to do with research and development institutions for be at a biomedical company or pharmaceutical company, have these attached closer to the source and clean about 2000 to 5,000 liters per day. So really small quantities, but really a solution at the source attached. And the problem is solved. There that's the first product. And then a year later we would be setting a medium scale reactors, which would be ideal for pharmaceutical companies that we are working with. And agrochemical companies that require 200,000 liters per day per stream. So that's the size we have in mind for 2024. And obviously the big prize is a large scale ones, which will come in the next five, six years
---
Antoine Walter:
You intended go to markets. Do you think you will deliver the turnkey solution? And that's what you're going to do on the long run? Or is it something that you would make available to the players in the market speeds for, to take Swiss example like [inaudible] or alpha level or Suez to give just some names? How do you see that?
Fajer Mushtaq:
I mean, in the very beginning, the small-scale reactors that I mentioned, I think that early stage, we want to be able to do it ourselves. I think we can do that working in collaboration with the manufacturing partner. So in our business models, we work with the manufacturing partner that we work closely in the product development cycle right now. And then we work at a blueprint that makes sense is gets to buy certification to there. And they make the reactors for us oxide manufacturers and provide the catalyst for these reactors. That is a recurring business model. If your water is requiring that the catalyst be changed once a year, once every two years, we will be making money from the recurring scale of the catalyst at any maintainers and just providing you with this AI based water services. So that's how we would like to generate revenue going forward, the catalyst and the service itself of telling them how the water looks.
The manufacturing partner produces these reactors and basically delivers them on customer sites and provides certification. And I think for the small scale reactors, we strongly believe this model will hold. That is something we know is we'll be able to do, but definitely going forward for the medium and large scale, we will be collaborating with water utility companies. We have already opened talks with some of the large players in this field. And I think the more and more case studies we do, as soon as the small-scale reactors are functioning in the market for your, we would like to, at that point work more closely with these global versus energy companies. They earlier plenty of them out there, and they have shown excitement that we'll be doing is great. And then going forward, our idea would be to work in collaboration with them, use their sales and distribution networks. And even a licensing model is also on the table. Nothing is off the table in the future. And yeah, it's a big plans. Yeah.
Antoine Walter:
I have a last question in that section, you've mentioned the cost effectiveness, and you've mentioned that if you compare your solution, for instance, to a, someone that would have to combine ozone and activated carbon, your solution would be much better in terms of cost effectiveness. Actually, that would a huge step forward and ups have always been praised as something which is really, really effective, but always is something which is very expensive. So if, if you have the golden nuggets that is same time, has the effectiveness and is now cost-effective, then you're really onto something you do do some comparative study against all other technologies.
Fajer Mushtaq:
Yeah. So the last few studies that we did with the customer's water, we did, we tried to have a better understanding on the energy requirements of the system and the cost. And our preliminary assessment shows that to treat, for instance, say for me to cube of water, treated on treatment would cost between 0.5 to 0.6, Frank. So half a Frank for me to cube is the treatment costs that we would be providing. These are really sort of a modest assumptions. That's based on what we have learned in the small-scale reactors and we are interrelating, but we still believe that once we have the last systems, we can even drive it down to about 0.2, a 0.3 francs for me to queue. And I think that would make us really come in line with either ozone or patch treatment, not the combination, of course. And when we talk about wastewater treatment for industrial clients, some of them, the ones we talked to, a lot of them use incineration at the moment. And there, there is really no comparison how much money we saved those guys. So there are, we don't even try to do calculations. Anything is fine for them, as long as it's under installation price, which is ridiculously high. And when we compare technology to ozone on a pack, I think with a preliminary analysis beyond the same ballpark figure, and we know that the better react to modeling and better design, we can even drive it down to the last few reactors.
Antoine Walter:
Incredible well for the non Swiss people, listening to us, just a one-on-one small precision one, Swiss Franc is about $1 and a it's very close to be one Euro as well. So just that people get a scale of things, but it's really incredible numbers, especially of course, if you compare it to incineration, it is really breakthrough that you have here February. It could be speaking another Howard with you about that matter. But I think at some point it's going to be interesting much more for me than for the audience. And I want to be cautious of your time as well. So if it's fine with your proposal to switch to the rapid fire questions
---
Rapid Fire Questions:
Antoine Walter:
So this last section, actually the ideas that I tried to keep the questions short and for you to keep the answers short, of course I don't cut the microphone. So if you need to explain a bit more, you're absolutely free. So let's start with the first one. What is the most exciting project you've been working on and why?
Fajer Mushtaq:
There are a few, I know that's not the answer you're looking for, but the most exciting would be where we are treating as particular stream for a customer. The CIMA is part of the hydrogen production stream. So they are trying to make hydrogen in a more green manner with the stream, but that also unfortunately produces some pollutants for them that they would like to find a green technology to get rid of. And we are working directly with them for that as we feel it's part of the same sustainable vision that we have for the planet. If someone is trying to build technology around a more sustainable hydrogen production, we would like to help them and make sure that the treatment of that production stream is also sustainable and they don't have a negative side effects in that. So that I feel is something I'm very excited about because it's a very, very green project overall.
Antoine Walter:
So you're treating something in gas or is it in water as well?
Fajer Mushtaq:
I know it's in water. So the it's just the process condensate that comes from that production stream for hydrogen production. They need to be treated once the hydrogen has been produced. So we help them with that choosing a technology.
Antoine Walter:
Okay. What's your favorite part of your current job?
Fajer Mushtaq:
There are a few, I mean, definitely presenting the treatment results analytics to customers like we did today. That was very exciting, very proud day. We loved that. And I think I have to say the most important thing is the sort of privilege where we can, you know, directly work with the customers and hear their problems and sit together as a team and design a solution that helps them. It really helps them out. And the fact that this sort of whole thing started in the chemistry lab one day for me, you know, six years ago, and now we're out there trying to really help people. That is the most favorite part. Like really having an idea and following through it and trying to really create a positive change to that. What is
Antoine Walter:
The trend to watch out in the water industry?
Fajer Mushtaq:
I think since we do so much with wastewater, I really tell everyone, like we will stop saying wastewater at some point and just call it water treatment because it's not just a wastewater, like there's so many things we can do with wastewater. You can really design a treatment that helps you reuse the water, recycle the water. We should not be wasting this water. It should not be getting burned. It should not be getting into our rivers and lakes when it's not clean. So I think the recovery of precious resources from the water is definitely going to be something we will watch out for and it's been going on for awhile and it's definitely the right trend, water reuse and water treatment. Reduce new water consumption is definitely the next one. And I do believe maybe I'm not joining the others that some sort of a real time monitoring option that provides a data to the customers on cloud in real time, I think is going to be something we all need going forward.
---
Antoine Walter:
I love all your answers so far, but this one is really close to my hurts. Or thank you for that one. What is the thing you care the most when you're working on new projects and the, what is the one you care the least,
Fajer Mushtaq:
Huh? The most would have to be when I get to know what's in the water and what is their biggest problem. And if I also believe that it's really a big problem. For example, if a customer tells me they have PFS in the water and they are not treating it well, and it is getting into the groundwater, I will be more interested to take that project in because we know how problematic PFS and groundwater is. So if I know the scope of the problem, and I know that the existing treatments can't really help, that's a challenge for us and I like challenges. So that is the favorite part for me when taking on a new project, because there's so many exciting projects to take on and limited time, if it can really make a difference and there's no other good technology to do that and they have a problem, we will take that problem on. So that is exciting. The least exciting. I don't know if there is any pilot is least exciting for me, honestly, I feel like I'm involved in every project. We, I still fine. Not maybe when we have bigger and we have more things to do, I'm sure I will find the bookkeeping and all those things, not so exciting so far. It's all fine
Antoine Walter:
Sources to recommend, to keep up with the latest market trends.
Fajer Mushtaq:
I mean, what I've always been doing throughout the PSD and now is I look at any new articles that are published. For example, the global intelligence. I love their takes on different CTOs at different companies. And they always tell you how the market is growing the trend lines. I like reading their assessments and their reports. I think they do a great job. We also have the international association. There are many of these word associations in different countries as well, like closely follow the ones that report details in India as well. I'm from India. So I care about how we are changing our water view in that country. I think we have a long way to come there. So it's not just one resource. I try to do that in the places I care about and we think we can make the biggest impact. So these journals and these reports are always very good.
Fajer Mushtaq:
And I closely also follow. I know it sounds weird to say, but there's legislative process. For example, at the EU level, the water frame directed, it's really interesting to see how they're feeling about certain and so far, they have mostly either banning them or putting them in a watch list, but not outright you know, regulating them. And I keep following them to see where the trend holds there. So yeah, watching how these different countries legislate on that two EPA guidelines or U guidelines is also something I followed quite closely. And now I have to say, I'll be listening to the wastewater podcast as well. I have started doing that and I have to say, and being, learning a few things. So thank you for doing that.
Antoine Walter:
Thanks a lot for mentioning, but from all these sources and from all these people you are working with, who would you have someone that you could recommend me to invite at that same microphone?
Fajer Mushtaq:
I could recommend someone who has not met, but whose work I have been following, because I just wanted to maybe see what they have to say is that allowed, of course. I have, for example, I've been closely following what this, a UK based company, you also do AOP treatments. They do a chemical oxidation and they have been doing quite well. And once they started, I felt there was a right negative attitude in the skill that they will not do well. They have been doing well, they have expanded to China. So I'm happy to see that they were able to make it so far in this field and that they are excelling. So I think it would be very interesting to see how they feel and if they found the beginning challenging, can you repeat the name? R a R V I a it's from UK.
Antoine Walter:
So thanks so much for this advice. Let me just before closing, where should I redirect people that would be looking for you oxide that ch is there any other place where you want people to have a look at what you're doing?
Fajer Mushtaq:
We also constantly updated information, LinkedIn profile, and our website is the best place. Obviously, LinkedIn is there. We are also in Sparrow and if someone wants to reach us, I'm always happy to talk over LinkedIn. And my email address is also on a website, so they can also do that.
Antoine Walter:
Perfect Fajer. You've been an awesome guest. We thanks a lot for everything you've shared today. I hope that we can meet again, maybe in two or five years just to have a at your, your path and where you are standing, because I think you're onto something really exciting. So thanks a lot.
Fajer Mushtaq:
Yeah. Thank you for inviting and wonderful conversations. Always nice to talk about these issues with someone from the same industry, right? So it's, it's, it's fascinating. It was great. Thanks for inviting me. And I'll definitely take you up on the two to five years old.