with 🎙️ Paul VAN DE GRIFT – Business Developer @ Bluecon International
💧 Bluecon International is a company that developed a compact system for decentralized municipal wastewater treatment.
---
What we covered:
🍏 How different the wastewater challenge is from one place to another, and how the smaller a community is, the worse it gets.
🍏 How 'Blueconizing' water addresses this gap – and what that made-up verb actually means.
🍏 The physical-only steps his company packs into shipping containers.
🍏 A 360 perspective on the many implementation possibilities such a compact and decentralized solution offers.
🔥 … and of course, we concluded with the 𝙧𝙖𝙥𝙞𝙙 𝙛𝙞𝙧𝙚 𝙦𝙪𝙚𝙨𝙩𝙞𝙤𝙣𝙨 🔥
➡️ Get the 3 Page Synthesis for free!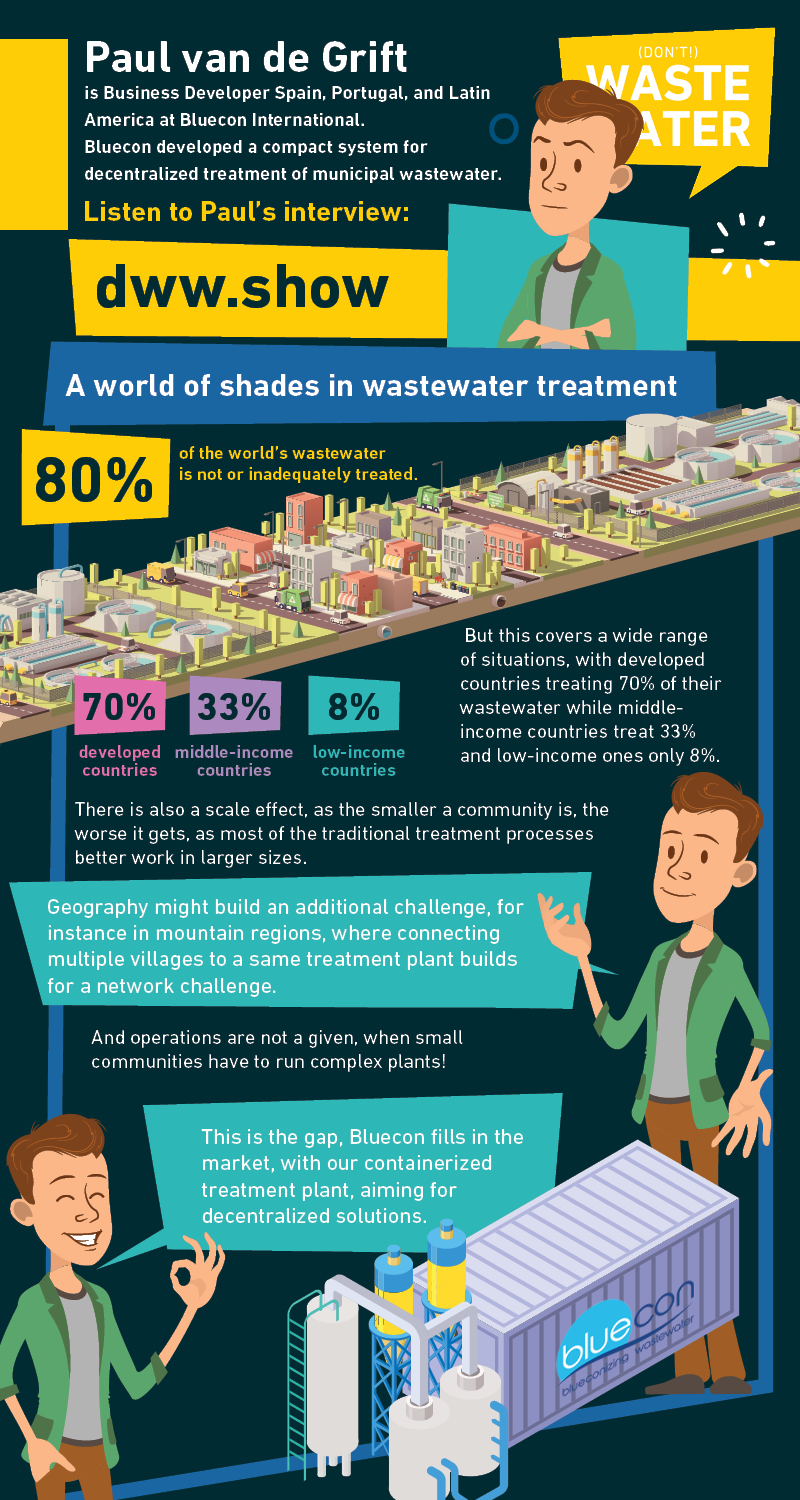 ---
Resources:
➡️ Send your warm regards to Paul Van De Grift on his LinkedIn page.
➡️ Check BlueCon's website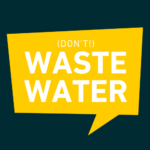 ---
Full Transcript:
These are computer generated, so expect some typos 🙂
Antoine Walter:
Hi, Paul, and welcome to the show. I'm glad you accepted the invitation. Let's start with a postcard. Just tell us where you're sitting right now.
Paul van de Grift:
Hi, Antoine. Thanks for having me on the show. And I'm sitting in the capital of the Netherlands in Amsterdam, in my own home as many people. So actually, yeah,
Antoine Walter:
When I was looking at your career path, it sounded like there was kind of a line between the Netherlands and Sheila, and you had an amazing journey on that, or you appear to have a nice journey and that's can you maybe just explain us, what was your path?
Paul van de Grift:
Yes, of course. Well, I studied international business and management because I always had the horizon to be involved in export and import. And later on, I developed a specific interest for the Latin American continent. I then met my wife who was from Chile, and then obviously I started to develop a close relation to Chile and see what team is producing, what they have to offer and see about the connection between those two countries that really want us to get the false to down. So I'm going to be, I made it there.
Antoine Walter:
So you mentioned in our preparation call that by the end of your journey in Chile, you started working quite closer to blue com, which is your actual company, and that's how you came back to the Netherlands, right?
Paul van de Grift:
Yes, exactly. I was working for the Dutch embassy in Chile, in Santiago, the capital and during my last month, because we decided to go back to the Netherlands because of the fact that we were expecting our second child. And I met the Dutch company Bluecon in December last year while they were on a trip. And just to see if what the market potential for that product was in Chile. And I was accompanying them from the embassy because I was working for the economic department. So I got in touch and I actually traveled together with the owner and founder of the company for four days. And lucky that once I returned to the Netherlands, I joined a local team,
---
Antoine Walter:
Actually let's assume that we would be meeting in Amsterdam in the whole of the Rembrandt tower and had the loop on Wikipedia. And apparently the elevator of the tower take about 40 seconds to reach the top of the tower. So you would have 40 seconds to make me the elevator pitch of blue con. So what would you
Paul van de Grift:
Oh, wow. So this is the famous elevator pitch. The blue cone basically develops the world's most compact decentralized wastewater treatment system. What it does, it converts domestic wastewater into reusable water. So it creates a huge opportunity for decentralized waste water treatments and to apply clean water from their waste source. So that enables a lot of economic activities for the communities, for the smaller towns where such equipment is installed.
Antoine Walter:
Wonderful. That was really to the point you made it within the time. And I think we now have a better glimpse into what Bluecon is doing. So just before going to the deep dive and going to this decentralized waste water treatment aspect, I'd like to ask you, what's the special sauce of your company? Well,
Paul van de Grift:
Basically this company is about seven years old and what it did is it was very difficult to do, but it improved an existing technology and made it suitable for the domestic wastewater treatment. So I guess the key or the secret of the company is like developing further, take it to a next level in existing technology that now can be applied for a variety of uses. It's very specific. It's, it's almost a nice market. So there's a lot of expertise in what they're doing about know-how and yes, I guess it's quite a revolutionary system.
Antoine Walter:
So I think we're going to come now to this revolution because when I was scrolling your websites, I just found that strange verb and, you know my English is not perfect by far nuts. I think that's my French side, but I'm pretty sure that the word blue colonizing doesn't exist in the English language. So I will need you to explain me a bit what this stands for.
Paul van de Grift:
Yes, well, of course it will be nice if it blue colonizing as a verb, you know, it would be included in the, in the next, the dictionary, but it's not, of course, if everything to do with the company named Bluecon was, comes from blue container. The blue container is basically our product. We build wastewater treatment plant inside a container, which makes it very moveable and very small in size. So very compact, right. And blue colonizing is the process that we use in order to clean. In a matter of minutes, the domestic wastewater into reusable water. And I say reusable water, because it could be irrigation water. It could even be drinking water. It could be water, just clean water to this job, let's say. So we are very flexible in the outputs and the different qualities that is required.
Antoine Walter:
So the full plant is packaged in one container or in multiple containers. How can I visualize that?
Paul van de Grift:
Yeah, so it depends a little bit on the size and the capacity. What blue local did is tried to resolve the well actually the lack of wastewater that's been treated in the regions. So that means the smaller the town or the community, the less successful traditional wastewater plants are. And this is actually the gap in the markets where blue cones thought, okay, this is something that we really need to resolve. And we need to start thinking outside the box and trying to include different types of technologies and treatment. So it's containerized. It could be 10, 20 or 40 feet container. And it depends a little bit on the amount of people that live and their average water use local basically focuses on from a few people to 20,000 inhabitants. That's basically the market.
Antoine Walter:
So you mentioned the multi-steps of the technology. So what exactly are the technologies which you package inside your containers?
Paul van de Grift:
So the technology is actually a technology of proclamation, coagulation and flotation, which means in medicine technology that already access for like a hundred years, right? Basically it means that by applying an electric static electricity in the form of a reactor that destabilizes the negative and then in positive layers, on a molecule level, what happens is that the dirt or the slots get separated from the clean water and in the next phase, all those potential, small sweat spots, they start to stick together and they start to float afterwards. It can be more easily be separated. So this is a technology that also exists in industrial wastewater treatments. However, the percentage of, you know, cleaning up the water bypassing through our reactor is so high that it only needs to be disinfected after, and it can be reused. So it means that we get a extremely good results from passing the dirty water through our reactor, where this physical, chemical process that takes place. So it separates the dirt from the water. It starts to stick together to go, will link together. And by applying a, like a glue and we manage to transport this water through our system, without it being separated again. So the dirt itself that sticks together remains that way and then can easily be removed in the flotation chamber.
Antoine Walter:
So basically you have a pretty short treatment train. So if I understood right, where, what you've just explained is you start with a screen, then you have this coagulation flotation, and then you filter it and if needed, then you might even disinfect it, right?
Paul van de Grift:
Yes, exactly. So what happens is that the wastewater gets through first screen, the pre-screen that's just for the larger particles, not to, you know, the stirrup the system. And then exactly. So after this first step, which consists of three, the dirt part is removed by flotation and it gives such good results that no complicated filters are needed afterwards. It goes through to the last step of the process, which it says that subsection and that is of course, has everything to do with the results we get from our reactor removes the dirt to such a high percentage that no difficult filters are needed, which tells us a lot about the low level of maintenance that's needed and the low level of cost that's needed as well.
---
Antoine Walter:
So you mentioned it quite shortly, but I like to understand how you fit into the market because, you know, there's this advanced countries where most of the water is hopefully treated today. And then as much as you go to the middle income and to the low income countries, we see that the rate of wastewater treatment goes pretty much down. I think the numbers are 70% treatment for the developed countries, then 38 and 28% for the middle income countries. And the low income countries have 8% of the waste water, which is treated. So I'm just wondering as blue con with your pretty simple treatment train is in shipping containers. What is the market you are aiming to enter? What is your target?
Paul van de Grift:
Interesting question on 12, but you wouldn't be surprised as well in Europe, in countries, as in Italy and Spain that are being fined by the European union because they don't apply the treatment that's necessary. Okay. A lot of countries are struggling with applying the right technology to apply an effective treatment on a small scale, let's say so Spain is definitely an interesting market for us, as I say, in Eastern Europe as well. So those are, you know, developed countries that are also trying to find solutions for small scale treatments. So I'm from the Netherlands and in the Netherlands, a centralized large centralized treatment system is actually possible because of the geographical characteristics of the country. It's flat, and many towns are very close towards each other. They are actually sitting to right next to each other. So what happens in the Netherlands is that we use these large scales, the traditional biological treatment system by combining the wastewater or the two, three, or up to five smaller towns.
But that's, of course not a reality. If you go to, you know, more mountain areas already in the South of France, that's a problem in Spain. Portugal is a problem. So you can't really connect the wastewater of different towns together because of the distance and because of the lack of, you know, possibilities to do so. So in those countries, which is still a Europe, I'm talking about, there's a lot of needs for these centralized system that actually are as effective as the traditional large scale biological ones. And this is where we say next, actually the whole world is our markets, right. We went to the different growth and we looked at the biological alternatives, but actually in the end and you see it now more days as well, we chose a physical chemical process because on a smaller scale that are actually much more effective than a traditional biological ones.
Antoine Walter:
So does it mean that in those areas where you just mentioned, so Italy, Spain, South of France and Eastern Europe, they just have nothing in some areas and then you are improving it because you go from nothing to a very effective treatment or do they already have something at small scale, which is not suited and you can correct that with your process.
Paul van de Grift:
Yeah. It's also an interesting and a good question. Actually, we see both, so there's a lot of need for a treatment on places where there is no treatment yet in Europe, that's actually being boosted by DDU of saying like, Hey guys said, it's just not the percentage of treatment you are applying. So the local governments are looking for technologies, but definitely also replacing the, some of the older small-scale traditional ones that are not able to clean the water sufficient or after a couple of years of operation, basically they break down and we have to say here that those systems itself, they are quite good developed systems and they are backed up by a lot of science, but it's extremely difficult to operate those systems. And the smaller the community gets, the more difficult it gets for the operator, you know, to work with an efficient system. So local does it could replace such a system. It could install itself in a place where there's no treatments going on, but it could also help a traditional system alleviates. I don't know if it's a good thing. This works by applying some sort of a pre-treatment so that the performance of existing plants get better. So we could work with traditional systems or replace them. We are very flexible in that.
Antoine Walter:
Okay. Actually, the places you just mentioned, be it Italy or Spain, Portugal, South of France are also the places where usually you have a kind of water scarcity or always more, what is coarsity, does that mean that with your system, you can also take advantage of that and leverage that the treated wastewater to reuse it for some kind of new purposes.
Paul van de Grift:
Yes, exactly. And this is one of the biggest emphasis of the blue book system. On the one side, it simplifies the current process. So it means that it's less operational costs, but it's also easier to operate, which enables it to be installed in smaller communities and towns, or the second biggest is foreign to, so if the system is an actually delivers water of higher quality, and we can meet the quality that is required by the EU regulation or in Asia or in South America by the national regulations. So whenever the reuse of the water is we can reach that level. They did this of course makes it very interesting, like you said, in dry areas. So there's a waste source there that's been maybe treated or not, and then wasted into the rivers or sea. And of course, if you, if you are in a dry area with a deficits, then really using that water really creates an extra value.
And that is not only going on in the South of Europe, but also of course, that's where Latin America comes into play in Sheila, where we talked about that, I have a strong with everything in the Lord side of the capital is going into a process of certification. You know, that there should still becoming bigger every time. And of course, if you can add and flow volume of one or two nets, it creates really a lot of opportunities. So in short, we simplified the process and we deliver water over much better quality that is really suitable for its reuse, whatever the reuse is.
Antoine Walter:
I like to take the process from the start and for the front. It's a recurring question that I have with my guests on this microphone is what is the awareness of the people, you know, and I hear many different takes of that. And I was wondering, given your targets of this smallest size communities, do they come actively to you and say, we have a problem. Could you have a look and maybe can we solve that together? Or do you target those guys and say, Hey, you are, I know a 2,003,000 population community, somewhere in South Europe or in Latin America. I think you're not switching the water to the level. You should, maybe we can sort that out. So is it them being proactive or is it you having to push for it?
Paul van de Grift:
Well, that that's actually going both ways. So we are a Dutch company and we see it as governments or companies from countries abroad. They know that the Dutch water sector is one that really involves a lot of know-how and a lot of new technology in there. There's a growing number of startups that are providing solutions for a series of challenges in the water sector and for, from preventing natural disasters or flooding to the supply of sweet, usable water. So we could see that in general governments know, and companies abroad know what the added value of the ducks centuries, but on the other hand, not a lot of local governments know that's what it can actually be three days at low costs up to a quality where it can be reused. So that thing is pretty new. Even if traditional system is operating quite well, it still only treats to water for it to be discharged in the river and not make everybody settle and say, but this technology of course is add something to that.
It's cleans the water in a way it can be reused. And this is quite a new concept. So this is where we need to go out and spread the message and, you know, do a lot of presentations, but also demonstrations in the countries where we see a lot of potential, which is basically the whole world, right? So we traveled a lot. So can we bring our demo widows demo container to 40 feeds demo container that we have, and we go out there and we showed him because of course with all new technology and that also counts for us, people need to see it need to see how it works. They need to validate the water and the operator needs to see like, okay, how is this, how do I run this machine? So we create a lot of interests by going on a road show. So to speak,
---
Antoine Walter:
The rotor is one way, but I guess you're not bringing the continue to every possible plans you might be treating in the future. So on one end, it could start with the container, but on the other end, maybe sometimes you have to start with a water sample where they just give you a sample and you say, okay, we have to dimension our process. Or is it something which you say is fully standard and your container is off the shelf in the size of 10 foods, 20 foot and 40 foot. And then you're good to go, or is there kind of fine tuning you need to do every time.
Paul van de Grift:
This is a good question also. So a large part of is standardized and then has to do with the capacity. So we know how to build a container with three it's, five cubic meter of water per hour and one of 25 an hour. So that's the first question, what kind of capacity is required. But then the second one is actually needing the necessities of the, of the client. So let's take, you know, a 10,000 inhabited town. What do they want to do with the water, which determines the configuration of the container? So a part of it is standards, which has to do with the capacity. And a part of it is basically custom made according to the reuse and of course complying with the national rules and regulations on that. And it's also a very fair thing to say that we can't take the container and travel all over the world.
But what we're doing is basically try to organize a demonstration in a country with a lot of interest and then invite a lot of people. So local authorities, national authorities, but also companies to that place of demonstration, where we are like maybe a week or two weeks where everybody can see how this is working. So sometimes you need one successful demonstration, you know, for sort of snowball effect. So to speak. What we've also tried, which is interesting is we said, well, you know, it's so much cheaper. If we just have you come over to the Netherlands to our testing sites, then we'll show you how it works. So we have this great testing facility, which is at a traditional lots size treatment plants, where we simply installed our container and we use the wastewater source, you know, to do all sorts of testing. And of course the demonstration to customers. Well, the answer that we are receiving from, from people abroad to saying, okay, well, this is Dutch waste water. And in India, you know, our wastewater is different. So we still see it as an added value to if the potential is right to invest as a company in saying like, okay, let's say over a team, let's send over ship over the container and let's do a small tour. You know, when it comes to Ravinia, it could be two or three locations. And then we see a generates the interest that we are hoping for.
Antoine Walter:
So you need the inputs of the water capacity that you need to treat. You need to have the outputs to know to which level you need to treat. And you need the guys to be convinced that your treatment process can solve that. What would be interesting here would be if you could just guide us through your path or maybe your last successful project so that we understand those steps.
Paul van de Grift:
So basically we generate a lot of, of interests by, you know, having created this new technology or actually having improved and existing technology made it suitable for the treatment of wastewater. So we are out there, you know, on, on fairs and social media. So that's of course the first step. And then when something, for somebody who's really interested and we work towards a demonstration, right? And after the demonstration, we actually see that the process of going from a demonstration towards a sales is actually quite short after demonstration. That's the last step for people to say like, okay, convince me that this is working and if it does work, and if I can see it works, and if the water quality is validated by my local authorities, we actually see that purchases come within, within a few weeks already. So then of course for us great, because if we do a demonstration and like Serbia, where we were, and we worked towards a Virtus of five treatment plans, then of course having installed those five working blue collar treatment plans also generates a lot of interests of, you know, towns and communities that are close to one.
So we need to invest a lot of showing who we are, what we have and what we can offer. And then we have to do the demonstration there, which is always a very nice thing for us to do, to show people like, Hey, this is, you know, this is working and it's working this way and we have your authority here who is actually going to take some samples and validate the water quality. And then afterwards is actually going into quite a quick,
Antoine Walter:
When you say quite quick, how fast is it from the first inquiry to the moment it starts treating water
Paul van de Grift:
After the demonstration for a purchase to happen. As a matter of weeks, demonstration is the last step of convincing people and an order. Well, it takes us a couple of weeks to build one. And it depends a little bit on a configuration, but we are talking about four to six weeks, maybe.
Antoine Walter:
Well, that's fast. I mean, if you compare it to the traditional concrete tanks area.
Paul van de Grift:
Yeah. So we are very quick and that's not the only thing. So agents, once it's built, it's, you know, it has the right configuration for, for the customer. We go over and we do the installments ourselves, and we take that small with also to train the operator and to train the company, that's going to do the maintenance so we could do that. But it's always better if that's been locally done, installing is like maximum two days. So can you imagine, like after building and we ship it out in a rice in 48 hours later, it's up and running. So building is much faster, but also the installation, if you're talking about traditional system, after everything is being built, which leaves a huge footprint, right. In comparison to our system, it also takes at least I would say two months, you know, to get this whole process of bacteria activated through what's going on. And then when she come back after three months, you can actually see how it's working. Yeah. What else? It's 48 hours. And the quality of the water is stable 24 seven. So it doesn't matter. At one time you come over and take your sample, it would always be the exact same.
Antoine Walter:
So you are assembling in the Netherlands, all the containers.
Paul van de Grift:
Yes. So we are settling in in the Netherlands in Leeds. So we do have a strategy, especially for markets outside Europe, where we want to build and produce on the license, the treatment plans locally. So if the demand is right, of course, for a few, that's not probably economically a very good idea, but if the demand is right then the distributor that also helps us with the sales and the technical office sales surface, it could also potentially be building those plants locally. And it also means that all the material we use it's actually available in all parts of the world. So the secret is this more in, you know, how to operate it, the operator of meters, that's where the secret is the know-how and not so much the material use because of course the advantage of having such good results of treatment is that we don't all those sophisticated, let's say filters and systems, you know, to clean the water and to get the particles out or to kill the bacteria. So it's actually pretty straightforward system and the secrets is in the know-how and basically, well, our desire is to build locally.
Antoine Walter:
Okay. So you mentioned that the secret is in the operation. You also mentioned that you have these two days where you commissioned the plant and you also train the operators, but you also can offer this operation by yourself. So in that case, do we do it remotely, or do you have your distributor onsite helping with the operations? So what are the different cases of operations
Paul van de Grift:
Stop operating? The machine has to be done locally and it's designed to be done locally. So that's a starting, we thought, okay. So there's not a lot of treatment going on in the region. So one of the reasons is that it's quite difficult to operate a traditional system. So as a starting point, we invented a system that is easy to operate. I would say the operator is one of the easiest, fastest in the world, right? It's basically keeping clean the area and looking after them prescreen and stress handling, which is of course and important thing to do. So we see in practice that the operator comes from the community or the town itself. And then next to that, there is the maintenance and the maintenance is also pretty straightforward. So we can train the operator from the community to also perform very critical maintenance that's needs to be done, or our distributor could do that for them.
The machine operates itself. We have, we can follow it life if needed with an internet connection about what's happening in practice. That's not really necessary. We see that operators are more than able to operate a system, you know, to feel the ingredients that are needed for the processing time. And the worst thing that could happen, like by lack of water or by lack of applying is that the machine stops until the tank is full again. So it's pretty self out of maintenance. We can see some paramitas from, from a distance and we can give someone advice if that's needed in practice, we see it, us actually not needed. So the operators really able to, to operate itself and the local distributor is able to perform the maintenance.
Antoine Walter:
You mentioned the new websites that you also operate in the business sense of the word, the model you can operate under this model, that's with a multi-year contract. You would sponsor if I may say, so the installation of the container, and then I guess, turn it into a service. I mean, the treatment service, the, how does that work? And what's the percentage of your installed base, which is working on this contract.
Paul van de Grift:
Yes, definitely. So what we see is that most of the interested parties are actually interested in purchasing the technology and then, you know, apply the treatments and reuse the water in their community. But another option is that the interested parties actually purchasing the plant itself, but it's paying for the surface of the treatment so we can do a calculation. And it depends on, of course it's different per country, per capacity, where, for example, a small municipality and base for cubic meter of treated water. So they don't pay for the water, but they, for the treatment per cubic meter and don't have to pay for the machine itself. So that remains, you know, we remain as blue gon and the owner of the, of the equipment and our local distributor, or has the role of maintenance or potentially operations as well. So we do offer that way of obtaining the technology as well. Surprisingly, what we see is that the most are intercept effects of on birds and then, and then operated in it themselves
---
Antoine Walter:
That works only with the longterm, right? You don't offer like a rental option where I have a temporary problem somewhere and you would bring your container and solve it for a couple of months and then leave again.
Paul van de Grift:
That seems like it's also a possibility. I'm just wondering, it's interesting. You say so. So if we send over the treating plants from the Netherlands would direct contracts with a municipality, then of course, then you should be for a couple of years, at least sort of, we know that we have our return on investment, right? So then we don't have a situation at all after one year to say, Oh, well, okay. So it works very well, but we don't want to treat the water anymore. So, so here's where we are. We try to prevent that. So if it's a direct type of contact, then we definitely are looking for a longer term contract where moose, or at least seven or 10 years, I'm going to treat, you know, X volume of water. And then we can work out the details. However, it could also be that our local distributor purchases one and rents it out for shorter periods.
So we are actually investigating that right now in Chile, where a Bluecore wastewater treatment plant is actually going to help out existing plants with a lot of problems. For example, in existing traditional biological plants that is built 10 or 15 years ago. And it was then calculated on 1500 inhabitants. How what'd you see in summertime, for example, that goes to place in Chile attracts a thousand or even 1500 more tourists to the town. So you have a system that's calculated on 15 hundreds, but during a couple of weeks in the year, and it actually has the double amount of people in that town, you know, the holdouts on food, et cetera, that is of course before and after the GoFundMe crisis, let's say, so how do you work with that? Then? Of course, the system completely collapses. So what our distributor wants to do is actually place a blue goal for like six weeks to help out with the treatments. So that's the traditional one that's already installed there. It doesn't get, you know, into trouble, so to speak. So
Antoine Walter:
Was also surprised in a positive way. Don't get me wrong by one of the claims of your website, where you say that your system is energy neutral. How do I have to understand that? Does it mean that you are self producing energy within the system, which means it's fully autonomous or is it a balance between the inputs and the outputs?
Paul van de Grift:
One of the fountains is one of the many advances of the system is, you know, being easy to operate, but it has a low operational cost. And of course the use of electricity is one of the components of cost. So we went in there if we compare ourselves to existing plants, but we also offered the possibility to install solar panels on top of the machine or right next to it, or even work with existing solar panels. What we see a lot in a lot of children, for example, where this all becomes completely energy neutral. So what we do is we actually calculate a bigger size treatment plants because it will only work during the days, of course, and then it's completely energy neutral and operating during the hours of the day we can provide X, but we also see just like I just mentioned in Chile, where we're actually working with some solar panels that were already installed for different type of industrial use. And we are using those, you know, to come to this energy neutral level. So there's a lot of possibilities here to even drop the costs more, make it even more circular in its use. And of course, recycling water and make it able to be reused is already closing the circle. And that's,
Antoine Walter:
So we've mentioned several times that the low-cost aspect of your treatments, so that we get an ID, what would be the cost per treated cubic meter?
Paul van de Grift:
Yeah, so the cost of the treatment really depends on and local electricity costs, but also the local cost of an operator in the size of the capacity needed. Right? So we have to be careful there dropping a number because I don't know the Tricity costs of each country out of my hair. So if we take guts numbers, we are 33% cheaper in operational costs per cubic meter, but taking the ducks price
Antoine Walter:
Compared to the Dutch benchmark or compared to a specific type of plants.
Paul van de Grift:
Okay, exactly. So ducks, well then the other plants are more or less using the same technology. So it's easy to have to do the benchmark. And of course, if you an apply in decentralized treatment system, then you do not have the enormous infrastructural investment costs of having a centralized system, which means that you need to transport the water during lots of distances, right? So there's the treatment costs, but it was also in traditional systems, the cost of getting the water to the centralized treating system, which takes a huge amount of energy. And of course we don't have to ask, so it depends for country, but we are actually everywhere we go, they're pretty competitive.
Antoine Walter:
So we've been discussing quite extensively, all the advantages of your system. And I really see lots of advantages and sounds very nicely suited to this decentralized waste with the treatment. But I guess you cannot be the solution to everybody and to everyone everywhere. So what are the cases where you would say Lou Khan is not the right fit?
Paul van de Grift:
Well, as I mentioned in Holland, we have quite a good, or actually a very good treatment process going on using large-scale biological systems. And they work very well and we don't gain to replace them. And on that size, blue gold doesn't have a chance, you know, of performing better. So what Bluecam did is actually looking at where is the actual problem and the problem is in regional wastewater treatment. So that's a niche, so to speak where we dive into where we have in fact developed the way better alternative, right? That is actually working. So on a small scale, I don't think there is a better alternative than physical chemical treatment processes, right? The traditional ones are more expensive that also leave a bigger footprint. And they're always in the darkest corner outside, let's say the towns because nobody wants to be near water treatment system, right? So we lose it once we start comparing ourselves to the treatment systems of larger towns. So we are very competitive from, from zero to 20,000 inhabitants. And we start to lose a competitive advantage from the towns that, you know, are middle-sized cities that are bigger than that amount of inheritance.
Antoine Walter:
So you mentioned that you're targeting a niche with this decentralized treatment, but actually when you look at that niche, it's impressive how big it is. I mean, not even entering the Chinese equities is because the decentralized treatment in China is just multi-billion niche, but everywhere in the world, when you see that 80% of the waste water still isn't treated, that makes a lot of potential. How big is Lucan today? How many people are you inside the company?
Paul van de Grift:
Oh, so we are commercially active for, for a year and a half. So we are definitely a startup with five years of investigation and development, right? So we have five people working full-time for blue-collar. However, if we grow in sales numbers doesn't necessarily mean that we're going to grow in Mt of people working for us because our model is really to produce locally and to work with distributors that know the market and that know our product. And that could successfully, you know, introduce this technology in the market. So if we grow in sales five times, I think we would still be with five people in Logan.
---
Antoine Walter:
So you've got the license or what's your process.
Paul van de Grift:
Exactly. And even in the Netherlands where we are now assembling them wastewater treatment plants, we use a lot of providers that already preassembled, you know, some of the treatment models that are inside the plants, different suppliers that have a specialty in, you know, one building the reactor, other one building the oxidation module. Ozone is a module that we use for disinfection if need is rights, which comes from a different supplier. So we actually put together the machine and we know we have to know how of the operational meters, but just like I said, if we've gone to growth at times in sales, I don't think it will have a direct effect on that, on the team.
Antoine Walter:
So coming back to this niche aspect, which is this multi-billion niche and your business model office licensing of what you do and this outsourcing and keeping them core insights, what you do, and then all the rest is going to be whether they're outsourced or are sub-contracted. If now you had a crystal ball and to see a two or five years down the line, where is blue con
Paul van de Grift:
I would say five years. So we are trying to take the whole world basically, right? So we put the barrier pretty high. We know we have, we have an interesting technology and we want to take it to the further development cost of technology and, you know, not be having the huge fat building, a huge factory and look in the Netherlands, so to speak. So we want to focus on our core just as you, as you explained, in terms of what if we could speak in terms of sales. But I have the first desire to be operative in as many counters as we can, which means that we can offer the blue-collar alternative in as many concepts as we can. That's of course, up to the customer to say, okay, we have a system, Hey, we have a system B one has a initial cost of X.
The other one has operative costs. We just want to be available worldwide first. So we are working a lot on being available in a teen and market in a Spanish markets in Eastern Europe, which means that we are focusing a lot right now on finding the right distributors in the countries that embrace our technology that know the markets. And they can actually deliver also the after sales technical surface. Right. If we have the right parties contracted the right distributors, phones in each country then is when we are ready to make your sales. So we are working very much on our distribution network right now. And if we do that, right, and we are cooperative, so to speak in the majority, if I take Latin America as an example, it maybe be not four or five countries with the biggest potential, then those sales will generate almost by themselves. So to speak
Antoine Walter:
In how many countries do you already have that existing distribution channel and in how many do you intend it to have in two years? Let's say,
Paul van de Grift:
Yeah. So I think we're almost having a network in almost 10 counties right now, but the interesting point about your question is, so if you look at Chile, the country is actually longer than the, you know, run over.
Antoine Walter:
It's going to be my next question. How many distributors do you need to cover chili?
Paul van de Grift:
So then of course having one distributor per country that does the whole sales and have access to the whole markets, it would be amazing. And what you see in practice is that many of those firms, they know the region and they have contacts in the region and they are performing well in their own region. And in region and chili is as big as the size of the Netherlands and Belgium together. Right? And that's the smallest region in Sheila, probably. So if we want to be operated everywhere in effect, I Chileans and example, it actually means that we need probably four or five distributors that are respecting the territories. So they're not going to in each other's territory, but they are absolute specialists and they know exactly what's going on in the territory. And they're also able to deliver the quality that we need. So that's what we, in what, where we are right now.
So we are active in probably eight countries with distributors, but in those countries, we might need excellent stewards as well. And then of course, taking it to the next level into countries, then we are not practicing yet. So for example, in Chile, we have already two distributors who are commercially active for us. We probably need two more. And once that's been done, my vision goes to the law firm country, which is brew, which is an interesting, because of their drug problem, to the nub of brew, Ecuador and Colombia, which is also a huge economic potential and Columbia, even while having a huge amount of Sweetwater, it's not distributed well. So there's also a lot of opportunities there. And the Columbia also probably looking at two or three different distributors, you know, minimum
Antoine Walter:
Very interesting. Actually my last question for this deep dive would be a seasonal question, which I have to ask those days every time, you know, it's merger and acquisition season, and there is a big consolidation working our industry nowadays. So your path and your growth ambitions for the next years are clear to me, but it's all happening with you as an independent company. Or do you think that at some point you might be acquired and there is it's part of the business model to have kind of an exit at some point where a big group just says, Hey, what cross is doing is pretty interesting. I should have that in my portfolio.
Paul van de Grift:
Well, it's not a strategy to be acquired. I also know that we are an interesting company for a lot of larger firms. I know we are on the radar, but we're not necessarily aiming for that. What we are aiming for is a short time to market. So we are looking for, you know, partnerships just as I mentioned with, with local companies that could deliver, sell and deliver those outreach plans locally. And if they can do it in a right way, it's a pretty short time to market there at the same time. I know that we dived into a gap and that we developed a pretty successful process then that we are being followed by larger firms yet. Definitely. I don't think we're distracted by it. It is not necessarily a goal, but it could be in the future. Yeah. Who knows?
Antoine Walter:
Yeah, it can. It's in South the future. That's the, that's the beauty of it. Exactly. Paul. That was a very interesting deep for me. It's fine. We do. Or propose you to switch to the rapid fire questions. Sure.
---
Rapid fire questions.
Antoine Walter:
So the rapid for our questions, the principle is pretty simple. I try to keep the questions short and if possible you will have to keep the answers short as well. But as I remind my guests all the time, if there's something really interesting, I'm not cutting the microphones. So don't feel restraints. My first question is the following. What is the most exciting project you've been working on and why?
Paul van de Grift:
Well, the most exciting projects is the one, the, one of the projects I'm working on right now, which is in Chile with a local avocado producer, where we are trying to calculate the exact added value of having 48,000 liters of water daily available. And what that means for this avocado producer in terms of, you know, XR generated value. So let me elaborate just very shortly on that, but very inefficient fruit uses a lot of water to grow. There's a huge demand worldwide and not having sufficient water is actually effective. Slows down the supply side, let's say, so we are working together with a partner in Chile trying to calculate if we have this waste three or four days thousand liters a day, and we turn it into reusable irrigation water. What does it exactly mean for this grower in terms of revenue? And that's of course interesting because we are now not offering a treatment plant with a certain price. We are actually offering a business model, you know, a global business model where the, we could say, okay, that's an investment, the volts, but you can generate so much from it. And the return on investment is in, well, it looks like it's going to be in a year or a half. So that's, that's an exciting project I'm working on right now.
Antoine Walter:
So water is on the critical path for this avocado company. And you are supplying water as a service, even if they buy the full system at the end of the day, their interest is not on the wastewater side, it's on the produced reusable water.
Paul van de Grift:
Exactly. That makes it interesting. What are you going to do with the water that Google provides? And if you use it as irrigation water, and you take this Applegate or business, which is an interesting added value to it, then what does it mean in terms of revenue? So, yeah, that's definitely interesting to do. And since we are on this community level or small town level, it also means that we are actually creating the development of local economic activities. So not everybody needs to go to the bigger cities for jobs. We can create those jobs in the towns.
Antoine Walter:
I'm sorry, because now it's me that made it longer. But it's interesting because it's a shift of paradigm. You're really closing that gap. I mean, it's not just circular economy on the paper, it's circular economy for real, so interesting one, let me go to the next one, which is, what's your favorite part of your current job? I want to say here
Paul van de Grift:
Traveling. So I'm in the Netherlands. And of course, if you, if you have to Latin America and Spain and Italy as a markets than traveling as part of the job, which is very nice. So that's not currently obviously going on, although we are looking forward to go to tequila, we have a demonstration ready, but they're not a nice part of the job is actually trying to find a workable sales strategy per country. And then you have to imagine that you cannot just copy the successful sales strategy from country to country B you know, you have to take into the considerations, like how does this market work? How does the purchasing process work, who are interested? Why would they reuse water in any way? You know, in a South Australia, it rains every day. So who would be interested in reusing water? So trying to figure out this puzzle and come to a strategy per country. It's also something I really like about my job.
Antoine Walter:
I feel you for the travel side, because sheeple used to be my, my second home and now it's must be maybe six months that I didn't leave really home. So I understand the struggle. What is the trend to watch out for in the water industry?
Paul van de Grift:
Well, we've seen a lot of innovations which are very good, which have to do with using less water, right? So if we look at the agricultural sector than smarter irrigation, you know, more crop per drop, for example, initiatives, they're all based on less use of the resource, which is very, very good because it's, you know, at least a more efficient use, but what you see now, a trend is okay, less use, but what do we do with the water we do use and how can we return that into the productive cycle or even on a household level. So you see in the Netherlands companies that offer solutions, technological solutions for water reuse and blue gold, of course, it's one of them, but we also have a lot on the large scale then, you know, data technology who also cuts down UTM costs and time of a wastewater treatment on a large scale. And you see companies that are trying to build a model where water can be reused in your own household. So I think that's the trend for the, for the water industry.
Antoine Walter:
So the thing you care about the most when you're working on your projects and what is the one you care less about? Well,
Paul van de Grift:
So the trick is here. What I care about is not just make a successful sale, but make sure that, you know, after installation our treatment plant is actually working for the minimum time 20 years, which is the minimum time that our system works. So we are here for them, you know, for the longterm. And if you want to be successful in the country, you should not just send some technology from the Netherlands towards Chile or Peru. It should really be concerns of how is the customer going to make this into a success. So that's something I care about. I care about the after sales service, so to speak of having a close contact with the customer and making sure that they are, you know, maximizing everything they can from our treatments as system. There's not a lot of things I dislike actually. I would have to invent one. I liked the international aspect of my word. I liked the added value. And of course the, you know, the sustainability of our, of our solution, we are sustainable ourselves, but of course our solution make [inaudible] or any other industry or household, it makes it more sustainable. So it's, that really fits in, in my personal goals as well.
---
Antoine Walter:
Do you have sources to recommend, to keep up with the water and wastewater market trends?
Paul van de Grift:
Well, and then lens for water partnership. What are lions? Those are sector wide organizations that know what's going on in those water sector, as well as they know what's going on worldwide. So what's the need worldwide and what do those companies have to offer? So if you would like to keep up with what's going on in the Netherlands, in terms of technology or, or any other disaster risk reduction, part of the water irrigation initiatives, then, you know, to those sectors organization like NVP, and then as for what the partnership or what our lions are basically providing a lot of information about one, the supply side and the other one, the demand side, like what's going on world, next problem. Do we need to resolve?
Antoine Walter:
You've been an amazing guest and I really had lots of interesting stuff that you told and which enlightened me and which is very interesting to me. So I hope it's going to be at least as interesting for our listeners. If people want to reach out to you, where can I redirect them?
Paul van de Grift:
Our website is [inaudible], but we are also renewing our website. So a lot of more information will be available there. Info Anthem blue conductor now would be the website and my name [inaudible]. You can also Google me or search me on LinkedIn and you can follow me directly or follow our local international buffet, LinkedIn page. So info and look data. Now, follow our websites and look me up on LinkedIn. And then you can see what's going on with our company. Of course, contact me also, if you're, if you're interested in knowing more about our solutions,
Antoine Walter:
Of course, like always you can find all these links in the notes of the episode so
Paul van de Grift:
Much appreciated on hundred. It was also a very nice opportunity for us to be on this podcast and I found you on LinkedIn. So I think that's also a great platform. We'll stay in touch.
Antoine Walter:
Sure. I'm a LinkedIn convinced. So, so thanks a lot, Paul, and I hope you have a lot of sexists in the future, and I hope that you'll, you'll have these many distributors and and networks in Latin America, and then growing from there, we're going to start to see blue con everywhere. So thank you and see you anytime soon in the future.
Other Episodes